The Top 10 Most Popular Foods in Guinea
The Guinean cuisine of West Africa is traditionally based on cereals, leaves, and tubers, such as maize, fonio, manioc, yams, taro, and of course vegetables, particularly eggplant.
Maize is a type of cereal grain that can be ground into flour, used as a whole grain, or processed into products like cornmeal, cornstarch, and corn syrup.
Fonio is a tiny grain that holds a special place in Guinean cooking. It's often used to make porridge, side dishes, and meals.
Manioc, also called cassava, is a starchy root that serves as a basic ingredient in many important Guinean dishes. It's transformed into Fufu, a dough-like side dish.
Yams are root vegetables that can be prepared in various ways, from boiling to frying.
Taro is a delicious root vegetable used in stews, soups, and side dishes. It is a popular ingredient in traditional recipes.
Rice appeared later in Africa, but nonetheless, it has become the top most popular food in Guinea. 
In many parts of the world, meal times are important, but in Guinea, we pay less attention to what time to eat and don't have a fixed schedule. We eat when we want to, but mostly when it is available, so you can eat at any time during the day in Guinea! 
Meals are an opportunity for great family gatherings, most often between five and ten family members and sometimes more. In most regions of the country, from the forest to the savannah (Kankan), from Labé to Boké, people eat with their hands rather than knives, forks, and spoons.
Dishes usually consist of a mixture of meat, chicken, fish, greens, and vegetables; most of which are usually accompanied by rice, Fufou, maize, or manioc, which are the staple foods. Chilies and spices are heavily used, giving Guinean cuisine its particular taste. Greens, yam, corn, okra, and tomatoes vary according to region.
The best places to discover local foods are the small cook shops on the streets or near entertainment and business areas. Everywhere you go, you'll find small street stalls and you should always stop when you can to taste what the cook has prepared.
You will definitely discover some of the top Guinea foods. While the dishes can look a little unappetizing to newbies, you will not be disappointed.
The most common dishes involve a base of rice or other cereals served with different sauces. My favorite is peanut sauce, which you can find everywhere, but there is also leaf sauce made with cassava leaves, sweet potatoes, smoked fish, and palm oil, which is delicious.
There is also meat sauce, spicy Konkoe sauce, okra sauce, etc. There are dozens of varieties of dishes in Guinea, but the following are the top 10 that you can find almost everywhere in the republic.
1. Bourakhé with Rice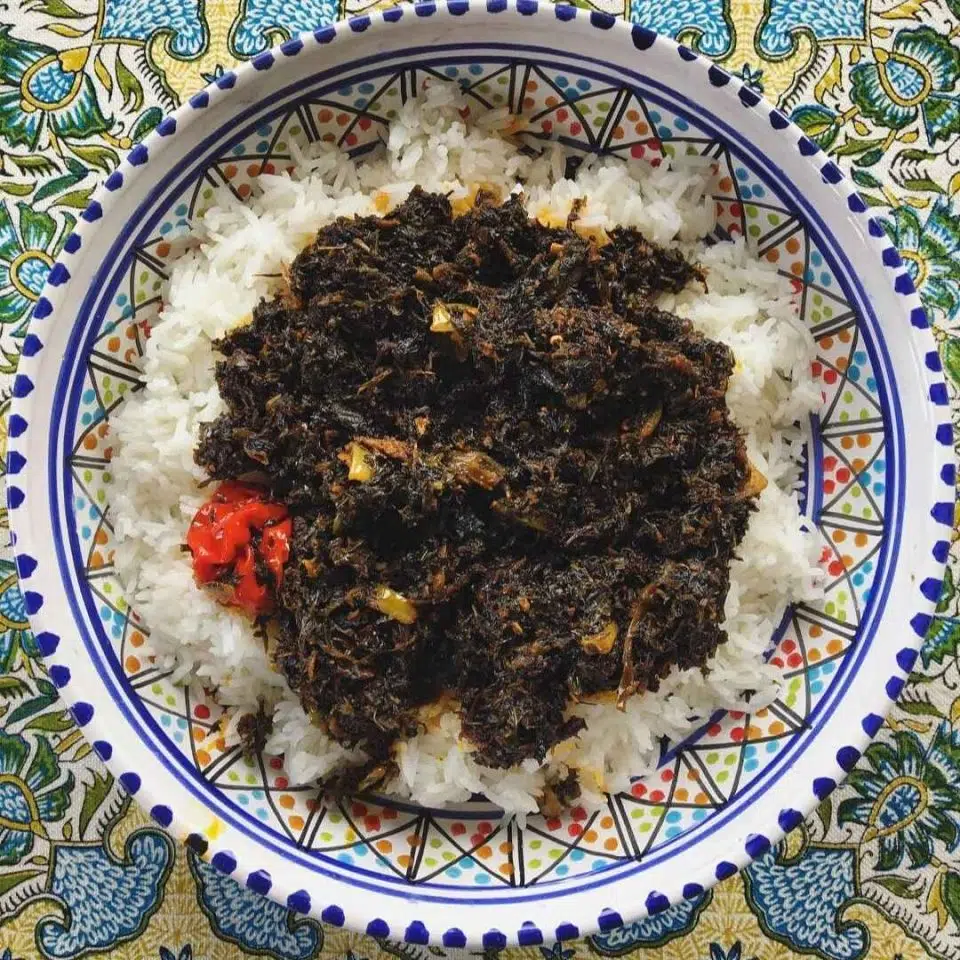 This sauce is made with cassava leaves and is usually accompanied by white rice. It is very popular in all regions of the country. It is a quick dish made with dried or fresh meat, smoked fish, cassava leaves, a small amount of vegetables, and palm oil or sometimes groundnut oil.
Another popular, if not the most popular, sauce is peanut sauce. It is made by crushing peanuts into a paste and diluting it with broth.
It's a bit rich, but really delicious! Another is sweet potato leaf sauce, a mixture of sweet potato or soré leaves with smoked fish and palm oil. You can also try the very spicy Konkoé sauce, which originated on the coast of Guinea and is traditionally very spicy but can be adjusted according to taste.
Then there is tombo or tobogui from the forest region that is popular with the Kpelle and Loma. Very simple to make, it is becoming very popular throughout the nation. It is made with dried or fresh car fish and I personally love it. All these sauces are served with rice.
2. Kétoun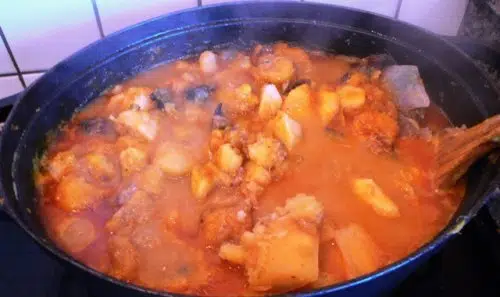 Kétoun, also known as tuber stew, is a mixture of sweet potatoes, taro (a round, brown tuber), plantain, cassava, palm oil, smoked fish, and chili.
This dish is usually served alone or as a side dish with braised meat or fish. It is mostly served in the afternoon and is loved by all generations.
3. Yétissé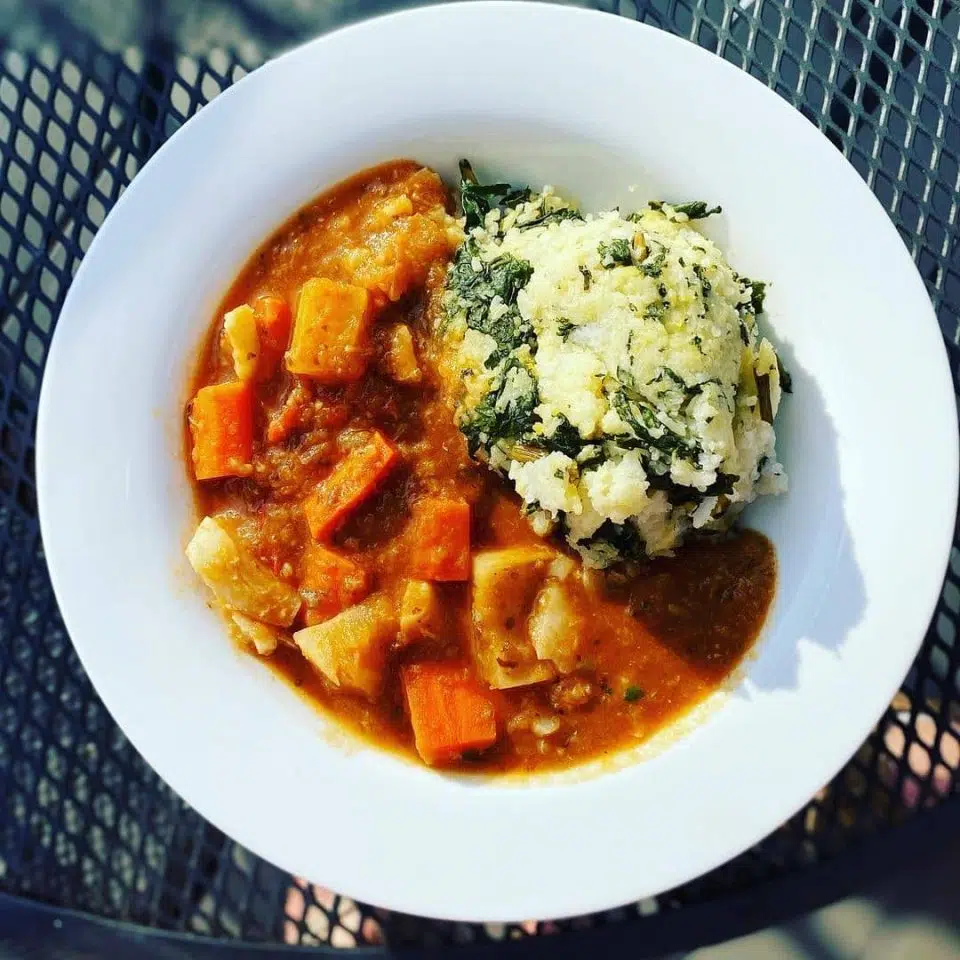 This stew of eggplant, tomato, carrot, and cassava is made with fish along the Atlantic coast in the Guinea Maritime region but is made with chicken or beef in other parts of the country that don't have access to fresh fish.
It is accompanied by rice which includes okra, ground separately, and then incorporated into the rice.
This dish is quite unique and begins with preparing the thick sauce, typical of Guinea, which does not include spices but rather blended vegetables, giving it delicious flavors as well as an unbeatable texture.
4. Latchiri and Kossan (Corn Couscous with Curdled Milk)
Latchiri is a steamed corn couscous eaten with Kossan (curdled milk). It is a dish of the Fulani of West Africa, where it is served for traditional ceremonies, weddings, baptisms, etc. No wedding ceremony worthy of the name is complete without Latchiri and Lossan. It is also served in some Fulani restaurants.
The main ingredients are maize flour or fine or medium dry maize meal. Make it yourself or buy it from a supermarket.
5. Riz au Gras (Jollof Rice)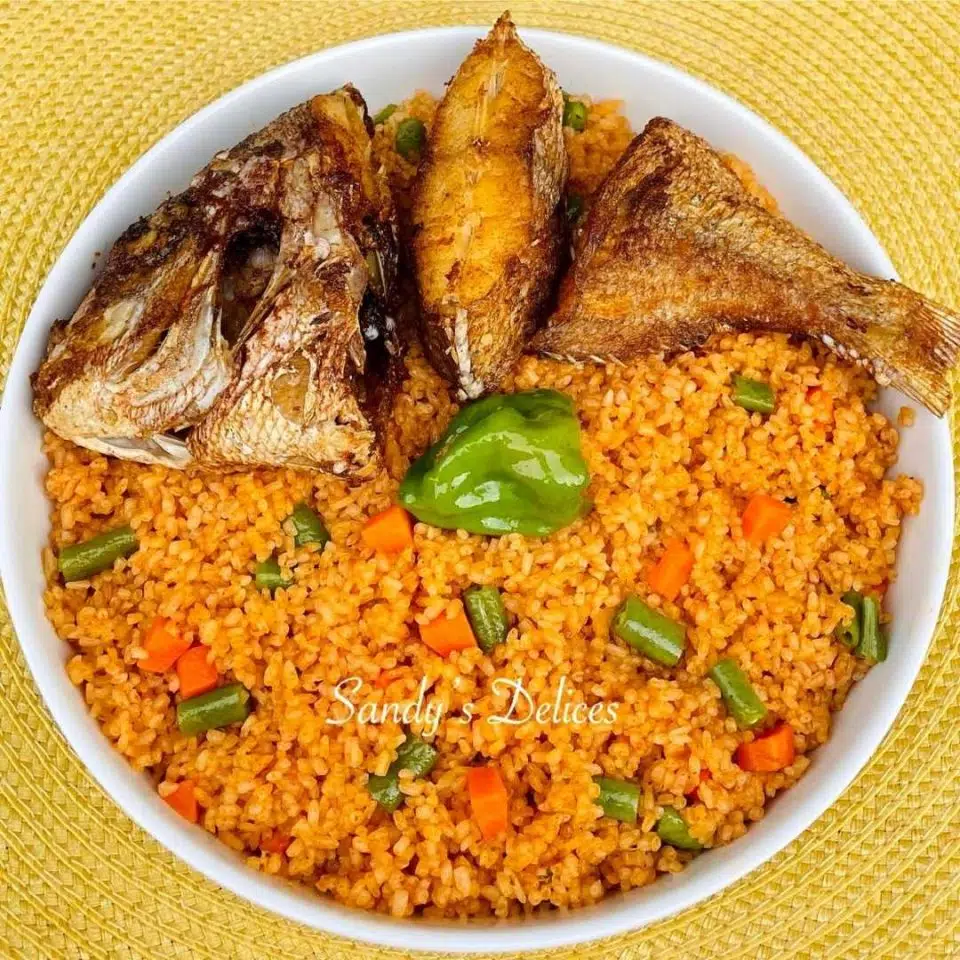 This dish originated in Senegal and is better known as Tchèp Djen. In Guinea it is called riz wolof, or, in Soussou, yolfè bandé and gniri djölfö in Fula.
It is a very common and cheap dish of rice flavored by cooking in a meat or fish broth and accompanied by boiled seasonal vegetables and chili pepper, which should not be eaten! It is usually served on festive occasions as it does take a while to cook.  
6. Tô with Gbanbouda Sauce
This typical dish made with cassava flour comes from Mandingo in the beautiful savannah of Upper Guinea.
Tô is called Foufou or N'dolé in other West African countries. While the ingredients are the same, the preparation varies according to the region. You'll often find it being hawked on city streets and from cafés and restaurants.
7. Lafidi (Dried Rice)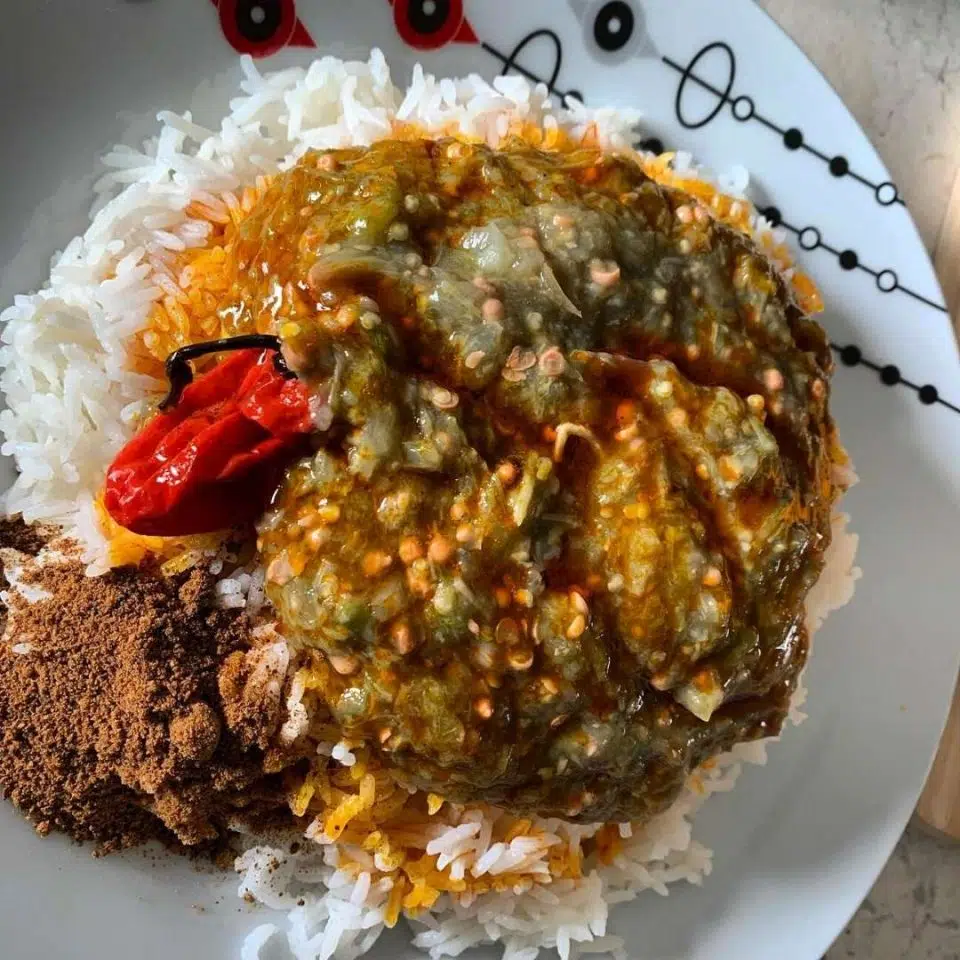 This is a very popular dish throughout the country made with fresh okra, white eggplant, chili, and soumbara. It is all mashed together and served with rice and a dash of palm oil. It is mostly served in the morning for breakfast, especially amongst the Madingo and the Soussou tribes.
Simple is best, they say. And Lafidi proves that true. Quick and inexpensive, it is also a balanced meal and these days is often served in the evenings as a convenient meal for busy people.
8. Foutti Fognè
This fonio dish, originating from the Fouta region, is usually eaten in the evening.
It is said that Futti is the meal of the poor because it contains neither meat nor fish. But nowadays, it is eaten by wealthy families because it is delicious and healthy. The advantage for busy workers is that it is quick to make.
It is also very healthy as it contains little or no sugar, unlike rice and other carbohydrates, making it suitable for people with conditions such as diabetes, high blood pressure, etc. It is mostly served with groundnut soup as a sauce. You can find it served around health facilities and in many local cafés, marketplaces, etc.
9. Mangue Sauce (Mango Rafalari)
The seasonal spicy-sweet mixture of this mango dish will delight your taste buds. It is very popular in the Kindia, Conakry, and Boké regions during the mango season (April to July).
It is eaten almost every afternoon and in the evenings. The stew contains ripe mangoes, dried fish, plantain, cocoa, yam, and red palm oil, and more.
10. L'attiéké
Attiéké is a cassava couscous made by steaming fermented cassava pulp semolina. It is a traditional food with a high-calorie content and a sour taste. It is served with fried fish, meat, ripe fried plantain, and vegetables.
Attiéké is mainly eaten in the cities. However, consumption has spread throughout the country, making it one of the top local popular foods in Guinea. You will find it sold on the streets, in entertainment areas, in marketplaces, and in modern restaurants. 
Thanks for reading and welcome to Guinea, which offers a delightful local cuisine.
---
Related: 20 Must-Try West African Foods
Related: Most Popular Foods in Ghana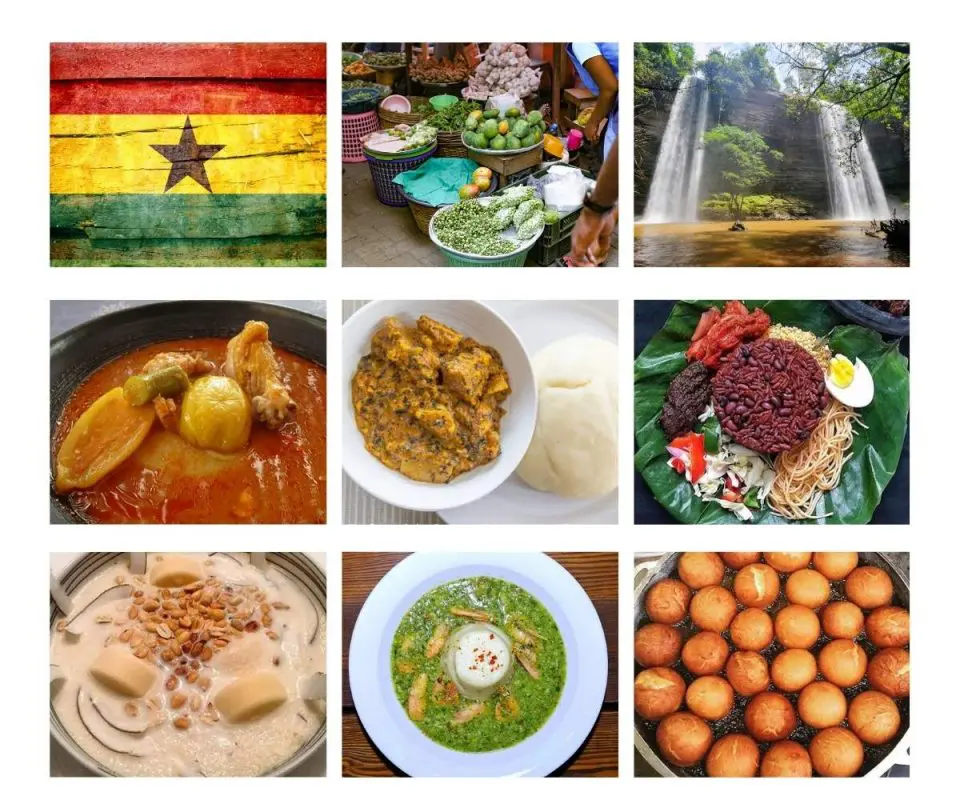 Related: Most Popular Nigerian Foods