8 Exotic Fruits to Try out in Costa Rica
Costa Rica, a lush and vibrant tropical paradise in Central America, is renowned worldwide for its rich biodiversity and multiple ecosystems. Among its natural treasures are an abundance of exotic fruit that thrive in the country's fertile soil and tropical climate.
This article embarks on a journey through the top 8 fruits of Costa Rica, exploring their flavors and the various ways in which they are used.
1. Pineapple
Costa Rica is one of the world's largest exporters of pineapples. This sweet, tangy fruit is a staple in the country and highly valued for its numerous health benefits and incredible nutrients. The volcanic soil and ample sunlight contribute to the exceptional flavor of Costa Rican pineapples. This is a very versatile fruit in Costa Rican cuisine and it is consumed in the following ways:
Fresh: Nothing beats the taste of a freshly sliced pineapple. Costa Ricans often enjoy it as a healthy snack or dessert.
Juice: Pineapple juice is a popular beverage, either enjoyed on its own or blended with other fruits or vegetables for a refreshing Costa Rican tropical drink. Blending it with celery or cucumber has become highly popular with those wanting to enhance their health and take advantage of its many benefits.
Salad additive: This golden fruit is added to salads to provide a touch of sweet and juicy flavor. It is usually combined with lettuce, other vegetables, chicken, nuts, and more.
Sauces: Pineapple is an essential component in many tropical and sweet and sour sauces. It is combined with other ingredients such as pepper, cilantro and onion.
Desserts: Several Costa Rican desserts have pineapple as their main ingredient such as flan (where custard and condensed milk are mixed and cooked with pineapple), cakes, tarts, rice with pineapple and more.
Skewers: Pineapple makes an excellent addition skewers, along with other ingredients such as meat, chicken or vegetables.
Grilled: Grilling is a fantastic way to extract all of the pineapple's natural sugar, allowing it to caramelize to perfection. It is usually served together with pork or ice cream.
Jam: One of the most common jam flavors found in Costa Rica is pineapple. It is usually consumed with bread, crackers or as a filling for sweet empanadas.
Ice Cream: Pineapple is a popular flavor in ice cream parlors, where it is usually used to make sorbets.
Alcoholic Beverages: Different cocktails in Costa Rica have pineapple as a star ingredient, such as the Piña Colada (which combines rum, coconut cream and pineapple juice), Tropical Sunrise (made with rum, pineapple juice, orange juice and grenadine), and Chiliguaro with Pineapple (made with brandy, tomato juice, lemon juice and other seasonings), to name but a few.
2. Mango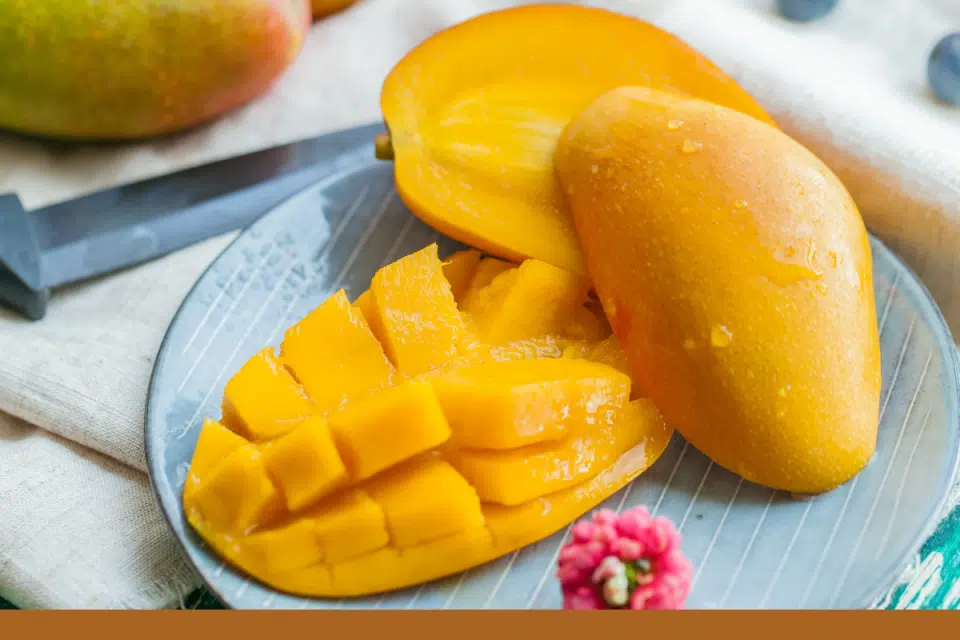 Mangoes thrive in Costa Rica's warm and humid climate, and they are available in abundance during the mango season, which typically runs from December to April, with the peak harvest occurring between January and March. Costa Ricans embrace this fruit in various ways:
Smoothies: Mango smoothies, often mixed with yogurt or coconut milk, are popular for breakfast or as a cooling beverage.
Cocktails: Some of the famous cocktails that include this fruit are mango mojitos, mango margaritas, and mango daiquiris.
Chutney: Mango chutney is used as a condiment in Costa Rican cuisine, often served with roasted or grilled meats.
Ice Cream and sorbet: Mango-flavored sorbets and ice creams are widely available in Costa Rica. A particular traditional sorbet uses green mango, sugar and salt. It contains lots of little mango pieces that you chew on from time to time as you savor this delicious sorbet, and it comes on a wooden paddle or in a plastic cup.
Desserts: Some of the most popular desserts where mango is the protagonist are mango mousse, mango sorbet, ripe mango flan, and mango honey, made with butter, cloves, cinnamon and cane or panela sugar, which is a type of sugar extracted directly from the juice of sugar cane.
Sliced: A simple yet delightful way to enjoy mango is by peeling and slicing it. Costa Ricans love to slice it thin when it is not very ripe but is greenish and tangy, and mix it with salt and lemon.
3. Papaya
Papaya is another tropical fruit found in Costa Rica that is appreciated for its sweet and vibrant orange flesh. It's a versatile fruit used in both sweet and savory dishes, some of which are:
Fruit Salad: Papaya is mixed fruit salads, often accompanied by other tropical fruits such as pineapple, melon and banana. Fruit salads tend to be eaten with ice cream or jelly with wafer rolls on top.
Smoothie: Papaya smoothies are a favorite beverage in Costa Rica, often blended with milk, ice, and sugar. It is also common to blend it with water, lemon, and sugar, which gives it a unique and delicious flavor.
Fresh: Sliced papaya is commonly served for breakfast or as a side dish with lime juice on top for added zinc.
Green papaya hash: This is a fantastic way to enjoy papaya before it ripens. The green papaya is grated raw and sautéed with garlic, onion, oregano, and salt until it softens and all the flavors are well integrated. Usually, some type of meat is added such as ground beef, shredded beef, chicken or pork, everything is mixed well and it is accompanied with corn tortillas.
4. Guava
Guava is a fruit deeply rooted in Costa Rican culture and cuisine and charged with Vitamin C. The native guayaba is medium-sized, is yellow on the outside and pink on the inside and has a unique flavor. Guava is used in various ways:
Fresh: Guavas are eaten fresh, with or without the skin, and are a popular snack for children and adults alike.
Jam: Guava jam is one of the most common jams in Costa Rica, typically eaten on bread or crackers along with white cheese. This jam also features as the filling for sweet empanadas.
Guava tricopilia snacks: These are squares of guava paste wrapped in wax paper, which are eaten alone or accompanied by soft cheese. This product has been consumed in Costa Rica for more than 90 years and just keeps on being a top favorite.
Smoothie: Guava smoothie is made with milk and sugar. Its unique flavor keeps you wanting to drink it non-stop.
5. Banana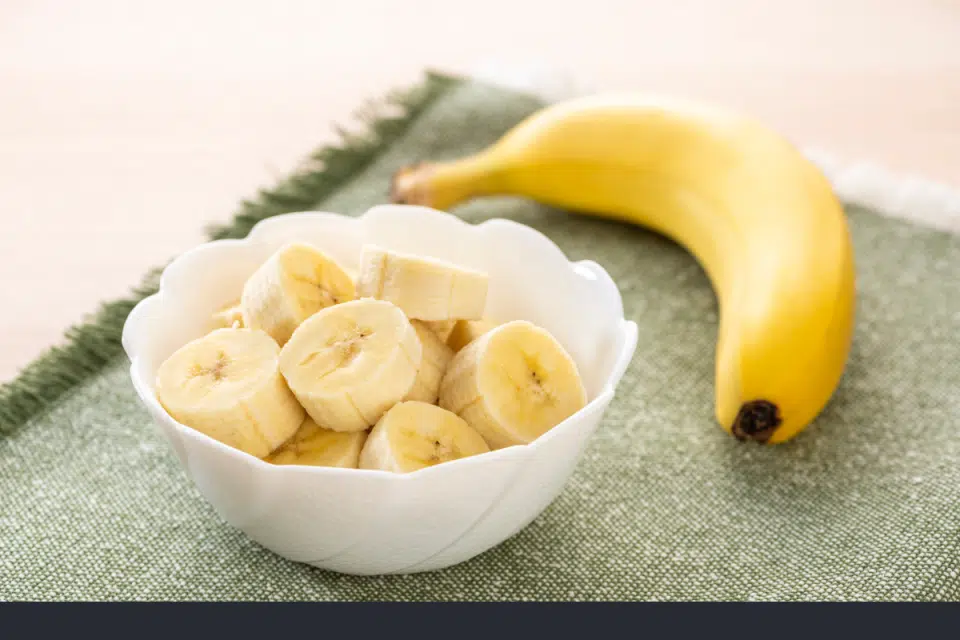 Costa Rica is proudly positioned within the top four banana exporting countries in the world. Since bananas and plantains are abundant here, they play a significant role in the local diet. They are consumed in numerous ways:
Fresh: Bananas are eaten fresh as a snack or added to cereal and yogurt.
Plantains: Plantains are typically cooked before consumption. They are fried to make patacones (twice-fried plantains), which are usually accompanied by ground beans, guacamole, pico de gallo or shredded meat or chicken. Maduros (sweet, ripe plantains) are typically eaten as a side dish in casados or with gallo pinto and eggs at breakfast.
Banana bread: Ripe bananas are used to make delicious banana bread, a popular baked treat.
Chocobanano: This traditional Costa Rican dessert consists of a frozen banana embedded in a wooden pallet, which is dipped in chocolate and can sometimes be glazed with peanuts.
Banana split: This is a dessert made with ice cream and banana and served in an elongated container. The banana is cut into two lengthwise and it is served with scoops of sweet vanilla ice cream, milk chocolate, and chunky strawberry. This dessert is garnished with peanuts and whipped cream.
Green banana ceviche: Green plantain ceviche is a very traditional dish in Costa Rica. The green plantain is cooked in boiling water with salt and once cold, it is seasoned with onion, sweet chili, tomato, cilantro, and lemon juice.
Plantains in syrup: This sweet side dish involves cutting sweet plantain into medium-thick slices and cooking them in boiling water along with sugar or honey and cinnamon until tender.
6. Passion Fruit
Passion fruit, with its distinct sweet-tart flavor and unique aroma, is beloved in Costa Rica and used in various culinary applications:
Juice: Passion fruit juice is a tangy and refreshing beverage, often sweetened with sugar or any other sweetener.
Desserts: This fruit is highly used in desserts such as mousse, sorbet, cookies, cheesecake and as chocolate fillings.
Jam: Passion fruit jam is exquisite and it can be found by itself or mixed with pineapple or strawberry.
7. Coconut (Coco)
Coconuts thrive along the coastlines of Costa Rica, offering a refreshing taste of the tropics. They are eaten by Costa Ricans in numerous ways:
Coconut water: The clear, hydrating coconut water is enjoyed as a natural beverage straight from the coconut.
Coconut milk: The flesh is grated and squeezed to extract coconut milk, a key ingredient in many savory and sweet dishes.
Coconut oil: Coconut oil is highly valued and used both for cooking and in the beauty industry in the form of moisturizing creams, shampoos and hair conditioners, among others.
Desserts: Many desserts are made in Costa Rica with this exotic ingredient, such as coconut cajetas, ice cream, cookies, candy, flan, cake, condensed milk and coconut sweets, roasted tamal, rondón, (traditional spicy coconut soup on the Caribbean coast of Costa Rica that is prepared with fish, vegetables, coconut milk, herbs and spices), and many more.
8. Cas
With an appearance and characteristics similar to those of the guava, cas is a small green fruit with a sweet and sour flavor and a white interior. Cas is unique to Costa Rica and a favorite when it comes to ice cream and soft drinks. The three ways Costa Ricans eat cas are:
Juice: Cas juice is probably the most traditional of Costa Rican beverages, where the fruit is blended with sugar and water and strained to get rid of all its small seeds.
Jam: Like most of the fruits on this list, cas can also be transformed into jam to enjoy on bread or crackers.
Desserts: The most typical desserts made with cas are cas sorbet, cas mousse and cas pie.
Costa Rican cuisine is heavily influenced by the abundance of tropical fruits that are available in the country thanks to its tropical climate and fertile land. Many traditional dishes feature these fruits, whether in refreshing beverages, zesty salsas, sweet desserts or handmade jams, cakes or pastries.
Whether you're sipping on a fresh coconut on the beach or indulging in a juicy slice of pineapple, exploring the top fruits of Costa Rica is a flavorful journey into the heart of this tropical paradise.
---
Related: Most Popular Costa Rican Christmas Foods
Related: Most Popular Costa Rican Desserts