Best Fine-Dining Restaurants in New Orleans
Known for producing some of the most popular celebrity chefs, Michelin-star restaurants, and James Beard award-winning kitchens, New Orleans has some of the best fine-dining restaurants in America. If you're not in the city for the music, the history, or the partying, you're certainly there for the food.
We'll explore the Big Easy's best fine-dining restaurants, from those that create the most iconic traditional food to the most experimental twists.
Commander's Palace
It can't be a list of best restaurants in New Orleans without Commander's Palace, a Big Easy staple since 1890. Many of New Orleans's most renowned chefs started as line cooks at this famous restaurant and worked their way up to opening their own establishments, many within the city. Everything from the weekend brunch with live jazz to views of giant oak trees to the menu itself encapsulates the heart of New Orleans food and cultural traditions.
The Brennans, a family with deep ties to the New Orleans' restaurant industry, own this restaurant. They also have other fine-dining establishments such as Brennan's, Dickie Brennan's Steakhouse, and ten others. This one is located in the heart of the Garden District, known for its cobbled streets, giant live oaks, and historical landmarks such as Lafayette Cemetery.
This restaurant is all about tradition, so it strictly enforces a dress code of no shorts and no jeans; dress jackets are highly encouraged. You'll also see traditional French-Creole dishes such as gumbo, seared gulf of Mexico fish, and other New Orleans classics.
What should I order at Commander's Palace?
This is a big question for a place with such a reputation. Commander's Palace is one of the best places to get turtle soup, a hearty, sherry-infused starter. Of course, it wouldn't be a New Orleans kitchen without seafood, and their Pecan Crusted Gulf Fish offers the best fresh catches available, topped with poached jump lump crab meat, amazing grilled vegetables, and a cream-corn sauce.
For lunch during the week, the restaurant offers 25-cent martinis, and the menu provides two courses for under $30. Dinner is a little more expensive, but if you can spring for it, the chef's tasting menu is a must-have for sampling the best of what this restaurant has to offer.
Even better is the Chef's Table, a one-of-a-kind tasting menu for four guests starting at $125 per person with optional wine pairings for an extra $50. This meal takes place directly next to the kitchen and offers the guests daily planned dishes, giving you a personal taste of the chef's cooking. Though it is expensive, it's a truly unique experience.
Bayona Restaurant
Residing in a Creole cottage built in 1769, Bayona was opened by Chef Susan Spicer in 1990. This restaurant in the heart of the French Quarter brings new twists to traditional flavors. In nice weather, the best seat in the house is the cozy outdoor patio, and the inside tables provide cozy spaces in a not-so-fussy atmosphere.
Spicer describes her cooking style as "New World," using local produce to create dishes inspired from locations around the world. In 1993, she won the James Beard award in the "Best Chefs" category, and was inducted into the "Who's Who of Food and Beverage in America 2010."
The menu at Bayona is constantly changing in this understated restaurant, and some of their former cooks, such as Donald Link, moved on to open their own fine-dining establishments.
What should I order at Bayona?
This is a particularly difficult question for Bayona as the menu constantly changes. But there are a few staple dishes you should be on the lookout for. The restaurant always produces amazing flavorful seasonal vegetable soups such as Caribbean pumpkin and amazing croutons with goat cheese and Madeira cream.
As far as meats go, the different versions of smoked duck are always amazing, and if there are sweetbreads available on the day you go, be sure to try that as well!
Restaurant R'evolution
Restuarant R'evolution was the brainchild of Chef John Folse, known for his Louisiana culinary roots, and Chef Rick Tramanto, known for his daring flavors and breaking from tradition. Though it would seem the two chefs might clash, together with their chef de cuisine they create unique combinations of traditional Creole cuisine with wild yet delicious twists or additions.
The entire restaurant is steeped in Louisana tradition. The decor makes it feel like an old Creole mansion, with murals of cypress trees in the swamp, culinary antiques such as a duck press, and fresh flowers on every table.
The restaurant is a great place to take a date or to enjoy a Saturday or Sunday jazz brunch. Be aware, though, that this is one of the most expensive restaurants on this list, and a dinner for a couple can easily top over $200.
What should I order at Restaurant R'evolution?
If you open a menu and see the phrase "Death by Gumbo," how can you not order it? This soup fuses Folse's traditional Creole recipe with Tramanto's daring flavors, adding an entire semi-boneless quail stuffed with oysters, rice, and andouille sausage.
Of course, you can try several different versions of the tasting menu, with a long pre-fixed menu of five courses running to $120 a person, without tax and tip. If you are interested, be sure to order it when you make reservations.
Restaurant August
Opened by renowned celebrity chef John Besh, Restaurant August is constantly referred to as a favorite place to eat by visitors and locals alike. Besh, a former Gulf War marine, spent time working as a chef in restaurants around France and Germany after his service. He eventually opened Restaurant August on Magazine Street, just a few blocks away from the hustle and bustle of Bourbon Street.
The menu is a bit of what you would expect from a New Orleans restaurant, French Creole and Cajun, that leans heavily towards the more traditional French cooking style. The restaurant offers high-end service and an amazing dining experience you'll never forget.
Besh has a series of other restaurants around the city, too, that are more affordable and casual. Try Luke Restaurant, a restaurant offering an Alsacean-influenced menu, or Domenica in the Roosevelt Hotel, creating new-world Italian dishes.
What should I eat at Restaurant August?
One must-have dish is the gnocchi "black and blue." If black truffle gnocchi isn't enough for you, the chef adds deliciously fresh jump lump blue crab meat and a creamy parmesan sauce.
The five-course degustation menu cost $150 per person or $220 with wine pairings but know that you'll get some of the best ingredients in the world cooked to utmost perfection. This menu includes an amazing warm lobster salad, truffle-infused foie gras, and roasted lamb loin.
Pêche Restaurant
The third of Stephen Stryjewski and Donal Link's restaurants, following Cochon and Herbsaint (also highly recommended), Pêche is this dynamic duo's seafood-inspired restaurant. These two chefs have received many cooking awards, including the James Beard Award for their exploits, including those at Pêche.
Located in the Central Business District, this lively restaurant is a favorite of locals and travelers alike. The menu offers simple and modest dishes with amazing flavors that leave your mouth watering but aren't too overwhelming. Though this isn't the most luxurious restaurant on this list, you'll certainly leave just as satisfied as one of the more expensive ones around town.
The homey menu provides so many options, such as fried smothered catfish and the smokey, bacon-filled white beans, but the ambiance is best with larger groups who can enjoy some family-style options on the menu, too.
What should I order at Pêche?
If you're into raw fish, you must order the shrimp and oysters from the raw bar. New Orleans is famous for their oysters, and you won't find fresher in the city.
Pêche also offers amazing full fish, seasoned and grilled or roasted on the hardwood fire in the heart of the restaurant.
Finally, you can't leave New Orleans without trying a creamy crawfish bisque, and Pêche provides one of the best in the city.
Emeril's Restaurant
In the 1990s, it was common to hear "BAM!" when someone added the spices to a dish in the kitchen. This came from celebrity chef Emeril Lagasse, whose charisma and flavorful recipes catapulted him and his cooking shows to fame.
As a former chef de cuisine of Commander's Palace, Lagasse brought his cooking flare to his own restaurant, which he named after himself. Now, he has eleven different restaurants throughout the country. Emeril's Restaurant opened in 1990 and is now a mainstay of New Orleans food.
Lagasse describes his food as "a refined and elegant approach to Louisana cooking," and both the service and the cooking are done meticulously. There are very few places that offer a "water change" after entrees, replacing the glass you used throughout the meal with a fresh ice-filled water glass. Not only that, all the entrees are placed on the table at the same time, even on tables seating as many as twenty people.
What should I order at Emeril's Restaurant?
There are not many ways you can go wrong at Emeril's Restaurant. Some must-haves, though, included andouille-crusted drum fish with roasted pecan vegetable relish and potatoes.
The barbecue shrimp is also a New Orleans classic appetizer that is a must-have before leaving the city. Emeril's style comes with a dark, thick sauce, less sweet than you'd think from a barbeque sauce.
Antoine's Restaurant
Known as the oldest restaurant in the city, Antoine's is not only one of the most highly-rated fine-dining establishments, but the restaurant's many rooms almost make it a museum. Each room features original costumes worn by kings and queens of famous Mardi Gras krewes of the past, as the yearly tradition for these krewes is to have a celebratory meal at the restaurant before Carnival season.
Even five generations after its original founder, Antoine Alciatore, the family still runs the restaurant. Focusing on the importance of tradition, their menu hasn't changed much since the restaurant opened, either, with classic dishes such as Fish Amandine, a lightly floured and almond-encrusted gulf fish sautéed in brown butter.
This is a great place to delve into the rich culinary and cultural history of New Orleans. On weekends, guests can enjoy a jazz brunch or stop for a drink in the Hermes bar and read about the restaurant's history.
What should I order at Antoine's?
Antoine's is famous for their two types of oyster, one a traditional charbroiled-style, and more importantly, Oysters Rockefeller. Oysters Rockefeller is baked using the original 1899 recipe, with a sauce so rich, they named it after the richest man in America, John D. Rockefeller.
Their Cafe Brulot Diabolique is just as famous. This drink mixes coffee, cinnamon, Triple Sec, and brandy and is cooked, or "flamed" as the menu puts it, at the table. Not only is this a delicious beverage, but it's also a spectacle to behold.
The restaurant also offers a seasonally rotating menu with optional wine pairings, too.
Final Thoughts
With just six of the most iconic fine-dining restaurants, we have barely scratched the surface of what New Orleans dining has to offer. However, each restaurant listed here comes from the most famous chefs, either locally or globally, providing you with unique dining experiences through both atmosphere and taste.
---
Related: Most Iconic New Orleans Food & Drinks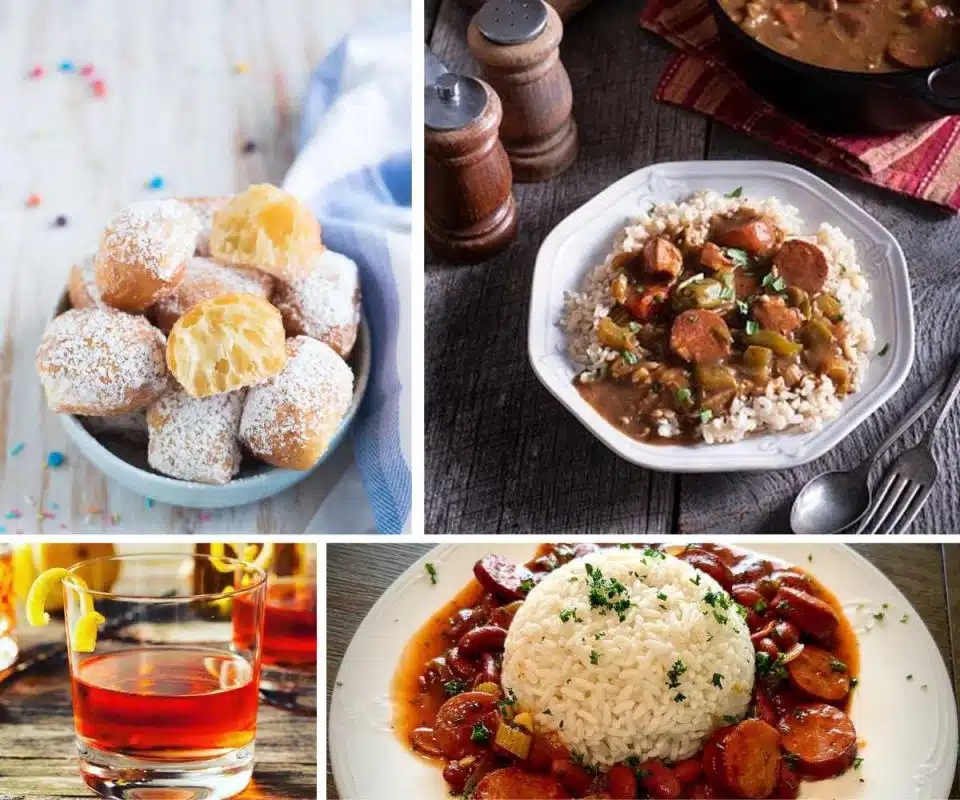 Related: Most Affordable Michelin Restaurants in NYC
Related: Most Affordable Michelin Restaurants in Chicago