Tastes of Arizona: Famous Foods from Across the State Arizona
When you think of American cuisine, the Southwest region can be easy to overlook. Wedged between California and Mexico near the crown of the Sonoran desert, Arizona is a state that is bursting with culture and diversity. As a result, the Grand Canyon State has become home to a unique spread of culinary flavors and cuisine – but what foods are the State of Arizona most known for?
From Native American and traditional Mexican fare to Tex-Mex-inspired food and beyond, there are a variety of iconic eats that have become associated with the state. What's more, some of the most popular Arizona dishes even have exciting stories and folklore behind them that help to build food culture and local appeal.
From favorites like Sonoran hot dogs and prickly pear margaritas to debating the origins of the chimichanga, there is something tasty for everyone in Arizona.
So whether you're an Arizona native or enjoying the state for the first time, don't be surprised if you discover a new favorite food or guilty pleasure during your stay! In this article we'll explore some of Arizona's most beloved foods and where you can find them, so get ready to dig in!
Top 5 Famous Foods from Arizona
1. Chimichangas
One of the most iconic, historic, and even controversial foods from Arizona is the chimichanga.
The controversy is owed to the fact that not everyone can agree on the origin story of this tasty deep-fried sauce-smothered burrito. It doesn't help that the chimichanga is just one of those foods that every restaurant seems to have their own version of – leaving you forever searching for Arizona's #1 best chimi.
What's more, the lore surrounding this accidental culinary masterpiece makes it even more interesting! For example, some chimichanga origin stories begin at Macayo's – one of Phoenix, Arizona's oldest Mexican food restaurants – where they claim to have accidentally dropped a burrito into a deep fryer. And, the rest — as they say — is history. In fact, the Macayo's restaurant has recently made efforts to dub the chimichanga as the state food of Arizona.
Similar legends place the conception of the chimichanga closer to Tucson, Arizona in a famous restaurant called El charro's. According to El Charro's, the name "chimichanga" was born of a mid-sentence correction meant to cover up the use of a common Spanish explicative of a similar phrasing.
Still, other food historians point to the culinary influences of Chinese settlers in the 1900s, drawing similarities between the chimichanga and the deep-fried "egg roll".
Whichever story you've heard, one thing is for sure: the chimichanga is an all-time Arizona food favorite for a delicious reason!
2. Prickly Pear Fruit from the Nopal Cactus
When most people think of Arizona, they tend to think of two things: cowboys and cacti. And, while Arizona has plenty of other beautiful and great things about it, we do indeed have quite a lot of species of cacti.
The cacti of Arizona not only adds to the unique and beautiful landscape, but a lot of these cactus species can be used for making food and drinks as well.
Of all the cactus species Arizonans love to use for food, the prickly pear fruit from the Nopal cactus is by far the most popular. Prickly pear can be made into drinks, candy, jams, jellies, powders, salsas, sauces, marinades, concentrates, ice creams, and much more!
What's more, nopal cactus pads can be skinned and fried up with eggs, wrapped up in a taco, or even eaten by themselves (bonus local points if you use a mesquite grill!). While some Arizonans do enjoy eating the savory-tasting Nopal pads, the sweet fruit of the prickly pear is far more popular.
Nopales served as a dish is a popular street food in Mexico – Arizona's closest neighbor to the south.
3. Fry Bread
Arizona Fry Bread – or "Navajo tacos" as they are sometimes called – is one of the most famous foods in Arizona and a "must-try" while visiting the state.
This delicious dish has been a staple of the Navajo Nation for centuries and has become a favorite at many food festivals, events, concerts, and restaurants.
Fry bread is a soft, flat bread that is usually dressed with various toppings. Whether you're looking for something sweet or savory, fry bread has you covered. There are dessert fry bread options that feature toppings such as honey, chocolate, cinnamon, or sugar.
Savory fry bread usually comes with beans, cheese, seasoned beef or pork, and other toppings like sour cream and shredded lettuce. Arizona fry bread is not only delicious but also rich in culture and history – making it one of the best Arizona famous foods!
4. Sonoran Hot Dogs
If you're a baseball fan, you probably know how much Arizona loves the sport. Each year, over 15 Major League Baseball teams and their loyal fans swarm to cities throughout central Arizona to attend Spring training.
You know what they say… "with baseball comes hotdogs" and while that probably isn't a real saying, it should be! In fact, the brand "Ball Park" Franks (which relies heavily on the baseball theme in their branding) are the most consumed hot dog brand in the USA.
I guess the old saying is true: "Baseball and hotdogs go together like peanut butter and jelly!" – no, that's not right either…
In the United States, we don't just love eating hotdogs, we make them uniquely our own! From Chicago to Texas and even as far as Alaska, each state, region, or major city has a way of making its hot dog style stand out.
The state of Arizona prides itself on being the US-ambassador of the Sonoran hotdog! This tasty Arizona-claimed hotdog was invented in the Mexican state of Sonora in the 1980s, and although it's not strictly "Arizonan" good luck convincing the locals!
A Sonoran dog consists of a crispy and juicy bacon-wrapped hot dog nestled inside a toasted bun, topped with mustard, mayo, ketchup, onions, tomatoes, pinto beans, and jalapeños. Some people like to add hot sauce or avocado slices to their Sonoran dogs. Forget about how you usually order your hot dog, the Sonoran dog is one famous Arizona food you have to try!
5. Cheese Crisp
If you're an Arizona native, you've likely heard of the cheese crisp. However, not even people born and raised in Arizona can agree on what exactly passes for a true cheese crisp. Whether you think a cheese crisp is just another name for a quesadilla or you consider the true "cheese crisp" a fried tortilla with melted cheese on top, you're right! 
A cheese crisp is basically just an open-faced quesadilla, so whether you fold it or not is what makes the difference. Still, whichever method you choose, Arizona locals will probably just call it a cheese crisp anyway.
Cheese crisps are a simple and tasty food to make at home, or you can purchase them at one of the many Mexican fast-food restaurants in the state. If you're looking for cheese crisps in Arizona, try Filiberto's restaurants for the best local flavor. Although this chain started in San Diego, Filiberto's first opened its doors in 1993 near Mesa, Arizona, it has been a go-to establishment for hungry AZ locals ever since.
While considering your options, feel free to try any of the other respective Mexican fast-food chain restaurants with the suffix "Berto's" attached for similar food and atmosphere, if not just slightly off-brand.
6. Tex-Mex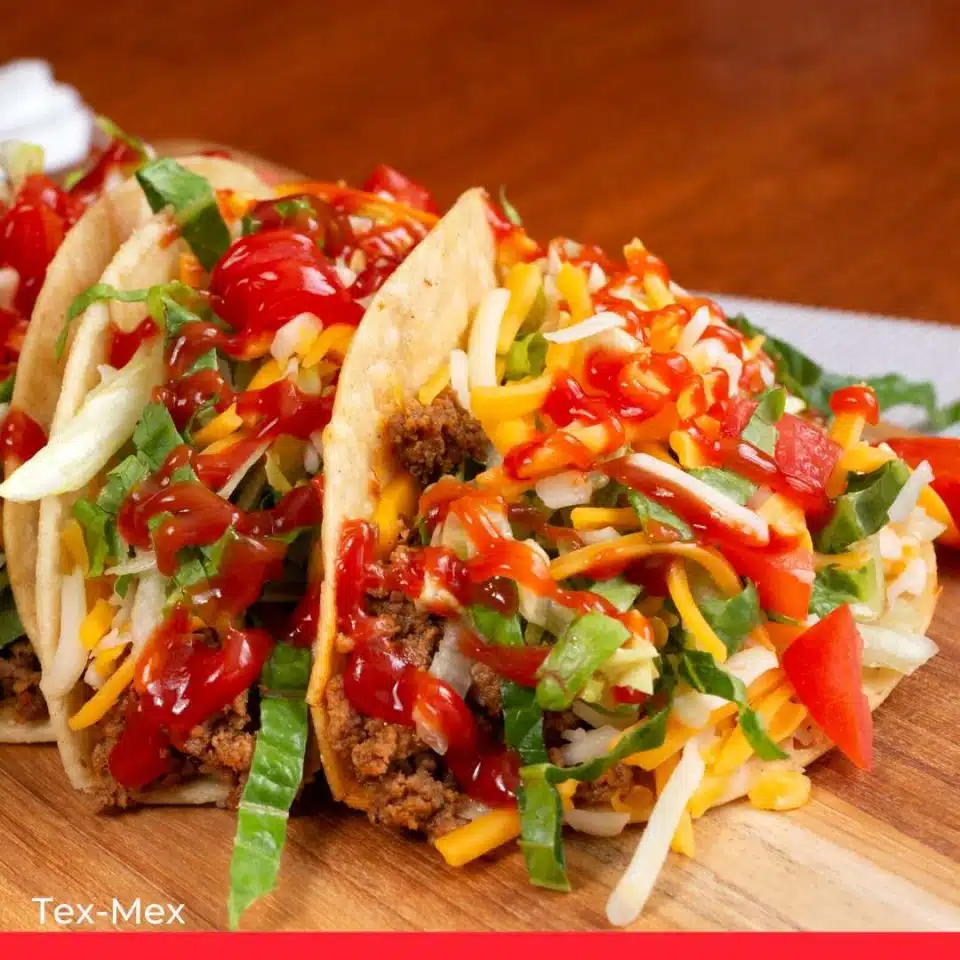 Tex-Mex is an Americanized style of Mexican food made popular in the southwest region of the United States – more specifically, in Texas – which borders the country Mexico, hence the name "Tex-Mex".
When people think of Tex-Mex, they usually think of foods like cheddar and green chili enchiladas, tall towers of hot cheesy nachos, or sizzling fajitas with blackened southwest veggies, just to name a few.
Although this style of cuisine isn't necessarily endemic to Arizona, the Grand Canyon state has a Tex-Mex style that's uniquely it's own! From the chimichanga to the cheese crisp, it's easy to see how versatile and creative you can get with the ingredients available in the southwest region of the United States.
Out of all the foods present on this list, one things for sure – Arizonans just can't seem to get enough Tex-Mex!
Arizona's Famous Foods
Arizona is home to a variety of delicious foods that are popular among locals and visitors alike. With hundreds of restaurants and culinary experiences to choose from, you're sure to find something new and exciting to try on this list of Arizona's top 5 most famous foods.