San Antonio: America's Capital of Mexican Cuisine
San Antonio loves Mexican food, and they love it more than any other American city. Our Chef's Pencil Google research proved it a couple of months back, but it was no surprise really.
It is the original Tex-Mex city, with the two cultures permeating its character – its language, its architecture, its entertainment, and its food.
Short History of Mexican Cuisine in San Antonio
Originally standing in Mexico, large numbers of colonists from the US in the early 1800s followed by thousands of meat-loving Germans added their own gastronomic favorites to the region's food – meat and dairy. And as a major cattle center at the time, standing at the start of the Chisholm Trail, the ingredients were readily available.
Together with the native Mexican corn, beans, squash and chili peppers, the combination became what we know today as Tex-Mex.
The number of migrants mushroomed with the arrival of the railroad toward the end of the century, bringing workers from Mexico and the American South.
They were fed by the Chili Queens, women who set up stalls on San Antonio's plazas serving the spicy beef and bean chili con carne. They also popularized other Tejano dishes, bringing their home cooking to the streets teaming with soldiers, cowboys, troubadours, businessmen and tourists.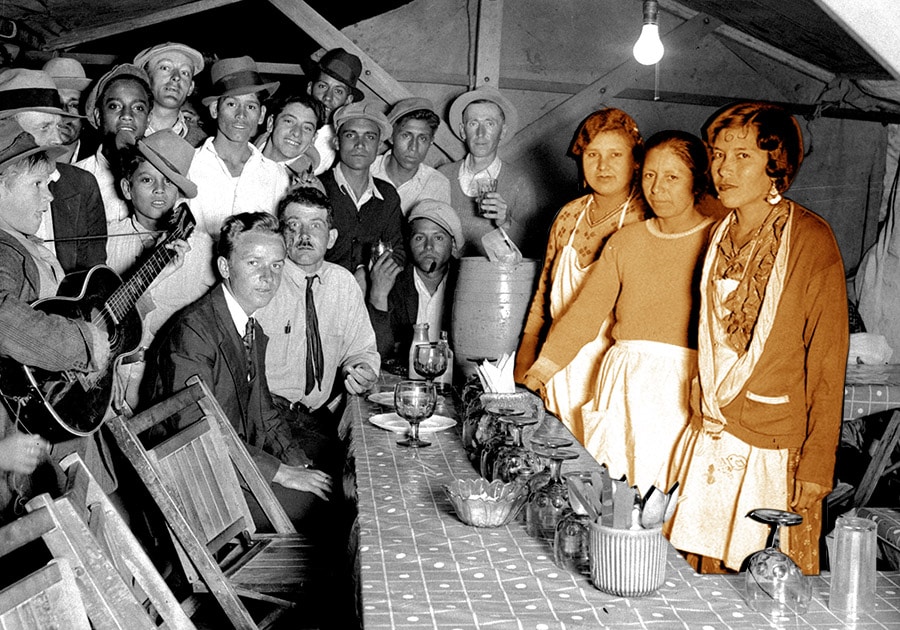 Then in 1900 the legendary Otis Farnsworth set up the Original Mexican Restaurant in San Antonio (which was less original than bastardized), adding rice and beans and putting them all on one plate with tamales and enchiladas.
And that is pretty much the story of the marriage of Tex and Mex. Well, the food, that is. It didn't actually get it's name until way later in 1963, when the term Tex-Mex food was first used in an article in The New York Times Magazine; it originally referred to the railroad that helped spark the whole thing off, the Texan Mexican Railroad.
Mexican Cuisine in San Antonio Today
Today, the Mexican food scene in San Antonio can be a little confusing as there are no clear terms for describing the different cuisines. As Edmund Tijerina, a knowledgeable food & dining journalist in San Antonio, says:
"We have restaurants that offer specialties of regions in Mexico, such as the torta ahogada (carnitas sandwich in a sourdough baguette drenched with tomato sauce) of Guadalajara, fantastic street tacos, and plenty of taquerias that do a brisk business in South Texas breakfast tacos and fresh, handmade flour tortillas.
Here, they're all called "Mexican," and you kind of just have to know which places people talk about."
And it's the taquerias that makes San Antonio a little bit special. "We have so many small taquerias that folks here often take them for granted. They're a local treasure."

Edmund Tijerina
For the best examples of classic Tex-Mex, Edmund recommends old-school places Jacala and Los Barrios. For great South Texas-style tacos, he suggests some small family-run shops – Mendez Café, El Milagrito and Garcia's Mexican Food.
"We have one of the best upscale Mexican restaurants in the country, in Mixtli, a tiny spot that offers a modernist take on regional specialties whose chefs have been named by Food & Wine magazine as Best New Chefs. Alas, it's closed for a while."
"San Antonio prides itself on being the birthplace of Tex-Mex cuisine."

Julia Celeste Rosenfeld
Julia Celeste Rosenfeld, food writer and owner of local private food tour operator Food Chick Tours, sent us her Mexican dining out recommendations:
Los Barrios
Run by the same family since 1979 and still offering casero-style dishes. Sure, they went up against Bobby Flay (and won) so they're not a sleepy little café. But the food is still made they way mama made it at home, and still upholds the traditions of puro San Antonio with 7 kinds of outstanding enchiladas, house-fried chips, and tender beef and chicken fajitas.
They've expanded to four locations. Locals love them for all the right reasons: Consistent quality and friendly service. (Original is my fave: 4223 Blanco Rd, San Antonio, TX 78212)
Lala's Gorditas & Puffy Tacos
An outdoor-only venue situated next to a fruit stand, Lala's chef/owner nixtamalizes his own corn for masa daily. That makes his gorditas and puffy tacos a standout in the city. He offers two stuffing choices, stewed chicken or picadillo (ground beef), topped with shredded lettuce, fresh guacamole and red or green salsa. That's it. And that's all you need. Well, his flan is outstanding too. (1600 Roosevelt Ave.)
Mi Tierra
Kitschy, rowdy, colorful and enormous, this is what visitors think all Tex-Mex places in the city must be like. Located in the bustling Market Square since 1941, there's a panaderia (bakery) and a bar up front, a gift shop on the side, and papel picado hanging from every square inch of the ceiling.

Is the food great? The deep tradition of the cuisine is front and center with everything from menudo to tres leches served 24/7/365. (218 Produce Row)
Garcia's Mexican Food
Big family-run quality in a tiny locale where breakfast tacos fly out the door every morning. But the true magic happens with brisket topped with guacamole at lunch. (842 Fredericksburg Road)
Jacala Mexican Restaurant
Two sisters took over from their mom who opened the doors in 1949 at this classic rambling café. Handmade tamales tell the story of the care they still take in delivering what San Antonio wants. (606 West Ave)