Ajiaco Cubano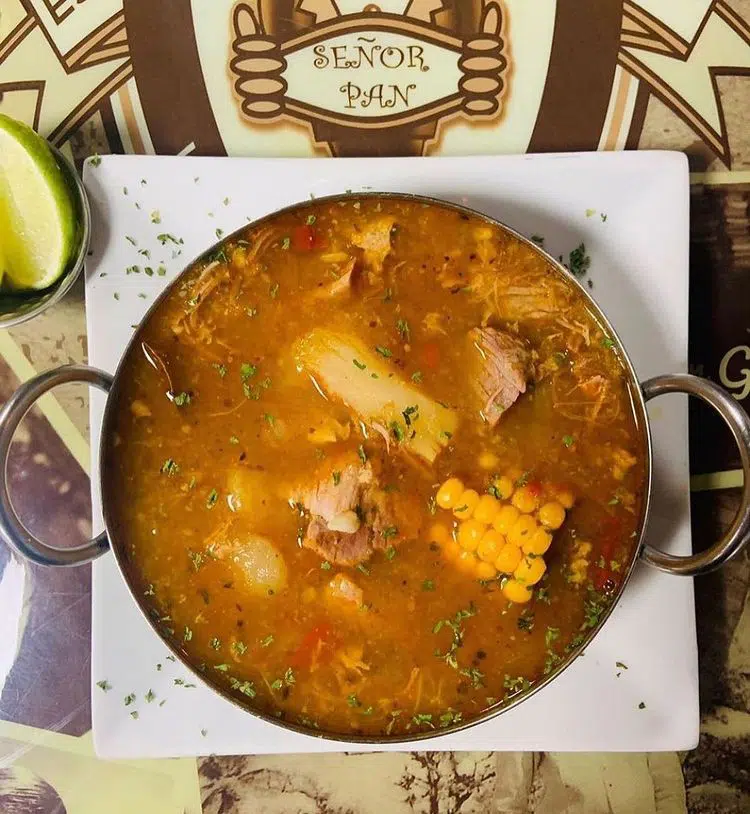 Ajiaco is a signature traditional dish of Cuban cuisine. The rich flavor and variety of nutritious ingredients speak to the ethnic diversity and prosperity of the nation itself.
This is an incredibly hearty dish, so much so you may be reaching straight for dessert after. With the steps we've provided below and a little diligence on your part, you'll have an easy time preparing this amazing meal!
Ajiaco Cubano
Ingredients
1

lb

pork

cubed

1/4

kg

tasajo

(beef jerky)

1

small chicken

cubed

87

g

bacon

chopped

6

cups

water

1

lb

sweet potatoes

1/2

lb

yam

diced

1

lb

cassava

diced

1

piece

pumpkin

diced

1

lb

malanga

diced

1

semi-ripe plantain

diced

2

ripe plantains

diced

2

tender corn cobs

chopped

1

cup

tomato sauce

1

onion

finely chopped

1

large chili pepper

chopped

4

large garlic cloves

chopped

2

lemons

juiced

2

tablespoons

lard

1

tsp

oregano

1/4

tsp

cumin

1-2

whole bay leaves

salt

to taste

freshly ground black pepper

to taste
Instructions
We recommend preparing the tasajo the night before so it's ready by the time you want to get the soup started. Just the tasajo into medium-sized pieces and soak it in water for 12 hours.

Once the jerky is done soaking, drain it and combine with the diced chicken in a large pan over medium heat. Pour in 6 cups of water and simmer for about 1 hour.

Next add the pork and continue simmering for another hour. Make sure you skim the foam that forms on the surface of the water as the meat is cooking.

Meanwhile, in a frying pan, heat up the lard and fry the bacon. Add in the tomato sauce, onion, garlic and chili pepper and simmer for about 15-20 minutes.

Then it's time to add in the spices (cumin, bay leaf, oregano, salt and pepper) and simmer for another 5 minutes. Turn off the flame and discard the bay leaf.

When all the meats have become tender add the chopped vegetables to the meat pot (sweet potatoes, yam, cassava, malanga, corn slices and semi-ripe plantains), leaving the ripe plantains and pumpkin for later. Simmer for about 1 hour or until all the vegetables have softened.

Now it's time to add the diced pumpkin and ripe plantain and cook until tender (about 30 minutes or so). Adjust the seasoning if necessary.

If you prefer a thicker broth, take out some of the vegetables, mash them and stir them back into the pot.

Serve at the table in a large soup tureen along with lime slices so each guest can adjust the taste to their liking.
Notes