6 Good Velveeta Cheese Substitutes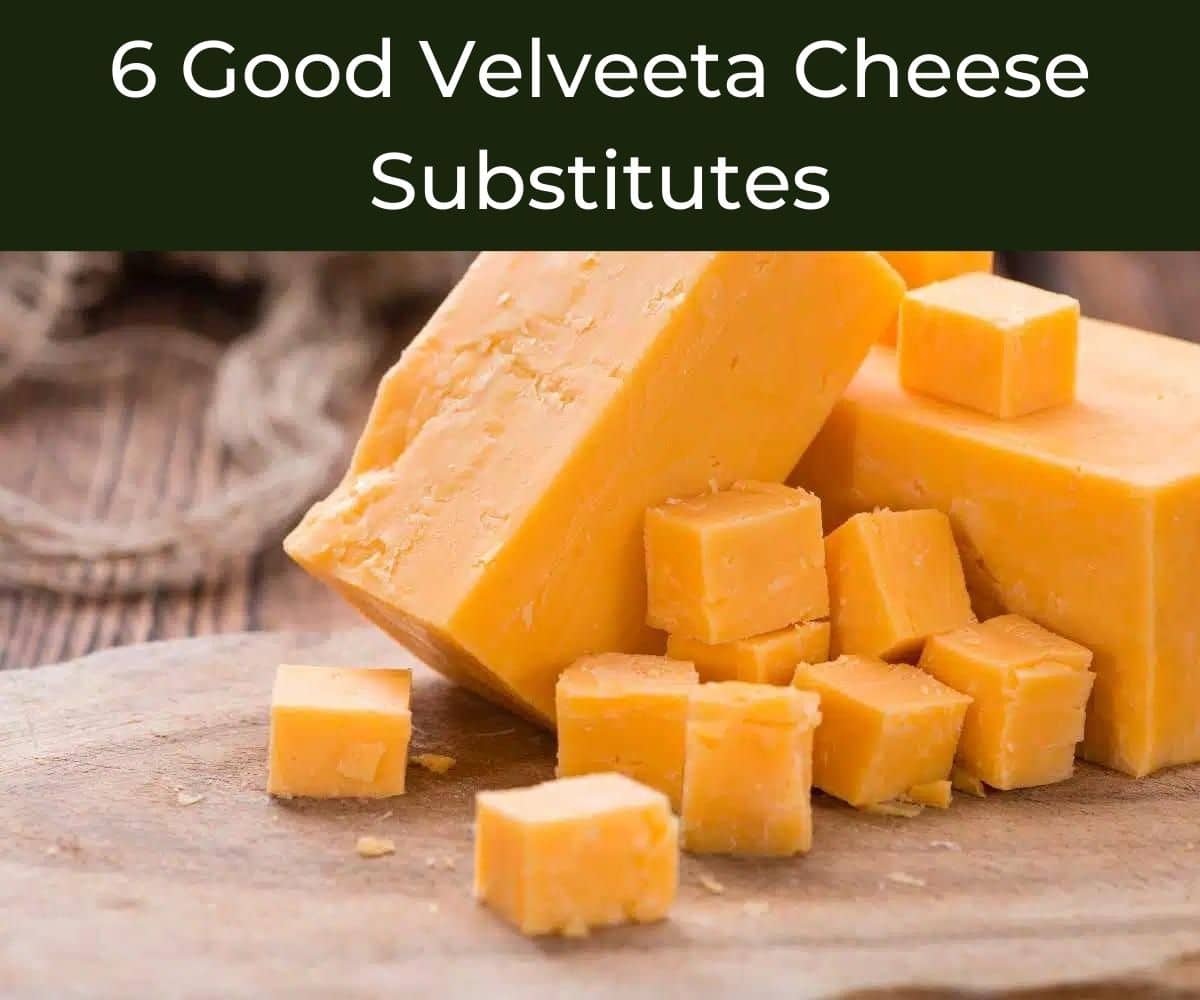 Velveeta is a processed cheese that was invented in the early nineteenth century by scientist and food lover Emil Frey. It is made from a blend of milk, whey protein concentrate, and various ingredients that stabilize the milk and add to its shelf life – it used to be considered a real cheese but is now recognized as a "prepared cheese product."
Velveeta is known for its smooth and creamy texture, mild yet slightly tangy/spicy flavor, and its versatility in the kitchen. It is often used for dishes that call for cheese that is easy to melt (which can be done in the microwave) – practically perfect for all your cheesy inventions!
One of the other benefits of Velveeta is that it is shelf stable, making it an excellent option for traveling, camping, students and others living on a budget! This cheese is so versatile it can be used in a whole number of ways, from breakfast to dinner to snacks. Or as a topping for baked potatoes or chili, as a filling for omelets or quesadillas, or as a base for dips and sauces.
It also serves well when entertaining, as it can be used in a wide range of new and exciting party foods. One popular way to serve Velveeta is heated up as a dip for vegetables or chicken wings, or as a fondue.
But you can also use Velveeta in scrambled eggs, as a pizza sauce, macaroni and cheese (a fan favorite!), as a topping for mashed or baked potatoes, or as a base for a cheesy broccoli or asparagus soup.
And on top of all that, Velveeta is easy to find in America and several other countries. There are similar products on the market, such as Cheez Wiz, but if you cannot find any, here are some other options that will work in a pinch!
1. Homemade Velveeta!
A healthy (and inexpensive!) option to Velveeta is to make your own version. The reason we say this is healthier is because it does not contain any chemicals or ingredients that aren't completely natural.
Instead, this recipe contains just real dairy and a few spices and vegetables, which compares well to the zestiness of real Velveeta.
You can make this recipe in the microwave in a few minutes, or if you have a slow cooker, you can do this on low for a few hours. Simply combine 16 oz of really good cheddar cheese with 1 cup of milk, a pinch of cumin (or cayenne if you like it spicy!) with 5 ounces of chopped tomatoes.
Microwave on high for 2-3 minutes, stirring once or twice and serve with tortilla chips, crackers or your favorite cheese receptacle! You can also use this recipe as a base for an inexpensive fondue by adding an extra ½ cup of heavy cream and a small squeeze of lemon juice.
2. Oaxaca Cheese
Oaxaca cheese is a Mexican cheese that is sometimes melted in a small pot and then used as a warm or room-temperature cheese dip. Whether in the form of fondue or a dip for nacho chips, it is incredibly delicious!
Oaxaca is similar to Velveeta when it is melted but is lighter (more white) in color and doesn't have the same tang or zest, but you can always add any spices you fancy. A sprinkle of cayenne or cumin, or even black pepper is a nice touch and pairs well with the Oaxaca cheese!
3. Cheddar Cheese
Sometimes Velveeta is served chilled and sliced – but be careful because it melts very quickly and is quite salty on its own! When melted, Velveeta is prized for its supreme creaminess which cheddar doesn't really have, but the flavor is equally as cheesy (and maybe even more so!).
Cheddar cheese is very compatible with any Velveeta recipe – simply melt it and add some milk or cream until you get the right consistency.
Cheddar is known for its sharp, tangy flavor and crumbly texture, but one of the main differences between Velveeta and cheddar is its texture. Velveeta is known for its smooth and creamy texture, which makes it an ideal cheese for melting.
Cheddar, on the other hand, has a crumbly texture that is not as smooth as Velveeta. While cheddar can be melted, it does not have the same consistency as Velveeta, which is something to keep in mind if using it as an alternative as you may need to make adjustments. Cheddar makes an excellent substitute for Velveeta in soups and sauces because as it melts it adds creaminess and depth of flavor!
4. Cream Cheese
Cream cheese is another great Velveeta substitute that can be used in a variety of dishes. It has a smooth and creamy texture that makes it perfect for dips, spreads, soups and sauces. While cream cheese has a slightly different flavor than Velveeta, it can be mixed with other types of cheese (especially cheddar, gouda, havarti, or Colby!) to achieve a similar taste.
Cream cheese is also a lower sodium alternative to Velveeta, making it a healthier option. However, it does not have a lot of flavor so it may be worth adding some seasonings and extra spice if using it as a 1:1 replacement.
5. Cheez Wiz
Cheez Wiz is an American processed cheese spread made by Kraft (the same company that makes Velveeta!). It makes a fantastic substitute, especially if making Rotel dip, which is a cheesy, spicy sausage dip used primarily for chips and chicken wings.
Melting Cheez Wiz in the same quantity as Velveeta makes an excellent alternative and you may find Cheez Wiz is your new favorite Kraft product!
6. Monterey Jack
Monterey Jack is a cheese made from cow's milk that has a pale yellow color, slightly paler than Velveeta. It has a mild and creamy flavor, making it a versatile ingredient in many dishes and an excellent alternative to Velveeta when it is melted.
It is a semi-hard cheese, meaning it is firm enough to slice but still has a soft texture and is particularly good when melted, making it perfect for pizza, burger toppings and our personal favorite, macaroni cheese! If you've got a recipe that requires Velveeta, feel free to give Monterey Jack a try!
---
Overall, Velveeta cheese is a unique and versatile cheese that can be used in a variety of ways. Its smooth and creamy texture, mild and tangy flavor, and multi-purpose use make it a popular choice in the kitchen! It is beloved by die-hard Velveeta lovers because it is cheap, easy to find, and can be used in just about any recipe! If you're looking for a healthier, more natural option, you may want to make your own or try one of the many options on this list.
Whether you're making a classic dish such as macaroni cheese or a cheesy casserole, or trying something new and exciting, Velveeta cheese is a delicious and convenient ingredient that can add flavor and texture to any meal. So next time you're at the market, be sure to pick up a block of Velveeta and try it out for yourself, or try making your own at home! We don't think you'll ever go back and your dinner guests and kids will love it!