Best 10 Canned Sardines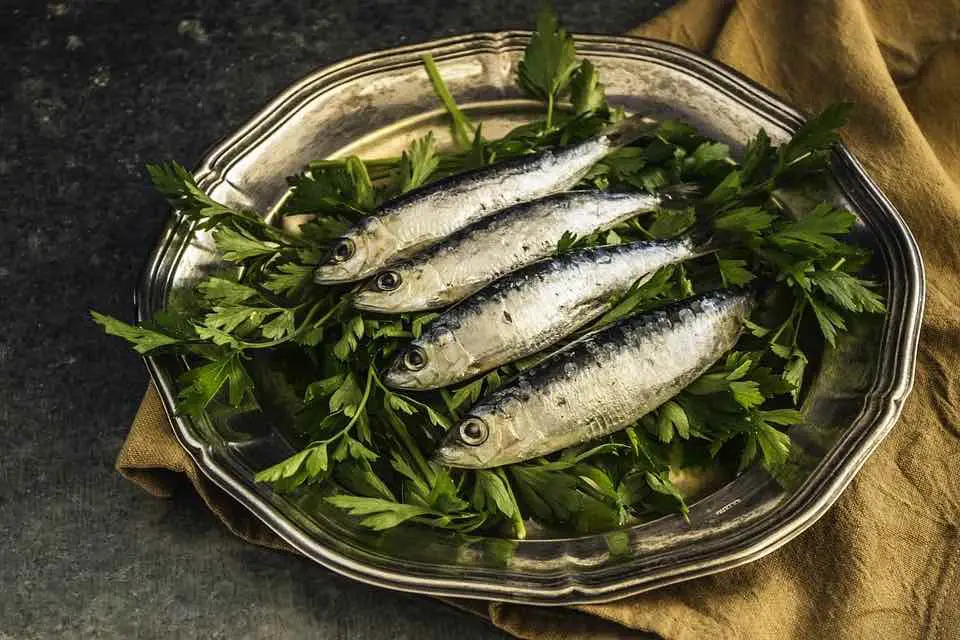 A species of small fish abundant in the Atlantic Ocean, Pacific Ocean, and the Mediterranean sea, sardines are packed with vitamins and minerals which make them a superfood.
As they feed only on plankton and are low on the food chain, they don't contain the high levels of mercury that other fish do. They are said to be named after the Italian island of Sardinia, where they can be found in abundance.
Nutritional Benefits of Sardines
Vitamins:
Sardines are abundant in vitamin B2 and vitamin B12, which means that they support the nervous system's function and are used to convert food into energy. They also have a high vitamin D content, meaning that they can compensate for the lack of sun exposure during winter months in the northern areas of the globe or for those whose lifestyle means they're sun-deprived.
Minerals:
A star of Paleo diets, as they're often eaten whole, sardines with bones are an excellent source of calcium. And although this is the most discussed mineral found in sardines, the tiny fish are the source of much more. They contain a significant amount of selenium, phosphorus, and potassium.
Fats:
As seafood, sardines have lots of beneficial fatty acids. For canned sardines, the fat content will also depend on the liquid in which they are kept, so look for healthy oils, like olive oil, and avoid canola. The fish is packed with Omega-3, making it similar to fish oil supplements, with the bonus that sardines also deliver vitamins, minerals, and protein. The amount of fatty acids makes sardines an ideal food for people who experience fluctuating hormone levels, as these substances help the body with hormone synthesis.
Environment:
As sardines are a type of wild fish, one benefit coming with their consumption is a low ecological and environmental impact. They are on the bottom of the food chain, therefore are less likely to be contaminated with toxins than the fish on the top of the food chain, such as tuna. Also, fishing methods used for sardines don't affect the environment, as shown in Monterey Bay Aquarium's "Super Green List".
What to look for when you're buying canned sardines
As fresh sardines are hard to come by in most regions, canned ones remain the most accessible choice. They come in several varieties, depending on the liquid, the meat, and the preservatives used. The meat can be cleaned off the bones and skin, or the fish can be canned with the bones and skin. However, even with the whole sardines, the bones are very soft, so they can be eaten without any problem.
Choosing the type of meat is entirely a matter of convenience. As far as preservatives go, there will be some in any type of canned sardines, as they are necessary to preserve the fish. Check the label on the can to make sure you don't buy anything you could be allergic to. The liquid used for canned sardines is usually water, vegetable oil, or sauce. Whereas buying sardines in water means no extra fats, oil and sauce ensure a stronger flavor. It all depends on your preference.
Canned Sardines Brands:
1. King Oscar Wild Caught Sardines in Extra Virgin Olive Oil
Considered the best canned sardines by several Redditers, King Oscar sardines have a lightly smoked taste. The olive oil used to preserve them is of the highest quality that enhances and complements the taste. The sardines are caught in the waters near the Norwegian shore, and the company uses the smaller fish for better taste and texture.
King Oscar sardines have a very faint fish smell and taste compared to other brands. King Oscar sardines is an excellent product to keep in the pantry "to get through snowstorms, holidays, and the occasional pandemic."
2. Wild Planet Wild Sardines in Extra Virgin Olive Oil
Ranked best canned sardines by those who prefer a stronger taste, the Wild Planet Sardines are lightly smoked and kept in organic olive oil.
Harvested in the North Pacific, Wild Planet Sardines are caught using sustainable methods that protect marine life and implement responsible fishing practices.
Usually, Pacific sardines are considered a better choice than Atlantic or Mediterranean, because fishing them leaves little bycatch and has low habitat impact.
Wild Planet sardines are firm and meaty, with a smoked taste, and the fish used for cans is slightly bigger than that used by other manufacturers.
3. Crown Prince Sardines in Water
A product of Morocco, Crown Prince Sardines are packed in water, a feature that makes them less oily but also reduces the fish flavor.
They are suitable for someone looking for a lighter version of sardines but who still wants to benefit from all the nutritious value of the fish. Crown Prince Sardines have a firm texture and a mild flavor, and they are low in fat.
Appreciated by Reddit reviewers and Amazon buyers alike, Crown Prince sardines are considered ideal "Large sardines (I have not yet seen more than 3 fish in a single can) with skin and bone. These are quality, organic–you can feel the effect."
4. Brunswick Wild Caught Sardine Fillets in Spring Water
With a clean, natural taste, Brunswick Sardine Fillets are wild-caught sardines packed in spring water, with no added salt, sauce, or oil.
As the Brunswick sardines are filets, the skin and bones of the fish are removed, so the product is better suited to those buyers who want a more delicate fish with a mild flavor.
However, some customers think that this means the fish loses some nutritional qualities, as the skin and the bones are packed with minerals.
Some considers Brunswick one of the best sardine brands, and many others agree considering the high ratings this product has.
These are, I honestly believe, the tastiest, most delicious and pleasurable to eat sardines in spring water that exist anywhere on the market.
5. Season Sardines in Pure Olive Oil
Season sardines are ideal for those who are concerned with the impact of fishing on the environment and want nutrient and mineral-packed food.
The sardines still have the bones and skin, and the olive oil adds both to the flavor and nutritional value. The sardines are harvested sustainably and the product has no BPA contact.
Customers appreciate them for the smokey flavor, for the great taste and texture, and the low price.
The meat is fresh tasting, mostly white meat, slightly firm, and occasionally slightly sweet. The amount and size of the scales isn't a distraction.
6. Ligo Sardines in Tomato Sauce with Chili
A Filipino product that follows a local recipe, the Ligo Sardines come in a flavored tomato-chili sauce, with a hint of garlic and onion.
Customers use them in Asian-inspired dishes or eat them plain, with vinegar and rice. Although the manufacturer's description lists the sardines as spicy, they are rather mild-tasting.
Don't let the chili frighten you away…it is very mild. I have taken to adding Hot Sauce to those cans of sardines that I ordered that are plain.
7. Roland Sardines in Water
Roland Sardines are skinless and boneless, packed in water, have a mild flavor, and lack any fish odor.
As they are low in sodium, they are ideal for anyone who wants to follow a healthy diet but doesn't like a strong fish flavor. The fish are intact inside the can and look good when taken out and served plain.
The skinless ones are much better tasting in my opinion—regular sardines taste a bit too oily, fishy, and strong to me. They are fairly neutral with the absence of added oil or much salt, and this makes them versatile.
8. Bela-Olhao Lightly Smoked Sardines in Olive Oil
A Portuguese product, Bela-Olhao sardines are wild-caught Sardina Pilchardus from the Iberian Peninsula, canned in a family-owned factory using a traditional Portuguese recipe.
The sardines are large, very meaty and are packed with flavor. "Fat, plump, delicious—if you like sardines, you'll love these."
Customers recommend using the oil for vinaigrettes or other sauces and serving the sardines as tapas.
These are sardines as they are meant to be. Delicious flavor, smoked and packed in oil as they are meant to be with no noxious sauces or flavorings.
9. Nuri Portuguese Sardines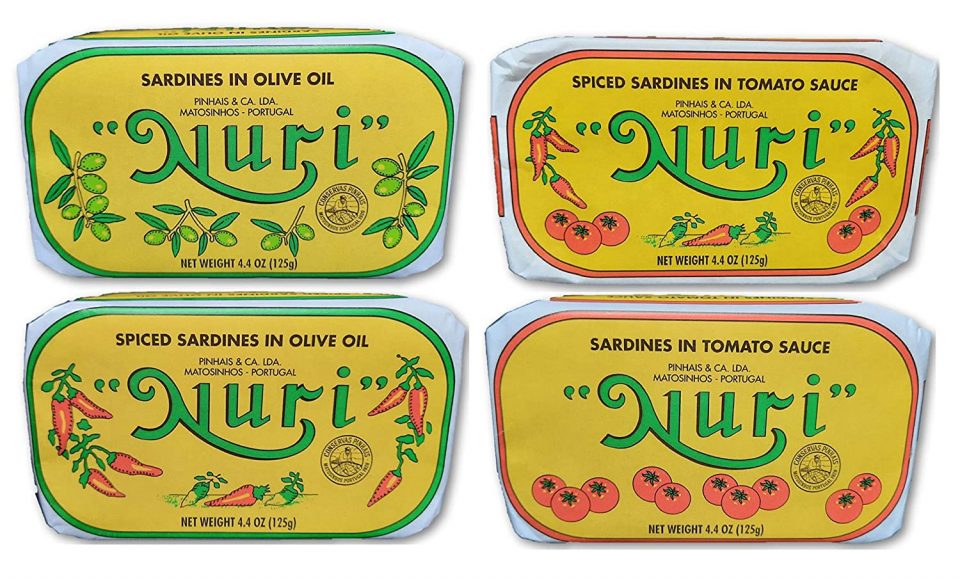 Another Portuguese product, Nuri sardines come in different flavors (olive oil, spicy olive oil, tomato sauce and olive oil, and spiced tomato sauce and olive oil).
The four cans can be purchased in a pack that offers all four flavors, for some variation. Wild-caught, the Nuri sardines have a firm and plump texture.
The tomato sauce still allows room for the sardine taste, and the spicy olive oil can has a whole piri piri inside. There is also a YouTube video showing the entire canning process, using only traditional recipes.
10. Matiz Sardines in Olive Oil
A Spanish product, Matiz sardines are sustainably harvested off the Galician coast of Spain and packed in high-quality olive oil.
The fish still have the skin and bones for a more authentic eating experience, a product full of flavor and lots of nutrients. Each can contains 3-5 fish, meaning that the fish used is smaller, fresher, and more flavorful.
A dense, chewy texture that is deeply satisfying. Nothing mushy about them—they might even remind you of a tuna steak.
---
Chef's Pencil is reader-supported. If you buy something through our links, we may earn an affiliate commission, though this not impact the product selection, which is done independently by our editors and contributors.
Sardines Recipes
After buying the best canned sardines our there, it's time to put them to good use. One chef who recommends sardines as a healthy and environmentally friendly alternative is Jamie Oliver.
He offers several recipes with canned sardines, such as pizza, spaghetti, and potato salad. These are all very easy to make and use very simple and easy to find ingredients. They are also very quick to prepare.
For the pizza, cover a thin pizza base with tomato sauce and some chili, and add the canned sardines on top. Bake the pizza at a high temperature and finish it with thinly sliced red onion and fresh chopped parsley.
For sardine spaghetti, start by frying sliced garlic, chili, cherry tomatoes, and a few capers. Cook the pasta (linguine), drain it, and toss it into the pan, together with the canned sardines. When everything is heated through, drizzle with some virgin olive oil.
For sardine potato salad, boil the potatoes (preferably new ones), and make a dressing with yogurt, red wine, vinegar, salt, pepper, sliced spring onions, and dill. Drain the potatoes, then toss in the dressing. Then, add a few flaked sardine fillets, and sprinkle with freshly chopped dill.
Another canned sardine recipe comes from chefs Dan Holzman and Matt Rodbard. The recipe calls for lemongrass and cilantro leaves, so it comes with a Thai flavor.
For sardine lemongrass salad, whisk together in a bowl 2 tablespoons Thai sweet chili sauce, 1 tablespoon fresh lime juice, and some kosher salt.
Then, add 1 1/2 cups torn cilantro leaves and stems, 1 thinly sliced piece of lemongrass, 1/2 small red onion, sliced, and a can of sardines in water (drain the water and cut the sardines into pieces). Toss to combine and serve immediately.
Canned sardines can also be combined with courgettes. For a Sicilian recipe, chef Ceri Jones uses sardines, sultanas, and pine nuts, and replaces the traditional spaghetti with spiraled courgettes.
Start the recipe by sauteing 1 chopped garlic clove in oil from the sardine can. Add the julienne courgettes to another pan with some sardine oil and stir until soft. Then, add the sardines to the garlic pan, stir them around for a bit and add 1 tablespoon sultanas, 1 tablespoon toasted pine nuts, and one tablespoon capers. Cook until the sardines are warm. Add the courgettes to the saucepan, scatter in 1/2 tablespoon chopped chives, and the zest and the juice of half a lemon, stir, then transfer to a serving dish.
Aside from professional chefs, Reddit users also recommend lots of canned sardines recipes.
Oh sardines…how delicious you are. Best when chopped and very quickly pan-fried with garlic, basil, oregano, and eggs.

ZanshinJ
Another user recipe comes from ChickenCroquet. For smoked sardines eggs benedict, replace the ham with smoked sardines, make a mustard cream sauce ("Put the cream in a pan, add your favorite mustard (I like a dijon). Stir until it thickens a little. BAM.") and serve with a poached egg.
For recipes with fresh sardines we recommend sardines tartar, grilled sardines, or marinated sardines with toast.
---
Chef's Pencil is reader-supported. If you buy something through our links, we may earn an affiliate commission, though this not impact the product selection, which is done independently by our editors and contributors.