Top 23 Mexican Seafood Dishes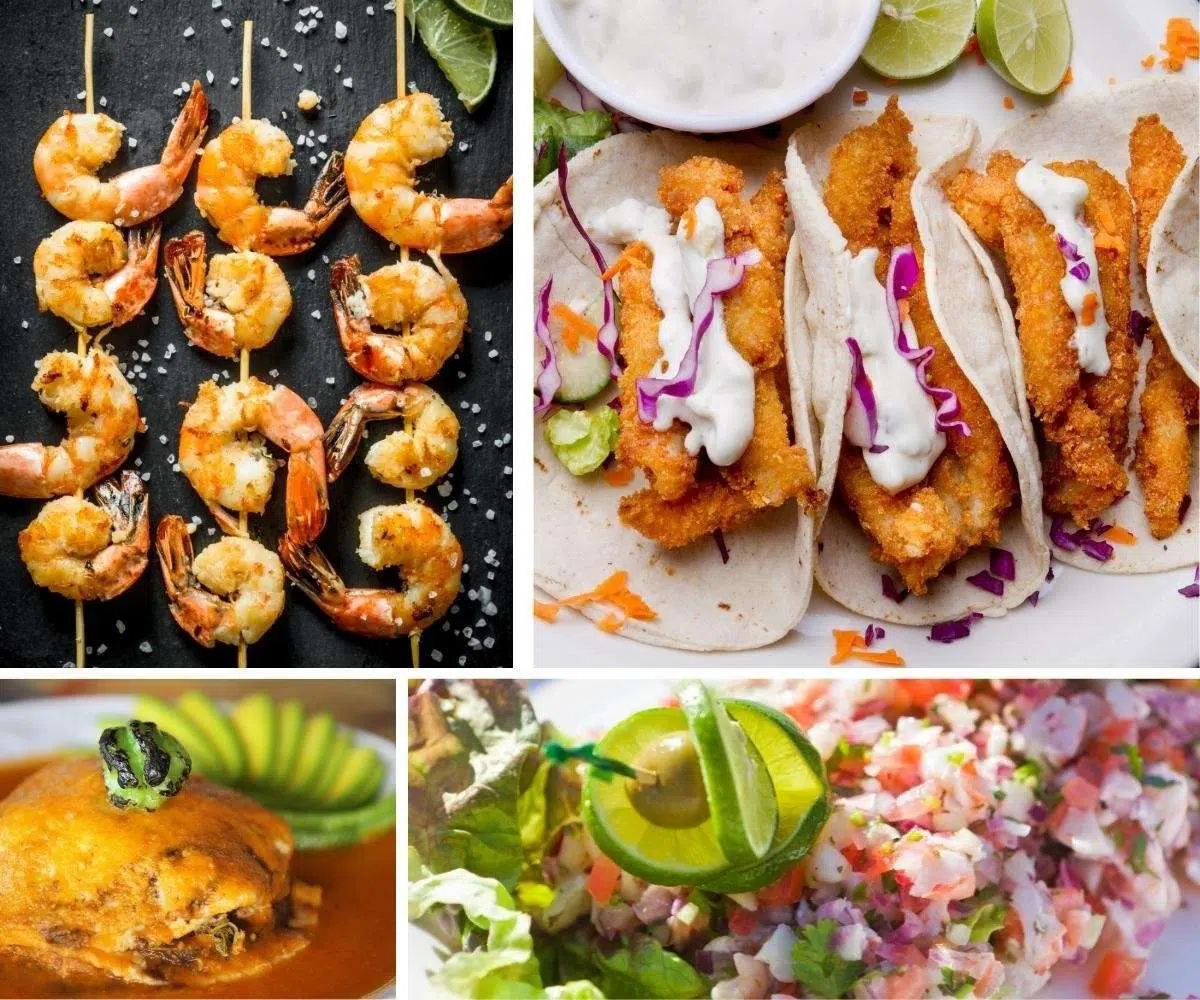 Are you a seafood and Mexican food lover? Then you cannot miss this amazing Mexican seafood list we have created for our Mexican food lovers. This list includes all of the most popular Mexican seafood dishes from north to south.
Seafood is especially popular during Lent and around Easter in Mexico, when the consumption of meat is forbidden. But of course you can enjoy it pretty much every day of the year, as seafood dishes are not only delicious, but also healthy.
Let's get started!
1. Tacos Gobernador, State of Sinaloa
There are many different tacos around the country, but these are one of our favorites without a doubt! This mouthwatering dish includes two of the most delicious ingredients: shrimp and cheese. You gotta try this at home!
2. Acociles, State of Puebla and Veracruz
Acociles are the freshwater cousins of shrimp. These luxury delicacies have been eaten for ceremonies since pre-Hispanic times. Sautéed in butter and garlic… Cheez! You need to eat them at least once in your lifetime.
3. Pizza de Langosta, Holbox Island
The main ingredient of this delightful dish is lobster. Holbox inhabitants say, "the fish you are eating, slept in the sea last night". So, obviously, you must try this pizza if you are there. Or… make it at home! It's a must-try.
4. Ceviche Colimense, State of Colima
This is made with finely chopped sawfish or grouper that is left to marinate for three hours in lemon and onion. It also contains carrot, orange, cucumber, chili, cilantro, and tomatoes. It is a delicious, fresh, and light dish. Perfect on toast for a snack or sharing with friends and family.
5. Caldo Cuatete, State of Guerrero
Cuatete (or catfish) is known for its aphrodisiac qualities. This fish is very tasty, fleshy, and fresh. Its spiciness will amaze you, and that's why everyone wants to try this delicious dish!
6. Charales, Mexican Lakes
Charales are small fish consumed as a snack or appetizer. If you prefer them crispy, you can eat them with chili and lemon. And if you prefer them fresh, which are also delicious, you can eat them in hot or cold dishes. Either way, the have a wonderful taste!
7. Arroz a la Tumbada, State of Veracruz
Arroz a la tumbada is a flavorful seafood dish of prawns, shrimp, octopus, oysters, crabs, and fish. It is very similar to a seafood paella. And a simply gorgeous dish!
8. Tacos de Pescado, State of Baja California Sur
These mouthwatering tacos are usually sold at street stalls in the morning. The fish is cut into pieces, battered, and fried. It is put inside a corn tortilla and decorated with cabbage, dressing, and lemon.
The combination of all these ingredients will make your mouth water for sure! Eat them also with flour tortilla… gosh! My fav.
9. Camarones Embarazados, State of Jalisco
These are shrimp brochettes marinated in dried pasilla chili and orange, and cooked on the grill. Squeeze half a lemon on top and pop them in your mouth. You won't be able to stop!
10. Pescado TikinXic, State of Yucatán
In the original recipe, a whole fish is marinated with achiote seasoning, wrapped in banana leaf, and cooked on the grill. This outstanding dish has a very unique taste from the seasoning used. Spicy, citrusy, and smoky.
11. Pescado a la Veracruzana, State of Veracruz
The flavor of this dish comes from the combination of olives and capers. These highlight the acidic flavor and make it truly delicious. Try it with a Pale Ale draft beer. Yum!
12. Ceviche de Caracol, State of Quintana Roo
Are you on a strict diet? Go for this fabulous dish! The secret of this recipe is hitting the meat of the hard snail with a stone so that it softens. It is prepared with lemon and habanero chili, making it light, spicy, and fresh!
13. Pan de Cazón, State of Campeche
This stunning dish is a stack of tortillas with refried beans, shredded dogfish, and a red sauce called chiltomate. Imagine its crispiness smothered in sauce with creamy beans and the softness of the fish. Wow!
14. Pescado a la Talla, State of Guerrero
Huachinango fish opened like a butterfly, marinated, and cooked on the grill. Tssss! Squeeze a lemon on it and enjoy this fresh and tasty treat!
15. Aguachile, State of Sinaloa
For aguachile, which means water and chili, the shrimp are peeled, butterflied, and left to marinate in a lemon and chiltepin chili sauce. This dried chili gives a unique touch to this dish, making it very spicy and tasty.
16. Camarones Cucaracha, State of Nayarit
A spicy shrimp appetizer! They are crispy and eaten whole. How is this?! Well, the whole shrimps are cleaned and sautéed in butter with garlic. Once done, pour on a little Huichol sauce, lemon, and Maggie sauce. Yes… it's very yummy and crispy!
17. Camarones a la Diabla, State of Guerrero
Its spicy flavor comes from the sauce, made with various dried chilies of varying intensity. They are usually served with white rice, fresh salad or beans from the pot, and corn tortillas. Beware! But enjoy the spicy journey!
18. Chilpachole (Sopa de jaiba), State of Tamaulipas
This is a crab broth in a sauce based on chipotle chili. This is one of our favorite dry chilis, which gives a delicious smoky touch. It is a must-try after a wild night out. Wink.
19. Pejelagarto, State of Tabasco
This is a freshwater fish with a lizard head and a fish body. It is served whole to appreciate its beauty. Its flesh is tender and its flavor is strong. This dish is undoubtedly a delicacy of the gods.
20. Pescado Zarandeado, State of Nayarit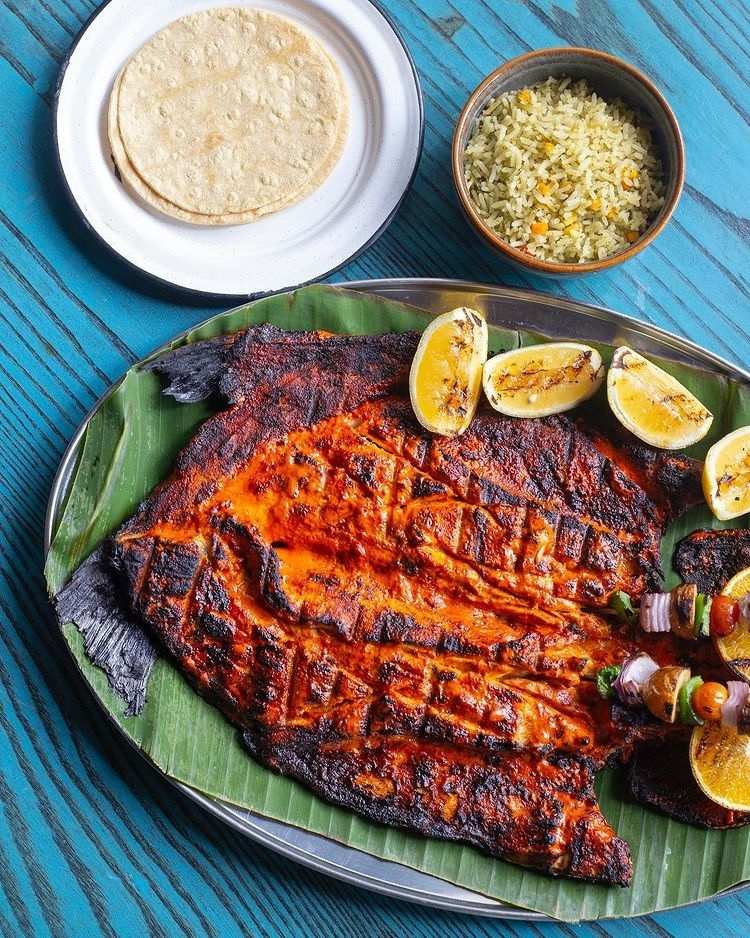 Snapper is the ideal fish for this dish because it is low in fat. Marinated with a hot sauce made with chili, lemon, and soy sauce, it is then grilled between two grids called zarandas.
Enjoy the different textures: crispy on the outside and tender on the inside. Out of this world!
21. Caldo de Piedra, State of Oaxaca
This is a very unique and fresh dish. It is a fish and shrimp broth into which a red-hot river stone is dropped so it cooks in a matter of minutes. Its flavor is earthy, citrus, and tasty.
22. Burrito de Marlín, State of Baja California Sur
This is a giant burrito made with a flour tortilla, stuffed with shredded smoked marlin, vegetables, and dressing to taste. You will love its creaminess!
23. Pulpo Enamorado, State of Guerrero
You will no doubt become addicted to the flavor and aphrodisiac properties of this dish. Its creamy texture comes from the mayonnaise. And the combination of ingredients makes it a fresh and spectacular salad that you just have to try.
To Sum Up
This is one of the most complete lists of Mexico's cuisine from the sea. We really hope you enjoy it and that is encourages you to try a new flavors. Feel free to replace any of the ingredients from the recipes if you cannot find them in your local market.
And don't be afraid of chili! Certainly, it won't kill you. Try it and you'll find out it's delicious!
---
Related: Most Popular Mexican Desserts and Sweets
Related: Popular Mexican Christmas Foods
Related: Mexican Ceviche Recipe