Top 20 Nigerian Desserts That Will Keep You Asking for More
Popularly known as the giant of Africa, Nigeria is a very wealthy country endowed and blessed in culture, tradition, and a variety of tasty, mouth-watering foods and delicacies. But when it comes to traditional desserts, almost every African country is inadequately represented.
The history of Nigeria plays a huge role in its cuisines and recipes, as interactions with various cultures especially Europeans and the Arab world over the years led to the adoption and incorporation of several food items that went on to become the major components of the nation's cuisine today.
There are several desserts eaten in Nigeria and some of them are a piece of heaven made from local food items. Ingredients used to make some Nigerian desserts include milk, flour, coconut, butter, groundnut, cassava, plantain, salt, pepper, etc.
Unlike in some other regions around the world where desserts are normally sweet dishes, some foods eaten as desserts in Nigeria are not always sweet.
Unlike in some other regions around the world where desserts are normally sweet dishes, some foods eaten as desserts in Nigeria are not always sweet. This is majorly due to an ancient culture of avoiding very sweet foods and the consumption of concoctions made from certain bitter roots and herbs for health reasons. So, if you are not familiar with Nigerian cuisines, do not be surprised if your favorite snack is mentioned here.
Below are some wonderful Nigerian desserts you need to taste that will keep you asking for more:
1. Puff-Puff
This is a very common dessert in Nigeria and can also be eaten as a snack. When in smaller sizes, it is mostly used for "small chops" on Nigerian occasions. Puff-puff is made by spicing up batter, especially with diced fresh pepper before deep-frying in vegetable oil. This nice dessert is also eaten in other parts of Africa, though in slight variations.
These are made from the coconut fruit and are chewable, crunchy and candy-like. During preparation, the coconut is thinly grated and fried in balls after being covered with caramel.
This dessert possesses a creamy or golden-brown color depending, respectively, on whether water is added or not. The caramelized color is determined by the water.
3. Chin Chin
This is a very popular crunchy snack that is majorly eaten as a dessert. It is made from well-kneaded dough that is flavored with butter, milk, and eggs. Chin-chin is either deep-fried or oven-baked and the size/shape is generally based on individual preference.
This is said to be one of the most popular foods that can be eaten as a dessert in Nigeria. It is prepared from bean flour and can be spiced to taste with onions, pepper, crayfish, etc.
It is molded into small balls and deep-fried. Akara can be enjoyed with pap/custard or eaten with potato/yam/plantain fries accompanied with stew.
5. Meat Pie
This is a staple dessert eaten in almost every region of Nigeria. Meat pie is said to be consumed in other intercontinental locations as well. The interesting thing about this dessert is the spicy meat and vegetable filling wrapped in it before frying. This tasty dessert is going to rock your boat.
6. Donkwa
This dessert is the magic of tradition and convention and is associated with the Hausa people of Northern Nigeria. Donkwa is prepared from finely ground groundnut and cornmeal, garnished with chili peppers, then mixed with small quantities of water and oil. This mixture is then molded into shape and your dessert is ready to go.
7. Boiled or Roasted Maize & Coconut
This wonderful combination is eaten as a dessert and very popular in the southern parts of Nigeria where there is an abundance of maize and coconut.
The maize is enjoyed either boiled or roasted depending on individual preference. Some people also eat maize with small pears. It is a fiber-packed combination.
8. Nuts
Any cardiologist will tell you nuts are lifesavers. Nuts such as groundnut and cashew nuts are commonly eaten as desserts in Nigeria.
These nuts are either eaten independently or with bread, boli (roasted plantain), garden egg, cucumber, etc. These nuts are capable of filling you up and keep you going all day long.
These are a very popular dessert in Nigeria. Plantain chips are made from either ripe or unripe plantain. The plantain is first peeled and sliced into thin forms before deep-frying. The chips come out crunchy and tasty. This could be one of the oldest desserts in Nigeria ever.
10. Egg rolls
This Nigerian dessert can be easily mistaken for scotch eggs but is very different if you take a closer look. Egg rolls are prepared by enveloping boiled eggs in the dough before deep-frying in vegetable oil. It is very common in Nigeria and enjoyed by all.
11. Kokoro
This dessert is commonly associated with the Yoruba people of Western Nigeria. Kokoro is crunchy cornmeal made from a specially made dough comprising of sugar, water, and corn. The mixture is then rolled into desire shapes and deep-fried. Spices could also be used, depending on individual preferences.
12. Kuli Kuli (Groundnut Cake)
This dessert is also native to the Hausa people of northern Nigeria. Kuli-kuli is prepared with roasted groundnuts that are ground and spiced before deep-frying. It allows myriad variety in terms of size and recipe. This dessert can be eaten independently or accompanied with soaked garri. Kuli-kuli is a very popular Nigerian treat.
13. Shuku Shuku
This is a dessert made from coconut that is very tasty and will keep you asking for more. Shuku shuku is prepared by mixing coconut flakes with caster sugar, egg yolks, and flour. The mixture is made to have a doughy texture before heating in the oven. The shuku shuku balls come out of the oven with an aroma that makes you want to munch on them.
14. Kilishi
This is a very common meat delicacy among the Hausa people of northern Nigeria. Kilishi is made from either beef, mutton, or chevon. The lean meat is sliced into thin sheets and sun-dried for a while.
These dried sheets of meat are then dipped into a mixture of groundnut, seasoning, sugar, pepper, and salt called Labu, before sun-drying for a longer period. The resultant product can be roasted over a fire and eaten as a dessert. Kilishi can last for months without the taste altering.
15. Kpekere
This is another Nigerian dessert made from plantain. Unripe plantain is strictly used and is very common among the Yoruba people of western Nigeria. The unripe plantain is sliced into thin sheets and then deep-fried. Kpekere can be prepared in varieties such as crunchy, spicy, salty, or sweet, depending on individual preference.
16. Yoyo
These are lightly crushed and fried sprats. Sprats are very active tiny oily fish that are related to the herring family. Yoyo is a very healthy delicacy and is known to contain long-chain omega 3 fatty acids which are very good for the heart and help prevent blood clotting. This dessert is very common in coastal regions especially the southern parts of Nigeria.
This is simply nicely cut beef spiced and grilled over an open flame. It is served with fresh cabbage, tomatoes, and onions. It is usually wrapped with old newspaper or aluminum foil and eaten as a dessert especially during the cool of the evening.
This spicy delicacy is a specialty of the Hausa people of northern Nigeria. A special kind of spice mix called Yaji is usually added to the meat before grilling.
18. Boli (Roasted Plantain)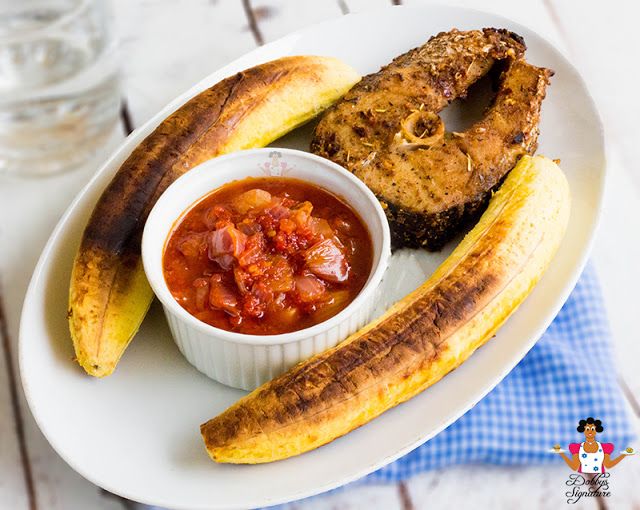 This is yet another tasty delicacy that is eaten as a dessert in Nigeria. The plantain is peeled and grilled on an open fire to a point where the outside gets charred. The charred part is then peeled off and the eventual product served with roasted groundnuts or a mixture of olive oil, pepper, and salt. This is one dessert you can never go wrong with in Nigeria.
19. Ukwa (African breadfruit)
The seeds of the African breadfruits are also roasted and eaten as a dessert, especially among the Igbo people of EasternNigeria. Dried bread fruits come in a variety ranging from hard dried ones, which are dark brown, to the softer ones, which are a lighter shade of brown. Ukwa is very nutritious and is eaten by both the young and old.
20. Date palms
This is a very nutritious dessert eaten especially in the northern parts of Nigeria. The dates grow on a date palm tree and come in various textures ranging from soft to dry and can be preserved for a long period under proper refrigeration.
The next time you visit Nigeria, give yourself a treat of one of these desserts. I bet you will keep asking for more.
---
Next check out our top of the most popular Nigerian foods.
Related: Most Popular Nigerian Christmas Foods