Top 14 Sweet and Savory Christmas Dishes in Nigeria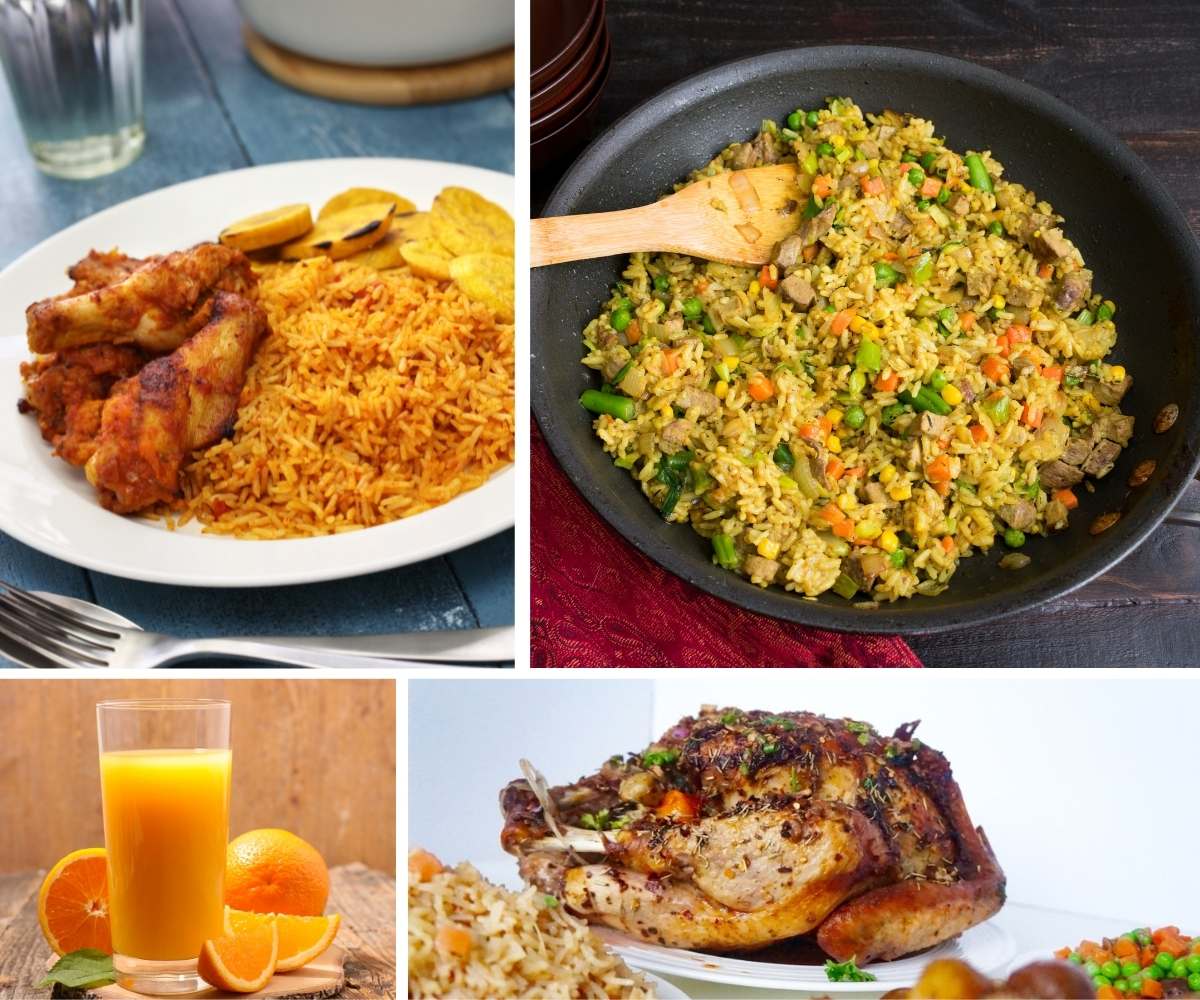 Nigeria has the highest number of Christians in all of Africa. According to the Pew Research Poll, Christians make up roughly 49.3% of Nigeria's population. In addition, 74% identify as Protestants, 25% as Catholics, and 1% belong to the minor Orthodox Christian communities. No wonder Nigerians celebrate Christmas in grand style.
As in most cultures that celebrate Christmas, the main activities in Nigeria are exchanging presents, buying new clothes, sending cards, and visiting loved ones and places of interest, and, of course, enjoying traditional foods and drinks.
But the undeniable Nigerian spirit shapes and colors Christmas celebrations throughout the country. It is a common tradition for family members and neighbors to exchange various delicacies, particularly on Christmas Day, and the merriment can lasts for days after Christmas.
There is always plenty to eat and drink, and the variety is staggering. Nigerians' Christmas meals reflect their culture, but fried chicken is a must-have. And for any Nigerian Christmas dish to be worthy of the season, it must be exceptional, well-garnished, and made with love.
So what makes traditional Nigerian Christmas food exceptional? Let's explore some of the most popular Nigerian Christmas dishes.
1. Stir-fried Jollof Rice
Jollof rice is a culinary creation that belongs in the hall of fame. No occasion, including Christmas, is complete without it. It is often served with dodo (fried plantain), fried chicken, steak, and coleslaw.
Jollof rice is prepared with parboiled long-grained rice (boiled in the husk) that is gently rinsed and combined with a mixture of onions, tomatoes, and chilies. Salt, bouillion, thyme, and curry are the finishing touches; the seasoning is the secret to a great jollof.
Jollof rice is also a popular Christmas food in neighboring Ghana.
2. White Rice and Stew or Sauce
White rice and stew is a staple throughout the Christmas season. It has the advantage that the leftovers can be stored for an extra day, unlike other rice meals that lose flavor after the first day.
Christmas stew recipes include the popular tomato stew, vegetable stew, and veggie chicken sauce.
3. Nigerian Fried Rice
The well-known Nigerian jollof rice has a sibling: fried rice. A straightforward dish that tastes great, enhanced with carrots, peas, beef liver, and a little oil for crisping.
The beef liver gives it a rich, delicate flavor that makes it one of the most popular options throughout the Christmas season. You may also add shrimp and other proteins to suit your tastes.
Fried rice next to jollof rice is the perfect finishing touch, creating an exquisite combination.
4. Nigerian Pepper Soup
Nigerian pepper soup is a spicy broth served at home, in restaurants, and at social gatherings. This well-known starter is the first course of the Christmas meal. The broth warms your tummy as you get ready for the next dish.
The ingredients include calabash nutmeg, African pepper, cloves, and other spices. Depending on your preference, you may add catfish, goat, chicken, and much more that marinates in the broth.
 Nigerian pepper soup is a go-to dish for those who enjoy the heat of vast quantities of chili.
5. Roasted Turkey Strips Seasoned with Delicate Suya Spice
Turkey is one of the ideal main courses for almost any special feast, Christmas and Thanksgiving included!
Roasted strips of turkey are a stunning dish easily prepared with a delectable marinade of garlic, suya spices, and fresh winter herbs. It is so simple, crispy, tasty, and hassle-free.
6. Pounded Yam and Efo Riro
Pounded yam and efo riro is a Christmas lunch, sometimes known as a "knockout meal", that raises the tempo of the holiday season.
Efo riro is a basic traditional vegetable soup native to Abeokuta in the Western Region of Nigeria. It can be eaten with white rice, plantains, yams, and other foods. Christmas should always be celebrated with this nourishing meal.
7. Ukwa (African Bread Fruit Pottage)
The Igbo culinary tradition gave rise to ukwa, commonly known as African breadfruit. Ukwa is widely consumed in the eastern part of Nigeria and competition for it is greatest around Christmas; given its nutritious and delicious qualities, it commands a premium price on the market.
Various techniques may be used to produce this meal. You can boil or roast ukwa, or eat it raw with palm kernel nuts. A meal prepared from breadfruit that is incredibly satisfying and delicious.
8. Fisherman Soup
This Christmas, let your palate explore the richness of seafood. A well-known dish from the southern regions of Nigeria (particularly Akwa Ibom and Cross River) with a long history, fisherman's soup is seen as food for the affluent.
Nigerian fisherman's soup is a straightforward Christmas meal prepared using fish and other seafood, depending on tastes, including catfish or lobster. 
9. Ofada Rice and Stew
Ofada Stew is a delicious Christmas meal cooked with palm oil, fermented locust beans, and bell peppers. It is often referred to as ayamase or designer stew.
Ofada rice is a flavorful rice cultivated in several regions of Nigeria. Since some of the rice bran is still attached to the grain, it has a stronger flavor than conventional rice. Ofada stew has a warm, reviving flavor that will have you wanting more when served over Ofada rice.
10. Tuwo Shinkafa (Rice Porridge)
Tuwo shinkafa is one of the most popular meals in the northern part of Nigeria, especially for special occasions. However, it has been adopted by other cultures and it's a delight to many.
Tuwon shinkafa is made from rice and served with any preferred soup but popularly with bean soup. There's no perfect Christmas without tuwo in Northern Nigeria.
11. Abacha (African Salad)
Christmas is definitely incomplete without this delicious, well-garnished meal from the East. Abacha is made with shredded cassava and is served as an appetizer. However, it can be served as a main course and is delicious and healthy meal. An absolute favorite.
12. Nigerian Chapman Punch
Drinks are an essential part of the festivities. A common drink in Nigeria is Chapman. The elite Ikoyi Club in Lagos, Nigeria, is credited with creating the Chapman cocktail.
Very refreshing, it is simple to prepare. Mix slices of cucumber, lime, and lemon with blackcurrants and a blend of two carbonated drinks. Blended and chilled, it makes the ideal Christmas drink.
13. Fruit Juice
It's crucial to fortify yourself with foods that help you cope with the stressful days leading up to Christmas. A variety of fruits and vegetables have been discovered to relax muscles, manage blood pressure, and soothe the nervous system.
A cold cup of freshly squeezed juice will help get your Christmas morning off to a fantastic start. Since it just requires mixing your favorite fruits, it is quite simple to create. You have many options, from pineapple to orange or banana juice.
14. Palm Wine
Palm wine is a celebratory drink that imparts a delicious taste of nostalgia. But, of course, taking it in excess can be intoxicating. However, drinking palm wine is commonplace amongst the Igbos and Yorubas.
Excellent palm wine is made from the sap of palm trees and best freshly served. You'll want to make it again and again throughout Christmas since it's so delicious and reviving!
---
Related: Most Popular Nigerian Foods
Related: Most Popular Nigerian Desserts