Top 12 Culinary Schools in Texas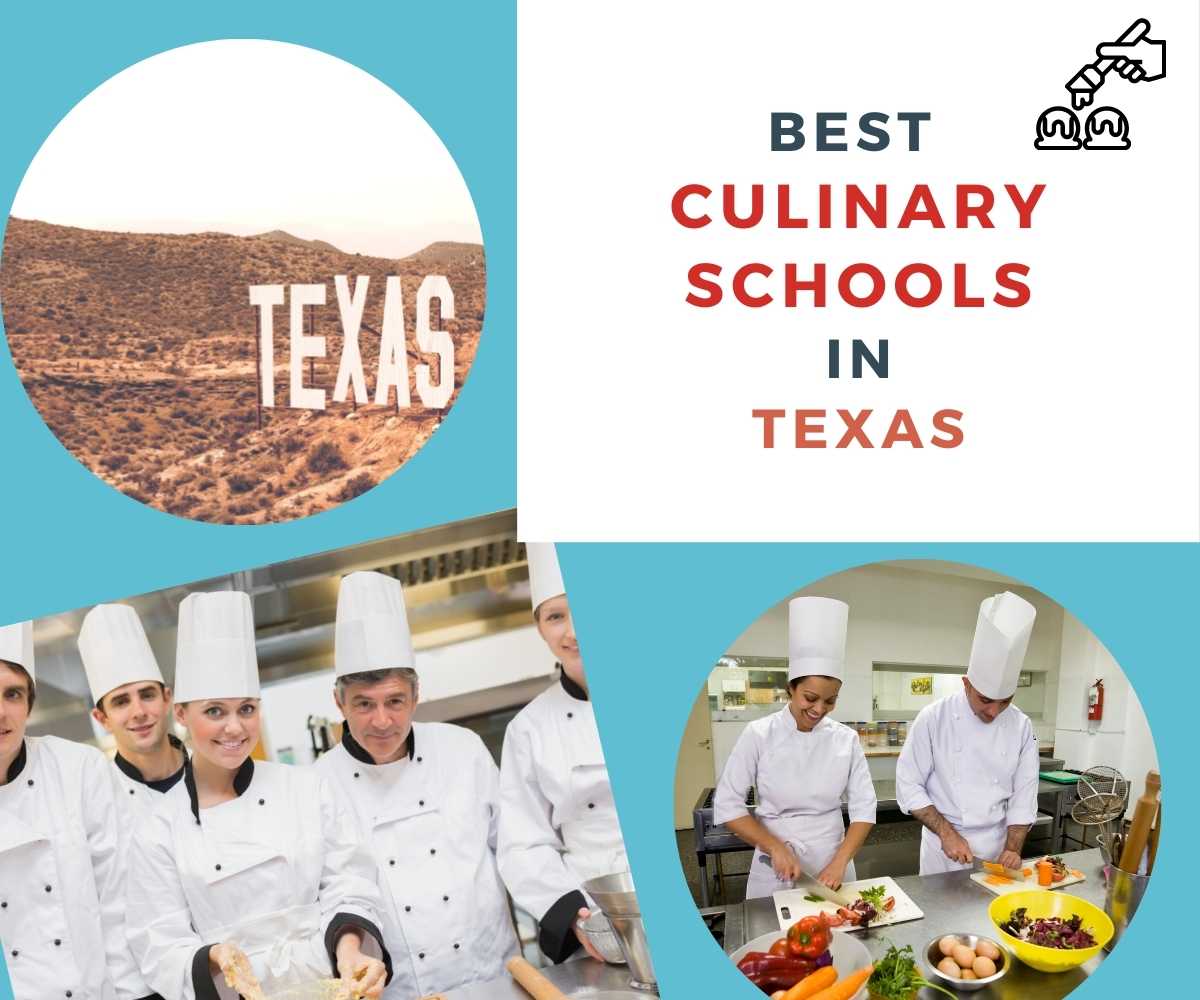 Texas's cities are full of inspiring restaurants and foods that would excite any aspiring chef. Just being in Texas will teach future culinary students a lot about fusion cuisine, culinary creativity, and the true meaning of hospitality.
Luckily, there are lots of amazing culinary programs in Texas as well. You can enjoy the vibrant food scene in Texas and also get a degree in the culinary field!
There are quite a few devoted culinary schools in this state that offer nothing but degrees in the hospitality industry. There are also numerous technical colleges and universities that offer specialties in culinary arts.
We take a look at the best schools in Texas and the top programs in the state. Whether you are looking for an Associate's degree in Culinary Arts or simply want a certificate in hospitality management, Texas is sure to have the school for you! 
The Auguste Escoffier School of Culinary Arts is one of the bigger names in the world of culinary schools. It is the largest culinary school brand in the United States and ranked in the top ten culinary schools every year. It has also been awarded "Best Online School of 2022". That is a pretty impressive resumé! 
One thing that sets the Auguste Escoffier School apart from others is the unique degrees it offers. The school has a newer program which focuses on plant-based culinary arts and another in holistic nutrition and wellness. You can also pursue a more traditional culinary career in culinary arts or baking and pastry.
The beautiful culinary school is located in Austin, TX in the downtown area. The big little city is a great place to start your culinary career and this is the school to choose!
The Culinary Institute Lenôtre is another top-ranked culinary school in the United States. It has been operating since 1927 in Houston, TX. Professional chef instructors average at least 15 years of industry experience, which means you will learn from the best. With a 12 to 1 student to teacher ratio, you are sure to get the full attention and support you need to become a fantastic chef. 
Most of the students' time is spent in the high-tech kitchen labs, where the focus is on cooking and techniques. The average student will find a job in the culinary field before graduation. The Lenôtre name goes far in the industry!
Earn a degree in culinary arts and cuisine, baking and pastry arts or hospitality and restaurant management. Join the Chefs Club for extra experience and attend one of the many exciting seminars the school hosts each month. There is a lot to learn and the Culinary Institute Lenôtre is the place to do it.
The Culinary Institute of America is one of the top culinary schools in the world. It has several global campuses, one in exciting downtown San Antonio, TX.
The school embraces its location by specializing in Latin cuisine, with a one of a kind Latin kitchen featuring indoor and outdoor cooking stations. There are an additional 5 test kitchens on site, a professional bakeshop, and a learning strategies center where students can study anytime of day. 
The San Antonio, TX school offers an Associate's degree program in baking and pastry and culinary arts. There are also specialized programs for industry professionals to enhance their career. Enroll in a one-day class for food and wine lovers for a fun culinary school experience.
Credits earned at the CIA Antonio location can transfer to the school's New York campus if you are interested in pursuing a bachelor's degree in culinary arts.
The International Culinary School of the Art Institutes has several campuses throughout Texas. Each location offers the same fantastic programs that will help you get a degree in the hospitality field.
Earn an Associate's degree in Culinary Arts Applied Science or a certificate in culinary arts. Both degrees will prepare you for working in real, high-tech, professional kitchens. 
The AIC believes that food is a passion as well as a career. They look to further that passion and help you hone your skills, enabling you to express yourself through food. Classes range from the practical, such as as nutrition and menu management, to exciting courses such as Asian cuisine and art culinaire. With so many different cuisines to learn and practice, you are sure to love every moment you spend at the AIC. 
The Culinary School of Fort Worth goes beyond teaching the basics of cooking. They prepare you for the real-world commercial kitchen. The school has small class sizes and instructors with long culinary experience. You will be learning from the best in a close-knit culinary community.
Upon graduating from this specialty school, you will have a certificate in professional culinary arts. This is awarded after completing nine months of hands on culinary training and two months on the job internship experience.
Your school credits can be used at a local university and put toward an Associate's degree in food service management.
At Collin College they believe that food is life and you can learn to make life more enjoyable when you study the culinary arts. The culinary arts program is part of the school's Hospitality and Culinary Education degree.
The broad curriculum emphasizes a hands-on approach to food preparation. Culinary lab classes will give you lots of real-life experience, preparing you fully for a kitchen career. 
Choose between a level 1 culinary arts certificate program or a level 3 advanced culinary certificate program. Choose to earn your Associate's degree at Collins College in culinary arts to really boost your career. The school is fully accredited by the American Culinary Federation, meaning this degree is recognized around the nation.
The Tarrant County College believes that culinary success is within reach. All you need is the right start and the right degree!
Take classes to earn an Associate's degree in culinary arts. Choose a faster certificate program to jump start your culinary career right away. Tarrant County College offers certificate courses in baking and pastry, culinary arts and also catering for private chefs. This unique program may be just what a young entrepreneur needs to start their own private culinary business!
Tarrant County College is affordable and has clear tuition outlines on their website. Financial aid is also available, enabling every aspiring chef to afford the degree they need.
St. Phillips College is part of the Alamo College group. It is located in beautiful San Antonio, Texas, where you can get a culinary education both in and out of school. The hospitality industry is thriving in San Antonio. St. Phillips culinary program will help you get a career that takes full advantage of San Antonio's vast tourist appeal.
Classes in kitchen management, catering, and fine dining will guide you toward an Associate's degree in culinary arts. Choose a certificate program and you will graduate in just a few weeks! Upon completing classes, you will be a Certified Culinarian and have the skills you need to jump right into a successful food service career.
You can turn your love for food into a career with a degree from Austin Community College. The culinary arts program offers scholarships and study abroad classes. There are several student-run restaurants where you can hone your skills in a real-life setting.
Get an Associate's degree in baking and pastry or culinary arts. You can also take classes to earn a certificate in culinary arts and pastry arts. Both degrees will improve your employability and also give you transferable credits if you choose to further your education. You can study the industry you love while also living in one of the most exciting cities in the country!
Del Mar College culinary arts program is designed to ready students for the fast-paced workplaces of the food industry. The program offers on campus courses and off campus experiences as well. The program is certified by the American Culinary Federation and many credits will transfer if you wish to continue on to get a higher degree.
Enroll in the Culinary Arts Associate's degree program and you will take classes such as sanitation and safety, à la carte cooking, and saucier. The cook and baker certificate program offers classes such as advanced pastry shop and management of food production. The classes are interesting and necessary for success in such a high-powered field!
Become a professional chef using a degree from San Jacinto College. You will get a thorough education and training from top chefs. The program places an emphasis on technical food preparation, proper use of food service equipment, and basic culinary supervisory skills.
SJC offers certificate programs in pastry arts and culinary arts. Choose to stay for two full years and earn an Associate's degree. With a 100% graduation rate in the culinary arts program, the course is clearly exciting!
Are you interested in a career in culinary arts? Or maybe baking and pastry catches your eye? Or perhaps you are more interested in food and hospitality management. Dallas College can help you with any of these career paths. The best part is you can learn it all at the beautiful El Centro Campus.
All culinary classes follow a cohort program where students stay together, in one small group, throughout their entire degree. This helps students bond and become stronger as a team, a skill that is very valuable for a culinary career. Students also complete a chef's apprenticeship, where they receive on-the-job training. All this real-world experience plus exciting class load is what makes Dallas College so great.
Attending culinary school is the best way to jump start your career in the food service industry. Texas has so many fantastic schools to choose from that you are sure to find one that fits your needs. It's time to check out a few and then sign up! Your degree awaits! 
---
Related: Best Culinary Schools in Illinois
Related: Best Culinary Schools in California
Related: Best Culinary Schools in Florida
Related: Best Culinary Schools in New York
Related: Best Culinary Schools in America