The Top 10 Traditional Somali Foods
Located in the Horn of Africa, Somalia is an East African country that epitomized African civil wars and their devastating effect on the local population. This is what most people in the Western world associate Somalia with.
But Somalia has a very rich history and culture. It is one of the first countries in the world that embraced Islam and it is home to one of the oldest mosques in the world. In the Middle Ages, it was a powerful kingdom and a thriving trading center. Over the centuries it came under the occupation of various regional and world powers such as Ethiopia, the Ottoman Empire, Italy and Britain, which all left their mark on the country.
Now let's learn more about Somalia through its cuisine. Below are some of the most popular local foods.
1. Canjero
Canjeero is the most common breakfast in Somalia. This light meal, perfect for early risers, is what every Somali eats before going to school or work.
It's a simple food made with two basic ingredients: flour (or corn flour) and yeast. For a proper Somali Canjero, you need to mix the flour, yeast, and a little salt with plenty of water to make thick, soft, and creamy batter. This is left overnight to ferment, and cooked on a low heat in the morning. For the circular pattern, ladle the batter into the warm pan and use the bottom of the ladle to spread the batter around the pan.
You can eat it with sesame oil and sugar if you are in hurry, or with dallac bilaash, a tomato sauce also know as "worthless sauce"! Yes, Somalis are livestock herders and love meat, so any sauce without meat is considered worthless to them.
2. Muufo
Muufo is rich in carbohydrates as it's made from a corn flour dough. Without any yeast, the traditional Somali Muufo does not rise during baking. It's baked in a tinaar (a traditional Somali clay oven), which is heated with firewood. Once baked, it is wrapped in a thick cloth to keep it hot.
You eat it with suqaar (meat sauce), soup, sesame oil, and, of course, banana! To prepare the dish, grind the muufo in your hands, add suqaar, soup, and sesame oil, and then mix it with banana slices to enjoy its delicious delicacy.
3. Baasto (Spaghetti)
Yes! Pasta is a favorite in Somali cuisine and it's loved by all. This is not a huge surprise as Somalia was once ruled by Italy.
There are different pasta dishes, and the most popular is prepared with a traditional pasta sauce of meatballs, tomatoes, potato slices, garlic, onion, sunflower oil, and xawaaji (a Somali spice mixture).
Pasta used to be a special food reserved for guests and only occasionally served as a Friday treat for the family. Today it is a stable food, and all the Somalis love it.
4. Canbulo Iyo Bun (Beans and Coffee Berries)
This is a centuries-old traditional food for the Somali people. It's either a combination of beans and rice, beans and wheat, or sorghum and wheat with dry coffee berries fried with oil. Occasionally, people eat it with popcorn and cassava. It is just delicious.
It is often eaten for dinner, but can also be served for Friday breakfast. On Fridays, it is tradition to serve the dish with fried coffee berries and popcorn, say a prayer for the dead, and ask Allah for forgiveness.
5. Soor
Soor (also known as ugali in East Africa) is a popular stable food made with ground maize. The flour is cooked with water and salt, and to soften it up, fresh or sour milk (caano garoor).
Some people mix sour milk with Somali sauce, creating a colorful flavor that is sour and sweet. Otherwise, it can be stiffened and cut into cubes to eat with collard greens, cooked with tomatoes, onion, carrot, and, of course, meatballs and banana!
6. Bariis (Rice)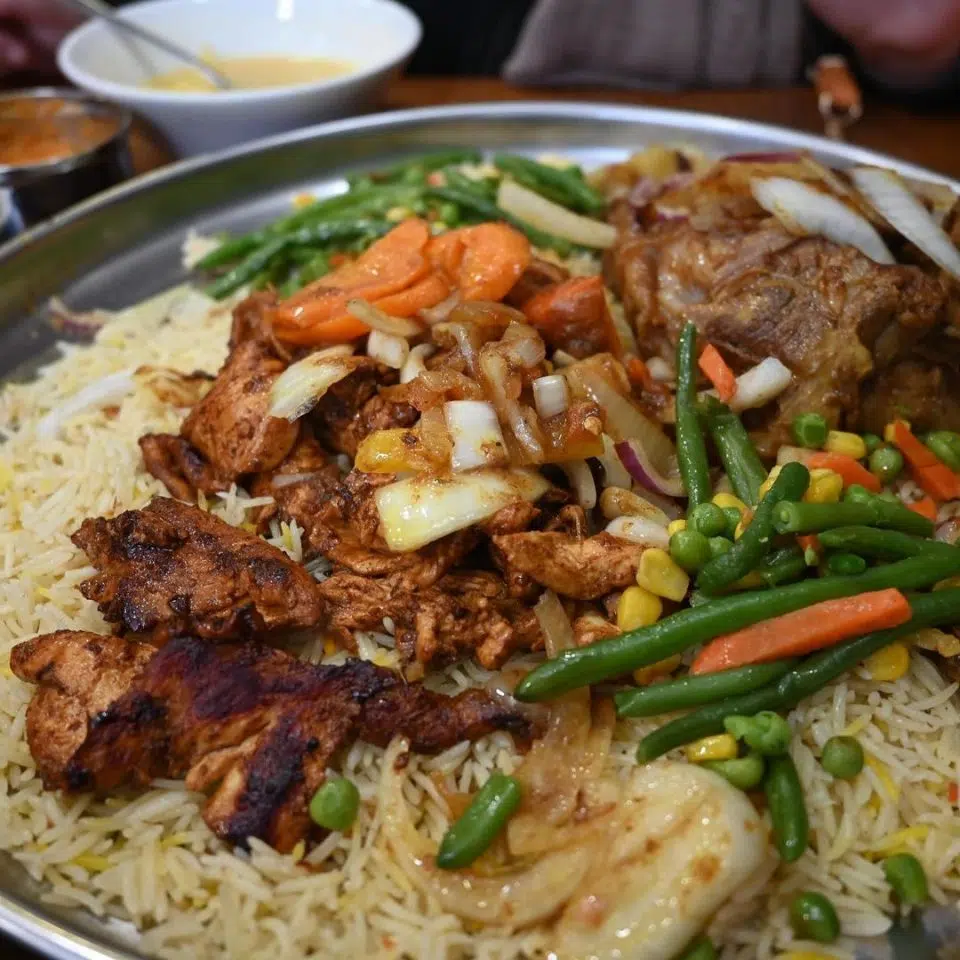 Rice, locally known as bariis, is the national dish of Somalia and a stable in every Somali household. It can be prepared in three different ways. First, bariis cad (boiled rice) served with milk. This dish is usually prepared for older people, the sick, or those with eating disorders or who can't eat spicy foods.
The second, bariis isku karis (cooking rice and sauce together) is the most common and its cooked with tomatoes, onions, garlic, meatballs, and a mixture of spices called xawaash (a mix of ground cumin, turmeric, coriander, paprika, cardamon, black pepper, cloves, cinnamon, and nutmeg).
The third is bariis iyo suugo ( rice with Somali sauce). Here, the rice is cooked with onion, garlic, and xawaash and served with Somali sauce toppings and roasted lamb, camel, goat, chicken or beef. Yes! So before you ask, a Somali lunch which is not served with banana and homemade spicy pepper sauce is not complete!
7. Sambusa
Sambusa is one of the most loved Somali desserts that everyone enjoys. It is a popular street food found at any food stall, but can also be found at fine-dining restaurants. It's also the favorite food Somali people use to break the fasting during the holy month of Ramadan.
Sambusa (locally known as sambuus) is much more than a sweet delicacy for Somali homes. It is a food that brings loved ones together to share special moments. It helps to strengthen family bonds as it is usually prepared by everyone in the kitchen.
The most popular sambusas are either filled with fish or beef. The meat is ground and then mixed with xawaash, onion, and garlic. Fooliyo, a very thin pastry, is rolled into circles, each one cut into quarters, and each quarter is filled with filling and wrapped to make a triangle. It's then deep-fried in palm oil to give its crunch.
Sambusa are regarded as the African version of the famous Indian samosas.
8. Sabayad iyo Maraq
Sabayad is more like a msemen or chapati pancake – unleavened flatbread. To prepare sabayad, mix warm water, cornflour, salt, and margarine or oil together. Some people add milk and eggs to give it a creamy texture. It's a beloved delicacy throughout the Somali regions.
It is eaten with meat sauce or sometimes liver sauce, yummy! When prepared with milk and eggs, it is eaten as an appetizer with the afternoon casariyo (afternoon tea).
9. Moos Bukeeni (Plantain Stew)
The Somali people living on the fertile lands around rivers love plantain. In the old days, Somalia was a central hub for banana exports in Africa.
Moos bukeeni is an excellent appetizer and just one of the many ways Somalians made use of the fruit. The bananas are sliced, mixed with water, coconut milk, and sugar and cooked gently, without stirring as plantains easily get crushed.
Some people go the extra mile and mix it with meat sauce, enjoying it's mushy texture and sweetness with either sabayad, pasta, rice or even home made muufo.
10. Oodkac (Jeryky-style Beef Cubes)
Oodkac is essentially the most important Somali dish. In the early days, it was prepared during the rainy season, when milk is abundant and meat is aplenty in preparation for the dry seasons ahead. It was the go to food for people travelling long distances, as it lasts a long time. So important is oodkac, it was, and still is, gifted to newly wed couples, mothers with new babies, and even students living far away from home.
I recently travelled to the countryside to spend a few days with my grandmother. She insisted on making oodkac for me to take it back home as gift for the family. The meat is cut into thin, jerky-style pieces which are left to dry in the sun. Then its cut into cubes and cooked with salt and oil. When ready, melted butter oil is added to preserve it. It has a wonderful vivid taste and super crunchiness.
---
Related: Most Popular Ethiopian Foods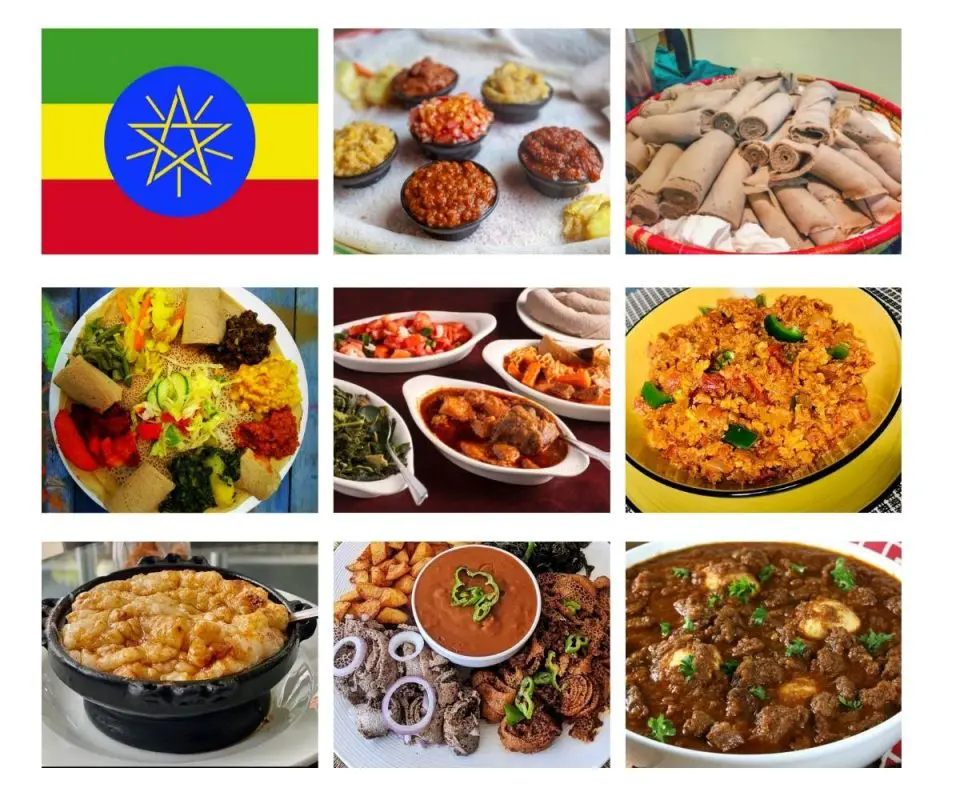 Related: Most Popular Kenyan Foods
Related: Most Popular Yemeni Foods