13 Tasty Spanish Side Dishes You Can Make at Home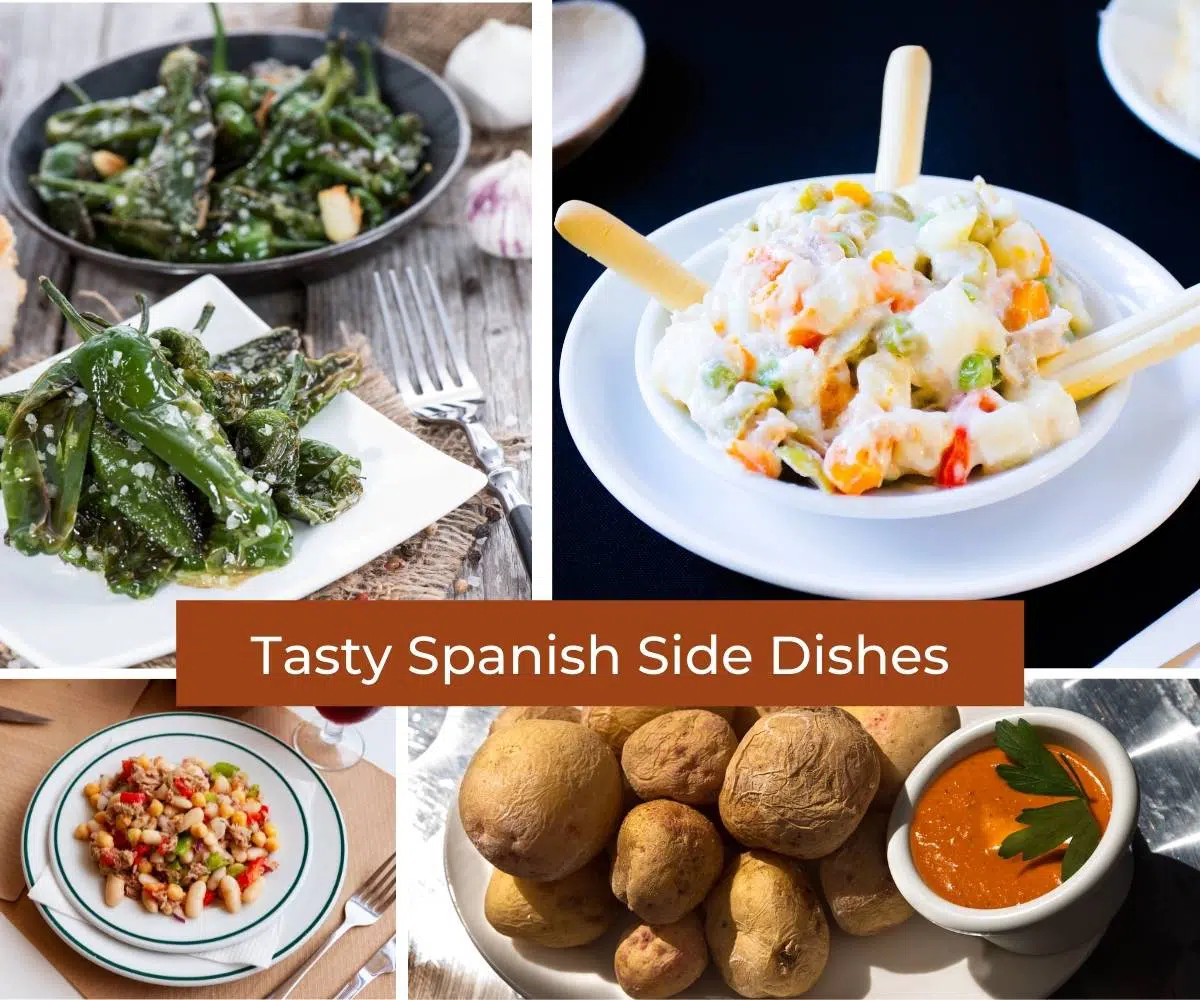 If you're ready to start exploring the unique flavors of Spanish cuisine, then a close look at the incredible range of side dishes is a must.
Whether you're visiting Spain, and want to try out the fabulous range of regional sides on offer in every café and restaurant, or you're ready to add some new delights to your typical weekday repertoire, it's easy to find dishes that will create interest.
Some of these are served as accompaniments to main courses, others are more often found as tapas – distinctively Spanish small tasting plates which are often consumed as a snack or light meal with a glass of wine or beer.
What they all have in common is their combination of fresh, colorful ingredients and their ease of preparation.
We've selected some of the best known, not in any particular order. If you notice there's a Spanish must-try side we've forgotten, just share your suggestions with our community.
1. Menestra de Verduras
This traditional vegetable soup from the Navarra region of Spain is quite difficult to classify.
Bursting with nourishing seasonal vegetables and cubed Serrano ham, it's a colorful and tasty dish that can be served as a side, as a soup, or as a stew.
It's simple to make. Serve it piping hot on chilly spring or summer days, with some crusty fresh bread. Wonderful!
2. Pisto
This traditional Spanish dish originated in La Mancha and is often served as an accompaniment to fish and meat dishes. Pisto can also be served as a cold starter.
In common with its more famous French cousin, ratatouille, it's made from a mixture of vegetables such as tomatoes, onions, bell peppers, and courgettes. However, traditionally the vegetables are cooked separately in olive oil before being mixed.
There are also some popular variations. Pisto con huevos (pisto with a fried egg) and pisto Manchego (pisto with sliced Manchego cheese) are both ways to create a more substantial meal from the basic recipe. Serve as a side dish for fish or meat. Other additional ingredients include pumpkin, potatoes, and ham. Wonderful!
3. Tumbet (Tombet)
This traditional Mallorcan side dish is assembled in a similar way to lasagne.
It's made from onions, garlic, peppers, potatoes, aubergine, and zucchini, which are fried in olive oil. These are layered in a baking dish, topped with tomato sauce and cheese, and then baked.
It's usually served with a topping of fried tomatoes, garlic, and chopped parsley.
The end result resembles a crustless pie. Tumbet makes a great main vegetarian dish or can be served as a side with meat or fish.
4. Escalivada
Escalivada is a famous Catalonian specialty that's thought to have been devised by shepherds who would prepare it while the cattle were out grazing.
Traditional ingredients include eggplants, bell peppers, and sometimes onions and tomatoes.
First, these are grilled whole over hot embers, then peeled, de-seeded, seasoned, and served as side dishes for roasted or grilled meat. Their smoky flavor is often intensified with some red wine vinegar.
As well as accompanying meat, esalivada makes a tasty snack when served on sourdough bread or with tortillas.
5. Ensaladilla Russa
Ok, you may be wondering why Russian salad is included on a list of Spanish sides.
It's so popular, it just can't be ignored – it's eaten all over Spain, as a tapa and as a side. It's a colorful and tasty mixture of potatoes, peppers, peas, carrots, boiled eggs, and tuna. All chopped into small cubes and drenched in mayonnaise.
Kids love it as well, so it's a great way to get them to up their vegetable intake.
6. Patatas a lo Pobre
This is a most-loved peasant dish that was a staple during times of famine in Spain. The name means poor man's potatoes.
The dish is still incredibly popular, especially in Andalusia, with the simple ingredients that are found in any kitchen, such as onion, green peppers, garlic cloves, and olive oil. And, of course, sliced potatoes.
Preparation is easy. Everything is fried in hot oil before the pan is covered and the ingredients stew in their own juices, for as little as 15 minutes, and stirred well to mix them up together.
Patatas a lo Pobre can be served as an accompaniment to meat dishes, or alone. It's a quick and easy vegan option.
7. Chistorra
Chistorra is a cured red sausage from the north of Spain – Navarre, Aragon and the Basque Country. It can be thought of as a variety of chorizo and traditionally it's made from belly or jowl pork and seasoned with garlic, paprika, and salt. Occasionally, you'll find versions where the pork is mixed with minced beef.
It can be fried, baked, or grilled, and is served as a tapa or a side dish. If you're making a vegetable main and want a hearty side dish for the non-vegetarians among you, then chistorra makes a tasty addition to your menu.
8. Papas Arrugadas (Wrinkly Potatoes)
This simple specialty is typical of the Canary Islands and dates back to the 17th century, when the conquistadors first brought back potatoes from their expeditions to the Americas.
It's made with small new potatoes which are boiled whole in salted water – traditionally, Atlantic seawater was used, but these days that's strictly optional. Tap water and a good quantity of flaked salt are more usual options.
Once cooked, they're returned to the pan without water. As the moisture evaporates, the potato skin develops its signature wrinkly appearance and the surface becomes crusted with salt
Papas arrugadas are usually served with a chili pepper garlic sauce, called mojo rojo, or ojo picon or mojo cilantro, or as a side with meat dishes.
9. Spanish Rice
There are countless variations on the basic Spanish rice that is served as an accompaniment for meat, chicken, fish, and vegetable mains.
Typically, long grains are preferred. They're fried, perhaps with onion and garlic before being cooked in chicken or vegetable stock. Diced tomatoes and spices such as bay leaves, cumin, chili powder, and dried oregano can be added, but every cook has their own individual twist.
Additional color and textures can be added with carrots, corn, or peas.
Really, there are endless variations of Spanish rice, so feel free to experiment and create your own. As long as it has a wonderful aroma, fresh fluffy grains, and tastes great, it will make a perfect side for any Spanish dish you're serving.
10. Patatas Bravas
Our third potato dish! But as everyone loves potatoes, it's no surprise that potatoes are a staple of Spanish sides. Patatas bravas are also served as a tapa and are even a popular breakfast choice, served with an egg on top!
How are they prepared? First, bite-sized chunks of potato are fried in olive oil. Next, they're drizzled with a spicy tomato-based sauce or garlic mayonnaise.
Irresistible!
11. Ensalada de Alubias Blancas (Spanish Bean Salad)
While this white bean salad is a typical Spanish side dish, it's also great as a main vegetarian meal. Like many salads, this one has countless variations, but what they all have in common is that they're super easy to assemble, call for typical store cupboard ingredients, and it's easy to find seasonal vegetables.
Beans in cans are fine – there's no need to go to all the effort of soaking and boiling dried beans.
Add your own favorites such as cubes of manchego cheese and fresh or canned tuna to create your signature twist. The most important thing is to use the freshest and highest-quality ingredients as these will make all the difference to the final flavor. 
Another great thing about this bean salad is that if you keep it in the fridge overnight, you'll find the flavors intensify. So be sure you make a big enough batch to guarantee you have leftovers!
12. Champiñones al Ajillo (Mushrooms with Garlic)
Looking for an easy-to-make, classic tapas dish? Then this will become your go-to recipe!
Bite-sized mushroom are combined with garlic and dry sherry to create an amazing burst of flavors. Add a splash of lemon juice for a zesty kick and some warm spices for extra interest.
Serve with warm, crusty bread to mop up every last drop of the mouthwatering juices. Irresistible!
13. Pimientos de Padrón (Fried Padron Peppers)
What could be simpler than a dish with one single ingredient? In this case, Padrón peppers.
These small bright green peppers are grown in the town of Padrón, in Galicia, northwestern Spain. Compared to some other varieties, they have quite a mild flavor so if you normally shy away from peppers that make your mouth burn and your eyes water, no worries with Padróns.
Despite the name of the dish, they can be prepared in at least four ways, depending on how much oil you want to use – deep-fried, pan-fried, oven-roasted, or grilled.
They're often served as a side, and you'll find them in most tapas bars with a variety of other dishes including huevos rotos (fried eggs and potatoes).
I hope this little glimpse into the incredible variety of delicious and easy-to-prepare Spanish side dishes whets your appetite and makes you want to continue exploring, sampling, and preparing.
Buen provecho!
---
Related: Most Popular Spanish Foods
Related: Most Popular Spanish Cookies
Related: Most Popular Spanish Drinks
Related: Most Popular Spanish Breakfasts