8 Good Substitutes for Dry Mustard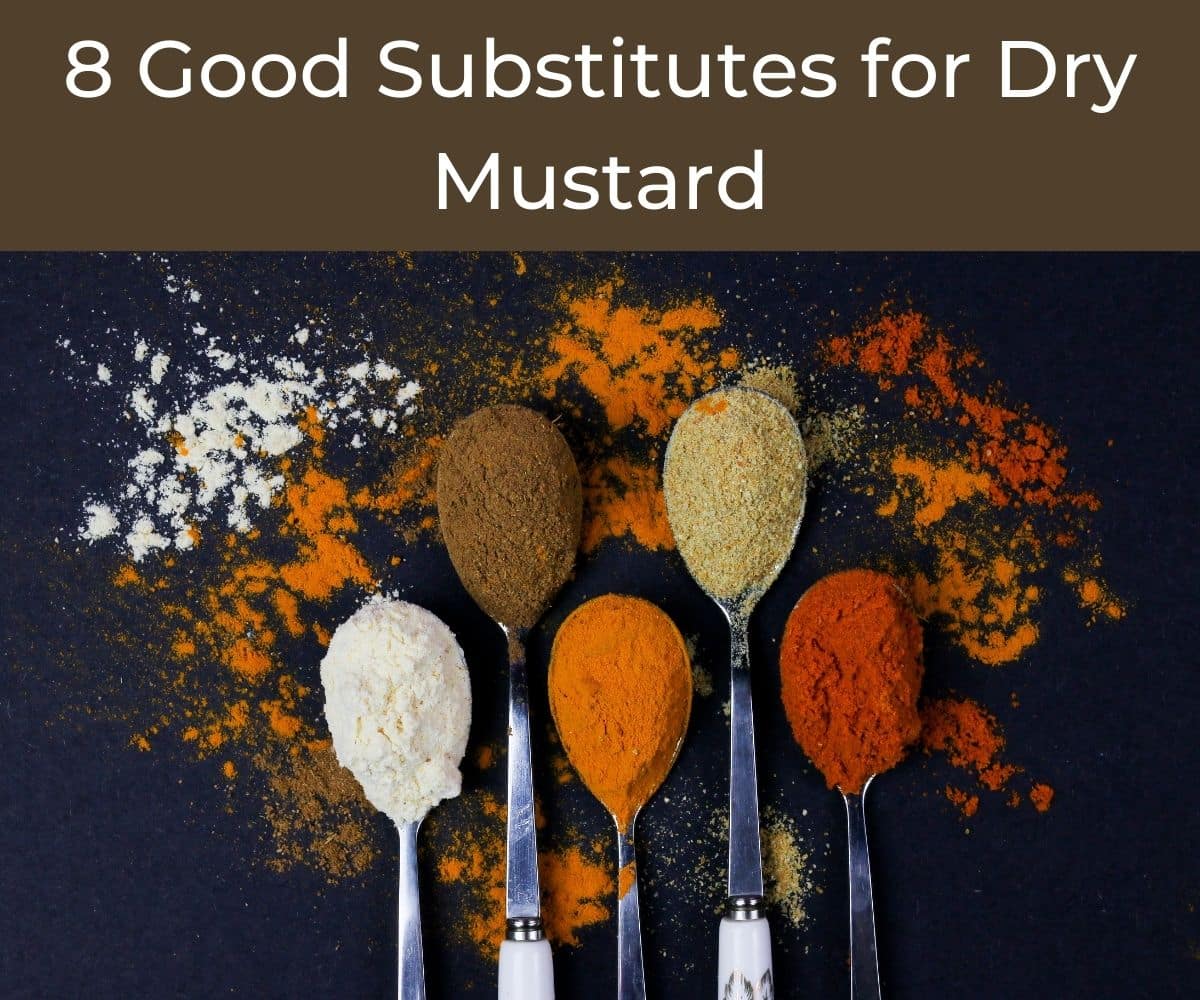 Your mac & cheese, that special dry rub for your pork chops, or a fresh, spicy marinade for your beef, they are all missing flavor if you don't spice them up with some mustard powder. But if you don't have it around and the recipe asks for it, you can always try a substitute.
Dry mustard is one of the underdogs of spices. It's so underrated, and it shouldn't be! It packs quite the flavor, you know! Your sloppy joes, that rich meatloaf you prepare for your family meals, that richness and complex touch in your soul-hugging mac & cheese.
Dry mustard, aka mustard powder, has the power to complete savory dishes, marinades, dressings, sauces, and spice rubs. But before we dive into the world of alternatives, let's explore dry mustard's mix of tastes and flavors so that you know what to replicate. After all, you could be discovering even more options to try!
Dry mustard powder: Flavor profile
Dry mustard is made from ground mustard seeds and can be found in most groceries. Yet, it's not as appreciated as dried garlic, for instance. And that's too bad, foodie-folks! Dry mustard will bring your dish a kick of acidity and a complex mix of aromas. And while it may seem like a waste of money to keep it around, if you're a true foodie, dry mustard will be a good choice for your spice rack.
Dry mustard will cut through the fattiness of rich, cheese-based foods. Its acidity and tartness complements meats and fish. Yet, its spicy, intense, aromatic mix of flavors is perfect for your fresh summer salad dressing. Its tangy, sharp flavor, its earthy vibe, spicy undertones, its mild sweetness, fresh acidity, and herbal, intense kick, they all contribute to a rich flavor profile.
Still, what can you replace dry mustard with if you don't have it around in your pantry? Well…check out these 8 alternatives:
1. Mustard Seeds
Well, what could be a valid replacement for dry mustard if not the very thing it's made from? Mustard seeds can replicate dry mustard's bouquet.
You simply grind them in your spice grinder or coffee grinder, or use a mortar and pestle, if you want to train your muscles and patience, and you've got mustard powder.
Just make sure to cover your eyes, mouth, and nose, or the result will be extremely painful! Also, keep in mind that yellow seeds are milder and sweeter in flavor, while brown seeds are usually spicier and pack more heat. Extra trick: mustard seeds are a great way to spice up your pickles!
2. Dijon Mustard
While any ready-prepared mustard will stand in for mustard powder, we suggest you remember this detail: mustard contains vinegar, water, and a variety of other condiments and herbs, so the flavor profile of your meal will be slightly altered.
Still, don't overlook this option! Using mustard and especially Dijon mustard will provide your dish with a similar flavor. Yes, the texture can change (sauces can be runnier, or you'll have to adjust the number of liquid ingredients you use), but the aroma will pretty much stay the same if you follow the right ratio.
FYI: about one tablespoon of Dijon for each amount of dry mustard will do. Extra tip: Dijon is not just the ideal ingredient to complete your vinaigrette!
It can be quite the substitute for dry mustard in mac and cheese and any cheesy casserole or rich sauce. Yes, you can make that fondue even better with some French mustard!
3. Yellow English Mustard
Sure, it's hotter, and you'll feel it more on your taste buds. But English mustard packs plenty of flavors, and it comes close to dry mustard. If anything, it comes closer in terms of consistency since it's more viscous than liquid. Hence, you won't have to perform mathematics to extract the extra liquid.
Just like Dijon, you can use this type of mustard in any cheese-based food or béchamel sauces. Just consider not adding it as a salad dressing in mixtures that contain tomatoes because they don't quite make friends.
4. Any type of prepared mustard for that matter
As we said above, any mustard will do. Yellow or stone-ground mustard can be great. Yellow mustard is a milder sub for dry mustard, while stone-ground packs more spice and kick. But each type will work just fine! Whatever assortment of mustard you might find in your fridge will do.
Especially in wet recipes such as sauces, stews, glazes, and marinades. Just remember: for every spoon of ready-prepared mustard, "squeeze" a spoon of liquid from other ingredients.
5. Horseradish Powder
What to use instead of dry mustard if you're looking to add more flavor and richness to your dish? Well, horseradish is a close relative of mustard, so the aroma is similar.
Keep in mind that horseradish will be stronger and spicier, and adjust the amount you use, so as to not overwhelm your food. And maybe don't add it to your cheesy dishes, keep it for meats.
6. Turmeric
Tumeric is a suitable spice to use as a dry mustard replacement. It will give your dish the same appearance due to its deep, rich, yellow color, and it even packs a similar flavor. FYI, ready-prepared mustard contains turmeric, giving it the intense, shiny, yellow tone.
The differences: dry mustard has a more explosive, intense, and pungent kick, while turmeric is quite floral and delicate, almost vague in terms of flavor, and brings a bitter-ish undertone, as opposed to mustard's tanginess.
If you feel like intensifying turmeric's vibe, add more kick with some cayenne or hot paprika. You can use it in a 1:1 ratio since it's not so aromatic, but on the mild side, and it won't overpower your other ingredients.
7. Wasabi Powder
Here comes another relative of mustard and horseradish: the green cousin from Japan, wasabi!
Wasabi powder has almost the same texture (it seems a little moister than dry mustard) and a similar flavor. Still, don't forget this is the eccentric cousin that packs more kick and heat, and adding more than necessary will lead to an explosive, flowing reaction to your sinuses.
So always taste your dish if you're going to replace dry mustard with wasabi. If you start with a 1:2 ratio and go from there, chances are you're good.
8. Mayonnaise
Another great alternative to dry mustard is mayo! While it won't do as much in terms of seasoning, it will give out plenty of taste! How to substitute dry mustard with mayonnaise? Well, mayo does contain dry mustard or mustard. So it will come close. It is especially ideal in salad dressings but can be used in marinades, sauces, and even rubs for your grill and veggies.
Mayo will make a great glaze or emulsion for your fish or pork! Sure, the end result will be creamier, richer, and fattier, but does anybody mind when it comes to drizzling some mayo on top of their food? Yeah, we didn't think so!
While dry mustard is known to enhance the taste of your dish and has a complex flavor, there are ways to compensate when it's missing. You can always render your food plenty of taste with a decent substitute for dry mustard. And we think our suggestions do all that. Did we miss out on anything? Do you have any other dry mustard alternative for us to complete this list? Let us know!