Pumpkin Cream Soup with Saffron & Melting Chestnuts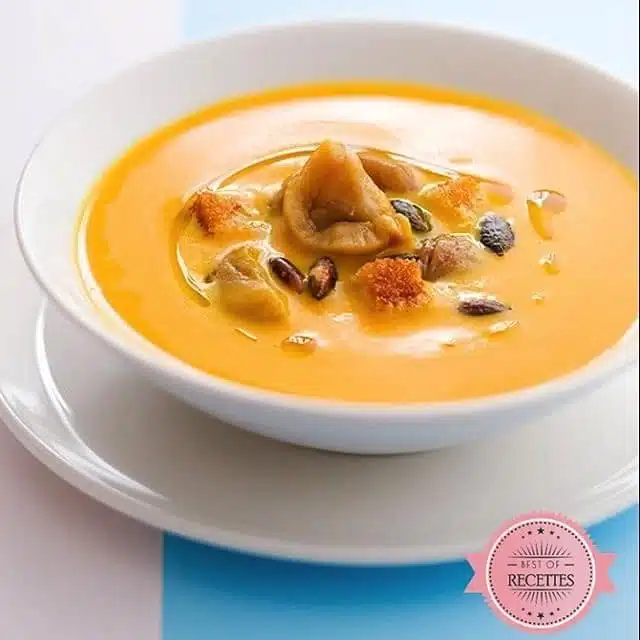 This delicate and creamy soup is a real childhood memory! Typical of my region, la Drôme, I used to eat it with delight at my grandmother's house. The pumpkin gives it a light sweet taste, just like chestnuts, and three flavors warm it up, giving it fullness: nutmeg, star anise, and cinnamon. It is irresistible in taste and color, for the young and old alike.
This delicious pumpkin cream soup recipe was published on Chef's Pencil courtesy of Michelin-starred Chef Anne Sophie Pic.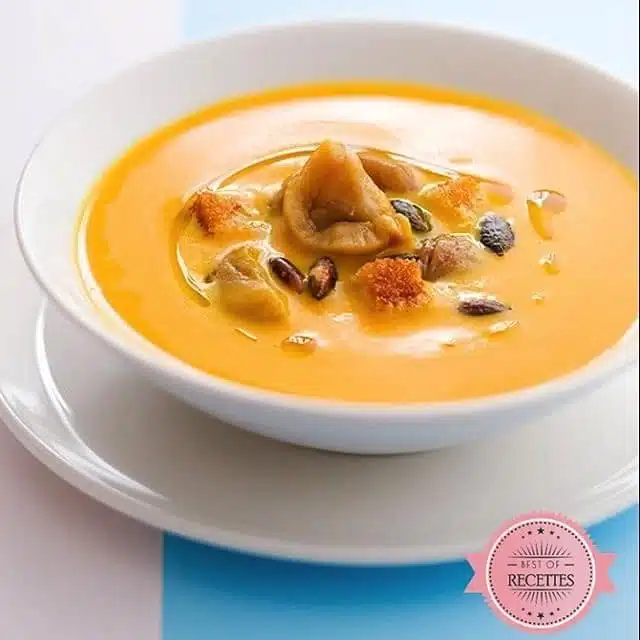 Pumpkin Cream Soup with Saffron & Melting Chestnuts
Ingredients
Pumpkin cream:
500

g

pumpkin

1

onion

1

dash olive oil

20

g

semi-salted butter

20

cl

vegetable stock

15

cl

liquid cream

1

pinch

saffron powder

1

pinch

salt
The croutons:
150

g

soft bread

30

g

semi-salted butter
Pumpkin seeds:
50

g

pumpkin seeds

1

pinch

salt
Instructions
How to Make the Soup:
Peel and cut the pumpkin into small pieces.

Peel and cut the onion into thin slices.

Heat the oil and butter in a casserole over a low heat, then add the onion, pumpkin and a pinch of salt.

Leave to cook for 5 minutes, stirring gently. Add the vegetable stock, cream and saffron.

Leave to cook over a low-medium heat for 15 minutes. Then mix finely. Taste and add a little salt if necessary.

Keep warm, being careful not to allow it to boil!
How to Make the Croutons and Seeds:
Preheat the oven to 150 °C/ 302 ℉.

Bake the pumpkin seeds spread out on a baking tray for 10 minutes.

Salt them and set them aside to cool.

Cut the bread into small 0.5 cm/ ¼ inch cubes and brown them in a frying pan with a little butter for a few minutes.

Then place the croutons on absorbent paper.
How to Finish the Plate:
Divide the chestnuts among the verrines and then pour in the hot pumpkin cream.

Place the small croutons and pumpkin seeds on top, followed by a dash of olive oil.

Serve immediately.
Good to Know:
You can make a success of this recipe with all the varieties of squash: the long squash of Nice, the musk of Provence (my favourite!), but the pumpkin remains very interesting for its chestnut taste.
Notes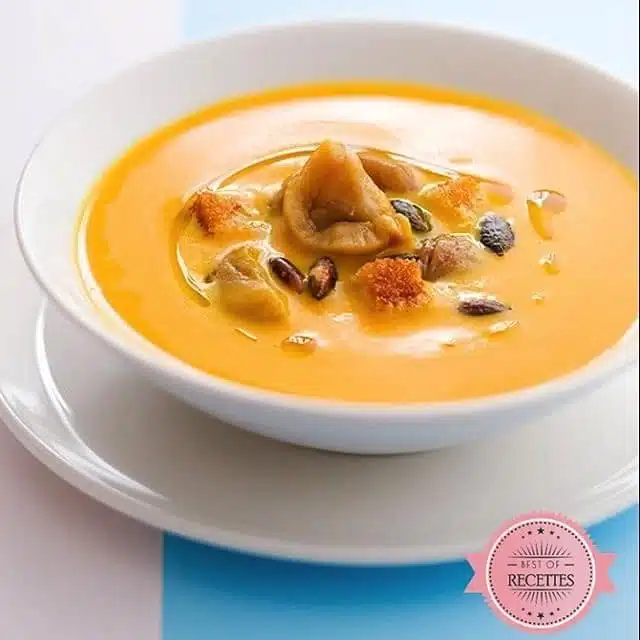 Related: Poached Guinea Fowl Supreme with Wakame Seaweed Cream
Related: Butternut Pumpkin Soup with Rosemary and Ginger
Related: Pumpkin Sformato and Anise Cream
Related: Pumpkin Bread