Pescado Zarandeado (Mexican Red Snapper)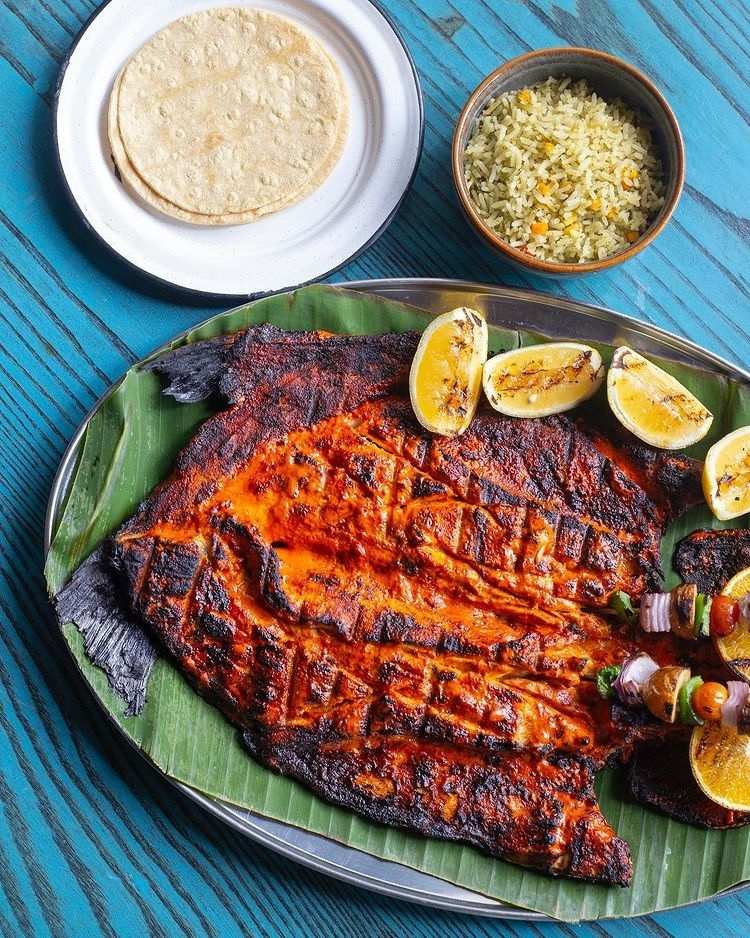 Pescado zarandeado is a very popular seafood dish on the Mexican coasts. Zarandear is a term that means moving or shaking a lot. The fish was originally roasted on a mangrove wood grill called Zaranda, but now a metal grill is used.
It is typically made with red snapper marinated in an aromatic blend of chili and spices. The fish is slowly smoked on a grill while being continually basted with the marinade. It's often served alongside a side of green rice and beans or sometimes on a simple salad drizzled with lime dressing.
Enjoy this classic Pescado Zarandeado recipe!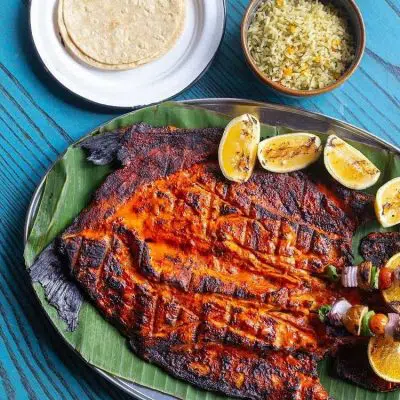 Pescado Zarandeado (Mexican Red Snapper)
This recipe features a whole red snapper, butterflied and marinated in a flavorful blend of chilies, garlic, and spices.
Ingredients
1

five-pound

red snapper

cleaned

6

guajillo chiles

seeds and veins removed

1/2

white onion

2

garlic cloves

1

tablespoon

fresh oregano

firmly packed

1/4

teaspoon

salt

1/2 -3/4

cup

water

1

tablespoon

canola oil

4

tablespoons

butter

melted

salt

to taste
Instructions
Begin with removing the seeds and veins from the guajillo peppers and soaking them in a large pot of just-boiled water. Leave for 20 minutes then drain and discard the water.

In a food processor, add the softened chilies, onion, garlic and oregano and some water. Blend until smooth. Add more water if the consistency is too thick and blend to combine.

Place a saucepan over medium heat and add 1 tablespoon of oil. Add the chili mix and simmer for about 6 minutes or until it thickens and turns a deeper color.

Wash your red snapper and cut along the abdomen. Butterfly it by spreading the two sides out.

Season both halves with salt on the meaty side and cover generously with the chili paste. Place in the fridge while you get the fire going in the mesquite grill.

Make a fire in a grill and let the wood burn until the charcoal turns red. One way to check for the right temperature is to carefully hold your hand 4 inches above the coals. If you can hold it there for about 4 seconds before it becomes too hot, it should be perfect.

Place the fish on a grilling basket skin-down and place it in the fire.

Cook for 3 minutes, then turn the fish over and baste with the remaining chili sauce. Cook for a further 3 minutes and repeat the process once more.

When the fish has become flaky and the chili becomes a dark red and blackened around the edges, brush the fish with butter and carefully remove it from the grilling basket.

Prepare a quick salad by mixing thinly shredded iceberg lettuce, tomato and avocado and drizzle it with olive oil, Mexican lime juice, vinegar and season with salt.

Serve the red snapper hot with the salad on the side and enjoy!
Notes
Related: Mexican Enchiladas
Related: Easy Guacamole & Shrimp Tacos
Related: Pulled Chicken Tacos with Tomatillo Salsa
Related: Chimichurri & Shrimp Salad
Related: Egg & Chorizo Breakfast Burritos w/ Spicy Pineapple Salsa