Top 20 Most Popular Foods in Madagascar
Madagascar has become hugely popular around the world thanks to Disney, but let's explore the joyous world of Malagasy cuisine! What delicious delights does this beautiful island nation have to offer?
To start with, Madagascar is a tropical country with an enormous variety of exotic fruits and vegetables. Being a tropical island nation, it also has access to plenty of seafood.
Due to its geographic position in the Indian Ocean, along the historic trade routes, the local cuisine was influenced by Indian, Southeast Asian, Arab, African, and Chinese cuisine, not to mention the French one, since Madagascar was a French colony up until the 60s. This contributes to the culinary diversity of the island.
Delight in the flavors of Madagascar with these twenty must-try foods, perfect for your next adventure to this enchanting island nation.
1. Rice
People of the big island eat rice three times a day, all year round, which makes Malagasy people one of the biggest consumers of rice in the world. This food is composed of red, white, or pink rice, and it is savored with a vegetable or meat dish. Sometimes tomato or carrot rougail is added to the dish. It is also not uncommon to see some people eating it with chili pepper.
The preparation of rice is simple, as you just add water and let it boil until the mixture is cooked. Depending on the preparation or cooking time, we can have two different kinds of rice: either a rice soup called Vary Sosoa or a dried rice called Vary Maina. Malagasy people are used to eating both but at different moments of the day. Rice soup is usually consumed for breakfast and dinner, while dried rice is for lunch.
2. Vary Amin'anana
Etymologically, "vary" means rice, and "anana" means green vegetables, such as cress. Therefore, Vary Amin'anana is a combination of rice and green vegetables, usually served at breakfast and dinner. It is often eaten with chicken, meat, eggs, or mini shrimp called chevaquines. There are two ways to prepare it: cook the rice with vegetables or use precooked rice. When consumed very hot, it's a great way to start off an excellent day.
3. Ranon'ampango
Ranon'ampango is the most popular drink on the island. If you are used to drinking water to quench your thirst, give this drink a try instead.
This beverage is made after cooking rice. A thin layer of burnt rice is left at the bottom of the pot and heated with water. Both practical and economical, this drink can be consumed hot or cold. Although some people consider it to have curative properties, the fact is that it is the most economical way to stay hydrated in areas of the island where drinking water is a rare commodity. Depending on how long the rice was cooked, we can have white or brown Ranon'ampango. Both will help to quench your thirst.
4. Akoho Rony
Also called Ron'akoho, this dish is a broth made from a local species of chicken, the Akoho Gasy. To prepare this dish, you take a whole chicken and cook it for a few hours with crushed, fresh ginger. A few minutes before it is finished cooking, add some vegetables and salt. This dish is served very hot with rice.
It is important to note that only the Akoho Gasy achieves the authentic flavor of this very popular broth. Fortunately, it is available in all the markets of the big island.
5. Romazava
Romazava was once a special dish for the Malagasy ruler; however, today it is currently eaten by all. This traditional dish is one of the seven royal dishes of the country, known as Tatao. Romazava is a kind of soup made of meat or chicken mixed with vegetables. It is possible to add Aangivy (small eggplants), ginger, tomato, garlic, or onions. This dish is specifically served hot with dried rice, and some chilis (preferably pili-pili) can be added.
6. Hen'omby Ritra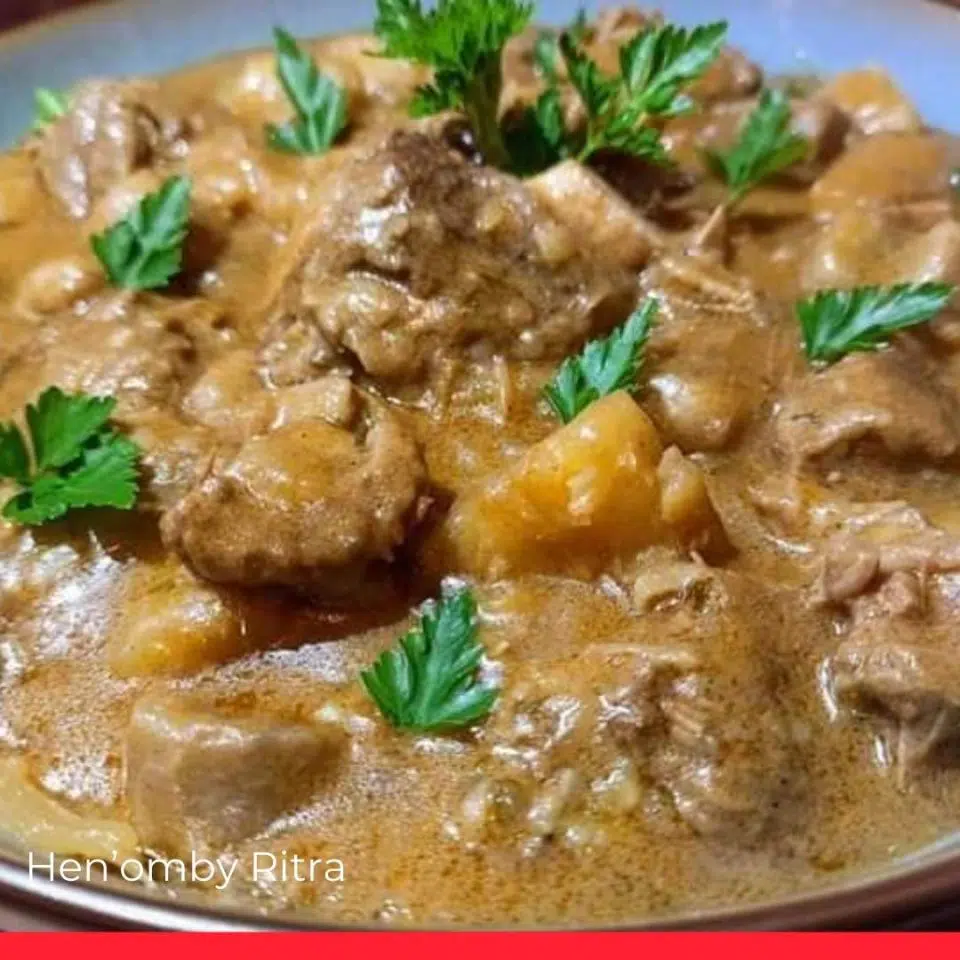 Hen'omby Ritra is a kind of beef simmered in a Malagasy way. This dish is highly appreciated by any household in the country. It is eaten as a Laoka (side dish) to accompany rice, the staple food of the Malagasy people. The Hen'omby Ritra is a dish based on zebu, which is cooked in water with salt as the only seasoning. As the tradition goes, the cooking is done within 48 hours.
This succulent dish is not only one of the favorite Laoka of the Malagasy people, but it is also one of the seven royal dishes or Tatao. That's why it's proudly served during traditional and family celebrations in the country. Fun fact: Madagascar has a large population of zebu.
7. Henakisoa Sy Amalona
The Henakisoa Sy Amalona, or pork with eel, is a traditional Malagasy dish that is part of the seven royal dishes. Although this dish is easy to make, it's not universally embraced in Madagascar. Some cultures avoid pork, and others find the mix of pork and fish unusual. However, that doesn't stop it from being a prestigious dish served to honor special guests during traditional celebrations in the highlands. If you're traveling through the big island, it's definitely worth a try!
8. Vorombe Sy Henakisoa
Vorombe sy Henakisoa is also one of the seven royal dishes or Tatao. It is a mixture of pork and poultry. Traditionally, turkey or goose is used, but today chicken happens to be more common. For an event or a Sunday lunch, take one kilogram of each meat, simmer it in an Ambatolampy casserole dish, and flavor it with ginger, garlic, and onion. It is also possible to add vegetables. The vorombe sy Henakisoa is usually savored with Red rice of Madagascar.
9. Beans or Tsaramaso
On the Red Island, white beans are cooked like cassoulet and are often accompanied by zebu meat (Hen'omby Sy Tsaramaso) or pork (Tsaramaso Sy Henakisoa). The shank remains its ideal companion.
This dish is offered in all the restaurants in the country. It is one of the most popular Laoka for locals of the big island. To prepare it, you have to simmer the beans with the meat for a few hours with water. When the mixture becomes tender and creamy, tomato sauce is added. It is then served with hot rice. It is recommended that anyone visiting Madagascar must absolutely taste this famous dish.
10. Bambara Pea or Voanjobory
In Madagascar, the dry bambara pea is cooked with either piece of pork meat, shank, or sausages. To accompany it, there's nothing better than white rice and tomato rougail. The preparation is similar to beans, as the Bambara pea is very similar. However, unlike beans, the voanjobory pods grow underground. They are a little like peanuts and offer a flavor that is halfway between the bean and the peanut.
11. Ravitoto
Highly appreciated on the big island, the Ravitoto is considered the favorite Laoka of Malagasy. Ravitoto is the local name for crushed cassava leaves. It is prepared with the meat of zebu or fatty pork. To accentuate the flavor, it is possible to add coconut milk or crushed peanuts. This tasty dish is eaten mainly at lunchtime. Ravitoto is also served with tomato Achard.
12. Tekateka
Tekateka are fresh clams that are offered on almost all the beaches of Madagascar by street vendors carrying small baskets.
This dish is eaten with a vinaigrette sauce, which can be spicy or not. Once you have tasted it, you won't be able to stop. If the vinaigrette is not to your liking, the juice of a squeezed lime will do the trick. The tekateka will be one of the great culinary adventures to complete your stay on the beautiful white sands of the big island.
13. The Achard
The Red Island is a land suitable for planting various fruits and vegetables, which are the basis of the Achard.
To prepare it, we choose fruits or vegetables according to the desired taste and color. They are then finely chopped and macerated in vinegar. Various spices are used to enhance the taste. Many fruits and vegetables are used to make the achard (green mangoes, plums, cabbage, carrots, beans, tomatoes, peppers, etc) which allows for its consumption all year long.
14. Masikita
Masikita is a real institution for street food lovers on the island. Traditionally, these skewers are prepared with marinated zebu. However, many alternatives have appeared over the years. Today, we find Masikita made with chicken, fish, octopus, etc.
At the end of the day, Masikita vendors flourish in the streets of the big Malagasy towns. The city dwellers gather around this local barbecue to conclude their day in a joyful and good mood. This specialty is served with Achard, and is consumed with alcohol or a cold drink.
15. Koba
If the Europeans are fond of pies and cakes, the Malagasy prefer Koba. It is also called "Mofo Ravina," because it is wrapped with banana leaves, or ravenala, during its preparation in a water bath. As for the necessary ingredients, you will need rice flour and crushed peanuts mixed with brown sugar.
Koba is very appreciated by the inhabitants of the middle of the country, and there is even a city that made Koba its specialty. If you pass by Talata Volonondry, a rural community located about twenty kilometers north of Antananarivo, the capital of Madagascar, do not forget to taste this local specialty.
16. Mokary
Mokary is a rice cake mainly consumed at breakfast time to accompany a good coffee or tea. To prepare it, you have to soak the rice for a few hours or even days. Once the dough is obtained, it is mixed with coconut milk and is then roasted.
Mokary can be served hot or cold, at breakfast or at any other time of the day, alone or with a savory dish. You will find it everywhere on the big island, and it is difficult to do without it once you have tasted it.
17. Mofo Baolina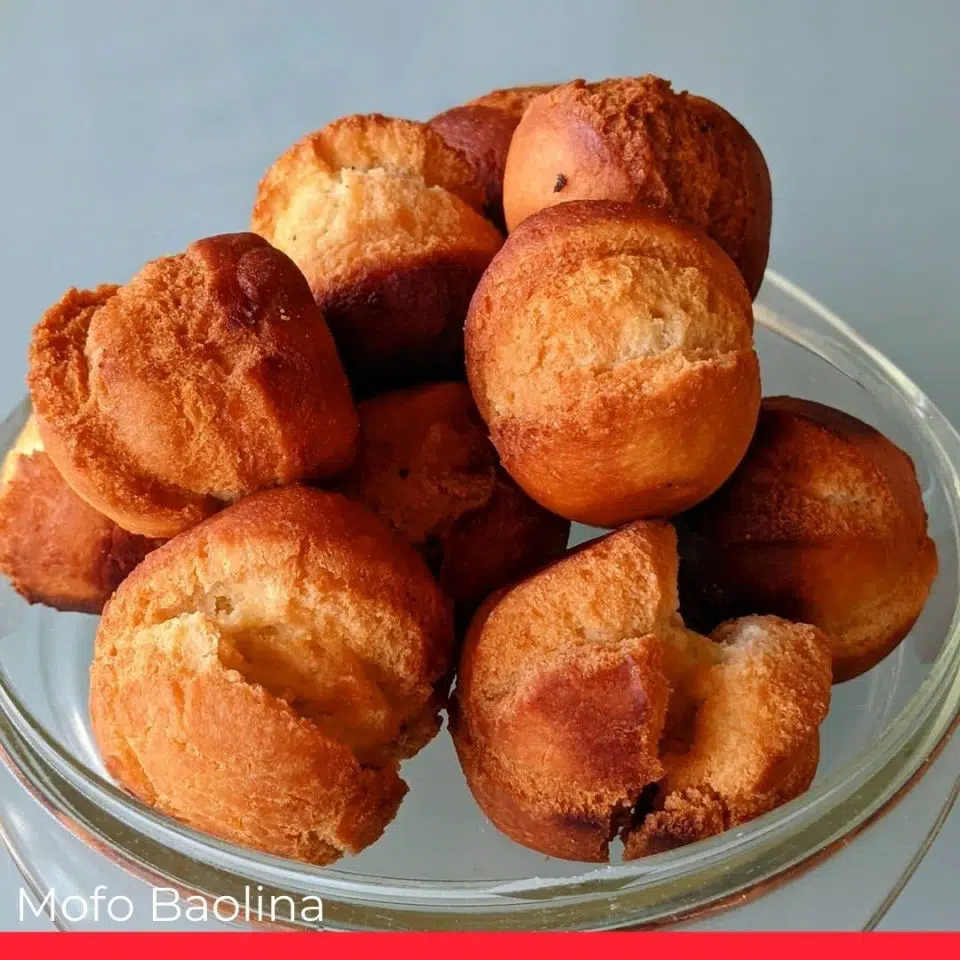 Mofo Baolina is a snack similar to a donut made of flour, sugar, milk, and eggs. This snack is simply delicious when flavored with vanilla or cinnamon and can be enjoyed at any time of the day.
It makes the ideal snack if you feel hungry in the middle of the day. It goes without saying that Mofo Baolina is accompanied by coffee during breakfast or a small gourmet snack.
18. Mofo Akondro
Similar to Mofo Baolina, Mofo Akondro is a banana fritter that Malagasy people really enjoy. It is prepared with many kinds of bananas coated with cassava or rice flour.
Ideally, the Mofo Akondro is eaten hot, when it has just come out of the pot. It is sold in streets and alleys throughout the country, and young people rush to it when they get home from school.
19. Sambos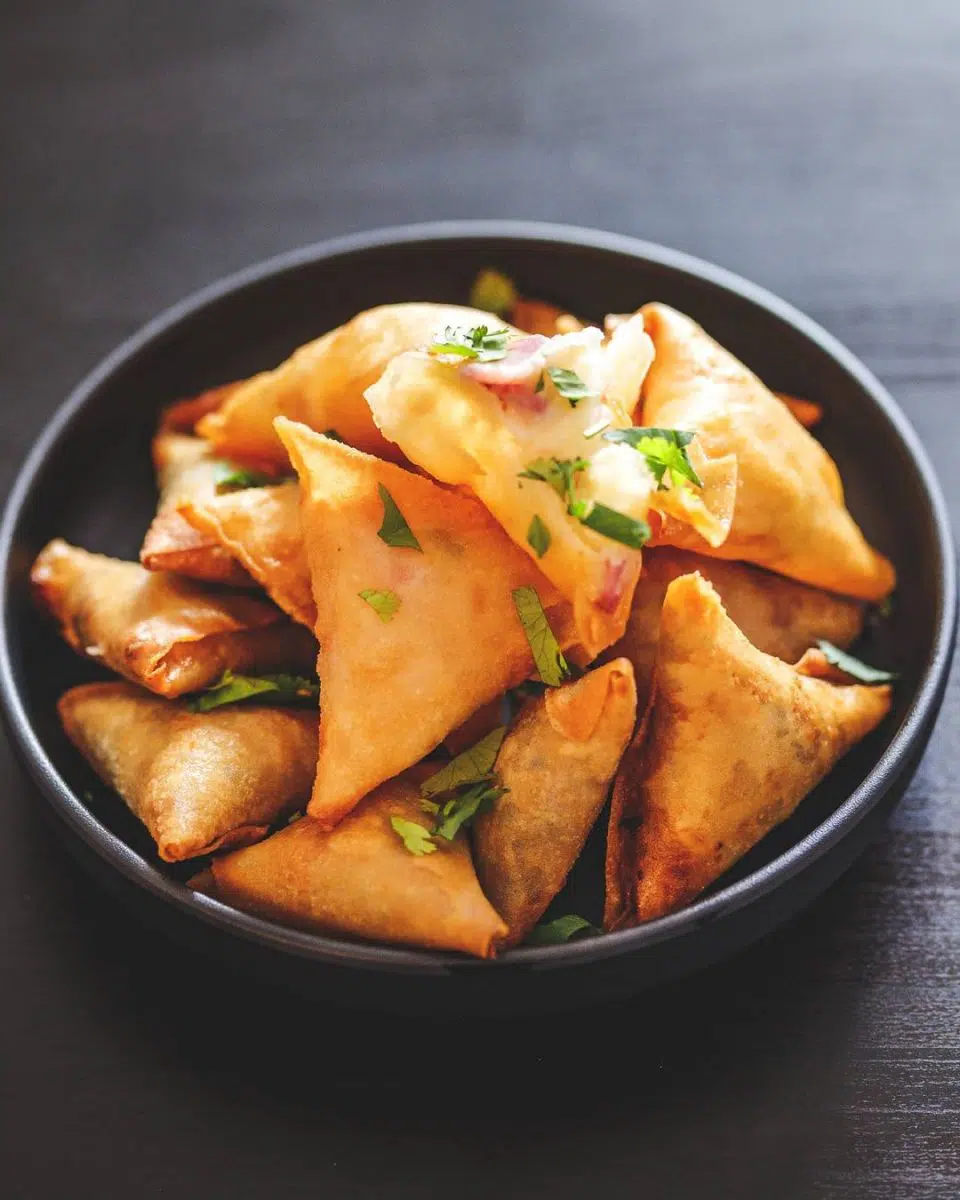 In Madagascar, pretty much everyone loves fried food. Sambos is the local variation of samosas, a fried pastry with various fillings that is hugely popular in India and other parts of South East Asia.
These triangular-shaped sambos are offered by street vendors all around Madagascar. It's one of the many Indian foods that made their way into Madagascar and are now part of the local food culture.
The sambos recipe varies according to individual taste. The most popular filling is minced meat, yet it can be also be made with fish, chicken, pork, or vegetables, and garnished with massale (garam masala), garlic, and onions.
20. Caca-Pigeon or Poop-Pigeon
Do not worry. It is not literally bird droppings. Caca-pigeons is a flour and egg-based croquette.
It is common to see it served as an appetizer or snack. To prepare it, you need to mix flour and eggs with a little salt in a large bowl until you get a dry but softball. Let the dough rest for half an hour and then roll it out with a rolling pin. Once the dough is thin enough, cut it into small sticks. Heat the oil and fry them. The caca-pigeon is eaten hot or cold with peanuts. This dish is often served as an appetizer in restaurants.