20 Most Popular Cambodian Foods
While Cambodian food is not as well known as its South East Asian counterparts like Thai and Vietnamese cuisines, it is incredibly delicious. Let's take a culinary journey and discover some of the best dishes that you need to try out on your next trip to Cambodia.
1. Num Banhchok
Num banhchok, a fresh rice noodle, has been made by hand in Cambodia for centuries. They are typically served in a fragrant fish or chicken soup enriched with coconut milk and seasoned with prahok, kroueng (Khmer curry paste), and palm sugar.
Often garnished using foraged herbs, this quintessentially Cambodian dish is most commonly eaten at breakfast, but can be found at lunch and dinner if you know where to go.
2. Bai Sach Chrouk (Pork and Rice)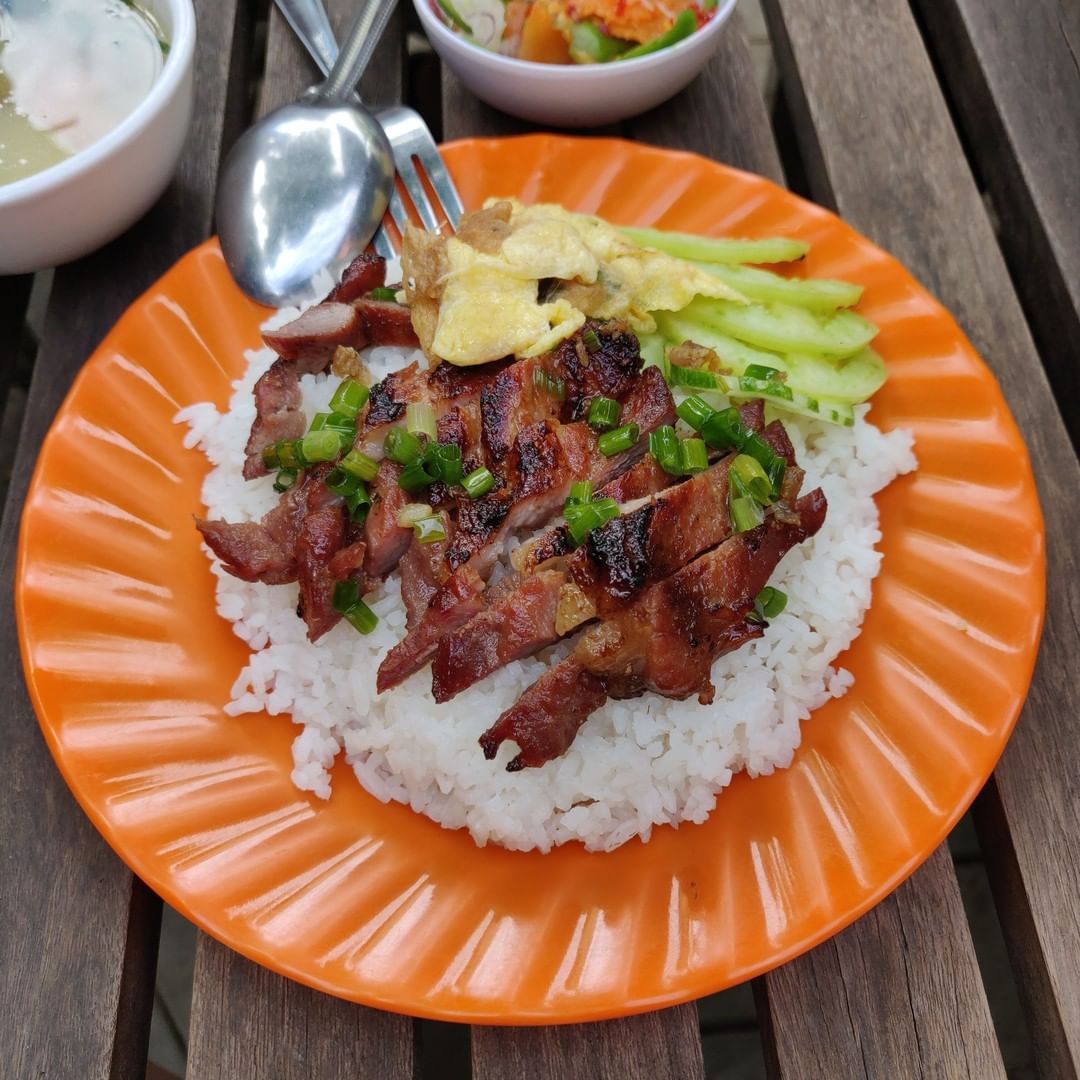 Barbecued pork served with rice is a popular breakfast dish and fairly standard in its presentation, but you will find variations in the small details from place to place, for example in the sweetness of the barbecued glaze, the pickles served on the side, or whether it comes with a small bowl of soup or even some egg.
3. Sach Ko Ang (Barbecued Beef Skewers)
Sach ko ang, or barbecued beef skewers, are popular as a late afternoon snack to tide you over until dinner. They usually come with a buttered baguette (a remnant of French colonialism) and a sweet, green papaya pickle.
This firm favorite is easy to spot on account of the crowds seated around the barbecue, which itself is so small you may wonder how they feed so many people at once. Turnover is usually fast, so if the seats are full, you won't have to wait long.
4. Ko Dot (Roasted Beef)
You could call ko dot the Cambodian equivalent of roast beef, and a good restaurant will use the meat from young animals and serve it with crunchy, fresh vegetables.
However, the real draw is the dtuk prahok, a sauce made from Cambodia's famous fermented fish paste and seasoned to your taste with roasted peanuts and lime juice. Generally speaking, it is rare to find foreigners in a ko dot eatery, but don't let this put you off. It's popular with locals for a reason!
5. Bobor (Rice Porridge)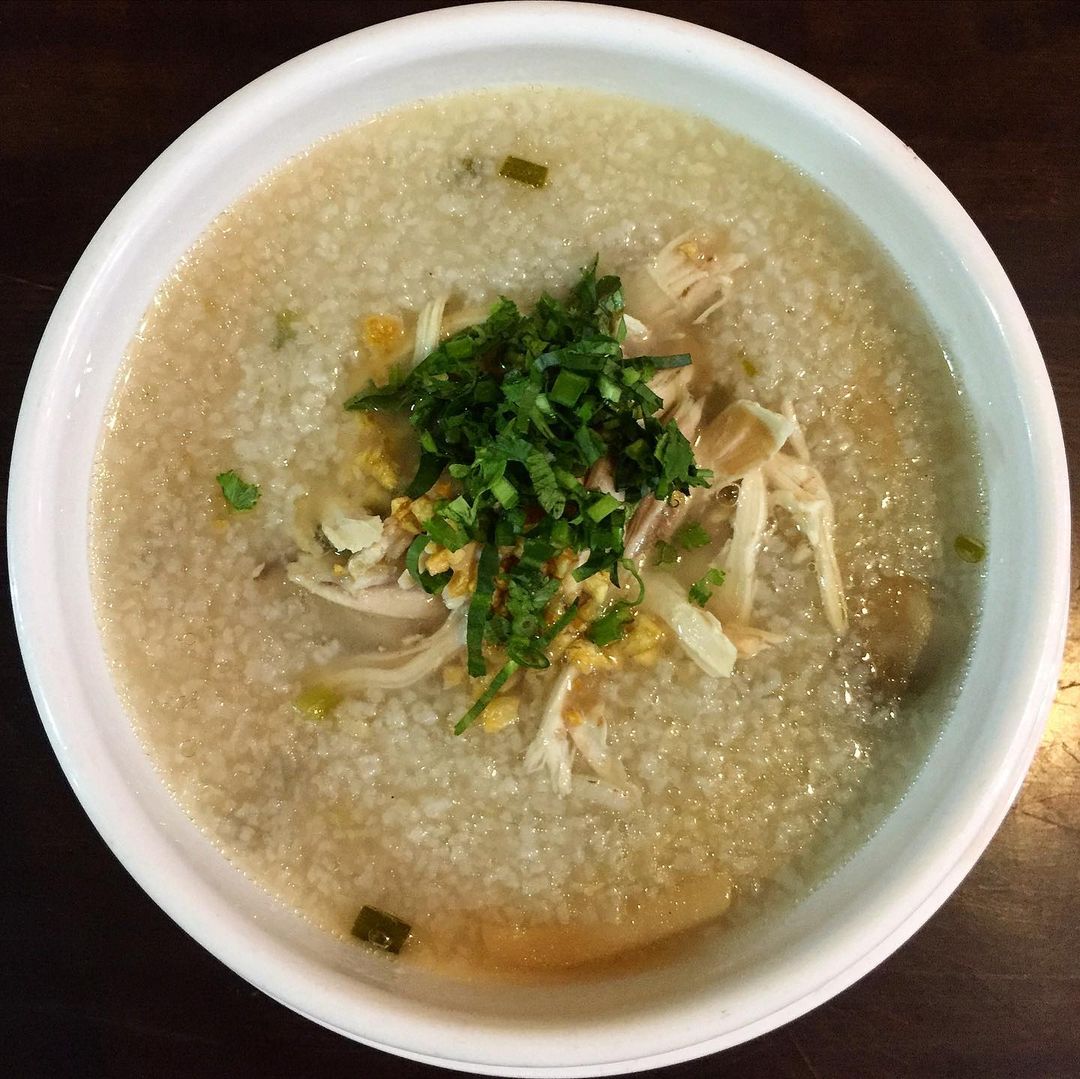 Rice porridge for breakfast is not exclusive to Cambodia as it can be found all around Asia. It has always been a convenient way of using up last night's leftover rice.
The two most common types of bobor in Cambodia are bobor saw, a no-frills, plain white rice soup often served with a salted duck egg, and bobor kroueng, a more expensive version made using meat or fish stock. Remember to use the available condiments to season it to your liking.
6. Kuy Teow (Rice Noodle Soup)
Kuy teow, a steaming bowl of noodle soup, is one of Cambodia's most popular breakfasts. The thin vermicelli noodles are served in a meaty broth with some green veg and bean sprouts and you season it with condiments.
There are many generic kuy teows made with chicken powder, but the best ones are made using the bones, giving the soup a meaty depth. A good rule of thumb is if you see a place crammed with locals eating a brothy noodle soup, there's a good chance it's kuy teow and that it's worth a try.
7. Nhoam Svay (Mango Salad)
Nhoam means salad in Khmer and the mango version features heavily on hotel menus and in other tourist venues, but don't let that put you off! It's also a staple in many local restaurants and is a delicious way to introduce some freshness to a meal.
Khmer salads use an abundance of fresh herbs, typically, Khmer basil, sawtooth coriander, mint, and "fish herb", a heart-shaped herb that many think tastes like fish. This salad is often garnished with pieces of dried smoked fish that rehydrate nicely in the salad's fish sauce and lime juice dressing.
8. Ang Khmer (Khmer Barbecue)
No trip to Cambodia would be complete without some barbecue and you will see it everywhere in the evening. Fortunately, barbecuing is so ingrained in the food culture that, generally speaking, Cambodians are pretty good at it.
You will find ribs, stuffed frogs, fish, and local chicken (moan Khmer); although it is very lean, its free-range, organic upbringing means it also tastes fantastic, especially dipped in a simple condiment made of salt, pepper, and lime juice.
9. Samlor Kokor
This is sometimes referred to as the "King's soup" because of an old tale involving the king arriving at a village. The villagers were in such a panic about what to cook him that they threw a bit of everything into the pot.
Although a dish you can find in some restaurants, it is more commonly made at home, often from small amounts of veg that are not quite big enough to turn into an entire meal. Meat and fish are optional but it is common for people to add both, creating a dish that generally pleases everyone.
10. Sngao Chruak (Sour Soup)
Sngao is one of two styles of soup that are common in Cambodia. It is a simple, lightly fragranced broth made from meat or fish and garnished with herbs and often mushrooms.
Traditionally it was a simple countryside dish prepared by men to showcase what they had caught on their hunt. You will still find people making sngao out of anything from chickens to snakes. Lime and fish sauce are added at the table as condiments to finish this no-nonsense comfort food.
11. Samlor Machu Kroeung (Sour Curried Soup)
The other type of soup common in Cambodian cuisine is samlor, which is more complicated to prepare than the simpler sngaos. Mitchu kroueng is fragranced using pounded ambarella leaves for sourness and kroueng for fragrance.
You will find quick versions of this soup in many restaurants, but the best ones have been cooked and simmered over charcoal for hours and often contain tripe, which provides texture and a mild flavor of offal.
12. Amok Trei (Fish Amok)
Although fish amok is recognized as Cambodia's national dish, it is more commonly eaten by tourists than locals. If you do find it outside the tourist trail, it will likely be in the form of a soupy curry or wrapped in a very unassuming package of banana leaves, which are far less Instagram friendly than the flamboyant, steamed versions you will find in fancy hotels.
Local versions are heavy on slaek ngeu, the slightly bitter leaf of the noni fruit tree, which is also considered to have medicinal value. Some would argue that this leaf is as important to the dish as the fish.
13. Prahok Ktis (Prahok Coconut Milk)
Prahok ktis is a simple dish made from ground pork, seasoned with prahok and palm sugar, and made creamy with coconut milk.
Prahok is essential to Khmer cuisine but is approached with caution by foreigners unfamiliar with the concept of fermented fish or the umami it provides as a seasoning. Once you understand that it is not something to be spread on toast, it becomes more approachable and prahok ktis, with a side of crunchy vegetables, is the perfect introduction!
14. Chaa Kngiay Sach Moan (Fried Ginger with Chicken)
Root spices are integral to Khmer cuisine and chaa kngiay showcases ginger by making it the main ingredient in the dish. Like so many Cambodian dishes, it is simple in its preparation (although time consuming if you are julienning all that ginger by yourself) but delicious.
While the dish, which is seasoned with oyster sauce, fish sauce, and palm sugar, can be made with pork or beef, the texture and taste of chicken best compliments the abundance and texture of the julienned ginger.
15. Kaw Jerng Chrouk (Pork Leg Cooked in Sugar)
Kaw jerng chrouk is commonly found at any of the numerous "pots and pans" restaurants you see in Cambodia. These small restaurants, which have prepared food sitting in pots and pans in front to tempt passersby, are where you will find some of the best examples of Khmer home cooking.
It is also where you will find proper kaw jerng chrouk, garnished with duck eggs and bamboo and cooked for so long that the pork leg melts in your mouth. It is unremarkable in appearance due to the brown sugary broth, but if you find a good one, it may be the best thing you eat in Cambodia.
16. Lort Chaa Nom K'chai (Fried Rice Noodles and Chive Cake)
Lort is the Khmer word for a type of short, thick rice noodle that is most commonly fried with bean sprouts and chives then dressed with oyster sauce.
Beef and fried duck eggs are optional extras, but when lort chaa is served with nom k'chai, a large rice flour cake stuffed with chives, boiled, then fried until crispy, it is a match made in heaven. Sweet chili sauce is the icing on this particular cake, and although high in calories, it's worth it!
17. Kangkep Baob
Frogs have been eaten in Asia for centuries, and it could be argued that this is where the French got the idea. In Cambodia, not content with simply grilling them, someone decided, quite rightly, that it would be a good idea to stuff them with curried pork first.
Often for sale on the side of the road in the countryside, they are easy to spot as they look exactly like frogs stuffed with sausage meat. Many visitors who may have had reservations about eating frog change their mind after trying kangkep baob!
18. Jek Jieng (Battered Deep Fried Banana)
Jek jieng is one of the best ways to enjoy Cambodia's delicious bananas and you can find them sold on the street by roving vendors in the morning or afternoon. They are flattened, dipped in a rice flour batter and then deep fried. If you prefer the batter crispy, look for a stall where the vendor is letting them dry in the air.
Many stalls will store warm jek jieng in glass cabinets, which can have a softening effect on the batter. Both can be delicious but, as is often the case with deep-frying, the flavor will depend on how clean the oil is and some vendors are more attentive than others!
19. Cafe Dtuk Doh Ko (Milky Iced Coffee)
Milky, sweet coffee is a staple at breakfast time and the absence of fresh milk in the cuisine is made up for with condensed milk. The intense roasting method used for much of Cambodia's coffee requires a firm sweetness to counter it and the result, poured over ice, provides an intense hit of caffeine and sugar to keep you going until at least lunchtime.
20. Pleah Sach Ko (Rare Beef Salad)
This popular meaty dish has all the hallmarks of a classic Khmer salad, herbs, peanuts, and sliced shallots, but lime is the key ingredient for flavor. Rare beef is sliced and marinated in lime juice before being tossed with the rest of the ingredients.
This ceviche-style preparation cures the beef slightly and takes some of the rawness out of it. Since beef is usually more expensive than other meats, this has become a very popular dish to offer to guests at weddings and special occasions.