The 5 Most Expensive Tuna Species in the World
Nutritious and delicious, tuna is a versatile and highly sought-after fish in the culinary world. And while canned tuna is widely available and relatively affordable, the prices of fresh tuna, especially for certain species, can go through the roof.
Many factors contribute to the price differences, yet often it's a matter of supply and demand. Skipjack tuna, for example, is relatively small and plentiful, so it accounts for about 70% of the canned tuna industry in the U.S. On the other hand, bluefin tuna has become an endangered species due to overfishing and most importantly, it does not breed in captivity.
Therefore, scarcity of certain tuna species is a main pricing driver. But there are other factors too.
Size and meat quality are also important factors. Larger and higher grade tuna, such as Bluefin, are known for their exceptional taste and texture, so it comes with a higher price tag.
Fishing methods and catch locations contribute to pricing as well. Tuna caught sustainably and with environmentally conscious methods may have a higher price due to the careful preservation of the marine ecosystem.
Market dynamics, global trade patterns, seasonal variations, are all defining determinants. Transportation costs, import/export taxes, and processing expenses further affect the final retail price.
But what makes tuna so desirable? Well, that fatty, firm and meaty consistency lends itself exceptionally well to delicious meals. Tuna can be expertly seared like a delectable steak or served in its raw and delicate form as in the renowned Japanese delicacy, sashimi. It's also lean and packed with micronutrients, in case you were worried about calories.
And now, let's see what is the most expensive tuna in the world and makes these types of tuna so expensive.
1. Bluefin Tuna: The Ferrari of Tuna | between $400-$4,900/pound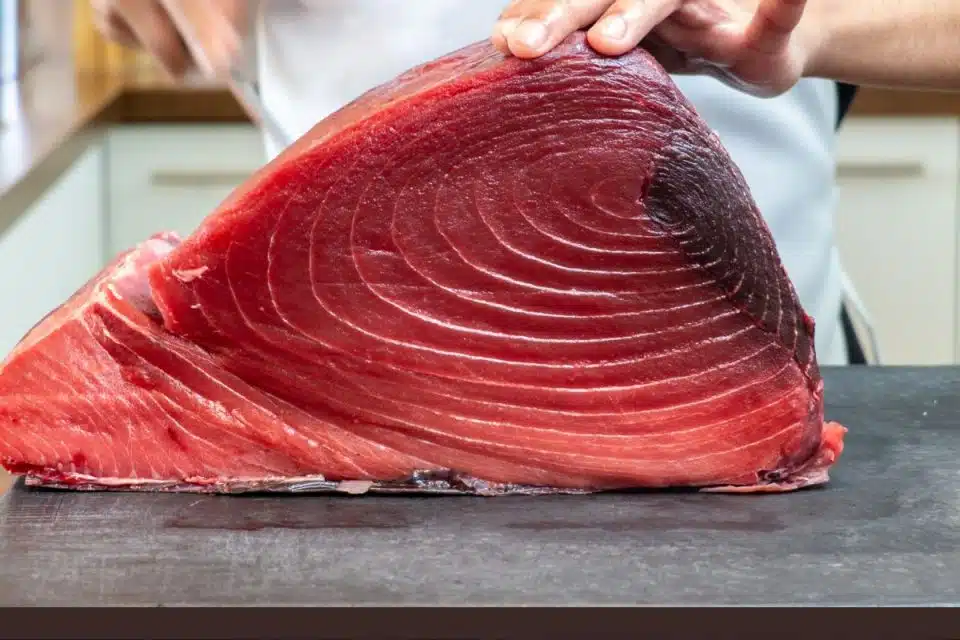 Bluefin tuna is a highly prized and luxurious fish, sometimes referred to as the Ferrari of tuna. Its dark, ruby-red flesh is served as sashimi or steak in the world's most exquisite restaurants.
Coveted for its beef-like richness and unique combination of firmness, fattiness, and flavor, Bluefin is highly valued. In Japan, it's auctioned directly from the docks to local markets and upscale sushi establishments.
In 2013, a 489-pound (222 kg.) Bluefin tuna sold for $1.8 million, setting a record at that time. But in 2019, a 612-pound (278 kg.) tuna sold for an astounding $3 million off the dock, or $4,900 per pound.
Bluefin tuna is also the top choice for raw consumption, known as kuro maguro. The most esteemed establishments source their tuna from the Tsukiji fish market in Japan, where individual specimens can weigh over 400 pounds (ca. 181 kg).
Locally sourced Bluefin tuna from other regions, such as off the coast of Boston, can be obtained for around $40 per pound. Try getting the same for the Oma shores in Japan and the price goes significantly higher to $200 or $400 per pound. This price difference reflects the exclusivity and allure of this extraordinary fish.
2. Bigeye Tuna: Exquisite Dark Red Delicacy | between $40-$200/pound
The distinctive feature of Bigeye tuna is its flesh, a captivating dark red hue, almost bordering on purple. In addition, it boasts a higher fat content compared to most other types. This abundance of fat contributes to its dense, oily texture, setting it apart from other fish and giving it a meat-like quality.
A remarkable illustration of this exceptional delicacy can be found in the skin-off Bigeye tuna fillets sourced from French Polynesia. The price of these fillets reflects the extraordinary quality and unmatched flavor profile that this premium seafood delivers.
3. Yellowfin Tuna: Versatile and Adaptable Price | $30-$35/pound
Yellowfin tuna, also known as ahi tuna, is a highly adaptable species that thrives in tropical and subtropical oceans worldwide. These remarkable creatures can grow up to impressive lengths of 6 feet (1.83 m) and weigh an average of 400 pounds (ca. 181 kg). That makes them the largest tuna species in existence
The flesh of Yellowfin tuna is light pink in color with a dry and firm texture, also noticeably fat. However, it's leaner compared to its renowned counterpart, the Bluefin tuna. While retaining the distinct tuna flavor, Yellowfin tuna is generally considered to be of slightly lower quality when it comes to its meaty alternatives.
When consuming raw, make sure it's specifically labeled sashimi grade, as other types should not be consumed uncooked due to safety concerns.
Yellowfin tuna boasts a streamlined, torpedo-shaped body with a striking dark metallic blue color on its back and upper sides. The belly is vibrant yellow with silver tones.
As predators, Yellowfin tuna primarily feed on fish, squid, and crustaceans. They become targets for apex predators such as sharks and larger fish, but their remarkable speed enables them to evade most attacks.
Hawaiian wild-caught ahi tuna is one of the most sought-after and expensive options, often reaching $35 per pound or higher. Fresh cuts obtained from recently caught fish are particularly coveted, but they typically require a visit to the Hawaiian islands.
It's important to note that the freezing process employed for shipping Yellowfin tuna globally can potentially impact the texture and flavor of the fish, diminishing its overall value. Therefore, fresh and locally sourced Yellowfin tuna is regularly preferred by connoisseurs who appreciate its true essence.
4. Skipjack Tuna: Common Ingredient, Slightly More Prestigious | up to $23/pound
Skipjack tuna, widely recognized as a primary ingredient in canned tuna products, also finds its way to the market as fresh or frozen fillets. This particular tuna species thrives in warmer waters, specifically in proximity to the equator.
They prefer to inhabit the upper layers of the water, making them more accessible for fishing. With an average weight of around 70 pounds (ca. 32 kg), they represent one of the smaller varieties of tuna.
Skipjack is slightly more expensive compared to albacore tuna, but the difference remains relatively marginal. Its widespread availability contributes to its affordability, as it's the most prevalent type of wild tuna.
The higher cost is solely attributed to its reputation among consumers. Albacore tuna is often associated with budget-friendly tuna products, whereas skipjack presents itself as a slightly more prestigious choice.
Fresh fillets of skipjack tuna are the most expensive option within its range. However, canned and frozen fillets generally offer significantly more affordable alternatives.
5. Albacore Tuna: Budget-Friendly Canned Option | up to $23/pound
Nevertheless, albacore tuna remains significantly more budget-friendly compared to other meat options. For instance, numerous premium hams worldwide surpass albacore tuna in terms of costliness.
So, why is albacore tuna comparatively inexpensive? The supply of albacore tuna is largely abundant, resulting in lower prices. However, unsustainable fishing practices may lead to price increases for this tuna variety.
The most expensive form of albacore tuna is whole fish weighing 80 pounds (ca. 36 kg) or more. Fresh, wild-caught (unfrozen) albacore can command significantly higher prices than its canned counterparts. Nevertheless, the majority of albacore tuna undergoes processing for canning, thereby reducing its overall value.
---
We hope this was an interesting exploration through the world of luxury seafood. From the coveted Bluefin tuna, with its jaw-dropping prices, to the exquisite Yellowfin tuna sourced from Hawaiian waters, each variety possesses its own allure and culinary significance.
As we dived deeper, it become apparent that the interplay between rarity, quality, and demand shapes these extraordinary prices. Whether savored as sashimi, seared to perfection, or enjoyed in other exquisite preparations, tuna remains a tasty morsel.
Related: Most Expensive Seafood in the World
Related: Most Expensive Caviar in the World
Related: Most Expensive Steak in the World
Related: Most Expensive Olive Oils in the World