Top 10 Most Expensive Olive Oils in the World
Olive oil, often referred to as liquid gold, is a cherished culinary treasure with a rich history dating back thousands of years. Derived from the fruit of the olive tree, this remarkable oil is renowned for its exceptional flavor and numerous health benefits.
Its versatility in the kitchen is widely appreciated, as it lends its distinct aroma and smooth, fruity taste to a variety of dishes, from vibrant salads and flavorful marinades to savory sautés and delightful dips. The exquisite taste of olive oil enhances the culinary experience, elevating the flavors of a wide range of cuisines.
Beyond its gastronomic appeal, olive oil boasts a multitude of health-promoting properties. Rich in monounsaturated fats, it has been linked to reducing the risk of heart disease by lowering cholesterol levels and improving cardiovascular health.
The antioxidants present in olive oil, such as polyphenols and vitamin E, contribute to its anti-inflammatory effects, protecting against chronic diseases and supporting overall well-being. Furthermore, some studies suggest that olive oil's monounsaturated fats and bioactive compounds may aid in weight loss and weight management, making it a valuable addition to a balanced and healthy diet.
The significance of olive oil extends far beyond its culinary and health benefits. Its deep-rooted presence in the Mediterranean region, where it has been treasured and celebrated for centuries, is a testament to its profound influence on the gastronomic traditions of the area.
Mediterranean cuisine, renowned for its emphasis on fresh, wholesome ingredients and vibrant flavors, relies heavily on the use of olive oil as a fundamental ingredient and a cornerstone of its culinary identity.
Within the realm of the most expensive olive oils, a treasure trove of exceptional qualities awaits exploration. These oils, representing the epitome of excellence through their exceptional quality and limited production, stand as guardians of heritage, connecting the past with the present.
With a legacy stretching back thousands of years, they embody the essence of time-honored craftsmanship and dedication.
Among these highly expensive olive oils, many feature delicate edible gold flakes, merging tradition with innovation. The inclusion of such luxurious embellishments not only adds visual opulence but also enhances the antioxidant and anti-aging properties of the oil. Oleocanthal, a protective compound found in these oils, bestows a shield upon the cardiovascular system, contributing to overall well-being.
Furthermore, the most expensive olive oils captivate with their richness, abundant in polyphenols that contribute to their distinctive flavors and exceptional health benefits. Some boast an impressive Ac. Cafeico's content, showcases its potency and adds to the indulgent experience they offer.
Acknowledged by the Oleocanthal International Society as the healthiest olive oil, Drop of Life oil radiates vitality and wellness. Its recognition highlights the profound impact olive oil can have on our health and underscores the importance of incorporating high-quality oils into our daily lives.
These extraordinary olive oils harmonize tradition and innovation, capturing the imagination and captivating the hearts of those who appreciate their unparalleled qualities.
They invite us to embark on a sensory journey, exploring the extraordinary flavors and aromas that make each one a culinary masterpiece. Within their depths lies the essence of true magnificence, awaiting discovery and appreciation.
λ /lambda, a luxury olive oil, embodies the essence of tradition and perfection through its limited production and accolades. This award-winning ultra-premium olive oil is meticulously crafted from handpicked olives sourced from some of Greece's oldest centenarian olive trees. With utmost care, the olives are pressed to yield an ultra-low acidity liquid, which is then bottled and labeled entirely by hand.
Each bottle undergoes five rigorous quality controls, ensuring minimum oxidation and meticulous attention to detail. With a median fruitiness (mF) consistently exceeding 6.0 (intense), Lambda is widely regarded as one of the finest olive oils in the world. Its journey from tree to bottle involves the dedicated work of eight pairs of hands and equally keen sets of eyes, resulting in an exceptional culinary experience.
In the realm of ultimate luxury, the White Gold Plated Edition of λ /lambda/ reigns supreme. Nestled within an extraordinary 100% handcrafted solid wooden box lies a 500 ml bottle of extraordinary olive oil. Adorned with lavish white gold plates, the presentation is personalized with the name of the VIP it is destined for, adding a touch of exclusivity.
Alongside this exceptional olive oil, you will find a carefully crafted 5-page PVC leaflet that tells the captivating story of its rich heritage and unrivaled quality. Additionally, the inclusion of certificates of exclusivity and exceptional craftsmanship adds to the overall prestige of this edition.
Every single aspect of this remarkable ensemble is a gentle reminder of the meticulous craftsmanship and unwavering dedication to perfection. Embrace this truly extraordinary experience, where opulence gracefully merges with artistry, and let it softly elevate your personal appreciation for the most exquisite olive oil in the world.
Rooted in a legacy that stretches back an astonishing 3,500 years, E-LA-WON proudly upholds a timeless tradition. Affectionately dubbed nature's enigmatic elixir or liquid gold, this exceptional creation originates from the captivating island of Mykonos.
E-LA-WON Luxury represents the seamless fusion of premium quality olive oil and delicate edible gold flakes, both renowned for their remarkable antioxidant and anti-aging properties.
Abundant in oleocanthal, a protective compound for the cardiovascular system, this extraordinary blend aims to fulfill the aspirations of discerning customers seeking luxurious and innovative offerings.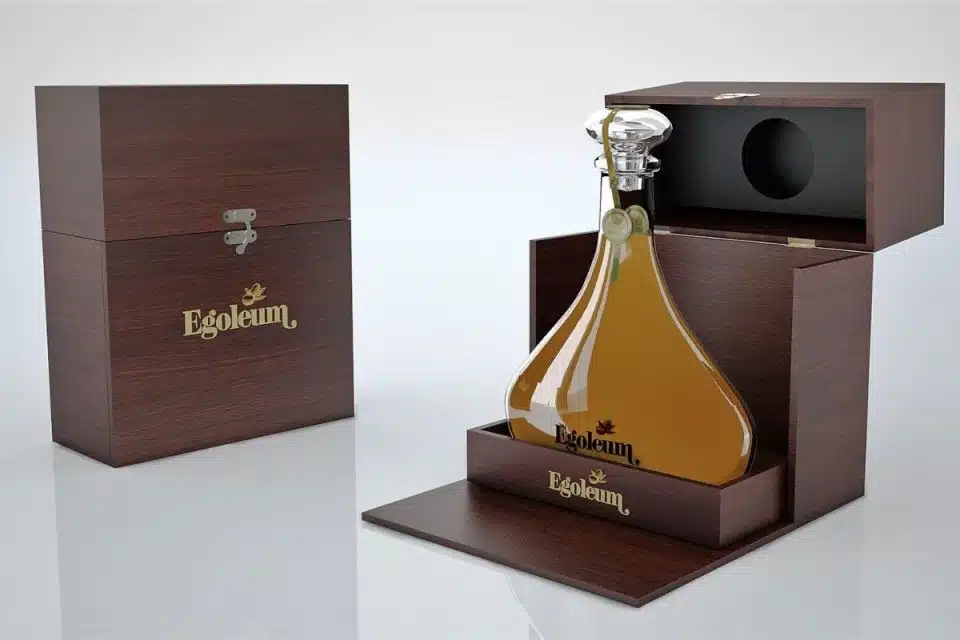 Egoleum, the epitome of Spain's finest premium extra virgin olive oil, encapsulates qualities of elegance, balance, and healthfulness. With its delicate adornment of 24-karat golden flakes, it embodies the pinnacle of luxury, enhancing every meal to perfection.
With notes of green leafy fruits and hints of grass, tomato, eggplant, green almond peel, and banana, Egoleum captivates the palate. Its medium spiciness and bitterness offer a fresh, velvety, and smooth sensation, complementing any dish. Crafted exclusively from Picual olives and protected with nitrogen, it maintains pristine quality.
Egoleum, with its gold infusion, offers more than just culinary delight. Its antioxidants promote cell regeneration and enhance mental well-being. This moisturizing formula preserves youthfulness, while oleocanthal protects the heart. A few drops of this golden elixir, gently shaken, create an enchanting culinary experience.
Egoleum enhances the flavors of dishes, bringing out the natural flavors with its delicate aromas and tastes. It is a rich olive oil, abundant in polyphenols, boasting an impressive Ac. Cafeico content of 903 mg/kg. Each 500ml bottle, beautifully packaged in a wooden box, represents uniqueness and a commitment to exceptional quality.
Directly imported from Spain, Egoleum provides a delightful and nourishing experience with its exceptional extra virgin olive oil.
Kreativni Laboratorij Ltd. is a trailblazer in the realm of luxury gourmet products, renowned for its unique and innovative designs. With a firm commitment to nature and authentic Croatian resources, their creative and manufacturing vision sets them apart.
Collaborating exclusively with esteemed artists and skilled craftsmen who share their passion for design, Kreativni Laboratorij aims to revive and preserve traditional crafts on the verge of extinction.
By fostering this collaboration, they encourage craftsmen to thrive in the market and pass down their invaluable expertise to future generations. The team combines their expertise with cutting-edge technologies and innovative thinking to craft products that add a touch of luxury to every culinary creation.
The Golden Olive Oil Sense is the epitome of luxury, a true gourmet masterpiece that houses 500 ml of extraordinary extra virgin olive oil infused with delicate 24-karat edible gold flakes.
This culinary treasure is presented in a sophisticated glass bottle, carefully enclosed in a meticulously designed black Plexiglas box, emanating an atmosphere of luxury. A handcrafted olive bottle top adds a touch of originality and elegance, bestowing a natural element and a subtle touch of individuality to the overall presentation.
What sets this presentation apart is its exclusivity, as the box can be tailored to individual preferences. Whether engraved with a personalized message, a logo, or a cherished family crest, each box becomes a cherished keepsake. Additionally, the Plexiglas boxes are available in a range of captivating colors, allowing for a truly bespoke experience.
Drop of Life is an extraordinary Extra Virgin Olive Oil (EVOO) product widely celebrated for its exceptional qualities in enhancing overall well-being. By simply adding two tablespoons of this olive oil to your daily routine, you can fully enjoy and reap the benefits it offers.
In recognition of its unparalleled health properties, Drop of Life has been acknowledged by the Oleocanthal International Society (OIS) as the healthiest olive oil out of a global pool of 400 participants.
This prestigious recognition underscores the exceptional quality and health-promoting attributes that distinguish Drop of Life from its competitors worldwide.
Produced in the historic land of Sparta, this exceptional olive oil comes in a limited edition of only 199 bottles, making it truly exclusive. Holding the prestigious world record for the highest Oleocanthal content is a testament to its unrivaled quality and health benefits.
Filled with an abundance of vital nutrients such as antioxidants, Omega 9, Omega 6, and Omega 3 fatty acids, as well as vitamins E and K, this olive oil boasts an impressive nutritional composition. Importantly, it surpasses the rigorous health claim standards established by the EU, solidifying its status as an exceptional and superior product.
Moreover, it proudly holds the highest organic certification in the EU, known as Naturally Organic, guaranteeing that it is cultivated and produced in complete harmony with nature. Indulge in the excellence of this extraordinary olive oil, produced in the historic grounds of Ancient Sparta.
Established in 2012 in Nicosia, Cyprus, Atsas Organic Products LTD is a revered family-run agricultural enterprise. Renowned for its organic products, the company has garnered global acclaim for the exceptional quality of its high-phenolic extra virgin olive oil.
By adhering to eco-friendly cultivation practices, ATSAS ensures the preservation of its organic label and the superior caliber of its multi-award-winning olive oil. Over the years, the company has built a stellar reputation, earning widespread recognition for its commitment to excellence and environmentally sustainable procedures.
The Atsas Gold Limited Edition HP Organic is a truly exceptional olive oil, meticulously crafted in a small batch with only 200 bottles available. Enthusiasts can immerse themselves in its unparalleled richness, as it overflows with antioxidants, Omega 9, Omega 6, and Omega 3 fatty acids, alongside essential vitamins E and K.
This exceptional olive oil exceeds expectations by surpassing the strictest health regulations set by the EU, ensuring its outstanding quality. Remarkably, it proudly holds the title of the second-highest polyphenol content in the world, enhancing its already impressive array of health benefits.
Acknowledged for its excellence, this olive oil has received numerous prestigious awards, cementing its reputation for exceptional flavor and uncompromising quality. Prepare to indulge in the luxurious experience offered by the Atsas Gold Limited Edition HP Organic, a true gem among olive oils.
MYST® is a brand that embodies selectiveness, quality, and design, offering exceptional value to its customers. As farmers, they cultivate their products using traditional techniques, adhering to strict guidelines and promoting sustainable farming practices.
MYST® is driven by a vision to consistently seek out exceptional products that deliver extraordinary taste, captivating aromas, and unique nutritional benefits. Above all, their primary objective is to revive and promote Greece's ancient culinary heritage, showcasing the rich traditions and flavors that have been passed down through generations.
Oleomile is a family business deeply rooted in the El Bajo Maestrazgo region of Castellón, Spain, with a rich heritage spanning generations dedicated to olive tree cultivation and olive oil production. Drawing on years of expertise in crafting extra virgin olive oil, specifically from the Farga variety, the professionals at Oleomile are committed to offering the world a truly distinctive product from their land.
Embracing a philosophy that has endured from the time of the Phoenicians to the present day along the Mediterranean shores, Oleomile's approach encapsulates a unique way of savoring and cherishing life's authentic pleasures.
In addition to crafting extra virgin olive oil from ancient indigenous varieties, some of which remain undiscovered by many, even experts, Oleomile stands as a pioneer in this selection. Harvesting all olive varieties simultaneously in the smallholding area and creating coupage oils, the Canetera and Llumet varieties have delighted enthusiasts with their novel flavors and aromas, expanding the diverse landscape of Spanish olive oils.
Oldfargus 2000 is a highly exclusive and limited edition olive oil. With a total of 17 olive trees ranging from 6.5 meters to over 9 meters in trunk perimeter, the annual production of this extraordinary olive oil is approximately 200 liters. As a result, only 400 bottles of 500ml are bottled each year. Remarkably, it is believed that there are merely a hundred scattered olive trees of this caliber in the entire Valencian Community.
The business name was chosen with the purpose of enhancing the promotion of their exceptional product, Divinus, a truly divine olive oil. The innate sanctity and divinity of the olive tree are indisputable, as it has never been deliberately planted by humans but rather astonishingly self-sown. Its propagation throughout Greece is credited to the blessings of God, without any human intervention.
Throughout centuries, the divine nature of the olive tree has been evidenced by its ability to not only survive but flourish and multiply. Divinus, a company devoted to the cultivation of olive trees, has diligently nurtured and preserved these ancient trees inherited from their ancestors for a span of three decades. They continue the legacy by planting new olive trees to ensure their enduring presence.
The highly pure Cretan olive oil produced by Divinus has found its way into the homes of numerous Greek families through personal connections, recommendations, and private transportation, forging profound bonds. The customers, deeply devoted to Divinus due to the purity of their product, have become an inseparable part of the company's existence, creating a mutual interdependence.
In essence, a unified entity has formed through the blessed divine olive oil. The surge in demand for their Cretan olive oil has been met with unwavering dedication as Divinus strives to fulfill the increased needs of its valued customers.
---
In the realm of olive oil, true luxury awaits those who seek it. Our selection of top-tier olive oils represents the epitome of excellence, a testament to the unwavering commitment, skill, and artistry of olive oil producers. These oils are not mere ingredients; they are masterpieces meticulously crafted in limited quantities, embodying exceptional qualities that set them apart.
While these remarkable olive oils may be rare and highly sought after, they represent an invitation to enter a world of opulence and refinement. Their elegance and sophistication are meant to be savored and appreciated by those with discerning palates, those who understand the transformative power of extraordinary ingredients.
In the ancient world, virgin olive oil was called "liquid gold" by Homer and hailed as "the great healer" by Hippocrates, sparking a sense of intrigue, and making you eager to explore its remarkable taste. The relationship between the olive tree and human civilization has produced an immensely rich, living cultural heritage, embedded in the everyday habits of the Mediterranean people.
---
Related: All About Kalamata Olives and Kalamata Olives Oil
Related: Most Expensive Chocolate in the World
Related: Most Expensive Tea in the World
Related: Most Expensive Fruits in the World