10 Most Expensive Balsamic Vinegars in the World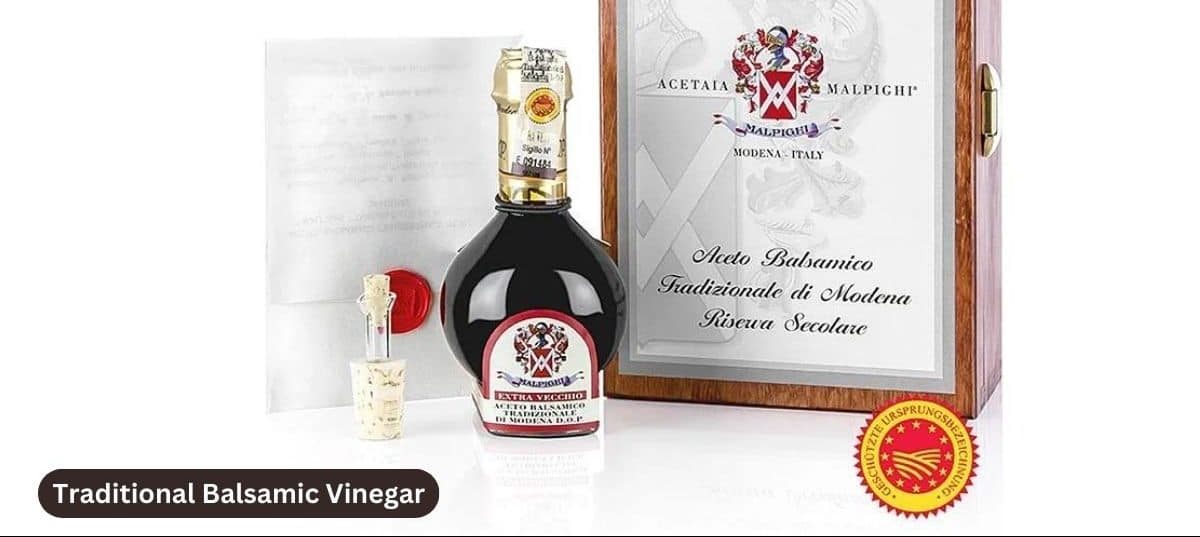 Curious about why balsamic vinegar is so highly prized? Here we present the fascinating history and unique flavor of this popular condiment.
Originating from Modena and Reggio Emilia in Italy, it is meticulously crafted through a precise process. Grape juice is first reduced and then aged in wooden barrels, typically made from oak or cherry. The result is a vinegar with a deep, dark color, velvety texture, and a well-balanced taste profile that combines sweetness with a delightful tang.
Described as rich, syrupy, and slightly acidic, it exhibits notes of caramel, fruit, and a subtle hint of woodiness. This versatile vinegar enhances a wide range of culinary creations, from salad dressings and marinades to fruits and desserts. Its ability to elevate dishes has made it a beloved ingredient worldwide, bringing depth and sophistication to every meal.
In Italy, balsamic vinegar holds a revered status as a traditional condiment known as "aceto." Its origins can be traced back to Modena, where local families have preserved the time-honored tradition of crafting balsamic vinegar in the attics of their ancestral homes. Describing this culinary gem as mere vinegar fails to capture its extraordinary taste.
Aged for decades, this luscious elixir becomes a syrupy delight, overflowing with sweetness. Its heavenly essence perfectly complements classic Italian dishes and iconic delicacies. Just a drop of aged balsamic vinegar elevates any dish to celestial heights, proving that vinegar is more than just a condiment.
In Modena, balsamic vinegar stands alongside the iconic Parmigiano Reggiano cheese and Prosciutto ham, forming a triumvirate of Italian culinary greatness.
True balsamic vinegar undergoes an extensive aging process in small wooden barrels, with the finest varieties resting in attics for years. Periodic extractions are carefully carried out, gradually transferring the vinegar to smaller barrels containing older balsamic vinegar.
After many years, the resulting elixir resembles a syrupy reduction that one might create on a stovetop. Modena balsamic vinegar encompasses three distinct grades, each with its own production time and profound significance as a traditional food—because balsamic vinegar is indeed a food in its own right.
The pinnacle of luxury in the world of balsamic vinegar lies in traditional balsamic vinegar (DOP), or aceto balsamico tradizionale, exclusively crafted in Modena or Reggio Emilia. These exceptional vinegars bear a protected designation of origin (DOP) authorized by the Italian Government and the European Union, guaranteeing the highest standards of quality in food production.
True balsamic vinegars, classified as DOP, are derived solely from cooked grape must and undergo a minimum aging period of 12 years in barrels and are free from any additional ingredients. The label color indicates the minimum aging duration, with red denoting 12 years, silver signifying 18 years, and gold representing 25 years.
The lengthy aging process imparts a luxurious texture, transforming the vinegar into a thick and velvety syrup that exudes remarkable sweetness. Even a spoonful on its own is a delightful treat. Depending on the type of barrels used during the aging process, the vinegar may exhibit nuanced flavors of oak, cherry, or other woods.
As a general rule, the older the balsamic vinegar, the higher its price.
The distinct bottle shape of DOP balsamico serves as a hallmark of a premium Italian food product, indicative of its superior quality.
As a general rule, the older the balsamic vinegar, the higher its price. This is due to the extensive aging process that contributes to its exceptional quality and complexity. With each passing year, the vinegar develops deeper flavors, richer aromas, and a luxurious texture that sets it apart. The lengthy maturation period allows the vinegar to reach its peak, resulting in a truly remarkable and sought-after culinary masterpiece.
The rarity and scarcity of aged balsamic vinegar further contribute to its elevated price, making it a prized and cherished delicacy for connoisseurs around the world.
Below is our meticulously curated selection of the top 10 most exquisite and opulent balsamic vinegars.
In 1850, the Malpighi family embarked on their journey of crafting the authentic Traditional Balsamic Vinegar of Modena. This legacy began when Pietro Malpighi, the great-great-grandfather of the present-day president of Acetaia, entrusted his son Augusto with a priceless inheritance—the recipe for creating the true and genuine "natural Vinegar." This marked the beginning of a rich tradition that continues to this day.
The Traditional Balsamic Vinegar of Modena undergoes a minimum aging period of 12 or 25 years inside wooden barrels. Its unique 100 ml bottle, designed by the renowned Giorgetto Giugiaro, is globally recognized and is the only bottle authorized by law for this extraordinary vinegar.
Ideal for savoring in small quantities, using delicate white porcelain or plastic teaspoons (avoiding aluminum), the Traditional Balsamic Vinegar of Modena is best enjoyed as a post-meal digestif. When consumed raw, its true essence shines through, particularly when drizzled in small drops over Parmesan cheese flakes, fresh strawberries, or velvety vanilla ice cream.
Furthermore, it serves as a distinctive ingredient in sophisticated cocktails, adding an original touch to refined drink creations. Rather than overpowering flavors, this exquisite vinegar has the remarkable ability to enhance and elevate them, allowing the unique characteristics of each ingredient to shine.
Leonardi Balsamic Vinegar originates from the hills of Modena, where the renowned grape varieties of Lambrusco and Trebbiano flourish. These provide the essential grape must that is the fundamental ingredient for the exquisite Balsamic Vinegar of Modena.
Giovanni Leonardi, the guardian of Acetaia Leonardi, carefully oversees a collection of precious barrels that house a limited quantity of the liquid black gold. This extraordinary balsamic condiment has been lovingly nurtured and protected for a century, maturing through the ebb and flow of Modena's climatic variations within the confines of the Leonardi estate's attic, known as the acetaia.
The Riserva Oro 100 Year Condimento Balsamic exudes a dense and velvety consistency, reminiscent of a luscious syrup. Its dark brown hue is accompanied by striking black undertones, while its glossy surface radiates a mesmerizing mirror-like brilliance. The aroma is intoxicating, with layers of floral notes and hints of dried fruits.
The balance between sweetness and tartness is impeccable, with a unique fusion of flavors that unfold on the palate—caramel, concentrated raisins, black currant, dried figs, dates, and cherries—all elevated by the trademark brightness of a perfectly crafted balsamic vinegar.
Although the rules of the Consorzio of Traditional Balsamic Vinegar of Modena do not grant this product a distinctive classification such as Extra Vecchio, the Leonardi family has chosen to label it as a Condimento Balsamico to highlight its unparalleled character and showcase the meticulous barrel selection behind its creation.
An ancient Modenese proverb states that "a drop of balsamic vinegar can sober up the intoxicated." This exceptional condiment is best reserved for truly special occasions, where its remarkable qualities can be fully appreciated.
The exquisite liiquid from the family barrels of the Pedroni family of Modena is the embodiment of what Balsamic Vinegar truly represents.
Originating from an ancient battery of barrels with a history dating back to 1862, this balsamic vinegar epitomizes the epicurean essence of a product that has garnered numerous accolades over the decades, now recognized as the esteemed "Traditional Balsamic Vinegar of Modena DOP extra old." It is a product of unparalleled quality, imbued with boundless patience and unwavering passion.
The battery of barrels belonging to the Pedroni family are of aged oak and chestnut. Some of these barrels have stood the test of time, producing this unmistakable and authentic flavor, aptly named Caesar, for over a century.
The balsamic vinegar that emerges from these barrels has undergone a minimum of 50 transfers. With only one transfer occurring per year, the aging process spans at least 50 years, resulting in a truly remarkable outcome.
Cesare Pedroni, the great-grandfather of Giuseppe III Pedroni, was the first generation of Pedronis to professionalize the production of balsamic vinegar in Rubbiara, near Modena, while also managing their own tavern. Fueled by his passion for Balsamic Vinegar, he forged a secure future for his family, leaving behind a legacy that endures to this day.
The exquisite Traditional Balsamic Vinegar of Modena is a testament to the unique combination of soil, climate, and grape varieties that thrive in the renowned region of Modena. Meticulously crafted through the artful cooking of musts and the cherished tradition of annual decanting between barrels in the vinegar cellars, it captures the essence of Modena's terroir and the devotion of its artisans.
With each drop, this incredible vinegar captures the perfect blend of nature, craftsmanship, and time-honored techniques, creating a sensory experience like no other.
The Giorgio family has embraced the tradition of balsamic vinegar as a way of life, treating it as an intrinsic part of their heritage that has been passed down through generations. The vinegar is nurtured and preserved in barrels, encapsulating the allure and enchantment of an ancient ritual.
Over centuries of adherence to this time-honored practice, the grape must undergoes a transformative journey, culminating in a black and velvety delicacy teeming with unparalleled aromas.
Aceto Balsamico is unveiled only after a minimum of 12 years of meticulous aging in a variety of wooden barrels. After 25 years of maturation in the juniper barrel, its aroma takes on a spicy and woody character, perfectly suited for complementing game dishes, boiled meats, and an array of mushroom-infused culinary creations.
This carefully cultivated vinegar is the embodiment of patience and dedication, resulting in a sensory masterpiece that elevates every dish it graces.
Nestled midway between Modena and Reggio Emilia, the enchanting town of Albinea boasts a sanctuary of tranquility, where an ancestral residence takes center stage, embraced by breathtaking Italian gardens. Meticulously preserved in its original splendor, the venerable Acetaia stirs nostalgic reflections of bygone eras, rekindling the essence of ancient artisanal traditions.
Concealed within its hallowed walls, shrouded in near-complete darkness, lie the time-honored batteries of diminutive barrels, cherished heirlooms sourced from illustrious families hailing from the provinces of Modena and Reggio Emilia, originating as far back as the 18th and 19th centuries.
With the meticulous scrutiny of seasoned masters, only the crème de la crème will triumphantly pass the rigorous selection process.
Once selected, this extraordinary elixir embarks on a remarkable journey, transitioning gracefully into smaller barrels, where its natural transformation unfolds freely. Unwaveringly committed to its organic maturation, it will patiently evolve for a remarkable span of 25 years and beyond, attaining unparalleled depths of character and complexity.
For over 25 years, the Villa San Donnino Acetaia has been producing this exquisite elixir. Situated near Modena, the Acetaia is renowned for its stunning Art Nouveau villa in San Donnino.
This exceptional balsamic vinegar is crafted through the fermentation of boiled grape must. The vinegar bacteria find their origin in bacterial colonies known as "mothers." Subsequently, a slow enzymatic maturation process occurs, involving a chemical-physical transformation. The grape must used here consists of pressed Trebbiano grapes and other traditional varieties from Modena, such as Lambrusco.
After pressing the grapes, the raw grape juice is poured into open cooking vats and heated over an open fire at approximately 95°C. During the cooking process, the must undergoes reduction and concentration as significant water loss occurs, effectively eliminating any harmful bacteria. The cooked must exhibits a rich, dark brown color and heightened sugar content.
Once cooled, the must is decanted and transferred into a series of barrels, each with decreasing volume and constructed from various woods such as oak, chestnut, mulberry, cherry, juniper, and more. A collection of five to seven individual barrels, forming a row, is referred to as a battery.
It is within these batteries that the Traditional Balsamic Vinegar of Modena extravecchio DOP matures over the course of several decades.
The special edition Bernardo Tesori Oro stands as an unparalleled extra-aged PDO Traditional Balsamic Vinegar of Modena. Bernardo Tesori, renowned for their discerning palate, meticulously samples numerous traditional balsamic vinegars, selecting only a rare few to grace their esteemed shop.
Within this selection, the Serie Oro reigns supreme, representing a distinctive bottling that captivates with its exquisite texture, alluring aroma, and intense flavor. Now, they generously share the outcome of this extraordinary curation, offering a limited portion of this series for sale.
The Gold Series by Bernardo Tesori showcases a balsamic vinegar of exceptional quality. Aged for 25 years across five distinct wooden barrels—oak, chestnut, ash, cherry, and juniper—this masterpiece hails from vineyards located approximately 15 km north of central Modena. The esteemed Trebbiano and Lambrusco grape varieties are skillfully transformed into this magnificent balsamic vinegar.
Through careful tasting, this balsamic vinegar achieves a harmonious equilibrium of acidity, intensity, and sweetness. Its balance, characteristic regional flavors, grape variety nuances, and the influence of the aged barrel batteries won over the discerning palates at Bernardo Tesori.
With a Brix value surpassing 70 points, this PDO Traditional Balsamic Vinegar exudes the desired sweetness of an extra-aged balsamic vinegar, while the 4% acidity integrates flawlessly. It truly embodies the essence of a Traditional Extravecchio in taste and character.
The Serie Oro is delivered in an original bottle, accompanied by an eco-friendly wooden gift box and an authentic cork pourer, further enhancing the allure of this remarkable culinary treasure.
Acetaia Cavalli, situated in the quaint town of Fellegara di Scandiano, just 10 km from Reggio Emilia, is the producer of the exquisite Traditional Golden Balsamic Vinegar. Continuing the legacy initiated by their father, oenologist Giovanni Cavalli, along with his brother Roberto, they have been commercially crafting Traditional Balsamic Vinegar since 1980.
The foundation of their present-day enterprise was laid by their father in the 1950s, when he acquired old barrels. Boasting over 800 barrels, Acetaia Cavalli stands as the largest vinegar factory in the region.
For their Reggio Emilia Extravecchio Traditional Balsamic Vinegar, only the exceptionally sweet and pale grapes of the Trebbiano variety are used. The series available for purchase here has undergone aging in five successive wooden barrels: oak, chestnut, juniper, cherry, and mulberry.
With a density of 1.35, surpassing the minimum requirement of 1.2, this balsamic possesses a denser consistency compared to others in their range. Remarkably, only 40 bottles of this exclusive series are available worldwide!
To earn the coveted Gold seal, the balsamic must achieve a minimum score of 300 out of 400 in the evaluation conducted by inspectors. The inclusion of extravecchio signifies that this balsamic vinegar has been aged for at least 25 years in traditional wooden barrels.
Each bottling undergoes rigorous inspection and certification by the Ministry of Agricultural, Food and Forestry Policies. Discerning consumers can identify the authentic product through the seal of sealing wax, imprinted with the letters "DOP ABTRE."
Furthermore, the tulip-shaped bottle is decorated with the red-yellow PDO seal, and the label proudly showcases the phrase "Certified by an authorized control body under Mipaaf," confirming the Ministry's successful acceptance test.
The Argento variant, known as the silver one in Italian, undergoes a minimum aging period of 18 years within the barrels of Acetaia Picci, nurtured with utmost care and devotion. Distinguishing itself from its younger counterpart, Aragosta, this Balsamic Vinegar enjoys an additional maturation time of 6 to 7 years.
During this extended period and evaporation process, the concentration increases, giving the vinegar a thicker texture and a more pronounced flavor. Importantly, the acidity becomes less prominent, making this vinegar ideal for enhancing the flavors of your appetizers or main courses.
During our personal tasting experience, we were captivated by the remarkably enduring aroma. Even minutes after savoring, the essence of luscious grapes and sweet woods continued to linger on the palate, offering an extended moment of enjoyment. The delicate balance between sweetness and acidity surpassed our expectations.
When paired with a piece of Parmesan cheese, this balsamic vinegar unfurls its full potency without overpowering the palate, making it our current favorite recommendation.
---
Aceto Balsamico Tradizionale is the epitome of skillful artistry, timeless traditions, and culinary brilliance. With a storied past, exacting techniques, and an unrivaled taste profile, it is an authentic gem of Italian cuisine.
This revered vinegar embodies the essence of culinary artistry, reflecting the unwavering commitment and passion of its producers. From its origins to the intricate processes involved, Aceto Balsamico Tradizionale encapsulates the very essence of Italy's gastronomic heritage, making it an esteemed treasure that continues to captivate discerning palates worldwide.
Related: Most Expensive Olive Oil in the World
Related: Most Expensive Tuna in the World
Related: Most Expensive Chocolate You Can Buy Right Now
Related: Most Expensive Teas in The World