Milk Buns with Lobster & Vietnamese Slaw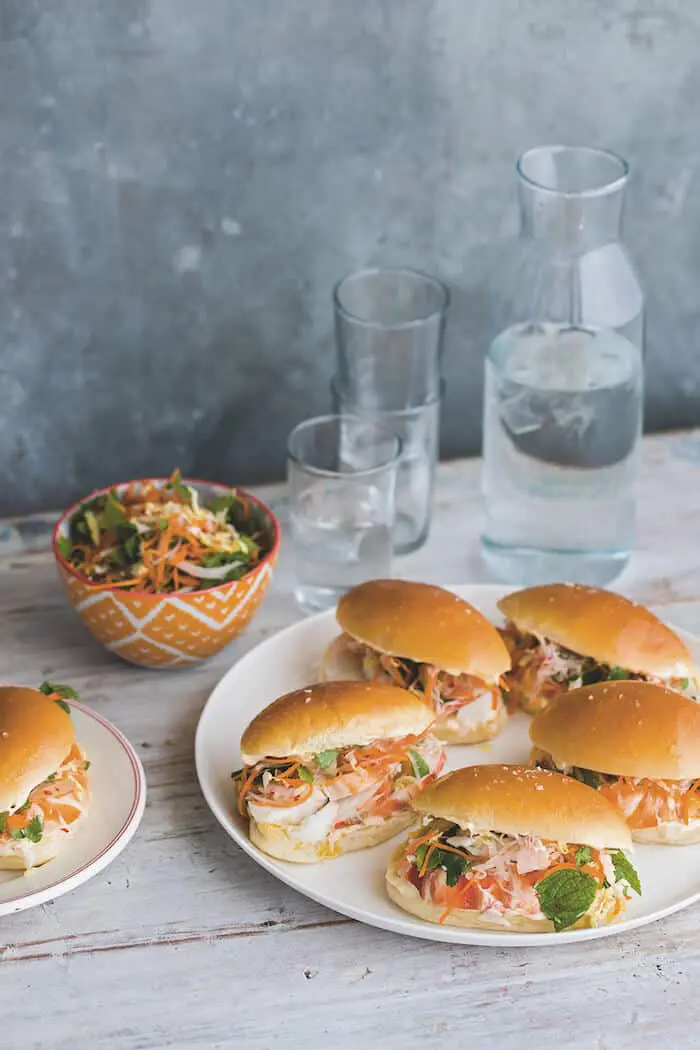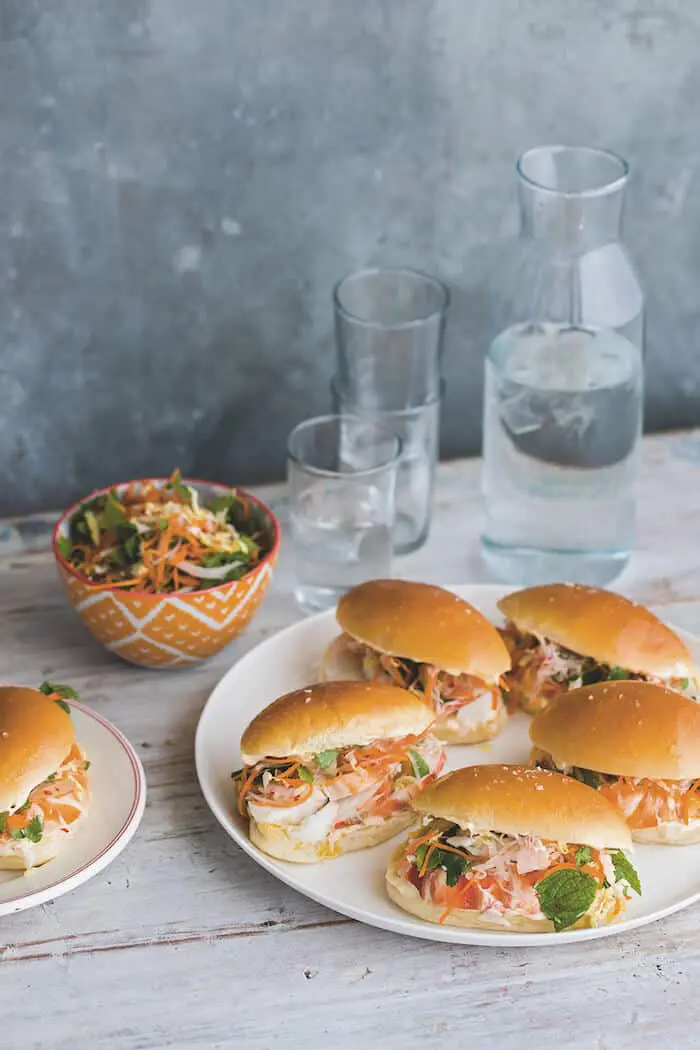 Milk Buns with Lobster & Vietnamese Slaw
Milk buns, sold in Asian bread shops, have a beautifully soft texture and are best served fresh and warm.
Ingredients
400

grams

live lobster

or precooked lobster 14 oz

handful salt

olive oil

extra virgin for drizzling

4

mini milk buns

Miso mayo
VIETNAMESE SLAW
60

grams

Sugar

2¼ oz

60

milliliter

white vinegar

2 fl oz / ¼ cup

½

large carrot

cut into thin sticks

1/8

medium daikon radish

cut into thin sticks

45

grams

Chinese cabbage

shredded, 1¾ oz / 1 cup

handful coriander

roughly torn

handful mint leaves

roughly torn

1

red chili

finely chopped
Instructions
Slaw
In a small saucepan, combine the sugar, vinegar and 125 ml (4 fl oz/½ cup) water. Bring to the boil, pour into a bowl and cool.

Add the carrot, daikon and cabbage to the liquid and mix well. Season to taste with salt and pepper.

Transfer to an airtight container and marinate in the fridge for at least 2 hours, or overnight.

Just before serving, strain off the liquid, then mix the remaining ingredients through.
Lobster
If using a live lobster, place it in the freezer for 30 minutes to put it to sleep.

Place the lobster on a chopping board. Using a very sharp, strong knife, cut through the head, keeping the rest of the body intact.

Place a large pot of water on the stove over high heat. Add the salt, to resemble sea water, and bring to the boil.

Add the lobster to the pot, reduce the heat to medium and cook for 6–7 minutes. Remove the lobster with a slotted spoon and refresh in iced water.

Use kitchen scissors to remove the cooked lobster head from the tail. Lay the body on its back and, using a strong, very sharp knife, cut it in half from the top of the tail to the bottom. Remove the flesh from the shell and discard the intestinal tract.

Cut the flesh into four medallions and drizzle with extra virgin olive oil.

Season with salt and freshly cracked black pepper.
To Serve
Cut the buns in half widthways. Spread 2 teaspoons of the miso mayonnaise on the bottom half of each bun.

Top with a lobster medallion and the slaw.

Put the bun lids on top and serve.
Notes