Menudo (Mexican Tripe Soup)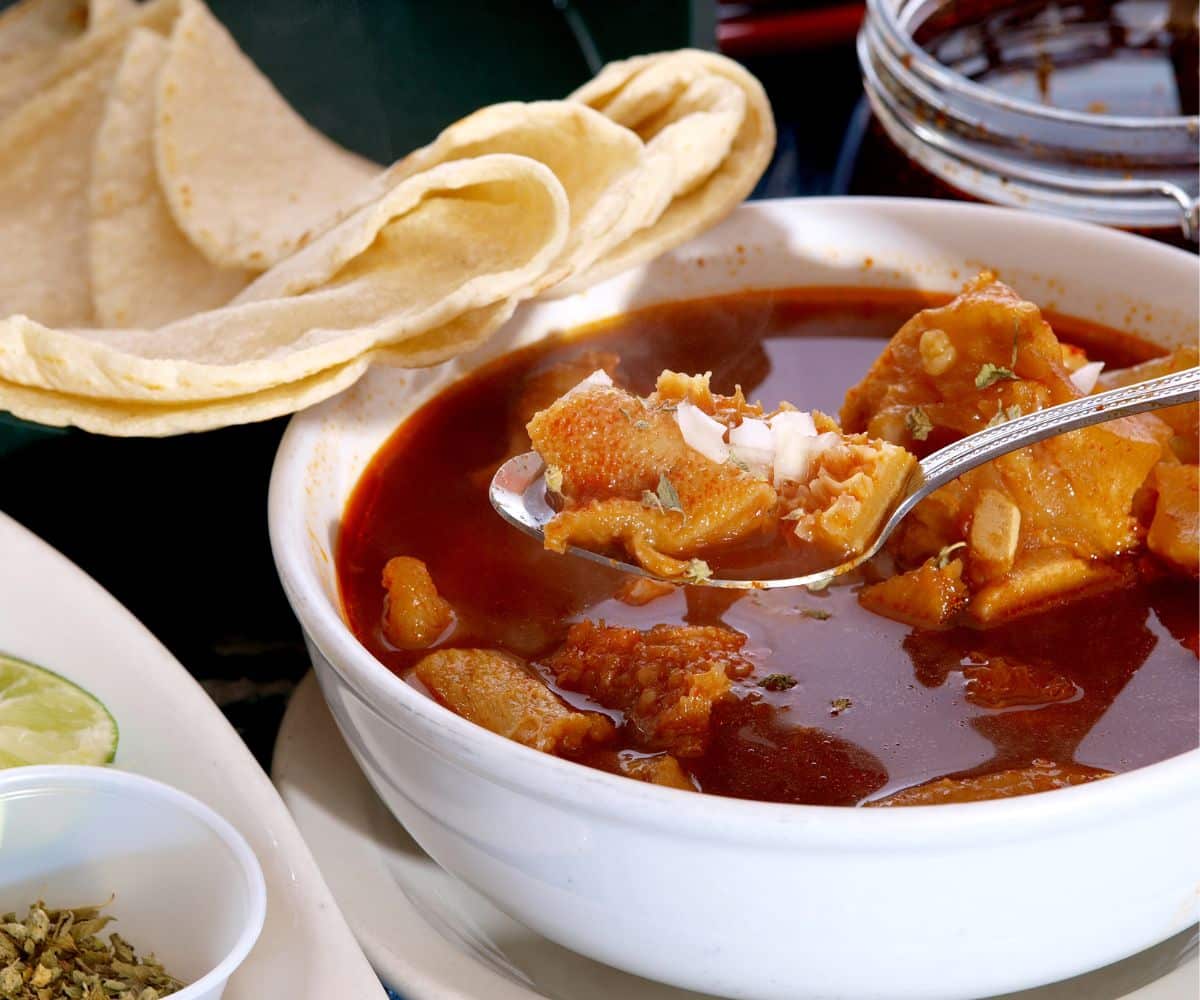 Menudo is also known as "pancita" which means "little stomach" and this soup is just that: a Mexican tripe soup!
To make this soup, you need to simmer tripe (beef belly) in a stock with hominy, onions, oregano and chilies. It is often flavored with a chili sauce made from Guajillo peppers.
This soup is incredibly flavorful and in Mexican folklore it is said to cure anything from the flu to a broken heart. Enjoy this traditional menudo recipe!
Menudo (Mexican Tripe Soup)
A Mexican gathering isn't complete without a serving of a hot bowl of menudo. Prepared with a dried red chili base this dish brings families together and is traditionally served at almost all Mexican celebrations including weddings, baptisms, and Christmas.
Ingredients
Spicy beef soup:
3

lb

beef belly

clean and cut into pieces about 1-2 inches long, and half an inch wide, removing any fat. 

1 1/2

gallon

water

2

onions

4

garlic cloves

minced

2

dried bay leaves

1

can of large corn

14.5oz
Instructions
For the spicy beef soup:
In a large pot, add the water and let it heat over medium heat.  Add in the beef belly, corn, 4 cloves of garlic and the bay leaves and allow to cook for around 2 hours, or until the meat becomes tender. Careful you don't overcook it!
For the sauce:
Prepare the chilies by washing them and removing their stems. Leave them to soak them in hot water for 12 to 24 hours. Once ready, save 1 cup of the water they soaked in for the next step. To speed up the procedure, boil the chiles for 10 minutes, take them off the heat, cover them, and allow them to cool for an hour or until they have cooled enough to be blended.

Place the chilies in a blender along with one cup of the water you set aside, along with 6 cloves of garlic, cumin, and oregano. Blend until smooth, then strain the mixture of excess water. Season it with salt and pepper to your taste.

Now, incorporate the corn and chili sauce into the pot and let it all come to a boil for approximately 10 minutes to ensure that the flavors mix together harmoniously.

To serve, garnish the soup with chopped onion, oregano/cilantro and a slice of green lemon.
Notes
Related: Easy Guacamole & Shrimp Tacos
Related: Pulled Chicken Tacos with Tomatillo Salsa
Related: Chimichurri & Shrimp Salad
Related: Egg & Chorizo Breakfast Burritos w/ Spicy Pineapple Salsa
Related: Roasted Mexican Chicken
Related: Romanian Tripe Soup