Top 15 German Kitchen Appliance Brands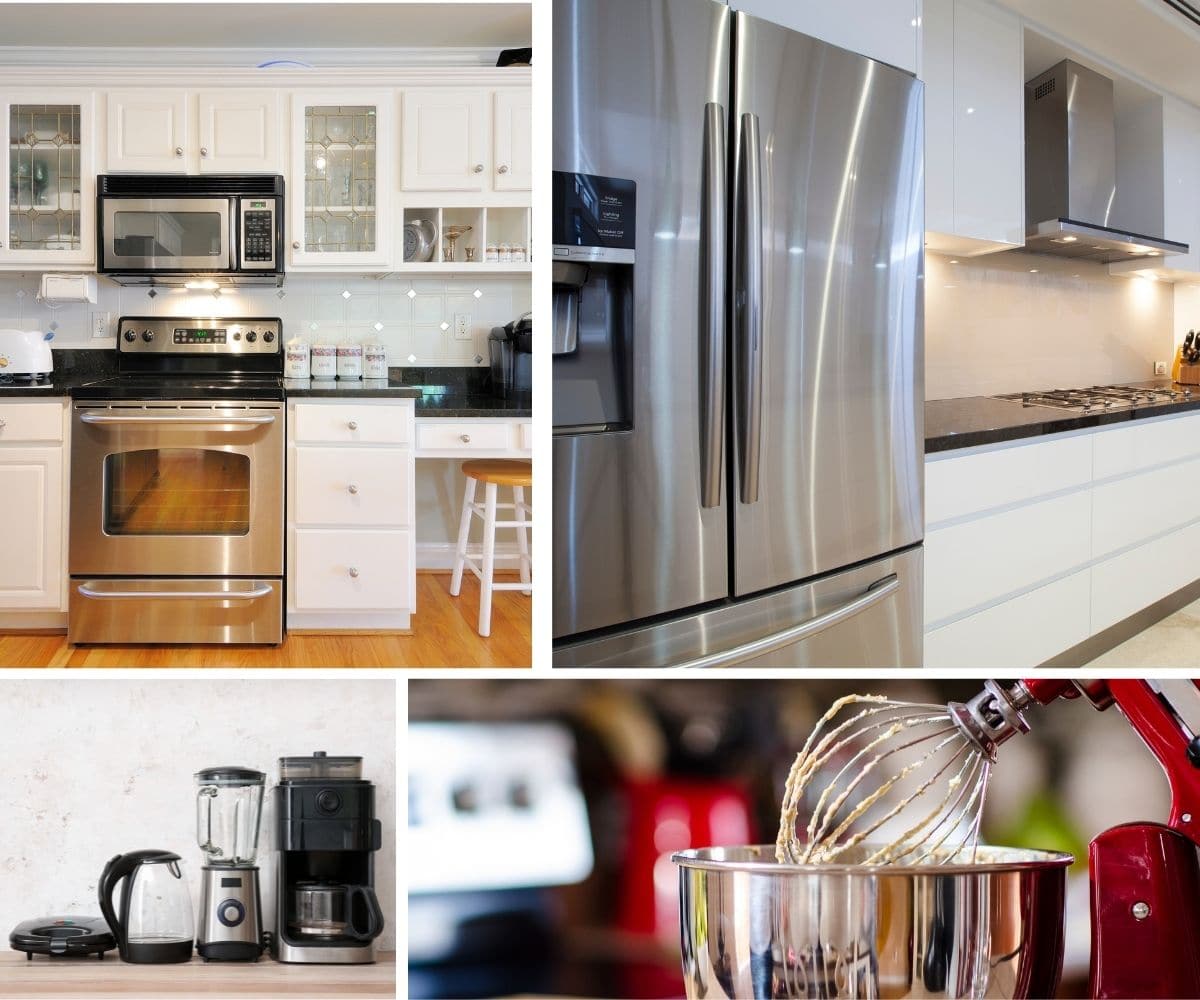 Thinking about upgrading your kitchen appliances? When you're looking for quality, there's no doubt that German brands, with their reputation for outstanding styling, technological excellence, and reliability will deliver what you need.
In this guide, we take a look at 15 of the best known kitchen appliance brands from Germany. So whether it's state-of-the art ovens you're looking for or the ultimate sausage cooker, you'll know which company will deliver what you need to enhance your food preparation experience and increase the beauty of your kitchen.
1. Gaggenau
Gaggenau is a brand with a heritage that goes back literally hundreds of years. It was founded in the 1600s, so is the oldest kitchen appliance company in the world.
Gaggenau products are for those looking for the best of the best, not only in terms of performance and longevity but also for their eye-catching contemporary design.
Gaggenau's premium range is aimed at professionals and serious home chefs who want the best in design and quality. Their ovens are particularly famous, not just for their sleek modern design but also because they feature four-inch-thick oven doors designed to maximize heat retention while keeping the exterior cool. The signature blue enamel interior coating makes cleaning effortless.
But it's not only about ovens. Appliances such as the fully integrated Vario cooling 400 series wine climate cabinets make a truly stunning architectural statement.
The company has won numerous design awards for its modern appliances, which include cooktops, extractors, refrigerators, dishwashers, and washing machines.
Website: Gaggeanau
2. Miele
Founded in 1899, Miele is another German manufacturer with a long and proud heritage.
The brand is respected for its blend of great styling and longevity. Eschewing the 'throw away' culture, every one of their products is tested to the equivalent of 20 years of use. This not only makes Miele's appliances a sound financial investment, but they are also increasingly valued by today's eco-savvy consumers.
Miele has also earned a reputation for innovation, and constantly incorporates new features and systems into their home appliances. Some are added to improve convenience, while others are revolutionary re-imaginings of things we take for granted, for example, the Moisture-Plus range, which helps control cooking humidity as well as temperature, and backlit knobs that make it easier to ensure the range has been turned off.
Miele's sleek German design can be customized to enhance the look of any style of kitchen. For example, you can order appliance handles in gold, glass, powder-coated aluminum, or with natural wood tone inserts.
A favorite Miele product is the HR1935 range – one of the best on the market, with a wide range of helpful features including: convection roasting, MasterChef auto programming, dehydrating, a Sabbath program, optional rotisserie motor (y), and a grill, among many others. Products are available in three sizes, and either gas, electric, duel-fuel, or convection energy versions.
And for those whose priority in the kitchen is their morning cup of coffee (ourselves included), Miele's integrated whole-bean coffee machine is essential. Installed directly into your cabinetry, it frees up counter space and makes perfect espressos, macchiatos, cappuccinos, lattes, and more.
Website: Miele
3. Bosch
Founded in 1886, Bosch is another premium German appliance brand with a stellar reputation. As you'd expect, given the premium prices, Bosch products come with sleek design and attractive high-end features which make an unmistakable statement about your commitment to quality and style.
The ranges include dishwashers, ovens, cooktops, refrigerators, microwaves, ventilation, coffee machines, and washer/dryers.
We particularly like their range of steam ovens, which cook food in a way that retains the color and texture, as well as vitamins and minerals. BoschAssist presets the optimum heat type, temperature, and timing for each dish. EcoClean Direct and a de-scaling feature make cleaning almost effortless. Bosch steam ovens come with their own water tank, so no water connection is needed.
Website: Bosch
4. Siemens
Siemens is a vast industrial conglomerate, working in everything from aerospace and infrastructure to healthcare and insurance. It's no surprise that their kitchen appliances are associated with German engineering excellence, cutting-edge design, reliability, and longevity.
A great plus is that Siemens comprehensive range of appliances are generally less expensive than other high-end rivals such as Gaggenau and Miele.
Siemens steam ovens allow you to cook with steam, bake and roast with hot air, or do both. The combination of steam and hot air makes them perfect for meat, fish, and vegetables, as well as for bread, cakes, and roasts. They also allow you to heat pre-prepared food easily without losing any flavor or texture, as they tend to in a microwave, and helping to retain vitamins and minerals.
Website: Siemens
5. Liebherr
Liebherr Appliance is a small division of Liebherr Equipment Manufacturer, a multinational company best known as a crane builder.
Liebherr focuses on professional and domestic cooling appliances – built-in, stand-alone, or under-the-counter. They inherit the highest standards of quality and longevity.
Freestanding appliances are available in sizes from 24 to 60 inches, while fully integrated models are up to 72 inches.
The entire range of Liebherr appliances meet or exceed US ENERGY STAR® rating requirements, minimizing greenhouse emissions and controlling energy costs. Another advantage is that noise levels are minimized due to silent, speed-controlled, and sound-absorbing compressors.
Website: Liebherr
6. NEFF
Neff has been manufacturing kitchen appliances since 1877 and has earned a reputation for innovative features and sleek design.
Neff appliances have time- and space-saving technology built into every aspect of their construction, providing clever solutions for the most enthusiastic cooks.
The Slide&Hide® oven door, for example, is ideal for smaller spaces and avoids the need for awkward bending. And CircoTherm® oven design allows you to prepare a full three-course dinner, on 3 or 4 levels, with no danger of the flavors intermingling.
Website: Neff
7. Bauknecht
Bauknecht was formerly a pure German brand, but since 2012 its home appliances have been created by US giant Whirlpool. Production facilities are based in Poland, Italy, and Slovakia. It currently has no manufacturing base in Germany.
Their designs are sleek, and their reputation for quality remains high. However, if you're looking for genuine German manufacturing quality, the only thing German about Bauknecht these days is the name.
Website: Bauknecht
8. Braun
Braun is another iconic German brand, famous for its mass-market appliances, that has long left its original German founder behind. The company was sold to Gillette in the late 1960s. De Longhi took over brand rights from Gilette's owners P&G in 2012, together with patents, production facilities, and many of its employees.
The distinctive designs of its coffee makers, countertop blenders, mixers, hand blenders, and more have earned a well-deserved reputation for engineering quality and reliability that make them stand out from the competition in a crowded market.
Sold worldwide, they're a mid-market brand, not the cheapest, but consumers who want value for money find them a good choice.
Website: Braun
9. Krups
Krups is another well-respected brand of German-made kitchen appliances. The company offers a long list of essentials for today's kitchens and contemporary lifestyles. These range from deep fryers, to hand mixers, waffle makers, and toast ovens.
However, the brand is best known for the iconic range of coffee machines, which comprise 30-40% of its sales.
Most famous of all is the Nespresso machine – born from a collaboration between Krups and Nestle – which dispenses with the need for loose coffee and uses individual pods instead.
Website: Krups
10. Leifheit
This brand offers a wide range of kitchen equipment. Their kitchen tools include peelers, can openers, sieves, potato mashers, and mills. They also offer organizers such as roll holders, storage jars and hook rails, baking and preserving equipment, and insulating jars and bottles.
Tools that you may not have thought about but which can become an integral part of your kitchen equipment, such as vacuum sealers, sushi rollers, and digital thermometers, are also worth looking out for.
Extended guarantees, outstanding functionality, and durability make Leifheit products a good choice.
Website: Leifheit
11. Ritterwerk
Ritterwerk was founded in 1905 by Franz Ritter to sell his knife-cleaning gadget. Since then it has created household appliances, including slicers, toasters, coffee machines, kettles, cordless hand blenders, and more.
What makes them stand out is that they are all built into drawers and counters, saving space and avoiding worktop clutter.
For example, the built-in vacuum cleaner can be installed in almost every front panel, taking care of crumbs and dust – you just sweep any dirt in front of the suction opening, activate it by touching the button and it disappears instantly. Built-in toasters, hand slicers, and blenders allow you to hide away unused appliances easily.
Website: Ritterwerk
12. Severin
Severin combines reliable technology with a design aesthetic that's more classic than some of its competitors.
The range includes baking and toast ovens, hot air fryers, and a range of combined yogurt and ice cream makers.
If ice cream or yogurt isn't your thing, you might prefer the WT 5005 Sausage Grill, which quickly and easily prepares two sausages (different thicknesses) to perfection in just five minutes. As additional fats aren't required, this is a must-have gadget for sausage-loving families who want to maintain a healthy diet.
Website: Severin
13. Teka
The massive success and reasonable prices of sinks, stoves, ovens, and range hoods have contributed to Teka's reputation as one of the world's leading kitchen appliance brands.
Until now, their white goods have been Teka's best-selling products. However, they continue to innovate. For example, their self-cleaning sink has a surface that repels water, keeping it cleaner and drier, as well as preventing the build-up of bacteria.
Or their DirectSense hobs, which incorporate nine direct access functions with temperature control. This means that when you begin cooking, the hob calculates the size of the container and the quantity of food then adjusts to the ideal temperature for your recipe and keeps it stable during the entire cooking process.
Website: Teka
14. Thermador
Thermador, a luxury kitchen appliance brand for over 100 years, is respected for the high quality of its craftsmanship and constant technological innovation.
Still headquartered in Germany, the company has production facilities in the USA. It was Thermador that introduced built-in ovens, cooktops, and stainless steel German cooking appliances to the American market.
With their choice of designs in the Masterpiece and Professional collections, Thermador appliances can enhance any kitchen style. The famous Thermador products such as smooth cooktops or "speed cooking" ovens may no longer be unique, but they're still the natural choice for discerning homemakers.
Website: Thermador
15. Blomberg
Blomberg was founded as a metalworking company over 130 years ago, and today excels in manufacturing energy-saving, durable kitchen appliances incorporating smart technology.
What makes this brand stand out, in addition to some great design, is its environmental credentials – Energy Star named it "Partner of the Year – Sustained Excellence" in 2021.
The company earned ISO 14001 certification, as on average 90% of their appliance components are recyclable.
Website: Blomberg
---
Related: Top German Cookware Brands
Related: Top German Kitchens