Avocado and Crab Stack Salad
If you want to truly wow you guests with an impressive dish while at the same time amazing yourself with a recipes simplicity, then look no further than this great little avocado and crab stack salad.
It is a dish that is truly perfect for a summer dinner party and a perfect example of the less you mess with food the better it can be. The fresh crab meat is delicate and slightly decadent, the ginger a zesty but subtle complement, the in season avocado a light yet substantial foundation and the freshly cut baby herbs the perfectly simple and understated bit of sophistication.
As with most good recipes, the key to this dish is the sum of its parts and you will be rewarded if you take the time to source the best ingredients for this one. Plus any time you may lose shopping will be re-payed when you create this recipe, honestly it's a breeze to prepare. Just give it it!
Enjoy this delicious avocado and crab stack salad recipe!
Avocado and Crab Stack Salad
Ingredients
400

grams

crab meat

(cooked)

1

avocado

Japanese pickled ginger

assorted baby herbs
Instructions
Carefully pick through the crab meat and remove any remnants of shell your seafood purveyor may have missed.

Dice the avocado up into 1 cm (1/2 inch) pieces and place in a mixing bowl (be careful not to bruise it as you cut it).

Squeeze a little of the vinaigrette onto the avocado and mix until slightly softened.

Taste for seasoning and add salt & pepper as desired.

Place your cylinder in middle of the first plate.

Fill the cylinder with the avocado to about 1.5-2cm (½-¾ inch) high.

Leaving the cylinder in place, cover the surface of the avocado with one layer of pickled ginger.

Spoon about 2cms (¾ inch) high of the crab meat onto the pickled ginger.

Carefully remove the cylinder.

Repeat the above process for the remaining plates.

Cut the live herbs about 1cm (¼ inch) above the soil.

Place them in a colander or strainer and shake off any dirt.Place them in a mixing bowl.

Drizzle a very little amount of the vinaigrette into the bowl of herbs, add a little extra virgin olive oil and toss until nice and glossy but not dripping.

Dress crab stacks with a little vinaigrette.

Drizzle a little dressing around each stack on the plate.

Grab a good pinch of the dressed herbs and holding them tight in your finger-tips place them on top of the crab stack.

Serve and enjoy with a young Verdelho.
Notes
*Note you'll need a cylindrical tube approximately 7.5 cms (3 inches) across and open on both sides for this recipe. Essentially any cylindrical shaped smooth tube can be used, PVC tubing is perfect, or you could cut the middle out of any plastic bottle that is approximately the right size. In our recipe in the photograph we have used a round metal pastry cutter which works just fine.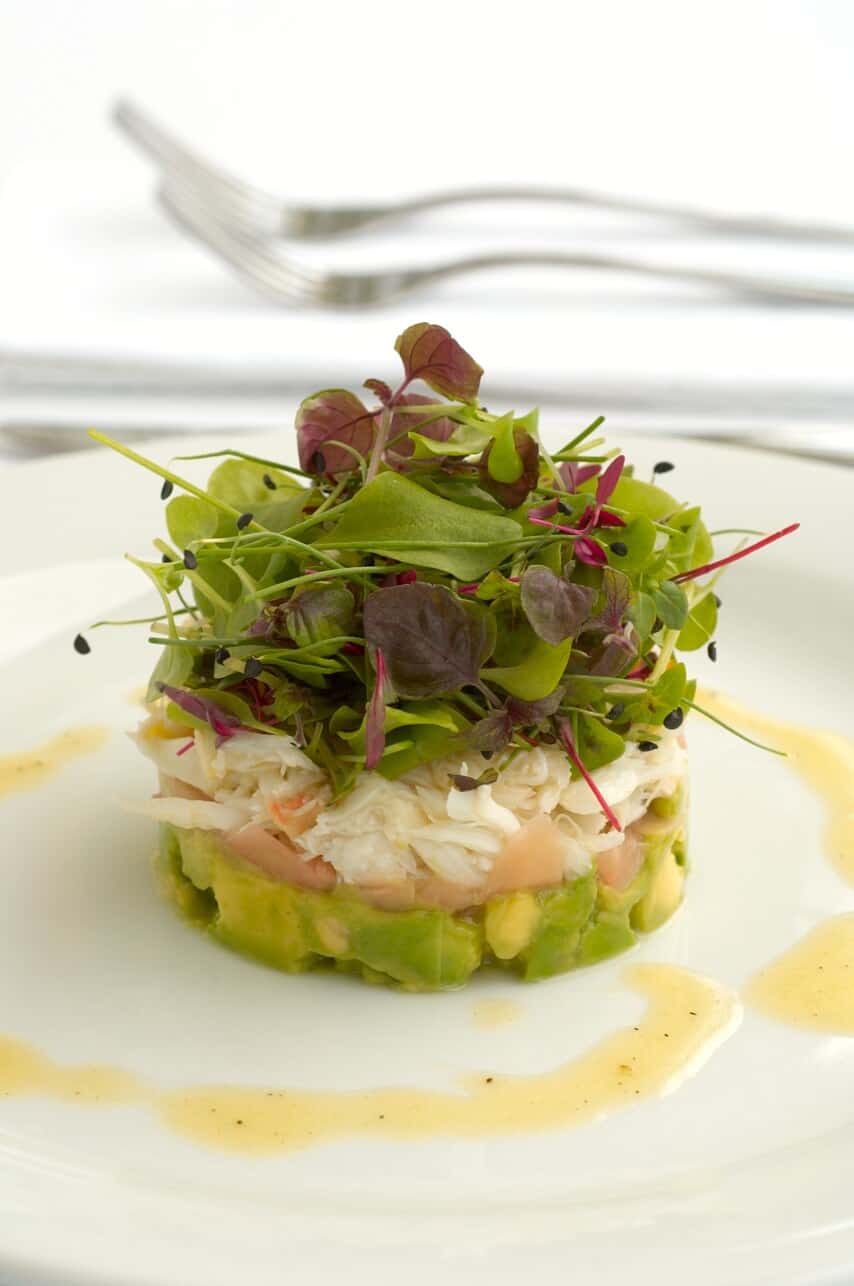 Related: Spanish Crab & Prawn Croquettes (Croquetas)
Related: Spanner Crab Salad w/ Apple and Radish & Brown Butter Emulsion
Related: Avocado & Crab Napoleon