Chicken "Il Monello"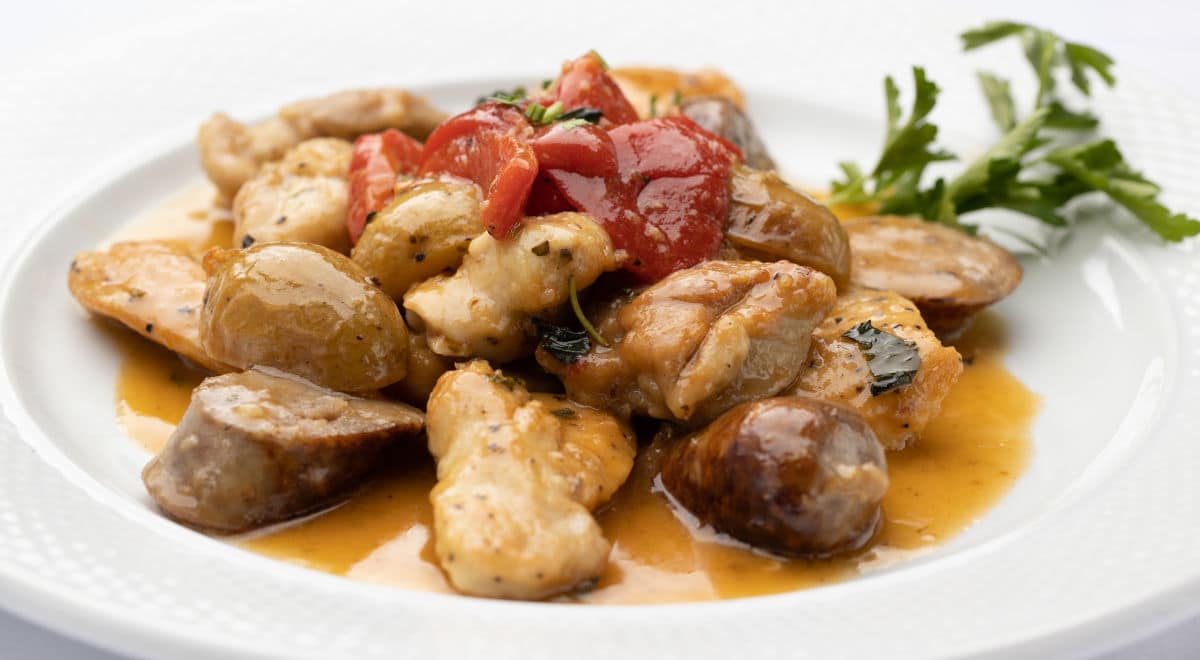 This Italian-inspired chicken dish is refined, accessible and simply delicious.
The recipe was provided by Chef Jaime Chabla, the Executive Chef at Il Monello, a classic Italian restaurant in Manhattan, located just a few blocks away from the UN Headquarters.
The restaurant, which has a long tradition serving fabulous Italian food since 1974, was recently re-opened under the helm of Chef Jaime Chabla and Haxhiaj.
Jaime originally moved to the United States from Ecuador in search for new opportunities in 1992. His passion for the restaurant business began with his first job working as a dishwasher. He is the perfect example of what passion and determination can achieve in the culinary industry as he climbed the ranks to the Executive Chef position at the Tuscany Steakhouse in New York and now at the helm of Il Monello.
Enjoy this excellent Italian chicken recipe by Chef Jaime Chabla!
Chicken Il Monello
Pieces of white and dark meat of chicken with Italian sweet sausage. Sautéed with lemon, white wine, garlic, roasted peppers, potatoes.
Ingredients
1

chicken breast cut into bite size pieces

1

chicken thigh cut into bite size pieces

1

red bell pepper

4

small Yukon gold potatoes quartered

1

Italian sweet sausage cut into bite-size pieces

2

ounces

white wine

4

ounces

chicken stock

1

teaspoon

butter

salt

pepper

1/2

lemon

2

gloves

sliced garlic
Instructions
Cut up the chicken, sausage, potatoes and peppers into roughly 1-inch (2.5 cm) cubes.

Spread Potatoes and peppers onto a sheet pan with a drizzle of oil, along with a sprinkle of salt and pepper. Put the tray into a preheated oven at 375 F (190 Celsius) for 35 minutes mixing halfway.

Take a medium sized sauté pan and drizzle 2 ounces (60ml) of oil, making sure the oil is hot, then put both the chicken and sausage into the pan until the chicken and sausage starts getting a golden color.

After 35 minutes, remove the potato and pepper mixture from the oven, the potatoes should be both soft on the inside and golden on the outside.

Put 2 gloves of fresh sliced garlic in the pan. Once the garlic is golden, toss in the roasted potatoes and peppers mixture as well as an ounce of butter, then add in white wine, salt, pepper and chicken stock and combine.

Once combined, take the sauté pan, and put in a 450 degrees F (230 C) oven for 5 minutes.

After 5 minutes take the pan out of the oven and finish back on the stove for 2 minutes. Finishing with a squeeze of lemon.

Once you start seeing the sauce get thicker turn the stove off, and you have yourself an Il Monello chicken. Enjoy!
Notes