11 Tasty Bolivian Christmas Foods & Desserts
Bolivia is a country with many traditions, both native and indigenous, as well as those from the influence of Spanish colonization. Like many other countries, it is also influenced by other cultures and religions, especially the customs and celebrations for religious commemoration.
So Bolivian Christmas cuisine is the combination of many different tastes.
On Christmas Eve, many families go to the rooster mass at midnight to celebrate the birth of Christ. In some churches, at the end of mass the Baby Jesus is raised in a procession through the streets, and then once home, everyone dances villancicos and sings Christmas carols around nativity scenes to celebrate the child until dawn. Others wait until midnight to dine as a family to welcome the baby Jesus.
The next day, breakfast is served, including many pastries such as buñuelos (something like doughnuts soaked in honey), chambergos (like fritters but a little harder and sweeter), a panetón that has raisins, fruit, almonds, etc., and also sopaipillas, which resembles an alfajor. All of these are accompanied with a good hot chocolate.
Here are some of the traditional Bolivian Christmas foods and drinks from the various regions of the country.
1. Picana
This is probably the most traditional Christmas food in Bolivia, especially in the highlands and valleys. Each region has their own way of preparing it, although, to be precise, each family varies the recipe and seasonings.
It is a tasty and hearty soup, traditionally served on Christmas Eve, prepared with chicken, beef, and pork, and vegetables such as potatoes, corn, carrots, and turnips. Cuts of beef such as peceto or káwi (brisket) are used since they are best for cooking for a long time.
The flavor of this delicious food is enhanced with beer, red or white wine, or cider, and green chili, usually burned in the fire, which combines the spiciness and smoky flavor.
The recipe changes depending on the region and the availability of produce. In the altiplano, a high plateau where the weather is dry and cold, lamb, tunta or chuño (two versions of dehydrated potato), and sometimes raisins are used.
This dish is great for serving to many guests and is also enjoyed the next day at Christmas lunch. This is the famous recalentado (reheated) or k'onichi, which offers the most intense and developed flavors. According to tradition, it is served at midnight on Christmas Eve with the whole family sharing the moment.
2. Lechón (Baked Suckling Pig)
This is one of the favorite traditional Christmas dishes on the Bolivian table. It is a whole small piglet, well-seasoned with garlic, chili, cumin, vinegar, and lemon baked for several hours. A whole leg of pork can also be used.
Local bakeries offer their ovens for people to use if they don't have one big enough, and people gather as they wait, enjoying the aromas.
This dish also varies according to the region. In the eastern plains, the suckling pig is stuffed with majadito, which is rice dyed and flavored with urucú oil, seasoned with cumin and pepper, and mixed with pieces of shredded pork.
Potatoes, sweet potatoes, plantains, and ocas (a sort of highlands tuber) are baked alongside it and served as a garnish for the star of the show.
In the West, it is served in a clay dish, and accompanied by the traditional k'allu, a fresh salad of onion, tomato, green locotos, and crumbled quesillo.
3. Pavo Relleno (Stuffed Turkey)
Stuffed turkey is not a local dish, but it has become popular in Bolivia in recent decades, especially in Santa Cruz, where they are less keen on picana.
The turkey is stuffed with apples, walnuts, plums, eggs, bread crumbs, and various vegetables and baked in the oven. The juices released are deglazed to make a tasty sauce that bathes the slices of turkey on the plate.
The meat is garnished with various salads, purées, etc., since turkey combines well with sweet and savory flavors.
4. Buñelos
Children, especially the youngest, start their Christmas Day very early in the morning. They open their presents at breakfast and are treated to delicious chocolate with milk, invariably accompanied by exquisite buñuelos (fritters).
Buñuelos are pastries made with wheat flour and yeast, perfumed with aniseed, deep fried in oil, and soaked with cane honey.
5. Fried Empanadas
These are an appetizer served before Christmas Eve dinner and for the Christmas breakfast. This tradition is very popular in every home, and families prides themselves on how they are made.
Empanadas are a delicate flour dough, stuffed with cheese or jigote, which is made with minced meat or onion and chicken, with raisins and hard-boiled egg. They are fried in plenty of hot oil and sprinkled with sugar.
6. Panetón or Christmas Pan Dulce
Panetón is found in all Bolivian homes from the end of November. It is a leavened bread made with wheat flour, butter, eggs, milk, and sugar. It is perfumed with singani.
Chopped nuts and almonds, raisins, and candied fruits are added to give a special texture to each bite.
It is baked in tall paper molds and sometimes decorated with a glaze of powdered sugar, raisins, and brighten orange peel.
It is similar to panettone – the famous Italian Christmas cake.
7. Christmas Cookies
One of the special aromas of the whole season comes from Christmas cookies. Although not a native of Bolivia, butter or gingerbread cookies have become very popular.
They come in many shapes and are decorated with Christmas motifs. Christmas in Bolivia comes in their summer, but the decorations are typical of the boreal winter: pine trees, reindeer and sleighs, snowmen, Santa Claus figures, etc.
8. Rosca de Navidad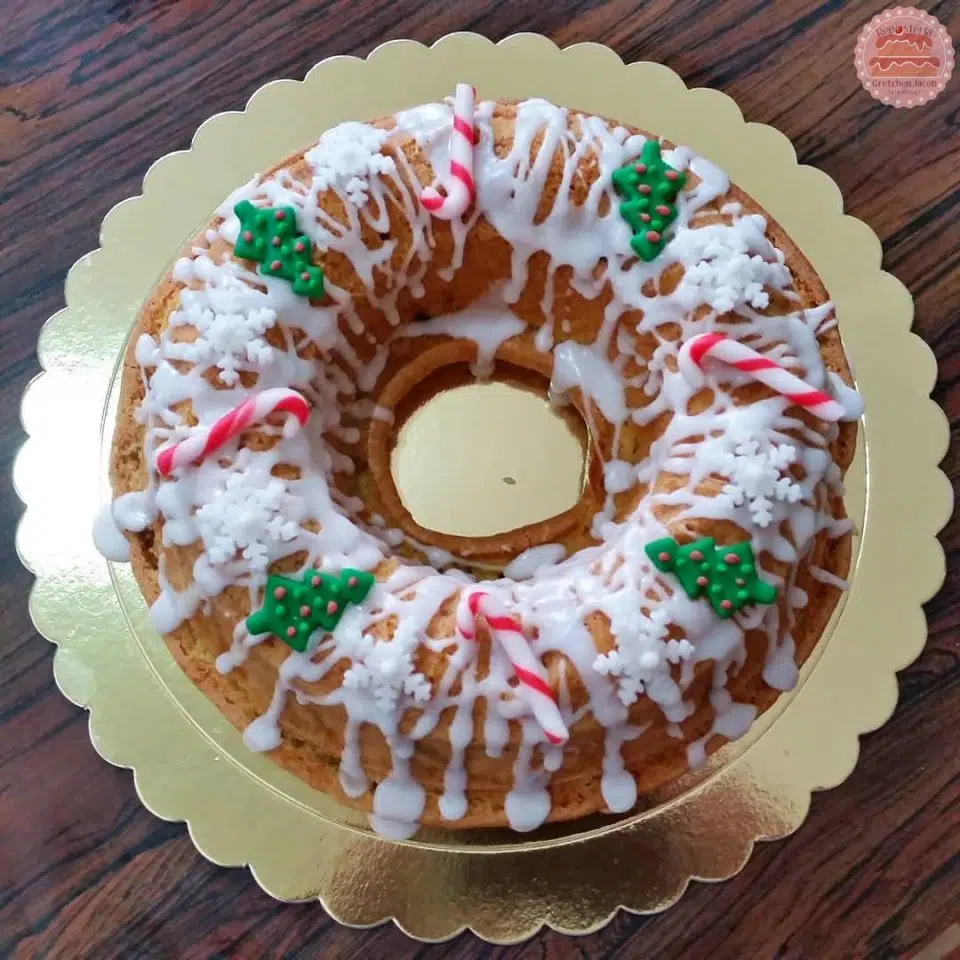 The Christmas cake is one of the classic desserts of today's Christmas dinner. Like many other dishes, there are several versions throughout the South American continent.
In Bolivia, it is made with a delicate sablée dough and filled with a mixture of apple, cinnamon, honey, raisins, walnuts, and almonds. It is covered with a glaze of powdered sugar, egg, and lemon.
9. Christmas Punch
There is no typical Christmas drink in Bolivia, but the almost universal punch has been adapted to Bolivian tastes. It is prepared with warm red wine, orange juice, rum, grand Marnier, cinnamon, and cloves.
10. Chambergos
Chambergos potosinos are a delicacy that are an essential for the festivities of Corpus Christi and Christmas. It is one of the easiest and quickest Bolivian recipes to prepare.
They are donuts made with a dough of eggs, flour, lard, and alcohol. They are boiled in water and finished off in the oven. Then they are bathed in hot and very thin cane honey.
11. Sopaipillas Potosinas
Sopaipillas are a very typical sweet of the city of Potosi and are an absolute delight, shared at the Christmas breakfast table.
Stands at fairs and festivals are full of typical sweets, sopaipillas, chambergos, and tawa-tawas, all of which are made with a flour dough cooked in various ways and sweetened with syrup or honey
---
Related: Top 25 Bolivian Foods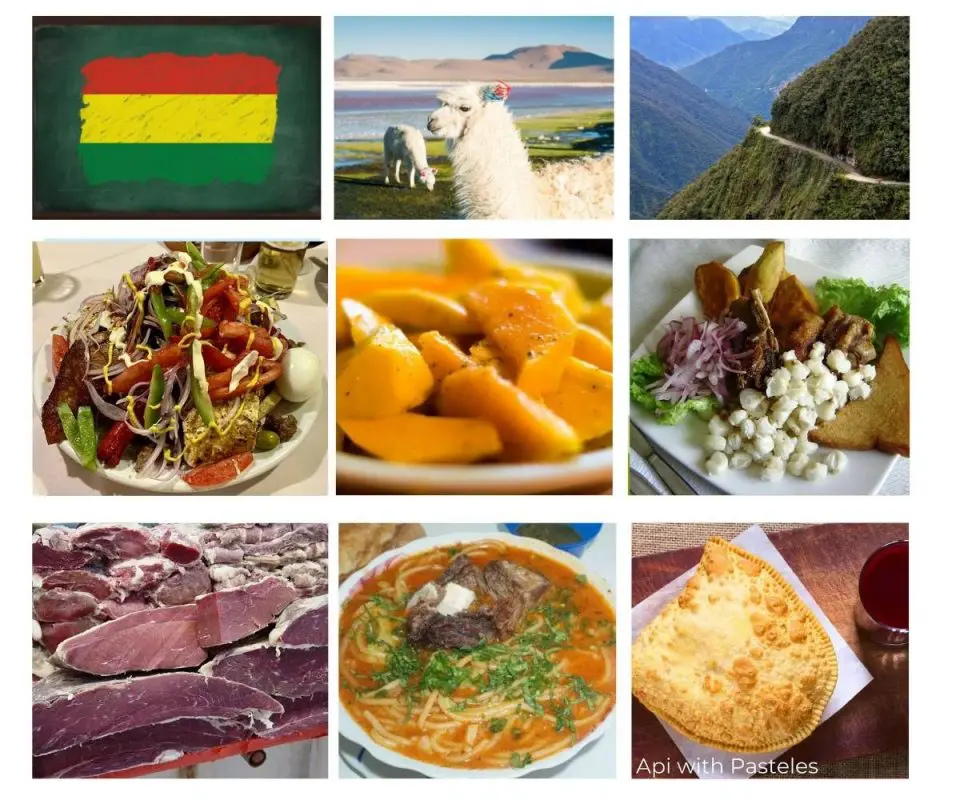 Related: Most Popular Bolivian Desserts