Where to Eat the Best Pizza in Rome: Our 7 Best Pizzerias
Before gladiators, democracy, and the Pantheon, the first thing that pops into your mind when you mention Rome is probably pizza. Walking down any street in the eternal city, you'll find at least two pizzerias on each block.
With over 15,000 pizzerias in Italy's capital, how can you possibly decide which one to go to? We'll break down our favorite pizza restaurants, where you'll find the most traditional slices and some of the wildest ingredient combinations in town.
Pizza Styles Found in Rome
There are two traditional styles of pizza you can find throughout Italy: Roman and Neapolitan. Roman style pizza comes with a flatter, crispier crust, with the toppings reaching all the way to the edge of the dough. Neapolitan style, from Napoli, comes with a thicker crust. The dough is softer, bubblier, and chewier.
Of course, there is also pinsa, which comes from the Latin word for stretch. The process of making pinsa dough is much longer, requiring lots of stretching by hand. The product is an easily digestible, focaccia-like bread that comes with a crispy outside and soft inside.
Many of the pizza restaurants (i.e. pizzerias) that make this list offer something between these three styles. Each restaurant leans on tradition, modernity, creativity, or special ingredients to make its pizza unique.
1. Ivo a Trastevere
Address: Via di S. Francesco a Ripa, 158, 00153 Roma RM
In a country steeped in tradition, whether that be food, architecture, or politics, there has to be room on this list for a place like Ivo a Trastevere. Ivo looks exactly how you'd imagine an Italian pizzeria: an open kitchen where the chefs throw pizzas into the wood fire oven, a dining room with yellow walls lined with photos of the owner's favorite soccer players, and parchment paper-covered wooden tables.
On any day, you'll find Ivo packed from wall to wall with tourists, locals, college students, and large groups, so expect the quarters to be a bit tight, the rooms to be noisy, and the waiters to be very busy.
Their pizza is Roman-style, with a thin, crispy crust meant for one person. The menu offers huge selections of classic pizza toppings, and solid pasta too.
If you're in Rome during artichoke season (early winter to mid-spring), you need to order their Carciofi alla giudìa. You'll get a plate of whole deep-fried artichokes, perfectly salted and lemony.
On top of the amazing food, you'll walk out after paying, wondering if they forgot to add something to your bill.
If you're looking for a truly Roman experience, soak up the (semi)organized chaos of Ivo a Trastevere.
2. Pizzarium Bonci
Address: Via della Meloria, 43, 00136 Roma RM
Bonci is one of the more expensive pizza places on this list, though you'd be surprised as it looks like your typical pizza-by-slice vendor. The main difference you'll notice, though, is the line it'll have no matter what time of day. But trust me, it's worth the wait.
The restaurant was opened by Gabriele Bonci, a celebrity chef known around Italy for decades, but now famous worldwide because of his appearance on Chef's table. Referred to as the "Michelangelo of Pizza" by Vogue Magazine, Bonci wanted to create high-quality pizza al taglio, or "pizza by the cut."
Pizzarium Bonci is an amazing combo of quick-yet-gourmet. Since opening in 2003, Bonci has created more than 1,500 separate recipes based on the freshest seasonal ingredients he can find. Everything from the wheat flour he uses to the 72-hour fermentation process of the pizza dough to the locally-sourced ingredients plays a part in creating a perfectly balanced pizza.
The pizzas available in Bonci are like part of the restaurant's decorations, with the red and browns of cured meats, greens of vegetables, silver and white anchovies, and the whites and yellows of fresh cheese.
Besides the pizza, Pizzarium also has daily Suppli options, which are crispy fried rice balls stuffed with amazing ingreidents. Flavors include pesto with truffle, carbonara, and so much more. The ingredients, again, are the best available.
3. Seu Pizza Illuminati
Address: Via Angelo Bargoni, 10 – 18, 00153 Roma RM
A few steps outside of Trastevere in the quiet neighborhood of Porta Portese, chef Pier Daniele Seu and his wife Valeria Zuppardo opened this modern-style pizzeria.
Modern is definitely the appropriate word to describe both the decor and menu of this pizzeria. The look is not what you'd expect from a pizzeria, with white marble counters and floors highlighted with black chairs and finishings, a style you'd expect more from a fine-dining restaurant than a pizzeria.
The menu continues down the modern path, in what the restaurant describes as halfway between Neapolitan and Roman style. The crust is fluffy, soft, and big (Neapolitan), while the center is crunchy and thin (Roman).
The pizza choices are divided into three sections: must-haves, old school, and "Seu." The options range from your typical Margherita or diavola to fresh inspirations like the Margherita Gialla, with yellow tomatoes, smoked provolone, with a dash of mint.
Of course, it wouldn't be a Roman pizzeria without a plethora of fried options. There are a classic selection of suppli, stuffed with seasonal ingredients, and multiple chip options like cacio e pepe or pink pepper and lime.
4. La Gatta Mangiona
Address: Via Federico Ozanam, 30-32, 00152 Roma RM
In the quiet neighborhood of Monteverde, La Gatta Mangiona is a local-favorite restaurant serving Neopolitan pizza from their wood-fired oven.
Opened in 1999, chef Giancarlo Casa wanted to create a pizza that moved away from the stereotype that it must be made of low-quality and cheap ingredients to keep prices low. He experimented with dough and ingredient combinations to create the menu, which continues to change even today.
The dough is an amazing mix of the crispy Roman middle, with a soft, fluffy outside. The menu offers traditional Roman pizza toppings such as "Margherita Semplice" with tomatoes and cheese, "Diavola" with tomato sauce, mozzarella, and spicy salami. They also have fresh twists on the classics like the "Margherita Hop! Hop!" which comes with a hop-flavored tomato sauce and buffalo mozzarella cheese, with a drizzle of lemongrass oil and a topping of lemon peel.
The fritti, or "fried," section offers traditional and fresh takes on Roman classics. They have a daily suppli special that is inspired by seasonal ingredients, but you can expect flavors like norcina with cream, sauce, parmesan, and pepper.
5. Pinsa e Buoi
Pinsa e Buoi is one of those Italian restaurants that does a bit of everything, from cured meats to pasta to pinsa, with precision and class. Their chefs are dedicated to the culinary traditions of Rome. Their cozy decor, rich menu choices, and high-quality ingredients make for a world-class dining experience.
The pinsa chefs use the traditional method of making pinsa dough. This includes a mixture of barley, oats, spelt, and millet flour and what is called the "leavening" process. This 72-hour process involves high levels of hydration and low amounts of fats, which means the crust that is eventually produced from Pinsa e Buoi's wood-fire oven is delicate, crunchy on the outside, soft on the inside, and easy to digest.
Though their pinsa is amazing, they do all the classic Italian dishes well. To start with, you can order a plate of cured meats and cheeses, enjoy pasta Carbonara or risotto dishes for the "secondi" or second plate, and dive into veal steak for your "primi" or main course. If you're looking for a lighter meal, this is a great place to split a pasta plate before diving into the pinsa.
It has to be said, too, that Pinsa e Buoi has great service and friendly staff. The servers can give you great recommendations for wine pairings within your budget and are attentive to your needs.
6. Pizzeria Gino Sorbillo
Address: Piazza Augusto Imperatore, 46, 00186 Roma RM
One of the most famous pizza restaurants is Gino Sorbillo's Pizzeria. The family started making pizza in Napoli, and is recognized as one of the oldest families of pizza makers in the country. Chef Gino's grandparents established their first pizzeria in 1935 in the heart of Napoli. Luigi Sorbillo and Carolina went on to have 21 children, all of whom became pizza makers themselves.
Now Gino is the third generation of pizza makers, and he has expanded the family business from Napoli to Rome and Milan.
If you're visiting the heart of Rome, shopping and sightseeing near the Trevi Fountain, stop at Pizzeria Gino Sorbillo to take a load off your feet and enjoy some classic pizzas. They create an impressive combination of classic pizzas with creative twists, and they even have gluten-free options.
Each pizza comes with toppings hand-selected by chef Gino, all organic and naturally produced. You can enjoy simple classics like the Margherita Gialla, topped with smoked Provola and Conciato Romano cheeses, yellow cherry tomatoes, fresh basil, and extra virgin olive oil. Or you can order from their Folded menu, which is pizza that comes with a combination of amazing ingredients, folded in half, and then fried.
7. Sant Isidoro Pizza & Bolle
Address: Via Oslavia, 41, 00195 Roma RM
Looking for something new and fun? Sant Isidoro's philosophy is matching fresh pizza ingredients with elegant bubbly wine.
If you take a look at Sant Isidoro's menu, you'll notice the usual Italian pizza restaurant classics: suppli, fritti, and pizza. Once you dive into the ingredients, though, you'll realize the subtle twists on the classics bring these pizzas above and beyond the norm.
Though they offer classic marinara and margherita pizzas (they're a Roman pizzeria, after all), they choose the best ingredients available, telling you exactly where they get the meat and cheese from. Continuing down the menu, you'll find "Classiche Ma Non Troppo" (classic, but not too much) and "Eccentriche" (eccentric).
The flavor combinations of these seem wild and out of the ordinary, like the "A Mazar," which combines stracciatella cheese, shrimp, candied lemon zest, and mint leaves, or the "Cacio Pere e Vino," a turn-of-phrase combination that mixes three kinds of cheese, baked and almost candied pears, and cooked-down red wine sauce.
Sant Isidoro isn't your typical Roman pizza place. The unique flavor combinations, amazing sparkling wine, and great service make this a unique restaurant to visit.
Final Thoughts
When it comes to pizza in Rome, you really can't go wrong just popping into the local "pizza al taglio" shop for a quick and delicious bite to eat.
Though we covered seven of our favorite pizza places in Rome, there are countless other places that may deserve to be on this list. However, we hope these restaurants have given you a place to start your Roman pizza journey.
---
Related: Rome Food Guide: What to Eat in Rome & Where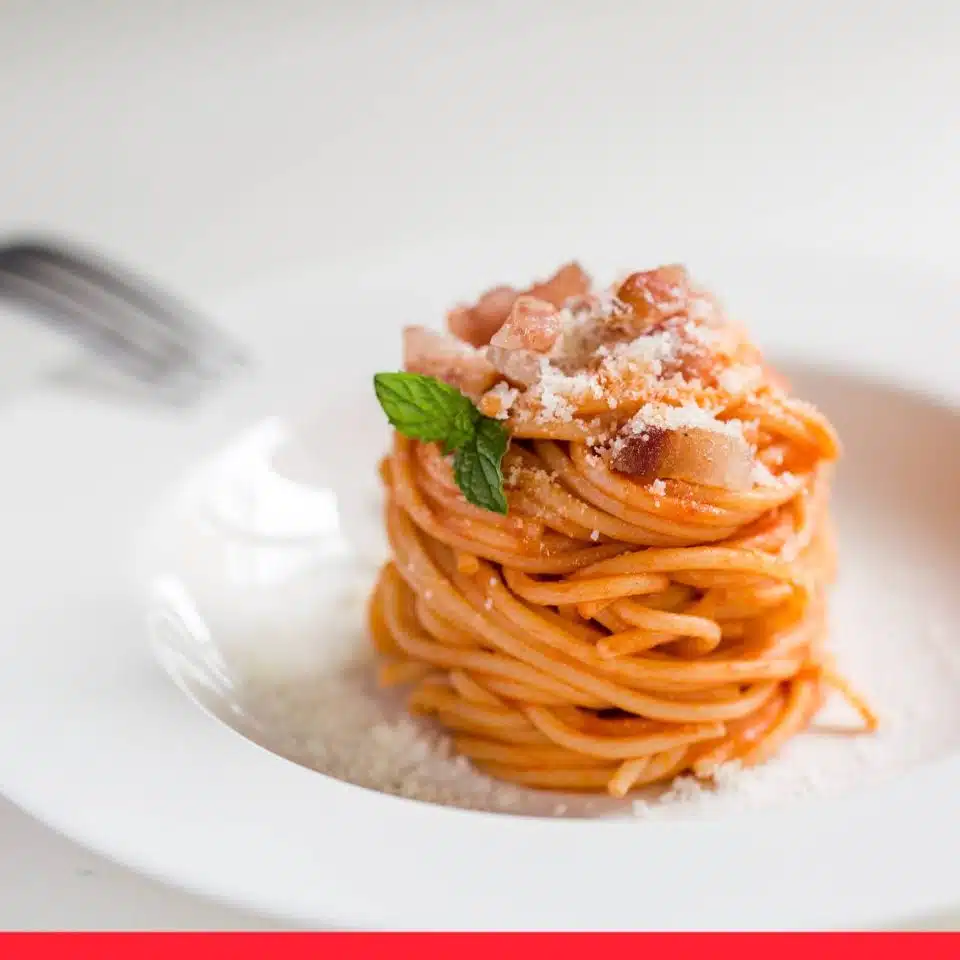 Related: 23 Types of Pizza Explained
Related: Where to Eat the Best Pizza in Florence