Top 10 Provolone Cheese Substitutes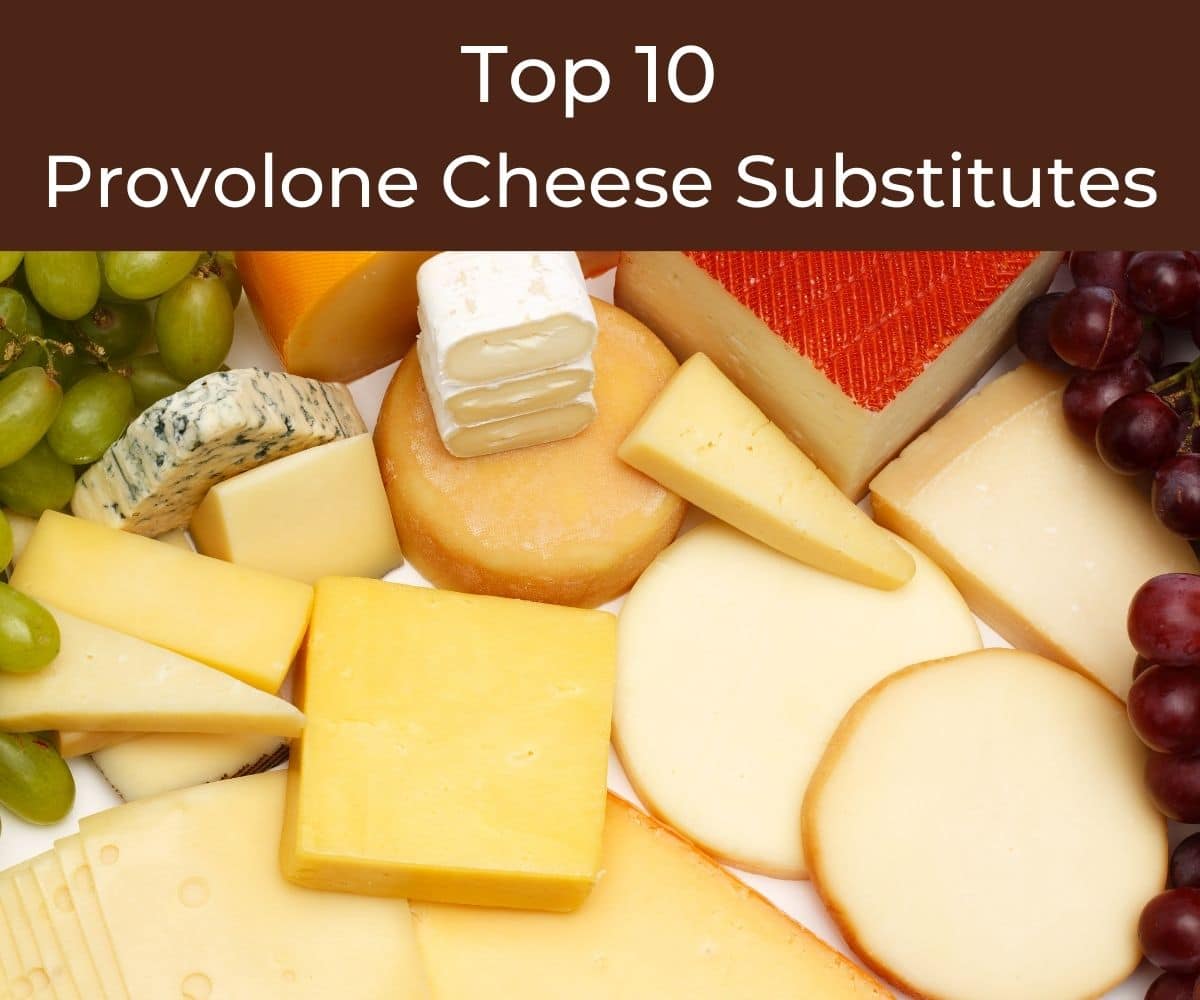 If you don't have an Italian deli anywhere close, it can be hard to get your foodie hands on provolone. But you don't have to abandon your menu and turn to another; you can use these provolone cheese substitutes.
What can you replace provolone cheese with? We have plenty of alternatives. But first, it is important to know which type of provolone we're talking about. There's dolce and piccante provolone, and they differ in both taste and texture. To make things easier, we're going to talk about dolce provolone and only mention piccante provolone in passing.
Provolone flavor profile, texture & consistency
What type of cheese is provolone? It's a semi-soft cheese made from cow's milk. It has a pale yellow color and smooth, slightly rubbery texture. When it comes to taste, this Italian cheese has a mild, sweet aroma, and the matured versions are sharper.
When looking for alternatives for provolone cheese, go for one that is as close as possible to:
a mild, sweet, and milky yet strong aroma
a rich, buttery, creamy texture and semi-soft consistency
hints of nutty undertones
a peppery finish
Top 10 provolone cheese substitutes for you to try
What cheeses are like provolone? In terms of flavor go for fontina, gouda, and a blend of low-moisture mozzarella and Muenster cheese. As a topping, Parmesan can be a good alternative. In platters and cheese dishes, sliced Emmental, Edam, and Gruyère are your go-to choices.
In melted dishes: mozzarella, Edam, fontina. For grilled cheese dishes, go for Emmental and Gruyère.
1. Mozzarella
Mozzarella is soft and rather moist with a milky, delicate, and slightly sour taste. So can you use mozzarella instead of provolone? Only if you stick to low-moisture mozzarella. Still, it's important to know that provolone packs more flavor and pungency than mozza.
2. Fontina Cheese
One of the best provolone cheese alternatives is another Italian delicacy. Fontina cheese has a semi-soft to hard texture and a buttery, rich, and nutty aroma. Not only is its firm texture similar to provolone, the flavors that fontina incorporates are also similar. It's ideal for melting and grating.
3. Monterey Jack Cheese
Monterey Jack is one of the best alternatives for provolone cheese, especially due to its texture. It's smooth and semi-soft and has a mild, rather sweet taste.
4. Cheddar
Cheddar can be considered the UK version of provolone cheese. It's rather sharp and has a pungent flavor but it can replace the Italian cheese, especially since they are similar in texture. Young cheddar is more suitable to replace provolone because it's soft, semi-solid, while matured cheddar becomes hard and crumbly.
5. Parmesan
Do you have a chunk of Parmesan in your fridge? Are you wondering if you can substitute provolone for Parmesan? Well, it's a moderate yes.
Parmesan is rather hard and gritty in terms of texture. Its nutty, fruity, zingy, and intense aroma can stand in for provolone, especially spicy (piccante) provolone. If you want to make Parmesan more similar to provolone, mix it with a mild cheese.
6. Gouda
Is Gouda cheese similar to provolone? Gouda is one of the best provolone alternatives. Their textures are similarly smooth. Not only that, their tastes are similarly sweet and aromatic, especially if the Gouda is more mature. Yes, with Gouda cheese, the more it matures, the sweeter it gets!

Related: Best Dutch Cheeses
7. Edam
Edam cheese is recognized by its elastic, supple consistency and its mildly sweet and salty flavor, with a nutty undertone. Really good as a provolone sub!
8. Provola
Provola sounds like provolone. But they are not the same. Provola is soft and savory with a milder taste than provolone. If you feel fine about letting go of the strong taste that provolone has, Provola can be of aid.
9. Emmental
Swiss cheese can make good substitutes for provolone cheese. Emmental, for instance, with its sweet and aromatic flavor and its medium-hard consistency is similar to provolone.
10. Gruyère
How come we're suggesting Gruyère when it's creamy and flavorsome? Well, it depends on age. Young Gruyère is creamier and nuttier and the matured version packs an earthy flavor.
Other provolone cheese alternatives
What can you use instead of provolone cheese if you don't have any of the aforementioned cheeses? The following can also be handy.
1. Muenster Cheese
Muenster cheese is soft and smooth when it comes to consistency. So, it can replace provolone for similar textures. If you want to know how to substitute provolone cheese with Muenster, the secret is to alter its taste and fat content! Add some low-moist mozzarella for some sweetness and creaminess.
2. Scamorza Cheese
What can you use instead of provolone cheese? Scamorza, if you have it around! It's milky and creamy without being too moist. Its texture is elastic and stringy, but it can be used instead of provolone. Especially since they both have a smoky-sweet taste.
3. White American Cheese
What to use instead of provolone cheese? Plain ol' white American cheese is similar in texture and taste.
4. Asiago
Is Asiago similar to provolone? Yes, Asiago can be a good provolone cheese replacement. But you have to consider the aging process. Young Asiago can better emulate provolone.
5. Manchego Cheese
Do you have a Spanish deli nearby? Are you wondering what you can use instead of provolone? Young Manchego – a very popular Spanish cheese – is milder and softer and can be similar to provolone. The more it ages, the heavier and more complex it becomes.
There are plenty of provolone substitutes to try! We recommend you exercise creativity and imagination and create your blends of cheeses until you get a similar flavor!
---
Related: Excellent Cream Cheese Substitutes
Related: Best Mascarpone Cheese Substitutes