Best 20 Chef Pants (A Guide to Chef Pants)
Whether you have the liberty to choose, or not, there are some pants we gravitate towards more so than others. Here are the top picks among chefs, some of which can be found in very commonly known stores and some of which may surprise you.
1. Essential Pants by Tilit
The Essential Pants by Tilit are a unisex stretchy polyester pant that are made for everyday wear, but are incredibly classy and be worn outside of work as well.
They have an elastic waistband and a modern relaxed style that's both professional looking and also functional. This is Tilit's more modest priced chef pant, at $59.
2. Professional Series Chef Pants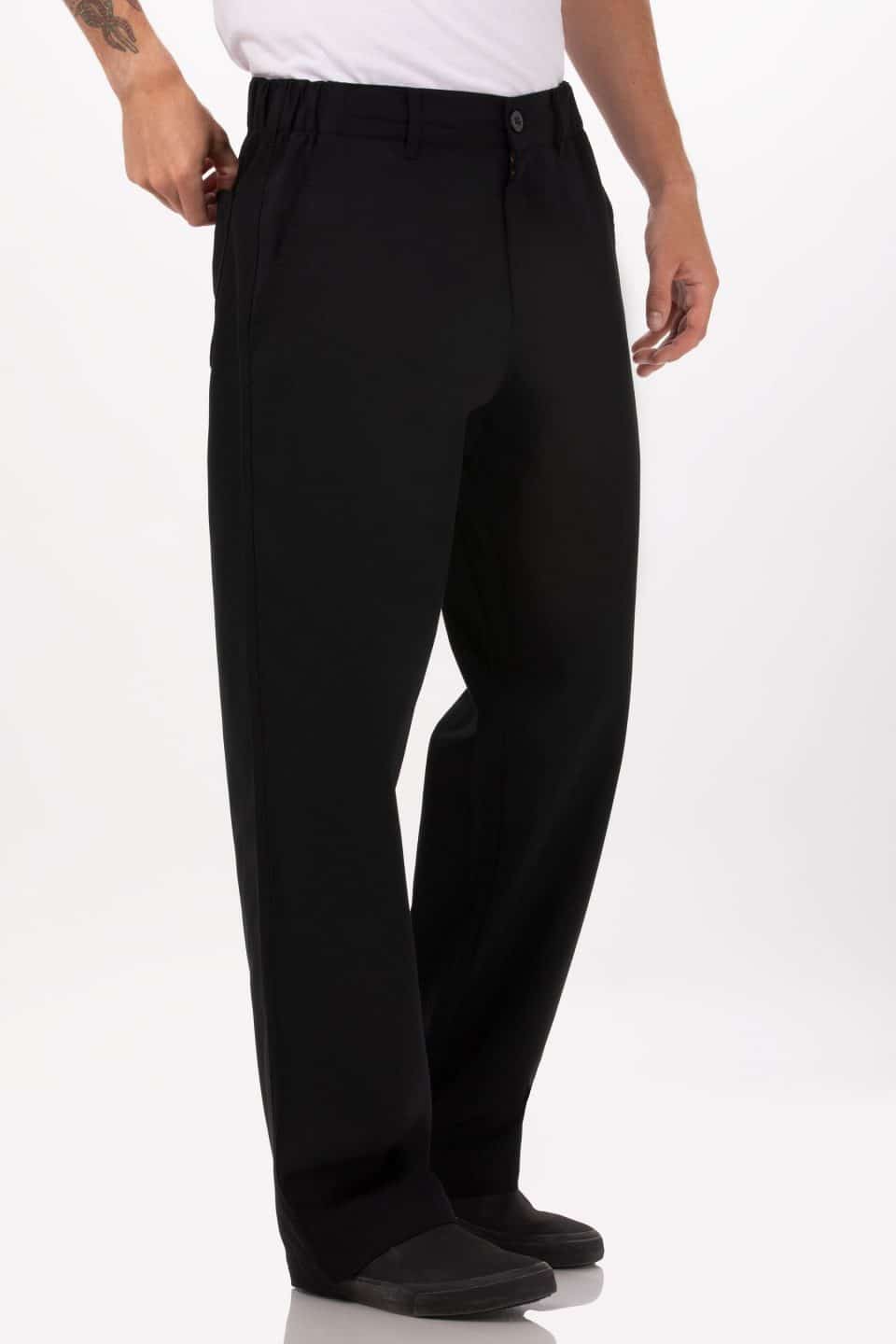 Chef Works "Professional Series Chef Pants" are baggy chef pants but with a lightweight, modern style that resembles a pair of mid rise slacks.
They have pockets in all the usual places and hug the waist with an elastic band and also with a button and zipper combo, which is consistent for both gender styles. They also have a modest price tag of $43.99-$52.99.
3. Classic Baggy Chef Pants
Happy Chef "Classic Baggy Chef Pants" are just as described. I mean, who doesn't like having all three customized fit options, that of the elastic waist, drawstring, and zipper fly?
Coming in at $22.95, these mid rise poly/cotton slightly tapered pants are the kind every chef should have the pleasure of experiencing at some point, and are gender neutral.
4. Unisex Classic Cotton Cargo Pant
Chef Wear "Unisex Classic Cotton Cargo Pant" are lightweight cotton twill fabric and a slim cut with all the style you want from a cargo. They have six convenient pockets and a mid rise elastic/drawstring waistband for $43-$47.
5. Unisex Classic Ultimate Cotton Chef Pant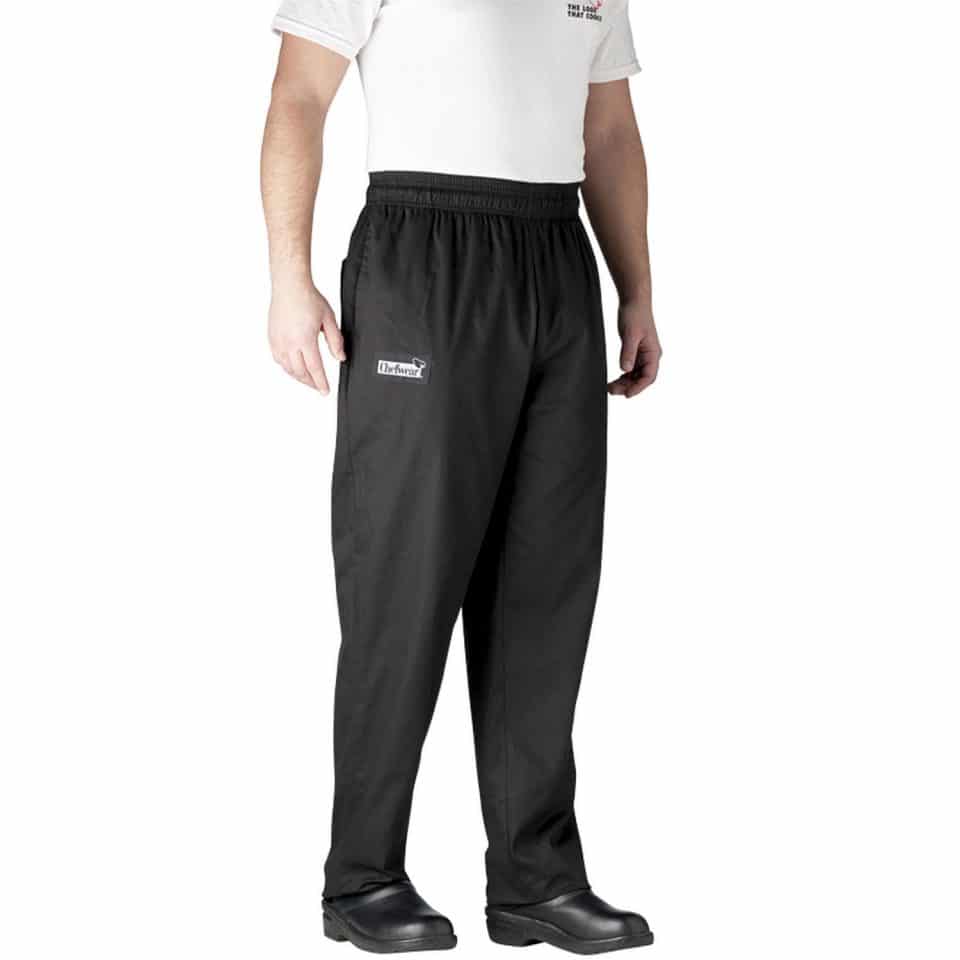 Chef Wear "Unisex Classic Ultimate Cotton Chef Pant" is the classic of all classics. If you've made it far in your career without wearing these at some point, just buy some already.
They are great. Not modern, and that's the point. A baggy, relaxed style with a mid rise elastic waist. I used to wear these in chalk stripes as a pizza cook. $40-$44
6. Nick Chef Pants
Bragard "Nick Chef Pants" are a modern and minimalistic version of the 'ol classic chef pants. They have a low rise 1" elastic waistband and roll up cuffs. As unassumingly sleek as these poly cotton blend pants are, they are a cut above at $33.95.
7. Zamora Maternity
Figs Scrubs "Yola", "Zamora Maternity" for women and " Basic", "Slim" for men have been making a statement in the chef world for a while now. The Yola style for women boasts 11 different pockets and the Zamora style is for expecting mothers.
The Basic and Slim cut styles for men are equally lightweight and functional as their female counterparts all with the style of a scrub that you expect, with drawstring and straight leg. Prices between $46-56.
8. Classic Houndstooth
Polka Pants "Classic Houndstooth" are the new obsession, and it's easy to see why. This female driven chef's uniform clothing line caters mostly to women.
These cotton/elastane blend pants are high waisted with a nod to 40's style. They are slim fit with a tapered ⅞ length leg, and towel loops to boot. The new unisex design, the " Polka Pants 2.0" is a pure cotton pant with relaxed fit and made for everyone. $79, and other prints ranging from $59-$99.
9. Rugged Professional
Carhartt "Rugged Professional" come in women and men's styles, and are a popular go-to for a trusted durable pant that are designed with hard work in mind. They are a poly/cotton/spandex blend with triple seams, a mid rise waist and classic straight legged style, and are moderately priced at $44.95.
10. SB Dri-FIT Chino Pants
Nike "SB Dri-FIT Chino Pants" are a sleek l ooking modern Nike pant for both women and men (even though they are marketed in the men's section) that keep it simple but professional.
They are made with the holy trinity, poly/cotton/spandex, for maximum breathability and flex. They have a 1.5" elastic waistband with a drawstring to achieve the perfect fit for people on the move. It's an easy $60 to spend for the quality and brand.
11. Women Smart Ankle Pant
Uniqlo "Women Smart Ankle Pant" are no-nonsense trouser style pants for women. They are uber comfy due to their two way stretch made from poly/rayon/spandex, high rise waistband, and belt loops. The ⅞ straight leg with zipper fly pant looks like office ware but acts like chef pants. For $29.90 they are kind of a steal.
12. FLEX Original Work Pants
Dickies "FLEX Original Work Pants" in women's and men's styles are a practical and durable pick with a moderate price tag. The trousers are made with a poly/cotton blend and have the classic Dickies mid rise, straight legged, utility style you expect, with belt loops and zipper fly.
These with kitchen style canvas shoes are a whole modern look you can get for $24.49-$34.99.
13. The Easy Chino & Air Chino Drawstring Pant
Everlane "The Easy Chino" for women and " Air Chino Drawstring Pant" for men is a lightweight cotton/elastane fabric pant with mobility in mind.
The straight legged crop pants are highly functional and move with you throughout the day. Despite a couple differences in design, both are $58.
14. Super Skinny Jeans
Levi's "Super Skinny Jeans" in women and men's styles range in details, some having high rise or mid rise waistlines and lengths to give your individual preferences the spotlight.
If a form fitted feel is what you prefer this is your path. Levi's have stretch fabric options too, so there's a range in pricing starting around $69.
15. The Atwater Athletic Chino in Navy
Frank And Oak in general has a variety of stretch worthy trousers in an array of skinny, slim, straight and cropped styles for any gender, most of which are the same price at $89.50.
You'll find FOH (front of house) employees sporting this brand too. This is a great company to give your money to for their sustainability and conservation efforts.
16. Commuter Jogger
Rhone "Commuter Jogger" and any others in the "Commuter" series are for men on the move.
This men's only line comes with all the customizable fit and style options you can think of, with straight, slim, skinny, jogger and a unique style called "five pocket" that is somewhere between a slim leg and a skinny leg. Cost is around $128 per pair.
17. Dress Pant Yoga Pants-Straight Leg Chino (in catstooth)
Betabrand "Dress Pant Yoga Pants-Straight Leg Chino (in catstooth)" is worth checking out. This is a women only l ne with fastpassed working women in mind, with four way stretch and a high waistband trouser style. They come in a skinny version too which is nice, but a little more expensive, but regularly $78 a pair.
18. Stretchy Stirrup Leggings
Zara "Stretchy Stirrup Leggings" are a rising trend that adds a layer of style you maybe didn't know you needed. These reasonably priced poly blend and elastic waisted leggings are marketed in the women's section though I deem it open for all to enjoy. They are $25.90.
19. Stash Your Treasures Tigh
Athleta "Stash Your Treasures Tight" kind of has it all in the way of leggings. Geared towards women, they have side pockets on both legs and a high waist with a drawstring for the ultimate active lifestyle of a chef. The cost $54.
20. Align Pant
Lululemon "Align Pant" for women and " ABC Warpstream" or " ABC Jogger" for men have a soft, barely there feel that hugs just enough to make you feel clothed.
The durable and lightweight fabric are what Lulu is known for, and delivers, while these particular styles are for a soft comfortable feel. $98-$118.
---
What constitutes chef pants as being chef pants?
One of the major issues that shaped the need to define a standard pair of pants for kitchens was safety against spills, and the ability to hide said spills. It's the reason chef pants were eventually made to be baggy and loose fitting, oftentimes displaying a dizzying pattern.
Along with looking professional, function and form were inevitably the essential cornerstones that defined kitchen attire.
What distinguishes our current generation from the rest, thought, is the addition of individual style coming into play. Chefs not only look professional, they have style now too.
Chef whites (aka chef's uniform) as the whole ensemble is known, is the combination of individual pieces of clothing that make up the iconic look of a chef. Classically it includes a toque, neckerchief, double breasted jacket, apron, side towel, non-slip shoes, and chef pants; All of which serve as PPE.
Each of the elements that comprise the attire have a functional purpose. This uniform served exceptionally well under the conditions of the day when everything was wood burning and equated to much hotter kitchen temperatures with much less ventilation.
Each of the elements that comprise the attire have a functional purpose.
Because of the progress and evolution that birthed the kitchens of today, versus those of yesteryear, a slightly new and unassuming shift in the standard style of a chef's wardrobe is emerging: that of the chef pant.
While you may not be able to see past the apron and chef coat, long gone are the days where you would find the unwavering gold standard uniform across kitchens far and wide.
The function of chef pants have changed since the old days and has been the most overlooked essential ingredient in the ensemble, until now.
The definition of what chef pants are, are the most transformed item in a chef's uniform since the days of old, and that's because they are the most important to get in precisely the right size and style to be comfortable all day long.
Anything that impedes your movement will not do, and what you choose to wear from the waist down will determine with how much resistance you will be doing so. It's a completely subjective matter, to whom they are being worn. And because of that, chefs are now considering almost every kind of pants as a candidate for the job.
Anything that impedes your movement will not do.
In the early years of my career I remember having to go to specialty uniform shops to find a pair of classic chef pants. I remember many of those shops not having a fitting room so I had to guess how the size would fit.
I ended up with pants that were cut for a specific form that did not fit my dimensions, not even a little bit. Frankly speaking, these pants were made for tall slender males, and in my experience, despite being the predominant demographic, cooks and chefs around the world don't fit that, or any, mold at all.
I would have to roll the two inch elastic waistband twice to get the hems off the floor. And while the baggy nature of these pants did provide me with the kind of protection from heat and spills that one needs, I did long for something much more comfortable and form fitting to spend my twelve hour days in.
I don't think I'm alone here, now seeing the large demographics across the industry in complete revolt of conforming to this standard any longer.
More and more, cooks and chefs are choosing non-industrial grade chef pants instead of the classic pants.
Freedom of choice and expression has become more front and center in our modern day culinary culture, and we can clearly see that by how controversial chef pants can be.
More and more, cooks and chefs are choosing non-industrial grade chef pants instead of the classic pants from the days of Escoffier. It would seem as though we are spilling and catching on fire less, so the need for an overtly thick and baggy pant actually becomes more intrusive than helpful.
People are choosing comfort over function now. So what do chefs wear in the way of pants these days? Let's talk about it.
The type of establishment has a whole lot to do with the chosen style of pants that populate the norm. You will find that institutionalized establishments error more on the side of the classic baggy chef pants, with some deeming them as required.
People are choosing comfort over function now.
Conversely, you will find more commonly worn articles of pants in independently owned establishments. I reached out to a few of my friends in the industry to see what other chefs were wearing these days. I received an overwhelming landslide of a conclusion telling me that if offered the choice, jeans, leggings, or trousers are the go-to.
---
Though the chef's uniform as a whole has changed over the years, styles last the test of time due to their practicality. The modernization of the uniform will continue to evolve.
We see that throughout history. Now is the time where we are seeing most cooks and chefs gravitating towards form and comfort rather than function.
As more are given the liberty to choose whatever pants that aid in a more effortless workday, more and more choose to customize their individual experience and personal style.
---
Chef's Pencil is reader-supported. If you buy something through our links, we may earn an affiliate commission, though this not impact the product selection, which is done independently by our editors and contributors.