A Guide to Chef's Hats (History + Types of Chef Hats)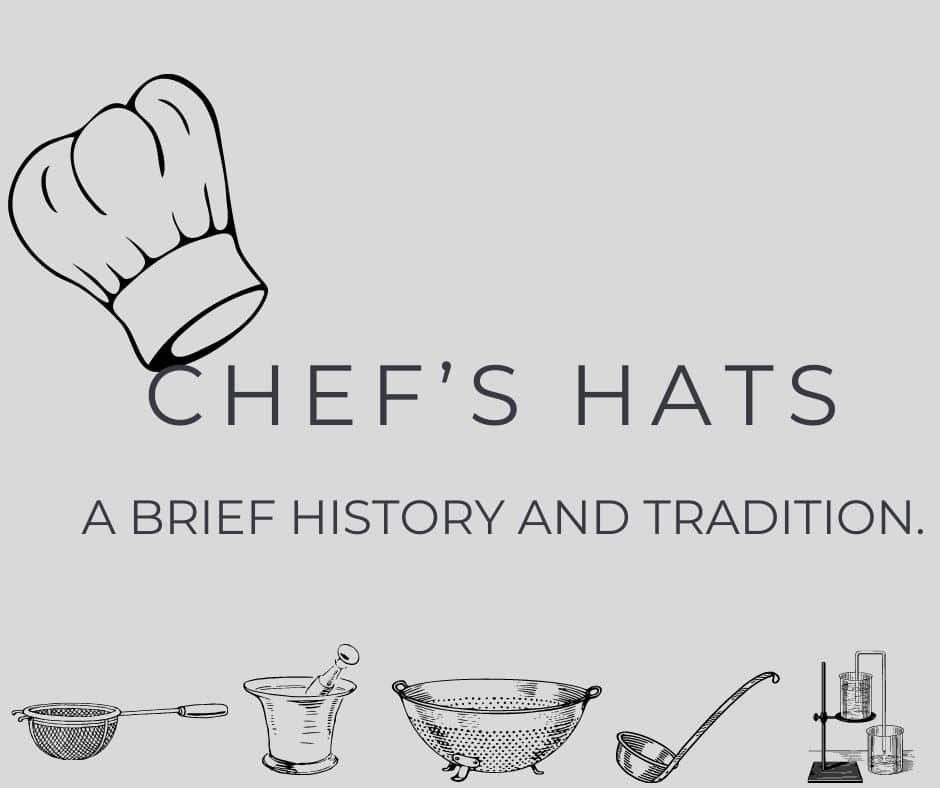 Have you ever stayed at a traditional high-end hotel or been lucky enough to see into the kitchen of a traditional style restaurant? If you have then you may have also spotted a chef wearing a tall, white hat.
Along with a traditional white chef's jacket and small blue check or black trousers, these hats (called toques or sometimes even toques blanches ) are an essential part of a traditional chef's uniform, especially in high end 4 and 5-star hotels around the world.
Chef's toques are traditionally white, tall and pleated, sometimes made of cloth, which needs to be starched to make it stand tall and more likely these days made of paper.
A hat is an essential part of a chefs apparel due to the risk of cross-contamination and it is believed that the wearing of a toque began possibly in the early 1700's and originated from the cloth or stocking caps worn by French chefs around that time.
The History of the Chef's Hat
The colour of the casque à mèche , the name of the original cloth hats worn in France, typically signified the rank of the wearer and it was not until a chef by the name of Boucher, the personal cook to a French statesman, gourmand and the first French prime minister, Monsieur Talleyrand, insisted that all toques be white — to indicate cleanliness — that the colour was standardized.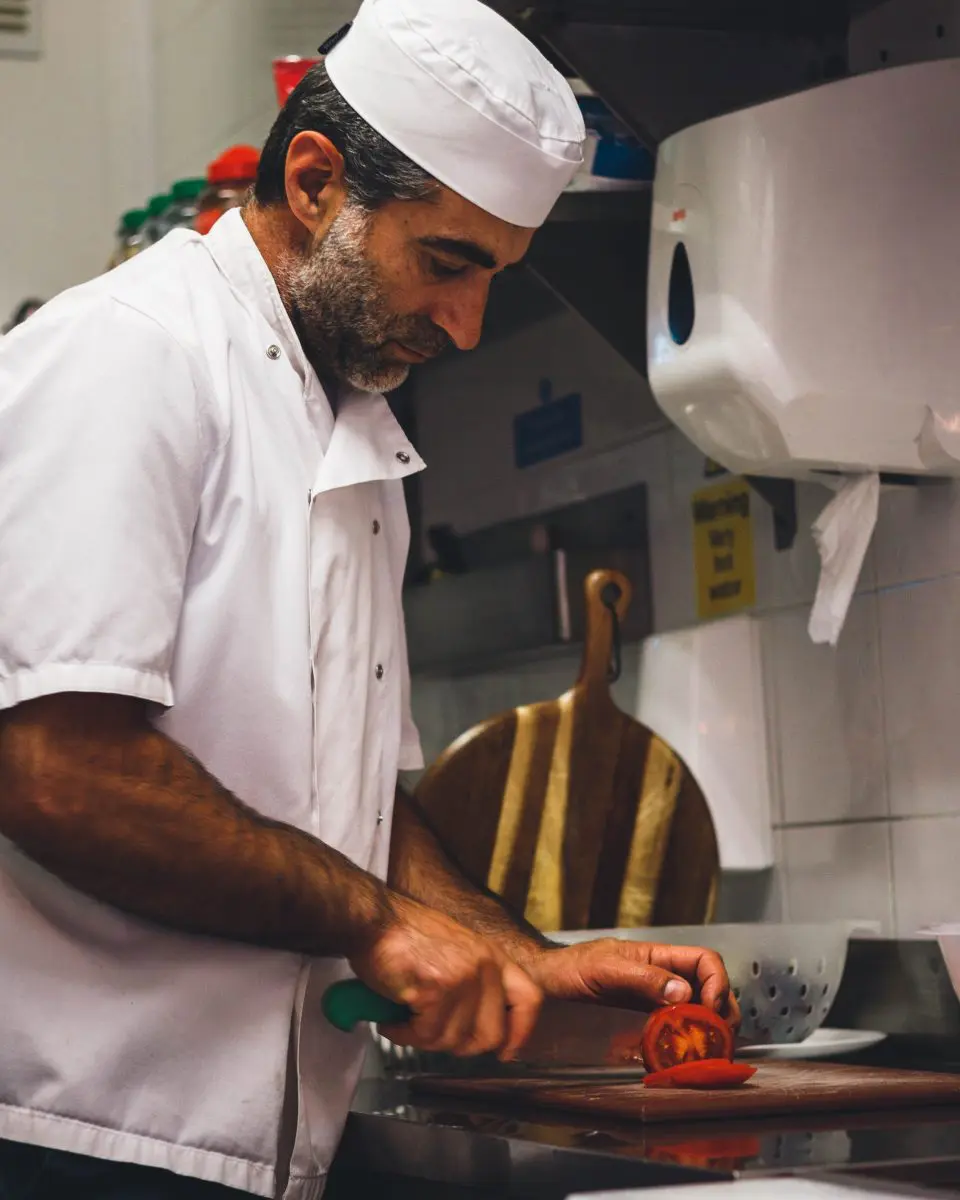 Jump a few years later and legendary chef, at the time anyhow, Marie-Antoine Carême began to wear a hat in the style as we know it today. With the wearing of the taller hat and the popularity of Carême, it became commonplace in the kitchens of hotels, restaurants and the 'nouveau riche' of Paris.
Marie-Antoine Carême is also largely thought of as the person to standardize the chef's uniform and it was Auguste Escoffier, another legend of the culinary scene who brought it to London later in the century.
Uniforms in many occupations are important for a variety of reasons from making or giving a good impression, suggesting responsibility and producing a sense of unity in the workplace.
Chef hats help to signify seniority in a kitchen by creating an air of respectability as well as having practical safety considerations. A chef hat is one of the most easily recognised hats in the world and can be found in kitchens in every country.
The iconic, tall white hat is much more than just for show, it was first developed as a means of keeping the hair out of the food. During the 16th and 17th centuries, it was uncommon for men and women to cut their hair and this meant that many men had long hair.
This often meant that the older the person in turn, meant that the hats became taller to accommodate the longer hair. The older the chef, the taller the hat, with the head chef being the oldest and having the tallest hat.
Wherever there is a story about when something was conceived or invented, there is always a story to counteract the original and if you search long enough you will find a story which dates long before French chefs are said to have adopted the wearing of tall hats.
One popular story is said to date back to around 146 BCE, when the Byzantine Empire invaded Greece. When the invasion forces landed, Greek chefs fled to nearby monasteries for protection, eventually wearing the outfits and local uniforms of the monks to fit in.
That included a large stovepipe hat. Even after the Byzantines were driven back, Greek chefs continued to wear the hats as a form of rebellion and a sign of solidarity. This is believed to have been seen by other chefs, which in turn led to those chefs, including the French, to adopt the hats in their own uniforms.
Another story dates around the 16th century and this time involves the English monarchy. The story, if to be believed, is that King Henry VIII beheaded one of his personal chef's after finding a hair in his evening meal. The next chef was ordered to wear a hat while cooking, and there begins the use of hats within the Royal palaces to maintain hygiene. However, some stories say that as early as the seventh century A.D., hats were worn by chefs to signify status.
In most high-end hotels today, the wearing of tall hats is still very much commonplace
Specifically, they were given hats to make up for any mistreatment they were feeling, as this was a time in which chefs seemed to be regularly poisoning kings who scorned them! While these stories could be equally likely (and unlikely) to be the real source of the chef's hat, they represent the accessory as it's used today: both as a tool and a symbol.
In most high-end hotels today, the wearing of tall hats is still very much commonplace, the differing heights still indicating rank within the kitchen brigade system. The head chef's toque or senior member of the brigade in the kitchen is still quite often the tallest.
In the present day, although still recommended from a food safety angle, within a lot of smaller standalone restaurants, the wearing of hats, in general, is no longer popular and the thought of seeing a full brigade in whites and hats is quite often not seen.
The head chef's toque or senior member of the brigade in the kitchen is still quite often the tallest
Those that do choose to wear hats and head coverings are normally pretty strict about wearing them and it very much becomes part of the uniform, which is also more along the lines of the traditional look.
The choice of headwear for today's kitchen staff and brigades is pretty varied and very much depends on the style, size and leadership of the kitchen or restaurant.
Bareheaded, wearing a bandana or a baseball cap, several of today's trendy chefs have chosen to abandon the toque in order to assert their individuality.
Chef's Hats: Today's Choice
Today, the chef hat remains a symbol of authority and knowledge, and few pieces of headgear are as recognizable as the traditional white hat that many chefs today still embrace as their own.
While few still wear the traditional cloth hat, due to issues related to air circulation and cleaning, many chefs wear paper versions, nontraditional hats (like baseball caps), or even no hat at all.
Whether or not you wear a chef hat depends on your personal preference and the rules and regulations of your kitchen. Most Executive Chefs save the traditional toques blanches for those in charge whilst others prefer the clean look of a line of cooks all-embracing the rich traditions of the kitchen.
Toque
The traditional tall hat that is still worn by the top 4 and 5 star hotels, palaces and residences around the world.
When thinking of a chef and trying to picture the look, only one thing comes instantly into the mind of most people and that is, of course, the toque or tall hat worn by so many culinary legends and godfathers of cuisine.
Pros
The hat in this style gives an instant visual of someone with knowledge and seniority within the traditional kitchen set up and brigade system.
Cons
The original version of these hats used starch to stiffen them and keep them taut. This style of toque is no longer worn in professional kitchens, mainly due to hygiene and heat issues, but maybe seen in old pictures. It has now been replaced by paper versions in the same shape and style.
Although the paper versions are light, they do take a little getting used to because some of them are quite tall. If you yourself are tall in stature, then knocking them off whilst walking through doors or into fridges, which you will do many times during a service, is not uncommon. Do this a few times in the middle of cooking something important and believe me, the hat goes flying!
Styles
This type of hat has a number of differing styles. The short forage style paper hat, popular in takeaways and fast food outlets is light, cheap and is made for a 'use once' type of environment.
The traditional toque, used in most high-end hotels and restaurants, as described above, is also made of paper but is much more hard-wearing and classic looking. It carries an air of authority and the impression of the wearer being knowledgeable and 'in charge'.
The goyan hat is a shorter style chef hat, much like the traditional toque, but shorter in height and popular in Japanese and Asian style restaurants.
Baseball Caps
These types of hats are popular in steak houses and lean more towards fast-food restaurants. A casual style, these types of hats are often seen worn backwards due to the visor blocking light and making the heat move towards the face.
Pros
Light and easy to wear. This style of hat is also easily washable and if done so can be used over and over again. It can work well with an open kitchen and makes a great visual if the style of the restaurant is informal and relaxed, and if worn by the whole brigade.
Cons
Can make the head hot and draw the heat, especially steam towards the face due to the visor. Easily forgotten when placed in lockers or changing areas after a shift and not the most hygienic if not washed regularly which happens far too often.
Styles
This type of hat has a number of different styles and can come with a buckle fastener, a backstrap both plastic or velcro, fitted or elasticated. The mesh-covered hat, trucker style, allows for the head to be kept cool and heat to displace away from the head. This style mostly comes with a backstrap.
This type of headwear is also available in a 'cool mesh' covering, some jackets are also available covered in this material. It is used to absorb moisture and allow the heat to dispense away from the head.
The back fastening, cloth style baseball cap is also popular in steak houses and high end relaxed dining restaurants. Stylish looking and hard-wearing, the cloth works well to absorb heat and moisture although can make the wearer hot. This style is mostly fitted or has a buckle fastener.
Bandanas and Wraps
A popular type of head covering often used to keep long hair held back, neat, tidy and away from the face. Super popular with the street food style of service and look.
Pros
Light and easy to wear and also very stylish. A popular style for kitchens that produce a lot of steam or smoke. Popular in Asian and Chinese kitchens due to the flames and steam associated with this style of cooking.
Cons
Can get hot if worn for long periods due to the closeness of the material and the lack of air. Another type that needs to be washed regularly to comply with hygiene standards.
Styles
This type of hat has a number of differing styles. The headwrap is a specially made headcover, shaped like a hat but with a tie at the back to help keep the headwear in place and in position. Thicker than a traditional wrap due to the hat shape, these make the head hotter due to the thickness.
Triangle bandanas are another specially made headcover and are light and easy to wash and keep clean. Again they tie at the back.
Square bandanas are a great head covering for people with long or thick hair types. Stylish, they are larger and can be tied at the back, locking in place the hair.
Caps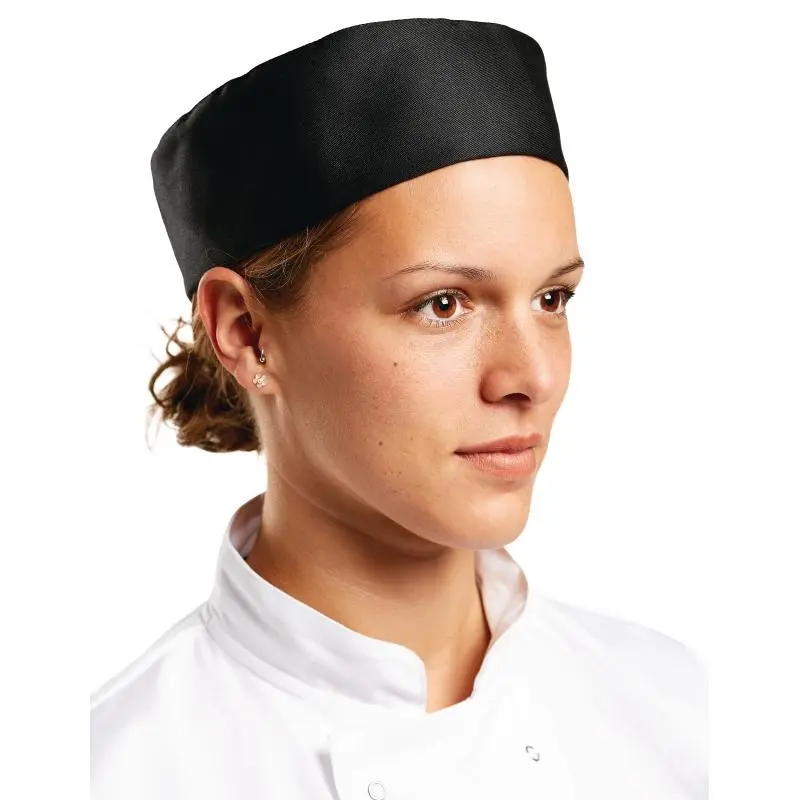 Made popular and used mainly in bakeries and food production units. These are a light and breathable style of headwear.
Pros
Easily washable and hardwearing, these can be worn for long periods due to their lightness.
Cons
Due to their makeup, can come off quite easily if not fitted correctly. The thicker versions can make your head quite hot which is great first thing in a cold morning but not so when the ovens are in close vicinity or it is the middle of summer.
Styles
This type of hat has a number of differing styles. Mainly known and associated with the traditional baker, the flat bakers hat is pleated in the same style as a traditional toque but worn flat.
The light bakers cap is generally made of cotton and is peaked. Worn in the same way as a baseball cap, it is lighter and generally come in one size.
The flat cap is becoming popular in the more trendy and visually conscious food outlets. Available in a number of colours and styles.
Beanie Hats
Beanie hats have slowly been coming into the professional kitchen over the last 10 years. Light and durable, they look professional and are available in a number of colours which fits into most restaurant and food outlet styles. All these types of hats are fitted with a velcro fastener at the back to give a snug fit.
Pros
Neat looking and tough. Available in many colours and styles. Light and durable and fitted with a velcro fastener to fit securely.
Cons
Ok if everyone has the same style or colour, but can look odd if the whole brigade is wearing a different colour and style.
Styles
The beanie style is much the same as a skullcap and like the skullcap, some are also made of 'cool vent' material making then light and breathable.
They are available generally with a straight edge and velcro fastener at the back. You can get beanies with an elasticated back and also some with fold over cuff in the same way the skullcap folds over.
Skull Caps
Skull caps are a mainstay in most professional kitchens that are required to wear headwear and have been for many years now. The choice of most junior chefs due to their lightness.
Pros
Light and durable. These types of hats are easily washable and can be done so with the reset of your uniform. They come in a range of sizes and can be folded over to shorten. Available in a whole range of colours too.
Cons
Can get hot if worn in a tight and steamy kitchen. This type of headwear needs to be washed regularly to be kept hygienic.
Styles
This type of hat has a number of differing styles. The skull cap is available with a short and long edge, to allow for folding and can also be found with both 'cool mesh' and made of polycotton making it light and durable. Some of the short edge style hats also come with an adjustable back, giving them a more snug and tight fit.
Catering Hats
The trilby is a style of hat used mainly by industrial caterers and large production kitchens and units. Often made of lightweight material and mesh in texture, they are light and durable and also very breathable. Quite often coming with a snood to help hold and keep the full head under the hat.
Pros
Light and breathable, in a hot and steamy industrial kitchen, this style of hat keeps your head cool.
Cons
Needs to be fitted correctly if worn for long periods. Can be a hygiene risk if not fitted correctly due to having to keep touching it to put it back into position.
Styles
The trilby is a style in its own right. These hats are generally available in either black or white and are made of a mesh material keeping them hygienic and easily washable.
---
Related articles: