Chef Uniform 101: A Guide to Chef Clothing (With Pictures!)
Believe it or not, the Chef's uniform is hundreds of years old. Did you know that being a chef used to be one of the most respected and highly compensated jobs in the royal family since they had to make sure that everything the king or queen ate was not poisoned?
While certain aspects of the uniform have evolved, the basic concept of it remains the same: white chef's jacket, pants, apron, side dish towel, neckerchief, and a toque or "chef's hat."
While things are moving into a more laid-back fashion, whenever you go into a high-end restaurant the traditional white uniform is what you are going to find.
It is incredible that among millions of kitchens scattered across hundreds of countries; the uniform is so ubiquitous you will recognize it anywhere. We are going to explain every single component, its importance, and finally where you can get the best one.
The Toque
If you are wondering what the toque is, it's the sometimes comically large white hat that you see chefs use at formal events. The most popular theory is that it comes from a crown that the royal family used to give their chef.
This crown would eventually evolve into what we have today. Some say that the wrinkles represent the different ways a chef knows how to prepare an egg (one of the most versatile ingredients). Others say it's the number of dishes they have mastered. Either way, a toque's history is as rich as the dishes a chef can cook up.
The Jacket
It is believed that the man who invented the modern uniform is also the man responsible for creating the "high art" style of French cooking. His name is Marie-Antoine Carême. He grew up poor but worked his way to the top of a premier French pastry shop. Later he would be the personal chef of high-ranking politicians under the administration of Napoleon. Yeah, that Napoleon.
Carême chose the color white to present a pristine image as well as the respect the profession deserves. It's also a point of pride to keep that uniform as clean as possible since this shows an extreme level of skill that only a master can have.
The most important factors of a jacket are its materials, weight, style, and color. Some people will prefer a 100% cotton material for its breathability, while others would gladly get a blend. The most traditional and practical style is the long-sleeved double-breasted jacket that will give you the most protection against accidents. The preferability of the aesthetics will depend on you and your company. White is the most formal and traditional, but for certain companies, their formal attire will be black or any other color they please.
Apron
Since heat is a constant factor and danger in the kitchen, everything is designed to help you be as safe as possible. A half apron protects you against spills in the lower section of your body, while a full apron protects all of you. Some aprons even have pockets, which means you can be more organized by putting a towel, pen, or anything else you may need. While it's not advisable, you can also use your apron to grab hot equipment, however, to make sure that never happens, the next item is of the utmost importance.
Side Towel
This towel is meant to grab hot pans, dishes, or any kind of equipment on the fly. Without it, not only are you more prone to burning but if you are constantly looking for a rag, you risk ruining a dish by not being able to remove it from the heat fast enough.
Pants
The pants have three jobs: to be durable, comfortable, and breathable. As long as you can find pants that resolve these issues then you are good to go. You don't want to be stuck on a long shift with pants that restrict your movement and makes you sweat profusely.
Shoes
Your shoes are arguably the most important part of your ensemble. You can cook with just a t-shirt on and some uncomfortable pants, except imagine doing a fourteen-hour shift on a rigid pair of shoes that offers no protection against slips. Your feet would not only hate you, but you could also injure yourself. That's why non-slip, comfortable shoes are paramount.
Now that you know about the different components that make a chef's uniform, we are going to give you a list of the ten best places you can get them, down to their very best product.
Popular Chef Uniform Brands
1. Chef Works
The company has been around since the 1960s, all with the mission to provide high-quality products at a competitive price. For example, their hats which have over a thousand positive reviews on Amazon cost less than fifteen dollars.
The toque/hat is important since the last thing you want is for one of your hairs to fall on a customer's dish. That would be unprofessional and unhygienic. If you want to be more traditional they also carry a high-inch toque.
The best material in terms of breathability is without doubt cotton, however, a lot of times a blend of synthetic and natural materials is better. Cotton is brittle compared to polyester; a blend will make sure that the product is both breathable and durable.
Chef Works has their very own trademarked "Cool Vent" technology, which does exactly what it says, keep you cool. This technology will help you against overheating.
If you have a big staff or you think your employer could use an upgrade in terms of quality, they also do custom apparel.
2. Chef Wear
Chef Wear is another great uniform brand that sells everything you might need. They have a great easy to use website with their own tracking shipment tab. If you want to have a custom embroidery, whether it's your name, or the name of the company, or both, they make that easy for you too.
Their flagship product is their own "Cool" technology jacket that uses cotton, polyester, and 3% spandex for the ultimate comfort.
3. Chef's Closet
All the picks so far are competitively priced with a variety of selections ranging from inexpensive to premium. This is true as well here, yet, this is the most low-priced company on the entire list. Right on their homepage, they have a tab for $5 chef jackets.
While the quality would not be able to compete with the more premium products, it's nice to know your options. Plus, you or your company can have jackets for different occasions. The cheap option could be for laid-back events while the premium products could be reserved for special functions.
4. Bragard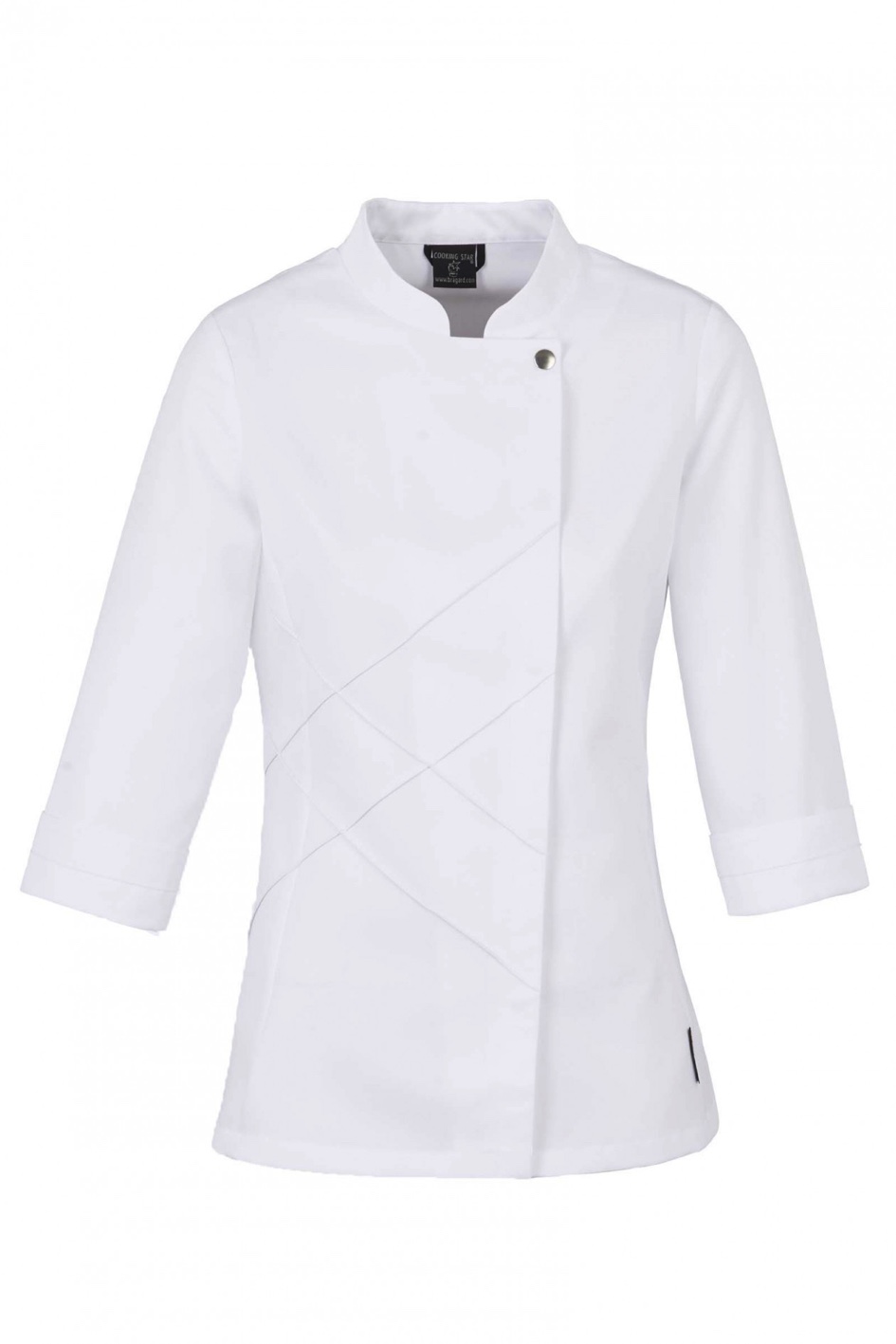 Going the opposite route, this is a premium brand through and through. Their jackets have an average price of $50 or more. They have lower-priced models, but very few. I keep mentioning the jackets but remember that these companies have it all, from the apron to the pants, hat, everything.
Bragard was founded back in 1933, making it the oldest company on this list. You would think a company as old as this would be as traditional as they come, but the opposite is true. While they still sell the old-school uniform, they have a lot of modern products as well.
5. Mercer Culinary
If you have heard of this brand before, you are not alone. While there are no prices on their website, which is a little strange. We wanted to include this one for a very special reason.
Not only do they sell the complete uniform, but they also sell their own brand of high-quality knives. So if you wanted, you could call them up, and not only leave with the uniform for your entire crew, but also the knives that they would use.
6. Le Nouveau Chef's
While this isn't the only European brand on this list, this is the only one that has their prices in euro. They do have worldwide shipping though, which is one reason it made it to the list. While this is by far the most expensive company to shop from, their quality and style are worth it.
7. Tilit
Taking it back to the United States Tilit has some of the toughest, highest quality uniforms in the market. They are well known for their Tilit Contra Chef Apron, which was recommended by the New York Times for its ability to keep you "comfortable and dry."
The special sauce of this apron is the fact that it's water repellent but is still flexible and comfortable. Most aprons that are waterproof are so because they add a certain material that makes them stiff. However, with the technology Tilit uses, you will be safe from that problem.
8. Hedley & Bennett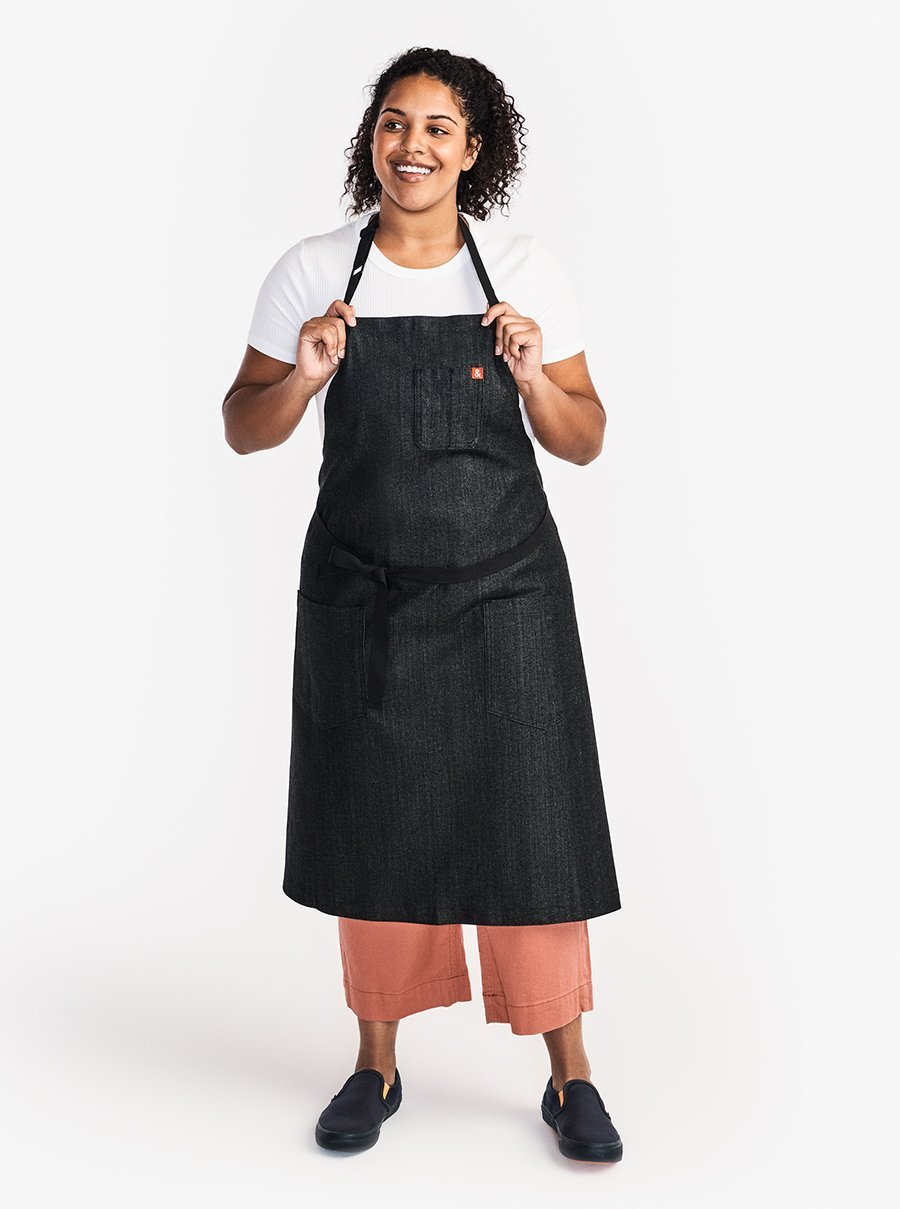 Almost all these companies have everything you need to succeed, but again, their specialty might be just one item. This is exactly the case for Hedley & Bennett. Taking a cue from their product description, it says:
The one that started it all. Born in a professional kitchen out of the need for something better.
Aprons for a long time were just a thin layer of white, that you could wipe your hands with and diminish the effects of a fiery liquid. Chefs needed more though, hence the waterproof nature of the previous product and the tough quality of this one.
9. Medium Rare
Medium Rare's mission is to make quality, durable products that can withstand any kind of tough job inside or outside the kitchen. Even among the more modern brands, Medium Rare stands out for its streetwear approach. For example, usually, a chef's shirt is just a thinner, simpler chef's jacket.
However, they call their shirt the "Mechanic" and they are not lying. One look at this company and you can tell they are different.
10. Lost Car Chef Apparel
We went on a premium spree for a while there, so let's bring it back to basics. This is a more traditionalist company that is as competitively priced as the first picks on our list. While their selection might be smaller than Chef Works and Chef Wear, some people might prefer the lack of options since choice paralysis is very real.
Conclusion
Whether you want to be a traditionalist and keep a pristine all-white uniform with a high inch toque or be a little more modern, this list has it all. In reality, there is no right way to have a uniform, even high regarded chefs all use different styles. Famously world-renowned chef Gordon Ramsey prefers a short-sleeve jacket instead of long sleeves.
Whatever you may choose, just make sure it's right for you. You are the one who is going to be standing up for hours, day in and day out.
I have worn all kinds of attire. Loose, fit, snug, heavy, and I prefer a more light, tight fit that can stretch. That's just my preference. So find yours.
Let us know if we missed anything or what you thought of this list. We always welcome feedback.
Why is it important to wear a chef uniform?
In high-end restaurants it is required to wear a white chef uniform. It is considered as a label of excellence.
What are the parts of a chef uniform?
While uniforms have evolved over the years, its parts have remained pretty much the same: jacket, pants, apron, side dish towel, neckerchief, and a toque or "chef's hat."
What is a chef's uniform called?
It is called just that: chef uniform and sometimes it is referred as the chef's whites, due to the wide use of the white color.