Mini Lemon Meringue Pies
This irresistible dessert or afternoon tea delight is a symphony of flavors, combining the stickiness of meringue with a zesty lemon filling. Who can resist the allure of these miniature pies, each offering a burst of citrusy goodness in every bite?
From crafting the perfect lemon filling that balances sweetness and tanginess to achieving the luscious meringue topping that caramelizes to perfection, we've got you covered with step-by-step instructions and pro tips.
Whether you're planning a cozy family gathering or a charming tea party with friends, these baby lemon meringue pies are sure to steal the show and leave everyone asking for seconds.
Mini Lemon Meringue Pies
Ingredients
Pastry:
300

grams

plain flour

150

grams

unsalted butter

80

grams

icing sugar

20

millilitres

milk

500

grams

rice
Filling:
5

egg yolks

140

grams

caster sugar

1

lemon

1

teaspoon

vanilla

220

millilitres thickened cream
Meringue:
5

eggs egg whites

120

grams

caster sugar
Instructions
Pastry:
Sift flour into a bowl along with the icing sugar. Add butter and using your finger tips rub the flour and butter together until it begins to resemble bread crumb. Add milk and continue to rub together until it forms a smooth dough.

If the dough is too wet add a little flour.

Leave the dough in a cool place to rest for 15 minutes.

Spray a muffin pan with a non stick spray ready for the pastry.

Lay a large sheet of baking paper down on a bench and place half the dough on top and flatten with hand. Lay another sheet of paper on top and use a rolling pin to roll out the dough until about 4mm ( about 1/5 of an inch) thick.

Cut the pastry with a pastry cutter or scone cutter and fill muffin tray, press down the pastry and ensure it comes to the top of each hole. Use excess pastry to patch up any parts with holes.

Repeat process until pastry is used up to make 8 pie cases.

Preheat oven to 170 ℃ / 310 ℉.

Fill each pastry cup with baking paper and fill with rice. This is called blind baking and stops the pastry from collapsing and rising

Cook for 12 minutes and remove from oven. Let it stand for 10 minutes before removing rice and paper. Keep the rice for the next time you need to blind bake.
Filling:
In a bowl add egg yolks and sugar. Keep egg whites for meringue.

Whisk the egg yolk until sugar is dissolved Add vanilla, lemon rind and juice and whisk for 30 seconds.

Add cream and whisk gently to mix all ingredients.

Pour mix evenly into pastry shells leaving 3 mm from the top of pastry top and bake in oven for 14 minutes. The mix may still look a little soft when taking out of the oven. Place in fridge for half and hour to set. Remove from muffin tray and place onto a flat baking tray.
Meringue:
Turn oven up to 200 ℃/ 390 ℉.

In a clean bowl add the egg whites and using an electric beater begins to whip the whites. As they being to whiten slowly add sugar and continue to whisk until the mixture begins to form peaks.

Place the mixture into a piping bag with a straight nozzle and pipe meringue onto pies.

If you don't have a piping bag spoon the mixture onto pies.

Place in oven for 5 minutes to brown meringue. It may be required to rotate tray every now and then to form an even colouring onto pies.

Remove from oven and place in fridge to cool. These will be ready to eat when cold.
Notes
You will need baking paper for this recipe.
Allow a couple of hours to make these. The time is required for cooling the pies between cooking stages.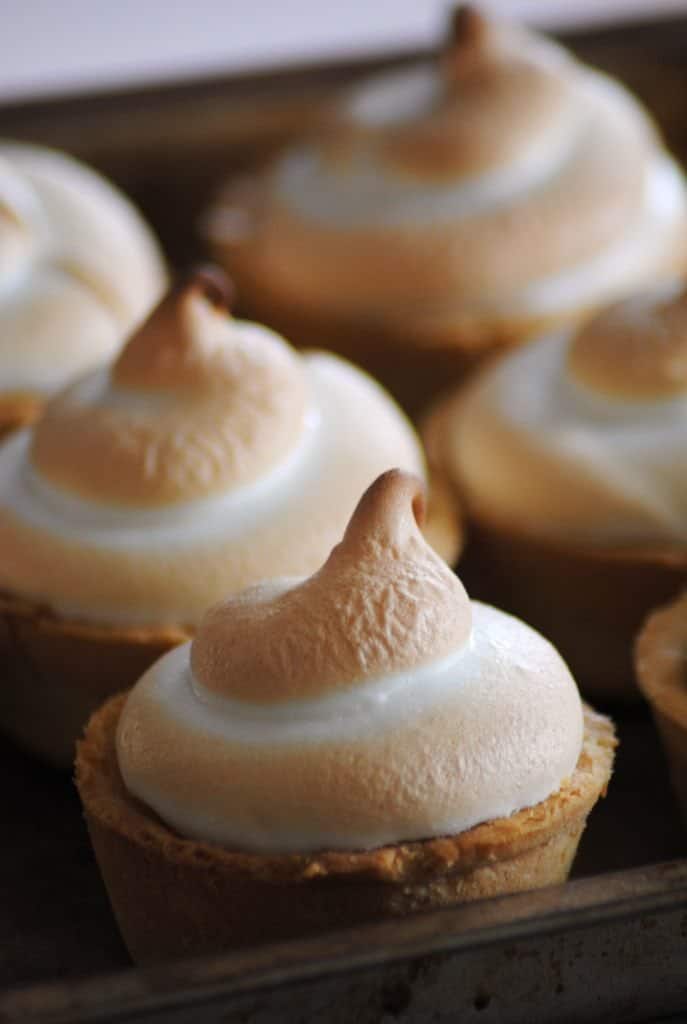 Related: Lemon Swiss Roll
Related: Lemon Tart with Crème Fraiche
Related: Lemon Tart