All About Whelks (How to Cook, Taste)
What Does Whelk Taste Like?
The meat of a whelk is similar to abalone, slightly chewy with a sweet and briny flavor. When cooked correctly, the sweetness can be resembled to scallops. However, if overcooked, it can become extremely tough. It pairs well with butter and a splash of lemon for sharpness to help bring out its natural sweetness.
Whelks are a type of sea snail from the Buccinidae family. The spiraled shells can be found all over the world, from the Atlantic Ocean and some of its bays in North America to Europe.
There are many different varieties of whelk, ranging from a couple of inches all the way up to 10 inches long. Smaller whelks are simply called "whelks", which have a sweet and briny taste. Larger ones include knobbed and channeled whelks that are commonly sold as scungilli. These are noticeable chewier than small whelks and have a slight tinge of pink to them. However, the smaller varieties are often sought after by restaurants due to their sweeter taste.
Whelks are a fantastic source of protein, vitamin E, iron, potassium, and vitamin B12. They are relatively low in demand so are cheap in price as they are a by-catch of fishing. Whilst they can be bought raw in their shells, they are also available canned, an easy, affordable, and healthy alternative which are fantastic in salads and pasta.
Raw whelks are typically boiled or blanched before being prepared for various dishes. They are widely used throughout the world, commonly served in seaside food stalls in Britain as well as used raw in Japanese cuisine.
Different Ways to Cook Whelk
Whelks can be cooked in different ways. Many are intimidated by the unusual shape of whelk but they are actually very easy to prepare. In fact, they can actually be served in their shells or removed and incorporated in many different dishes with very little preparation.
Sautéed
Sautéed whelks are common in Western cuisine. They are blanched for a few minutes and then the guts are removed. The meat of the whelk is cut into small pieces and sautéed in garlic and butter and topped with parsley.
Sautéing allows adding a variety of different flavors to the whelks, making them versatile and suitable for different dishes, from salads to the pasta dishes of Italy.
Whelk Sashimi and Sushi
In Japanese cuisine, it is common to eat whelks raw as sashimi or sushi. After the whelk is prized out of its shell, the organs and extra trimmings are cut off and discarded. Next, the whelk is massaged in salt, washed, and washed again with vinegar to remove the sliminess, smell, and any bacteria.
Whelks have salivary glands, which contain a weak poison called tetra mine. Whilst this is not life-threatening, it can cause nausea, headaches, and vomiting. These glands must be removed from the whelk when eating them raw.
Finally, the whelks are cut into thin slices creating in a zigzag pattern on the flesh. When eaten as sashimi, it is garnished with shiso, wasabi or horseradish and soy sauce.
As sushi, it is topped on vineyard rice with wasabi. Eaten this way, you can enjoy the whelk's natural chewiness and sweetness.
Grilled Whelk
Across many seaside cities in Japan, there are stalls and restaurants serving barbecued seafood, grilled scallops, succulent prawns and grilled whelks. After rinsing in cold water, the whelks are placed on the barbecue and left till tender.
As it grills, the meat slowly comes out of its shell, becoming deliciously juicy and tender. Grilled whelk is typically enjoyed with soy sauce or a splash of lemon.
Boiled Whelks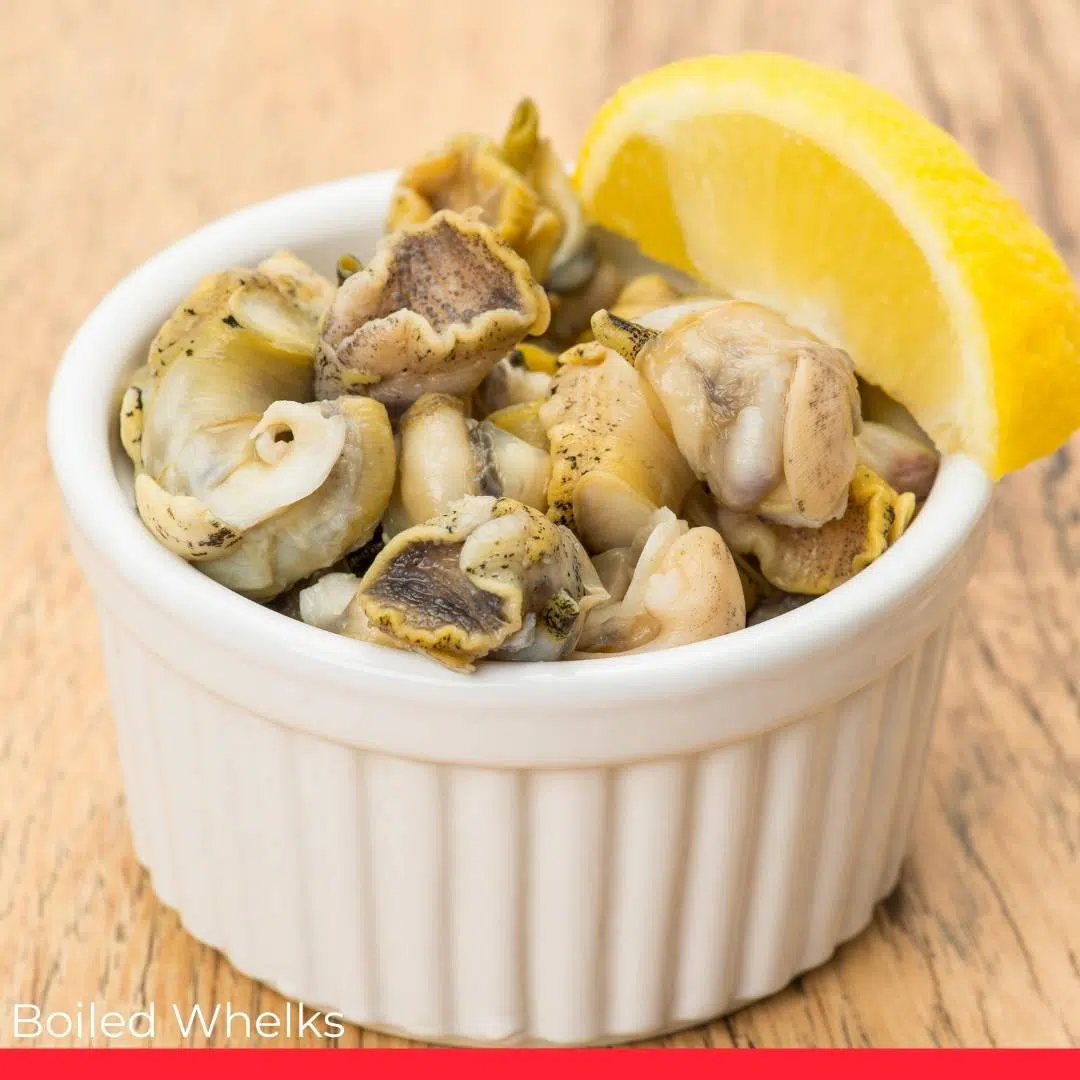 Whelks can also be enjoyed simply boiled. They are rinsed several times in their shells to remove any dirt and then immersed into boiling water. After prying them out from their shells, they are enjoyed with a squeeze of lemon or a butter dipping sauce. They can also be slightly blanched then added to soups and chowders.
These are the most common ways of eating whelk; however, there are so many more. From deep frying as fritters to Korean's Golbaengi-muchim salad, whelk is very versatile. Furthermore, they are cheap and plentiful, making them a perfect alternative to more expensive seafood!
---
Related: Most Expensive Seafood in the World