16 Famous Brazilian Cake Recipes
By utilizing the huge amount of fresh, succulent tropical fruits that are available, Brazil has devised cake recipes that you will struggle to find anywhere else.
The combination of ingenuity and originality and the myriad fresh fruits available results in delicious and innovative flavors. If you are curious to see what Brazil has to offer, here is a list of the most popular cakes in the country.
1. Bolo de Rolo (Roll Cake)
This unusual looking cake is traditionally handmade. The recipe uses eggs, flour, butter, and a generous amount of sugar.
Many layers of dough are rolled up with sweetened guava paste in between. It is both beautiful and unique, and the sweet taste is unforgettable and seriously addictive. Usually, the last bite isn't the same you told yourself it would be. It is considered a cultural heritage by Brazilian law.
2. Bolo de Milho (Corn Cake)
This cake is served during the June festival of "Festa Junina", alongside many other dishes with corn as a main ingredient. The recipe involves corn or corn cream, flour, butter, eggs, sugar, yeast, and milk.
It has a bright yellow appearance and the delicious taste of sweetened corn.
3. Bolo de Fubá (Fubá Cake)
This is a recipe that goes back hundreds of years to a time when wheat was considerably rare and expensive in Brazil.
The fubá cake is an adaptation of the traditional recipe, corn flour in place of regular wheat flour. Because of this it acquires an yellowish appearance with a dark yet delicious crust.
4. Bolo de Carimã (Carimã Cake/Fermented Cassava Cake)
This cake is made with fermented cassavas. This dough is made from fermented cassava that is washed, peeled, and immersed in water for three to four days. While it appears to be as solid as any other cake, this one melts in the mouth, instantly imparting the unique flavor of cassavas.
5. Bolo Cuca (Cuca Cake)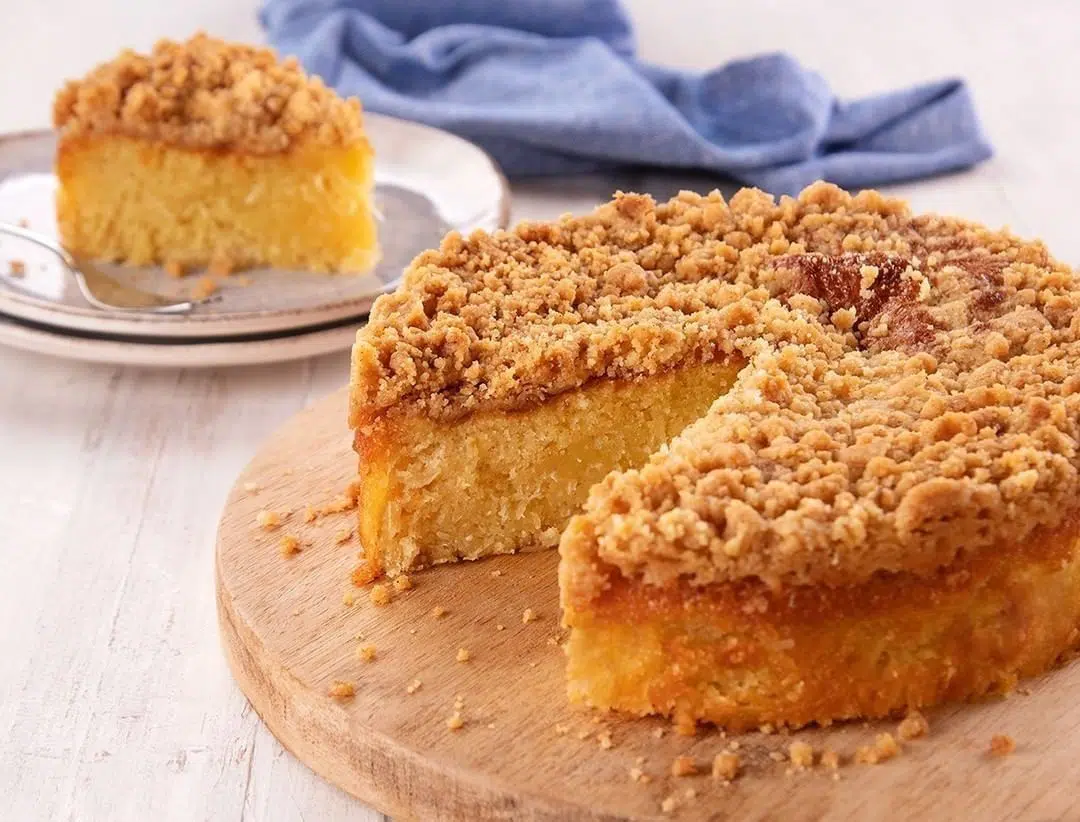 Cuca cake is extremely popular in Brazil, mostly in the southern regions, as they had many German immigrants from the beginning of the 20th century. It is an adaptation of the German Streuselkuchen, with a similar recipe but different toppings.
The Brazilian recipe involves a large amount of crunchy sugar on the top, blending perfectly with the soft flavor of the cake.
6. Bolo de Tapioca (Tapioca Cake)
This delicious recipe doesn't need to be baked and is served cold and has a creamy, moist texture. This recipe includes sugar, grated coconut, condensed milk, and tapioca pellets.
It is made by pouring boiling milk over the cold, mixed ingredients in a cake tin and popping in the fridge for a few hours until it gets a solid consistency. The result is an incredible flavor of sweet, crunchy tapioca.
7. Bolo de Arroz Cru (Raw Rice Cake)
With cheese and uncooked white rice, submerged in a large pot for at least 8 hours, this cake contains no flour! The result is this impressive and easy-to-make cake that is popular across all regions of Brazil.
It is incredibly filling and even softer than it looks. It is a great cake for people with gluten intolerance.
8. Bolo de Cenoura com Cobertura de Chocolate (Carrot Cake with Chocolate Topping)
Carrot cake is a sugary cake made with grated carrots. The carrots soften when it is baked, giving the cake a smooth, dense texture and a orange color, and it is topped with chocolate.
It is one of the most popular cakes in Brazil due to being delicious, easy to make, and also because carrots are available all year round.
9. Bolo de Laranja (Orange Cake)
This is a very popular cake in all regions of Brazil due to the abundance of oranges throughout the country. It is made using the usual cake ingredients, orange juice and a small amount of grated orange peel.
It emanates an aroma that hits you as soon as you enter the room and one bite fills you with the delicious sweet-and-sour combination.
10. Bolo de Banana e Aveia (Banana Cake with Oatmeal)
Just like other fruit-based cakes, this one is especially popular as bananas are incredibly abundant, cheap and delicious.
This recipe is a favorite for people controlling their carb intake but who still crave delicious sweet recipes. It uses 4-6 peeled and mashed bananas, oatmeal rather than regular flour and oil instead of butter. Many people add cinnamon as it blends perfectly with the other ingredients.
11. Bolo Formigueiro (Anthill Cake)
This cake got its name from the seeming ants that crawl out of the hole in the middle. It is extremely popular and one of the bests cakes to put together if you are receiving many guests (specially children) and you aren't sure what they like.
It is especially sweet because of the various fruit jams that are added to it, and the chocolate sprinkles on top gives the cake a crunchy bite.
12. Bolo Baeta
This cake is popular in the northeast region of Brazil, specially in the state of Paraiba. One of the most striking characteristics of baeta cake is that the dough does not contain yeast.
This gives it a moist yet uniform texture, slightly like that of pudding. It is also called "milk cake", because of the large amount of milk in the recipe.
13. Bolo Nuvem de Coco (Coconut Cloud Cake)
This impressively sweet cake is an amazing desert for any occasion. It is very rare to have any leftover for the next day. The recipe includes a generous amount of coconut oil besides the usual cake ingredients, which gives its characteristic flavor.
What really shines in this recipe is the frosting. It is a slow cooked mixture of white chocolate, whipped cream, butter, and grated coconut. The unbelievable sweetness of one bite makes for an unforgettable experience.
14. Bolo de Abacaxi (Pineapple Cake)
Many Brazilian cakes contain tropical fruits and the delicious pineapple, that originated in south America, could not be forgotten.
This recipe balances the strong citrus flavor of the pineapple with slightly baked sugar, creating an incredible bittersweet taste. In previous recipes, the fruit is added to the dough, but with this one, the sliced pineapple is place on the top.
15. Bolo de Cupuaçu
A heritage of indigenous cuisine, cupuaçu, a relative of cocoa, native of the Amazon Forest, is the main ingredient of this fluffy, yet firm cake. Since wheat used to be scarce in the Northern region, the same amount of fruit pulp as flour was used.
To complete the recipe, cupuaçu jam is spread over the top. The unique taste of the exotic cupuaçu cake is delicious, even if the flavor is a quite strong.
16. Bolo de Pé de Moleque
Pé de moleque is a traditional Brazilian sweet that is a mixture of peanuts and melted brown sugar, and it is the start of this packed recipe. Other ingredients found in this cake are chestnuts, cloves, fennel and even coffee. It is a very filling savory cake. It is not that easy to bake, but it is greatly appreciated whenever it is served.
---
Related: Best 25 Brazilian Desserts
Related: Best 25 Brazilian Foods
Related: 16 Popular Brazilian Side Dishes
Related: 15 Delicious Brazilian Meat Dishes
Related: 16 Popular Brazilian Christmas Foods