What to Eat in Tyrol? 12 Popular Tyrolean Foods to Try Out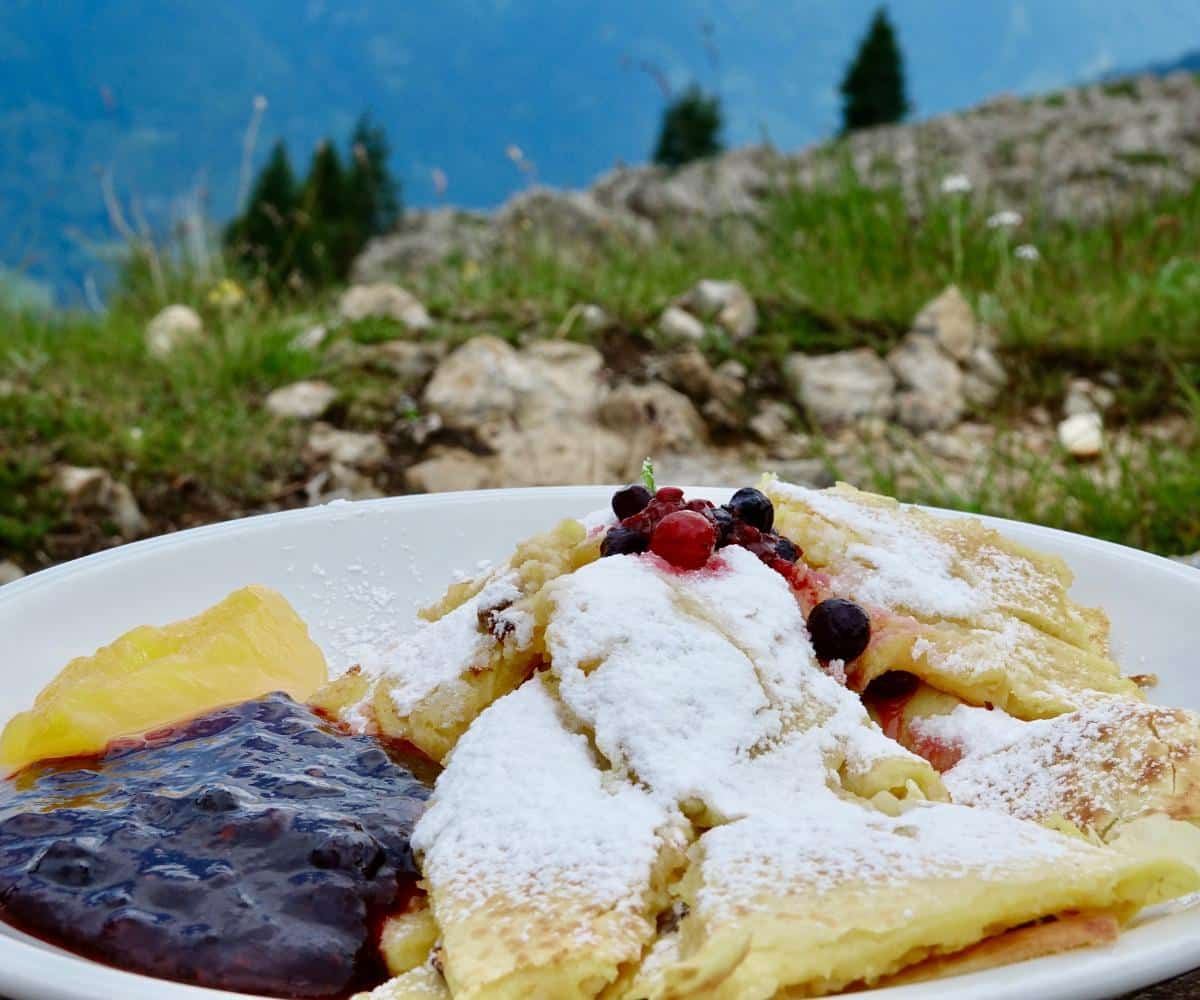 Tyrol is more than just a skiing and hiking paradise. This region in western Austria is also famous for its heartwarming cuisine that's a must-try for everyone visiting the region.
Austrians like to say that "love goes through the stomach" and these traditional Tyrolean dishes are certainly testament to that! We hope they will inspire you to book your next holiday, or be adventurous and try the recipes out at home.
Without further ado, let's discover the most popular foods from this gorgeous, mountainous region.
1. Tiroler Speck Knoedel (Tyrolean Bacon Dumplings)
After a day spent playing or working in the snow, there is nothing more welcoming than a plate of Tyrolean bacon dumplings to warm you up from the inside out. These hearty balls of joy can be found on the menu of almost any restaurant in the region.
No matter whether you are going for dinner, in a fancy three-star restaurant in Innsbruck, or taking a skiing-break in one of Tyrol's rustic mountain huts, Tyrolean bacon dumplings are a stable go-to for a delicious, hearty meal.
Made from simple ingredients including old bread, eggs, and bacon, these dumplings are traditionally served to accompany a bowl of soup. But this is not the only way to consume this warming dish. Some restaurants serve them with sauerkraut or salad.
Want to cook this dish for friends or family at home? You can find one version of the recipe here.
2. Schlutzkrapfen (Tyrolean Ravioli)
Tyrolean Schlutzkrapfen, or Schlipfkrapfen, is a kind of ravioli dish, usually filled with a potato purée and served with butter and chives. Just like most Tyrolean foods, this is a very filling dish that is sure to satisfy your cravings after a ski or hike. It also makes a perfect family dinner dish for when you fancy bringing some west Austrian magic to your kitchen.
There are multiple recipes for this dish. One of our favorites is a slightly lighter version, filled with spinach and curd cheese, which you can find here.
3. Moosbeernocken (Tyrolean Blueberry Dumplings)
Looking for something simple, sweet and warming? Tyrolean Moosbeernocken are made from a batter of eggs, flour, and sugar mixed with blueberries. Yes, it´s that simple. All you have to do is beat 3 eggs with 50 grams of sugar, then slowly add 140 grams of flour.
Once the batter is ready, add 300 grams of blueberries, form the mix into small pancakes and fry them with plenty of butter. Add plenty of icing sugar on top and make sure to serve them hot if you want to experience the truly Tyrolean feel. You can find an English version of the recipe here.
4. Tiroler Marend (Tyrolean Meat and Cheeseboard)
Not in the mood for cooking? Why not indulge in a Tyrolean Marend (also known as Brettljause)? Served in Tyrolean mountain huts, this resembles a charcuterie board and typically consists of Tyrolean bacon, local cheese assortments, Kaminwurzen (a cold-cut specialty from South Tyrol made with beef), a horseradish dip, and dark bread.
The word Brettljause quite literally means board-snack and gets its name from the fact that all the foods are arranged on a wooden cutting board rather than on a plate.
5. Kaaspressknoedel (Tyrolean Cheese Dumplings)
As you have probably noticed by now, Tyroleans really like their dumplings. Kaaspressknoedel are yet another type of Tyrolean dumpling loved by locals and visitors alike. Served with soup or salad, this Tyrolean staple is probably the most delicious on our list.
Made from a mix of Tyrolian mountain cheese, dried bread, onion, butter, and milk, this dumpling melts in your mouth like no other. If you are looking for a hearty dish to serve on a cozy winter night, this Kaaspressknoedel recipe is sure to make you very popular with your friends and family.
6. Tyrolean Käsespätzle (Kaasspatzln)
Another cheesy dish that deserves its name on any list of Tyrolean foods are the famous Kaasspatzln. This comfort food is definitely on the heavier side and is best enjoyed after a long hike or day spent out in the snow.
Now, just imagine what you would get if you crossed a piece of pasta with a dumpling. Now imagine that dipped in a creamy cheese sauce.
If you times the gloriousness of that by a hundred, you get the delicious Kaasspatzln. The best place to enjoy this traditional Tyrolean dish is probably in one of Tyrol's very own restaurants or mountain huts. But if you can't do that this winter, it is also possible to create your own at home.
All you have to do is mix together flour, eggs, salt, and water and let the resulting mixture drip through a colander into a pot of boiling salted water.
The resulting pieces of pasta-dumplings naturally rise to the surface when they are cooked. Once your Spaetzle are fully cooked, transfer them to a frying pan and mix them with onions, cheese, and butter. You can find a full version of the recipe here.
7. Tiroler Groestleln (Tyrolean Fry Up)
Living in the mountains, where resources especially during the long winter months were limited, has turned the Tyrolean people into a very resourceful folk. It thereby shouldn't come as a surprise that one of their most loved dishes was created out of leftovers.
So if you're thinking about what to do with the remains of your last Sunday roast, we recommend giving this quick and delicious recipe a try.
Simply cut up your leftover meat, add to cooked potatoes, slice up an onion, and stir it all together in your frying pan. If you want to give an extra touch to this deliciously simply meal, we recommend adding a fried egg.
8. Tiroler Kiachln (Tyrolean Dough Cakes)
Tyrolean Kiachln are a kind of deep-fried dough-cake that can be enjoyed both sweet and savory. It is most commonly served with sauerkraut but the sweet version combines it with sugar and wortleberry, or wild blueberry, jam.
To prepare this popular family dish, mix yeast, salt, sugar, flour, eggs, and milk. Leave to rise, then form the dough into small pieces and deep-fry them. Whether you decide to go for the sweet or savory version, make sure to serve them hot!
You can find the full recipe here.
9. Kaiserschmarrn (Emperor´s Nonsense)
While this particular warming dish is not strictly Tyrolean, you will find it on the menu of just about every Tyrolean restaurant.
Some sources say this dish was invented by the Austrian Emperor´s chef when he was trying to make pancakes one day. Having messed up the pancake when trying to flip it, he spontaneously decided to scramble the pancake dough up, throw in some raisins, cover it with sugar and serve it with some apple purée on the side.
While we will never know whether this story is true or not, it serves as yet another example of the practicality and ingenuity of Austria's hearty cuisine. Whether you are trying to improvise something edible out of a messed-up pancake or wishing to bring some Austrian charm into your kitchen, you can't go wrong by trying this recipe out at home.
10. Apfelradeln (Tyrolean Apple Wheels)
Another delicious dessert you should definitely try while on your next trip to the Austrian Alps are the so-called Tyrolean Apfelradeln. Like many of the other dishes on this list, they are surprisingly easy to make at home. Simply cut the apples into round slices, dip them in a batter made from 120 grams of flour, 2 eggs, and a spoonful of sugar, and fry them in the frying pan.
To round it off, we recommend adding some cinnamon on top. You can find the full recipe here.
11. Tiroler Strauben (Tyrolean Deepfried Pastry)
Tyrolean Strauben are yet another practical and easy-to-make dessert, which can be whipped together using only a few ingredients. Simply mix 250 grams of flour, a quarter liter of milk, a spoon of vanilla sugar, 3 eggs, and 20 milliliters of fruit schnapps. Once the batter is ready, drip it into a pot of boiling vegetable oil in a circling motion.
The result: A deep-fried pastry that is as beautiful as an ornament. If you don't want to get your inner creative out at home, there is always the option of buying a delicious, freshly made Strauben during your next visit to a farmer´s market or Christmas market in Tyrol.
Check out the English version of the full recipe here.
12. Zillertaler Krapfen (Zillertaler Donuts)
Zillertaler Krapfen are a savory type of donut filled with a potato and cheese mix. To make this well-known dish from the Tyrolean region of Zillertal, simply mix together an egg with flour and water until the batter is smooth. Then take some cooked potatoes, mashed up with cheese, quark, chives, salt, and water.
Form the mixture into balls and flatten them into rounds, then place a bit of the filling on top and close it up, creating half-moon-shaped pockets of dough. Bake for a short time in the oven and they are ready to go! You can find the recipe for this hearty dish here.
Ready for your next culinary adventure?
Whether you are planning to taste yourself through the delicious selection of meals during your next trip to Tyrol, or hoping to bring the Alpine charm of this Austrian region into your private kitchen, we hope that this list of Tyrolean dishes has inspired your culinary explorations.
---
Related: 20 Most Popular Austrian Foods
Related: 15 Austrian Desserts You Must Try