15 Austrian Desserts You Must Try!
Want to eat like a true emperor or empress? While Austria is a small country, it looks back on a rich imperial history. Even today, its capital city Vienna is known for its coffee house culture and delicious array of desserts.
While a visit to a Viennese coffeehouse with gorgeous displays of multi-layered cakes is the only way to fully immerse yourself in an Austrian dessert experience, you can, of course, also bake (and eat) them at home.
Are you ready to take your sweet tooth on a ride? While desserts like the Sachertorte have become famous in their own right, we also introduce you to less well-known but even more delicious treats such as Bananenschnitte and Mohr im Hemd… Let's take a look at some of the most popular Austrian desserts.
1. Apfelstrudel (Appelstrudel)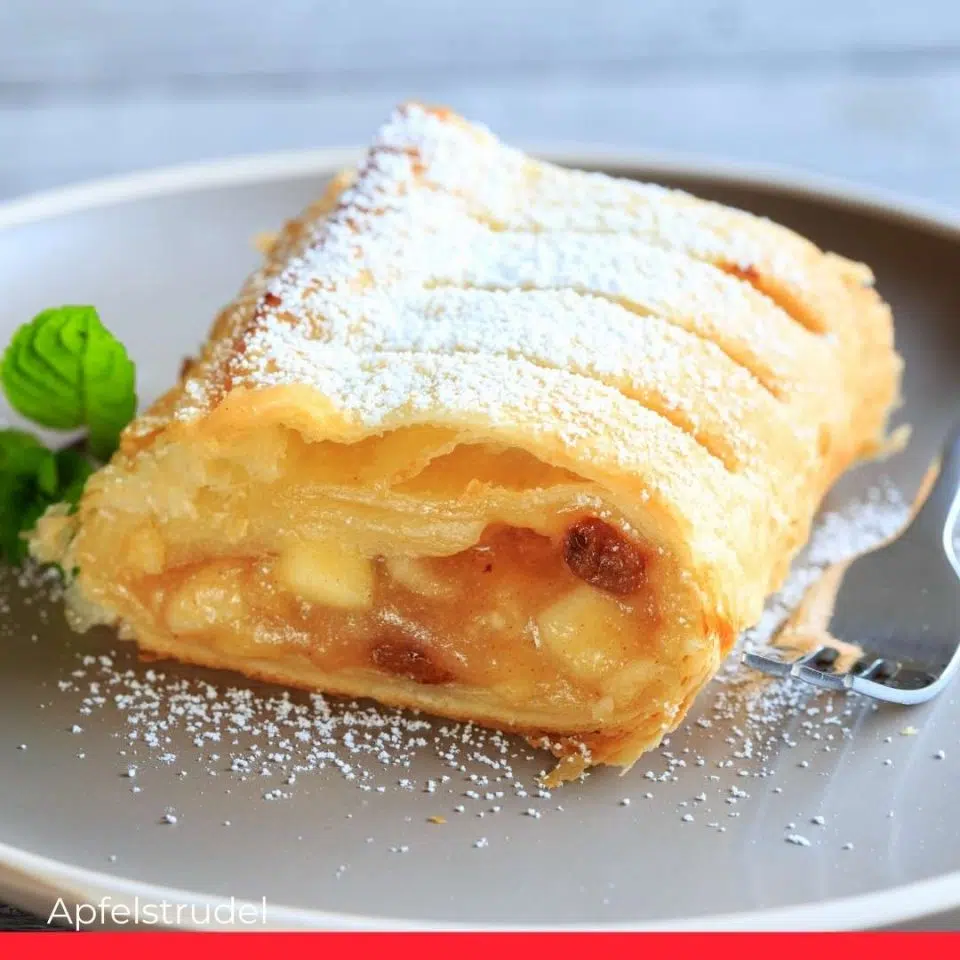 The Viennese Apfelstrudel is one of the most famous desserts in all of Austria. It consists of a thin layer of dough, filled with apples, raisins, nuts, and breadcrumbs, making it the perfect winter treat.
To create your very own Apfelstrudel, all you need to do is mix together water, flour and oil. After letting the dough rest for at least half an hour, you can spread it out as thinly as possible, add apples, raisins and nuts on top and roll it together like a burrito.
Once you've put it in the oven for 50 minutes, you can add some sugar on top or enjoy your Apfelstrudel with some custard in summer or vanilla ice cream in winter.
2. Mozarttorte (Mozart Cake)
Do you know the famous Mozartkugeln? Well, the Mozarttorte is a Mozartkugel transformed into a cake. Named after Austria's most famous composer; this cake brings together chocolate, marzipan, pistachio cream and nougat.
If you want to re-create this receipe at home, a bit of patience is required: The cake consists of a layer of chocolate cream, another layer of nougat cream, as well two layers of dough made of egg whites, egg yolks, sugar, flour, cocoa-powder, food starch, and baking powder. But that's not all: You will also need to create a layer of pistachio cream and marzipan to add in the middle.
While this cake is fairly labor-intensive, your efforts will be worth it: It is one of the most delicious cakes to be found in any Austrian cake shop. 
3. Kaiserschmarrn (Emperor's Mess)
Kaiserschmarrn is a kind of scrambled pancake that is usually served together with apple sauce. It has gained its name from the Austrian Emperor Franz Joseph, who was particularly fond of this dessert. To make it, you don't even need an oven.
Simply mix together eggs, flour, sugar, and milk, as if you are about to make pancakes. Add raisins into the mixture, heat up a pan with plenty of butter and scramble the dough inside the pan. Add some applesauce or some Zwetschkenröster (roasted plum sauce) and you are good to go! You can find a more detailed recipe here. 
4. Kardinalschnitte (Cardinal's Cake)
Another favourite in every Viennese coffeehouse is the Kardinalschnitte. It was invented in 1933 to honor Kardinal Theodor Innitzer, which is why this fluffy cake is in the colors of the Vatican. But whether you are religious or not, this spongy, meringue-based dessert is sure to give your taste buds an out of this world experience.
If you want to try this recipe at home, you have to start by making meringue and ladyfingers, as well as some coffee whipped cream.
5. Marillenknödeln (Apricot Dumplings)
Warm apricot dumplings made from quark and covered in sugar and breadcrumbs are another Austrian dish you should not miss out on. Easy and quick to make, they continue to delight young and old alike.
To make your very own Marillenknödel simply mix together butter, sugar, flour, and quark. Then take your apricots, surround each of them with the dough and drop them into boiling hot water. Let them simmer for around 10 minutes and take them out. You then melt some butter in a pan, add some breadcrumbs and let them fry before covering them in sugar.
Little tip: Austrians love to have dessert as a main meal, and this dish is often eaten as a meal replacement. This means you have every excuse to indulge in as many Marillenknödel as you wish…
6. Esterhazytorte (Esterhazy Cake)
Another staple in every traditional Viennese café is the famous Esterhazytorte. Named after the Hungarian diplomat Paul III. Anton Esterhazy, it was created in Budapest but quickly made its way to Vienna.
Made from layers upon layers of buttercream and sponge cake covered in white sugar glaze, it has remained a favorite among Austrians and visitors alike. If you want to try baking it at home, you will need some patience: As each layer has to be baked separately, you are sure to be in the kitchen for a while.
7. Malakofftorte (Malakoff Cake)
If you are a tiramisu fan, you are going to love this cake. After all, the main ingredients are ladyfingers and almond cream. And what makes this cake particularly special is that while it looks impressive, it is surprisingly easy to make: You don't even need an oven.
Just whisk together egg yolks, butter, and sugar and add ground almonds and cream. You then proceed as you would with a tiramisu, the only difference being that you dip the ladyfingers in milk instead of coffee. We promise that the hardest part will be to resist having a taste as you leave the cake in the fridge overnight.
8. Mohr im Hemd (Steamed Chocolate Pudding)
The Austrian dessert Mohr im Hemd has endured a fair deal of controversy. For starters, both Jacques Torres and Jean-Georges Vongerichten claim to have invented it. But it didn't stop there: Some human rights activists claim the name is racist, as it can be roughly translated as "black person in a shirt".
While name and origin may give cause for dispute, there is one thing everyone agrees on: It is probably the most chocolatey chocolate cake you will ever have tasted. Cooked in water and served hot, this delicious treat usually consists of breadcrumbs, sugar, yolk, almonds, cream, and…lots of chocolate
9. Salzburger Nockerln (Souffle Dumplings)
Salzburger Nockerln are basically vanilla flavored dumplings. In order to pay homage to the city of Salzburg, where this dessert was invented in the 17th century, this light souffle is usually arranged into three mounds. These represent the three hills that surround the city.
Salzburger Nockerln is another dish you can enjoy as a dessert or as a main and usually comes with some form of fruit sauce. To make your very own Salzburger Nockerln, you will need to mix egg whites with sugar until they have turned stiff. You then add egg yolks, vanilla sugar, flour, and cornstarch, before pouring it into a baking tray filled with vanilla milk.
But beware: Once you take your Salzburger Nockerln out of the oven you'll need to eat them quickly, before they collapse…
10. Linzer Torte (Linzer Tarte)
Having been first mentioned in a cookbook over 300 years ago, some sources hail the Linzertorte as the oldest cake in the world. While we will never find out if this is true, one thing is for sure: this shortbread pastry covered in marmalade is worth trying!
To create your very own Linzertorte, simply mix together butter, sugar, baking powder, flour, nuts, eggs cinnamon, lemonpeel, and vanilla extract. Once you've let it rest in the fridge for a while, all you have to do is roll out three thirds of the dough and cover it in marmalade, before adding some chopped almonds and covering it with the final bar-shaped layer of dough.
11. Bananenschnitte (Banana Cream Cake)
Bananenschnitten are among the most irresistible desserts you will ever taste: fluffy layers of sponge cake interspersed with cream and bananas covered with a layer of chocolate. What's not to love?
To create the sponge cake, you'll need to mix together egg whites, egg yolks, sugar, milk, oil, flour, and baking power. For the cream, you'll need to boil some milk and add in cornstarch and vanilla, before putting the mixture in the fridge to cool down. You then need to dissolve gelatin in boiling water, mix it with whipped cream and the cooled-down pudding.
Once you've taken the sponge cake out of the oven, you spread the bananas and the cream on top of it. You can then choose to create more layers of sponge cake, bananas and cream, or keep it simple by finishing your creation off with a thin layer of melted chocolate sauce.
12. Krapfen (Austrian Donut)
As part of the carneval celebrations that take place every winter, Austrians love to indulge in Krapfen, a kind of donut filled with apricot jam. The peak of these celebrations takes place on "Fat Tuesday", which Austrians call "Faschingsdienstag". It is the last day before the pre-Easter fasting starts, and the Faschingskrapfen therefore represent a last indulgence before weeks of fasting.
While even locals usually buy their Krapfen in the shop rather than make them themselves, you can make them at home.
Another seasonal treat you shouldn't miss are the wide array of Austrian Christmas cookies. These are usually baked by the entire family in the weeks prior to Christmas and then eaten on the day of celebration.
Usually there will be plenty left afterwards, which is why they will be laid out in every family home and served to guest who visit in the days following the 24th of December. While there are plenty of different types of delicious cookies to choose from, Vanillekipferl are by far the most famous Christmas cookie: Shaped like a half-moon, which is rumored to have been inspired by the two Turkish sieges of Vienna, these Vanilla cookies covered in sugar are the perfect treat for any cold day.
To make your very own Vanillekipferl, you'll need flour, sugar, almonds, hazelnuts, butter egg yolks, and vanilla extract. But beware: while making the dough is easy enough, getting the shape right requires quite a bit of sensitivity. 
14. Buchteln (Austrian Yeast Buns)
Buchteln are a traditional Austrian dessert that is served hot. They are a kind of jam-filled yeast bun that is usually served with vanilla sauce. While normally eaten as dessert, many Austrian families eat it as a main meal as well.
To make your very own Buchteln (or Wuchteln, as they are sometimes called), you will need to mix together milk, fresh yeast, flour, eggs, butter, and a little sugar. You then mold the resulting mixture into little balls. After filling them with apricot jam you put them in a baking tray and let them rise in the oven.
They are best enjoyed fresh out of the oven and covered with vanilla sauce.
15. Sachertorte
No list of Austrian desserts would be complete with this most famous of all chocolate cakes. Invented in 1832 by the teenager Franz Sacher, the Sachertorte later became a bestseller in his world-famous confectionary Café Sacher.
The cake became so popular, it even caused an embittered legal dispute between two of Vienna's oldest cake makers. Lucky for us, the dispute has been resolved: Whereas Café Sacher is the only place allowed to label their Sachertorte "original", its rival cake shop Demel has received official permission to attach the label "real" to their very own Sachertorte.
While the recipe for the "original" Sachertorte is a well-kept secret, you can still make and enjoy your own: All you need to do is mix together melted chocolate, softened butter, and egg yolks. In a separate bowl, mix together egg whites and caster sugar, before adding it to the original mix. Add some flour, mix it all together and bake it in the oven for around an hour.
The hardest part comes last. You now have to cut the cake in half in order to add the most important ingredient: apricot jam! Once you have spread the apricot jam in between the two halves, all you have left to do is spread some melted chocolate around the cake.
Of course, the 15 desserts above are just the beginning. There is plenty more to choose from. You will encounter other homemade Austrian classics such as the Gugelhupf, Topfenstrudel, Marillenkuchen and Palatschinken in almost every family home. However, you will need to visit an Austrian coffeehouse in order to taste yourself through their seemingly never-ending selection of traditional cakes. Is there a better reason for a trip to Vienna?
---
Related: Most Popular Austrian Foods
Related: Most Popular Austrian Cheeses
Related: Most Popular Austrian Christmas Foods