Typical Filipino Breakfast – Eat Like a Local in Manila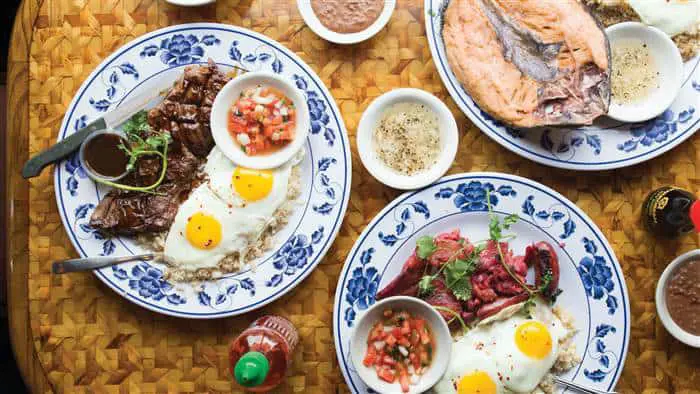 When talking about Filipino food, you can always expect a wide variety of flavors in each dish–sweet, sour, spicy, salty, and a whole lot of other flavors that can leave your taste buds wanting for more.
We've heard of dishes like Adobo, Sinigang, and Kare Kare, among many others commonly served in Filipino households with rice during lunch or dinner. But what exactly is a typical Filipino breakfast made of? Here is a list that will surely make you feel like a local in Manila –on top of giving you that well-needed energy to start your day.
1. Silog Meals
Filipinos love their silog breakfasts, and no one can argue that this should top the list at any point in the day. Its name is derived from two Filipino words, sinangag, or 'fried', and itlog, or 'egg'. Silog meals consist of fried garlic rice, egg, and basically anything else you'd like to add to your meal. Sometimes, atchara (pickled unripe papaya) or diced tomatoes with salt are thrown in to complement the dish.
And there are many varieties. There's the all-time favorite, the Tapsilog for tapa (a type of dried or cured beef, sometimes pork or chicken), the Longsilog for longganisa (Filipino sausage), Cornsilog for corned beef, Spamsilog for Spam, Hotsilog for hotdog, Tocilog for tocino (Filipino-style cured meat, usually pork), Bangsilog for bangus (milk fish), and Sisilog for sisig (a sizzling Filipino dish usually made with parts of a pig's head).
2. Pandesal
Pandesal is probably the most popular bread roll in the Philippines and is a staple in every Filipino household. Local bakeries, fondly called panaderias in the Philippines, and Pandesal vendors riding on bicycles already have the smell of these delicious bread rolls filling the air by between 4 or 5 am, usually selling out by 6:30 or 7 am.
Best paired with coffee or hot chocolate, this Filipino favorite is luckily quite easy to find. Just head out to the bakery nearest to you and they're sure to have what you're looking for! Just make sure to wake up early for this because only the early bird gets the Pandesal.
3. Champorado
Filipinos are known for their love of all things sweet. So much so that they incorporate sweetness into many of their dishes, and that includes the Champorado. This dish is a sweet chocolate rice porridge often served with your choice of milk (evaporated, sweetened condensed, powdered) and salty dried fish like tuyo or danggit as toppings. This rich, decadent, sweet treat will surely give you that much-needed energy boost in the morning.
4. Torta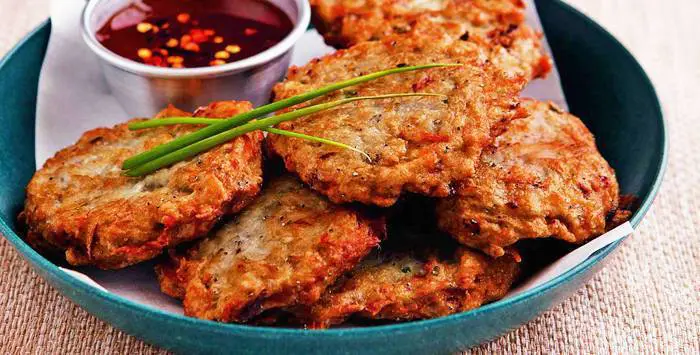 Still got some leftovers from last night's giniling (ground pork with small diced carrots and potatoes), eggplant, or sardines? Hit two birds with one stone by transforming what seems like an unsalvageable dish into a delicious breakfast served with rice – no food will be wasted, and you get to enjoy a delicious meal in the morning!
Tortang Giniling (ground meat omelette), Tortang Talong (eggplant omelette), Tortang Dulong (silver fish patties), and Tortang Sardinas (sardine omelette), among many other Tortas, are common in the Philippines, especially – but not limited to – after parties and celebrations. Filipinos love food so they make do with whatever leftovers they have and turn them into a whole new creation the following day. What a delightful way to be practical!
5. Arroz Caldo
Filipinos love having porridge for breakfast, and one in particular is the Arroz Caldo. This dish is a chicken rice porridge topped with scallions and boiled egg, then sprinkled with calamansi for that teensy bit of a sour spike. This is best eaten on a lazy weekend or when the weather is cold, as the Arroz Caldo is sure to warm and prep you up for a relaxing day ahead.
6. Daing na Bangus
Daing na Bangus, directly translated as dried milkfish, is a popular breakfast in the Philippines. The milkfish is butterflied and marinated in vinegar and garlic, then deep fried in hot cooking oil. Best served with salted tomatoes, fried garlic rice, and egg on the side, this dish is sure to wake you up and leave you wanting more!
7. Bibingka
Usually more popular during the holiday season, the Bibingka or baked rice cake is made with ground rice, coconut milk, and egg, and is traditionally cooked in clay pots called "bibingka ovens" lined with leaves. Wrapped in banana leaves, this treat gives you that native Filipino feel, even when you're in the middle of a bustling city. Bibingka is well-loved by Filipinos, which is why it comes as no surprise when you see bibingka kiosks and stores when you visit any local mall in the Philippines.
8. Tuyo
Tuyo, roughly translated as 'dry', is a salty dried fish in the Philippines which is also sometimes called bilad or 'sundried'. Despite having a pungent smell, Tuyo is a favorite among households in the Philippines and is often referred to as the 'poor man's fish' – which is quite ironic since prices for Tuyo have gone up due to demand! One factorleading to this dried fish being so coined may be its saltiness, which makes one or two small Tuyo enough for a whole cup of rice. Pair this with egg and you have a still relatively inexpensive yet filling and tasty meal!
9. Taho
What Filipino breakfast experience is complete without having some tahoooo! This is perhaps the most evasive Filipino breakfast ever, as taho vendors usually peddle between 5 am to 7:30 am, and more often than not, their "Tahooooo!" call is what wakes Filipinos up in the morning! This means you only have a few seconds to decide whether or not you want to have taho that morning, run outside in your pajamas (and, not to mention, your woke-up-like-this face and bed hair), and scream for Manong Taho (as taho vendors are fondly called) to come back. Sometimes, you even have to run a block or two just to catch him.
Going through all these lengths just for soy pudding with caramel syrup and tapioca pearls is part of the Filipino taho experience. And if basically every Filipino has run after Manong Taho at least once in their lives, well that's because this sweet treat is worth it!
10. Puto Bumbong
Simbang Gabi or 'Night Mass' is a devotional Mass celebrated in the Philippines for nine consecutive days, often held at 4 in the morning and culminating on Christmas Eve. No Night Mass is complete without having some Puto Bumbong from stalls just outside your respective parish church, making for a cheerful breakfast and a wonderful and early start to your day.
Similar to Bibingka, the Puto Bumbong is a popular holiday rice cake in the Philippines and is made with a mixture of purple ground rice steamed inside a bamboo tube. This delicacy is often topped with melted butter, brown sugar, and grated coconut.
Suffice to say, Filipino breakfast is far more than just delicious food. It is closely tied to Filipino culture and tradition, and having these scrumptious dishes and treats for breakfast can make you feel as if your whole Filipino experience is finally considered complete –but then again, that's just breakfast. There's still lunch, merienda (or 'snack'), and dinner!