Top 20 Most Popular Chilean Desserts
If you like really sweet, creamy desserts and cakes, then you will find plenty to make you happy in Chile!
While the country doesn't have many unique specialties, Chileans have a sweet tooth and enjoy pastries and anything else filled with manjar, which is their equivalent of dulce de leche.Many of these desserts are directly inspired by European patisserie but have been tweaked to give them a life of their own. Make sure to also check our ranking of the best Chilean foods.
1. Alfajores
Chile's favorite pastry – although it happens to be Argentina's favorite as well and is found in many other Spanish-speaking countries which all offer their particular twist on the basic concept.
The Chilean alfajor is usually composed of two light, crispy biscuits made with egg yolks and cornstarch. The two biscuits are stuck together with a layer of manjar, aka dulce de leche, a luscious soft caramel before being coated in dark chocolate or covered with coconut powder. They are very popular not only as desserts but also as a sweet snack or along with a cup of tea.As for the filling, while dulce de leche is the favorite, you will also find alfajores filled with marmalade or chocolate.
2. Cuchuflis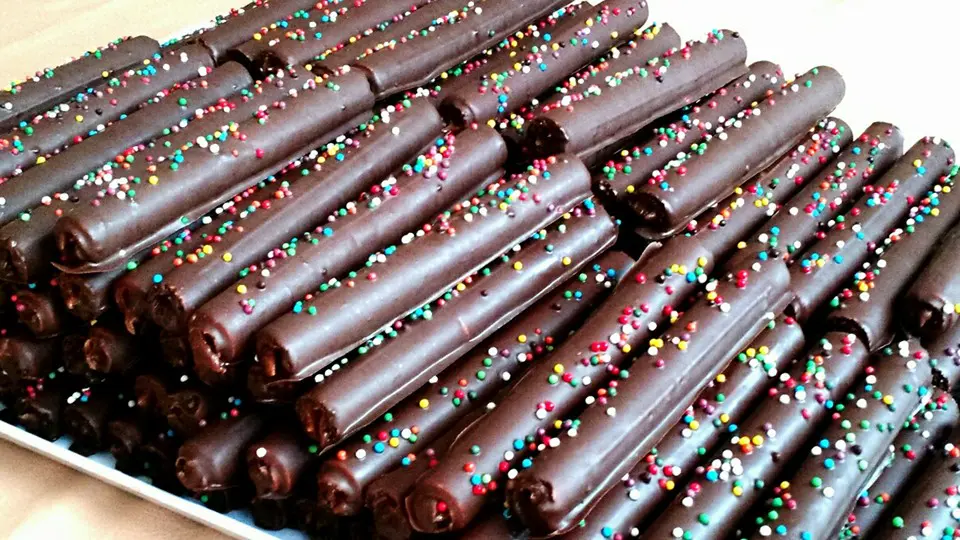 Try to imagine a wafer cookie, rolled into a tube, and filled with dulce de leche: that will give you a pretty good idea of what a cuchuflí is. Very crispy and lighter than alfajor, they are made with sugar, flour, butter, egg whites, and vanilla flavoring. And for an upgrade, you can have cuchuflís covered with chocolate – dark or white.
Ideally serve with tea or coffee at the end of lunch or by itself whenever you feel like a sweet treat.
3. Torta de Mil Hojas
This is one of several desserts on this list with an interesting name: "Cake of a thousand leaves". That's because it is made of layers of thin, crispy pastry, alternating with manjar and crushed walnuts. Sometimes, layers of red fruit jam (usually raspberries, cherries or red plums) are added to bring a touch of acidity to the table.
This particular cake is often served on birthdays or for large family gatherings – and in huge portions. You will find it in any respectable pastry shop in Chile and many restaurants.
4. Torta Tres Leches
"Three-milk cake" is also a very typical dessert in Chile, but while Torta de mil hojas is crispy, this one is very spongy. No surprise, as it's soaked in three different kinds of milk: whole milk, condensed milk, and evaporated milk.
The result is a sponge cake on steroids as it is sweet with a very moist texture. And because Chileans have a sweet tooth, many people even add manjar to it or a topping of toffee sauce or whipped cream.
I personally like to add some fruit jam in order to balance the sweetness with something more acidic.
5. Leche Asada
Somewhere between a flan and a French crème caramel, leche asada gets its name "roasted milk" because of the way it is prepared. It's baked in the oven until the top gets slightly burnt, giving it a nice brownish color. The way it's baked leaves it with a thin crust on top, contrasting nicely in texture with the rest of the dessert, which is very soft and fluffy – and of course, very sweet and full of flavor.
One of the most popular desserts not only in Chile but in several South American countries, this dessert is as rich as it gets, being made of milk, eggs, vanilla, and sugar.
This is usually a homemade dessert, with recipes varying from one family to the next. Adding some ground cinnamon as a topping just before serving gives it a nice kick, too. And by the way, regular flan is also very popular in Chile.
6. Mote con Huesillo
Officially, this is a drink. But in our opinion, there are way too many solid elements in it to call it a drink. We will let you decide!
Mote con huesillo is basically a dried peach immersed in its own juice mixed with caramelized sugar, water, and a hint of cinnamon. It creates a kind of syrup, to which you add a fair amount of cooked mote, a local type of barley.
This "drink" is typically served on street stalls, especially in summer. It is supposed to be refreshing… but honestly, you could have it for dessert instead. Make sure to have a glass of water handy because it could leave you pretty thirsty!
7. Sopaipilla
This is one of Chile's favorite snacks or appetizers. It looks like a tiny, round piece of bread. But it's actually a special kind of spongy bread made with fresh pumpkin. The sopaipillas are gently fried and can be eaten alone or with savory ingredients. However, they also turn into a dessert called sopaipillas pesadas. This sweet version is very popular on cold and wet winter days, when they are served with chancaca on top. And what is chancaca, you may wonder? It's a warm syrup made with raw, unrefined sugar, with a bit of orange peel and cinnamon.
8. Pan de Pascua
This is a seasonal cake prepared for the Christmas season. Pan de Pascua means "Easter Bread", which comes from the fact that Christmas is often (and mistakenly) called "La Pascua" in Chile, rather than "Navidad". Pan de Pascua comes from the Italian panettone and the German stollen, both brought to the country by immigrants.Over time, it has evolved from these two specialties to become a rich, heavy, thick cake full of nuts, sweet spices, and dried fruit, with a little bit of brandy or rum in the mix. The cake, which can get a bit dry after a couple of days, is usually served with a typical holiday drink called Cola de mono (literally "monkey's tail"), a sweet cocktail made with coffee and milk. Cheers!
9. Chirimoya Alegre
Chirimoya is a local tropical fruit found in Chile, Peru, and Ecuador. Better known as custard apple in English, it has a very distinctive taste and creamy texture – a bit like if you blend a banana and a pear together. It's very good by itself or in a juice, but has a lot of seeds.A more elaborate way of preparing it involves slicing the fruit into small pieces and pouring fresh orange juice all over it. Brown sugar, cinnamon, honey or even mint leaves can be added to give an additional kick to the recipe. And by the way, this is called Chirimoya alegre ("Happy custard apple") because it, unsurprisingly, makes people happy!
10. Turron de Vino
This is a recipe the Spanish brought over in the form of turrón, their traditional nougat. But then the Chileans had the ingenious idea of adding some red wine into the mix – well, not wine directly, rather a syrup made with a blend of wine and sugar added to egg whites to form a kind of soft meringue. This creates a nice contrast to the oiliness and toughness of the turrón.
This is not a dessert you will find in restaurants, but rather at family gatherings.
11. Kuchen
Another dessert with a strong European influence, German this time. It is little known outside of Chile and Argentina, but thousands of Colons from Germany settled in the south of Chile in the middle of the nineteenth century, bringing with them traditional recipes. One of them was kuchen, the German word for cake. Large in size, it is rather airy and filled with a variety of toppings and fillings.The most typical variety is kuchen de manzana, or apple cake, as apples are very common in the region where the settlers first arrived. Raspberries and blueberries are also commonly used, and pieces of walnuts or almonds are often added to the top of the cake. You will find kuchen (and strudel!) all over the center of southern Chile, from Concepción to Puerto Montt.
12. Lúcuma con Manjár
Lúcuma is a rather unusual fruit, sometimes nicknamed "egg fruit" for its peculiar taste. It is commonly found in Chile and Peru. Eaten alone, it's not particularly yummy, and its yellow meat with dry and fibrous texture is not very appealing. In fact, it's rather like a poorly cooked sweet potato.But, blending it into a purée with manjár gives lúcuma a nice, toffee-like taste that combines harmoniously with the sweetness of the manjár. It can also be prepared as an ice cream, which you will find at any good ice cream parlor in Chile.
13. Torta Merengue-Lúcuma
This is probably the best way to prepare lúcuma. This fruit is great when paired with manjár. However, it's even better as part of Torta merengue-lúcuma, where a soft dough and a crispy meringue combine perfectly with a heavy cream of lúcuma, vanilla, and cinnamon. Shredded almonds can be added as a topping to add some crunchiness to the cake.There are many other cakes that are very popular in Chile, such as Selva negra ("Black Forest") and Torta Amor ("Love cake"), but we would need an entire list just for cakes!
14. Leche Nevada
This particular dessert comes originally from France, but like many other European desserts, it has been "Chilenized" – starting with the name: called "floating island" in French, it has become "snowy milk" in Chile.The base is an egg custard, covered in a cloud of meringue that seemingly floats on top. Leche nevada is usually served in a small glass along with coffee. A dash of ground cinnamon on top is sometimes added for some extra taste.
15. Brazo de Reina
Literally the "queen's arm", this is the Chilean version of a Swiss roll. So now, you may wonder, what is a Swiss roll? Think of a soft, flat, spongy cake. Spread on some jam or whipped cream or chocolate, then roll it until the filling creates a swirl in the middle. That's a Swiss roll.
In Chile, the jam or whipped cream is typically replaced with… you guessed it: manjar. It's a dessert that is often served during Christmas holidays.
16. Cocadas
Cocadas come from coconut. This is a very easy-to-make yet delicious dessert, which requires only two ingredients: sweetened coconut powder and eggs.The end result is a series of tiny, tasty, soft balls with great flavor – and they are completely gluten-free. A nice twist is adding brandy to the mix to give it some extra taste. Chopped almonds can also be used to garnish the top of the cocadas.
17. Berlines
As the name suggests, this is another recipe straight from Germany. The texture is similar to a doughnut, being a soft dough lightly fried on both sides, and there are a variety of fillings.The Chilean's favorite? Manjar, of course! But you will also find berlines filled with custard, fruit jam, cream, and hazelnut spread. Typically, powdered sugar is sprinkled on top of these pastries.
18. Calzones Rotos
This is another humorously named dessert, as calzones rotos means "torn underwear". The story goes that a woman who used to sell these fried cookies in the town square got her skirt lifted by a gust of wind, exposing, unfortunately for her, a hole in her underwear.
We can fairly say that this name arose in the pre-feminist era and would probably be called something very different today. But what are they? Calzones rotos are nothing more than fried cookies, served hot with a dash of powdered sugar. Slightly crispy outside and soft inside and not too sweet, they are typically served in winter.
19. Mousse de Maracuyá
Maracuyá is a tropical fruit commonly known as passion fruit in English. The fruit itself is quite acidic, sour and full of seeds. But if you add sugar to it and prepare it as a mousse (as in chocolate mousse), it transforms into a very nice, flavorful dessert – and also much lighter than all the pastries we've given you so far!
20. Colegial
Also known as Budín de pan, this is the Chilean version of bread pudding, and a great way to use up your stale bread. Simply add milk, sugar, eggs, and raisins to the bread and blend it all together to create a thick, moist preparation that looks almost like a flan. Then cover it with caramel and lightly bake in the oven.
Cinnamon, vanilla, orange peel, and pieces of apple are usually included in the mix to give it extra flavor. It's a recipe that is used much less these days, as people tend to throw their stale bread away. What a shame!
BONUS TRACK 1: Fruit
There are many other desserts that are very popular in Chile, such as lemon pie, rice pudding, semolina pudding, bavarois, and pancakes.
You will also find local fruit in simple preparations, such as papayas served with cream (especially in the center of the country up north), chestnut purée made with real chestnuts (especially in the south of Chile), or bananas with palm syrup, which is extracted directly from the leaves of palm trees and has a taste similar to dark honey or maple syrup.
BONUS TRACK 2: Ice Cream
Chileans love ice cream and eat it all year long. Here, you will find some interesting local flavors, such as manjár-lúcuma, which we've already mentioned.
If you go to the Atacama desert, we recommend you try rica-rica (an aromatic local herb), chañar (a local fruit) and algarrobo (carob fruit) ice cream. And in the south of Chile, maqui ice cream is a popular choice – and is rich in antioxidants. All of them are made with natural ingredients.
---
Make sure to also check out our report on the best 25 foods you can enjoy in Chile.
Related: Popular Christmas Foods in Chile