Savarin Cake (Savarina) – Romanian Rum Baba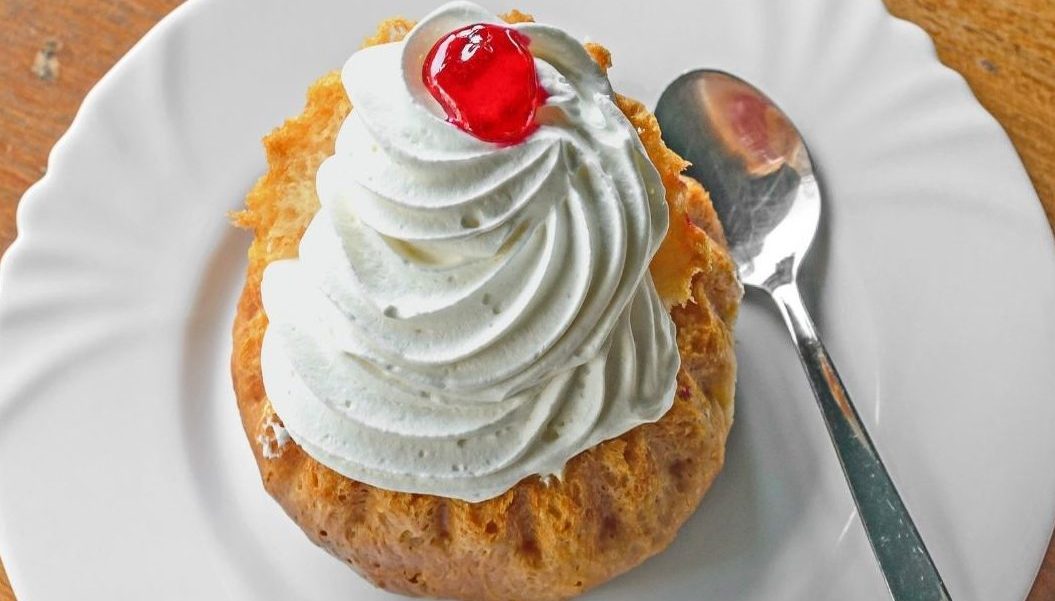 Savarina cake is a baked delight soaked in rum syrup, topped with sweet whipped cream and served chilled with tart jams or a sour cherry on top. ⁣
This popular Romanian dessert used to be served on special occasions, but now it's widely available in every traditional Romanian cake shop.
If you have a sweet tooth and a love for cooking, you can give this savarin cake recipe a try – it goes perfectly with a cup of tea or a good coffee. Enjoy!
Romanian Savarin Cake/Baba au Rhum (Savarina)
Ingredients
Dough:
5

oz

whole milk

1

packet

dry yeast

1

tbsp

sugar

2

cups

cake flour

2

whole eggs

2

egg yolks 

2

tbsp

oil

¼

tsp

salt
SYRUP:
1 ½

cup

water

¾

cup

sugar

¼

cup

dark rum

2

tsp

lemon zest
GARNISH:
2

cups

whipped cream

2

tbsp

sugar

2

inch

vanilla pod 

2

tsp

lemon zest


2

tbsp

jelly
Instructions
How to Make Savarin Cake:
Heat the milk to around 110 °F (45 °C). Add the yeast and sugar, and mix well. Set aside for about 2-3 minutes until the milk starts to bloom (you'll see it bubble up).

In a large mixing bowl, combine the flour, eggs, yolks, oil and bloomed yeast-milk mixture. Using a spatula, gently stir and mix the dough until it becomes smooth and silky. Add the salt and stir one more time. Cover the mixing bowl with plastic wrap and let the dough rest for 20-30 minutes until it doubles in size.

In the meantime, prepare the syrup. In a medium saucepan, mix the water and sugar and bring it to a boil over a medium-high heat. Stir until the sugar is completely dissolved, about 2-3 minutes. Add the rum and lemon zest and boil for 2 more minutes. Remove from the heat and let the syrup cool.

Preheat the oven to 360 °F (185 °C) degrees.

Place parchment baking liners in a muffin pan. Using a spoon, fill each muffin cup about 3/4 full. Allow it to rise for a second time until the dough rises close to the top, about 10-15 minutes.

Place the muffin pan in the oven and bake for 20-25 minutes, or until the top is golden brown*. Remove from the oven and let them cool.

In the meantime, in a large metal bowl, mix the sugar, vanilla beans, lemon zest and whipping cream. Using a whisk or a hand mixer, whisk until you get stiff peaks.

When the cakes are cold, flip them upside down and cut them crosswise about one inch from the top (flat side) to make a little lid.

Immerse the cakes in the rum syrup and let them soak for about 30 seconds each.**

Spoon whipped cream into a pastry bag. Pipe the whipped cream between the layers of the cake.

Using a knife, carefully spread jelly on the top of each cake.

Place the savarin cakes in the refrigerator for an hour before serving.
NOTES:
*  The baking time depends on the size of the cakes, but it shouldn't take more than 25 minutes.

** For extra moist cakes make double the amount of rum syrup and soak for 1 minute instead.
Notes