Popular Maldivian Foods – Top Dishes to Try Out in the Maldives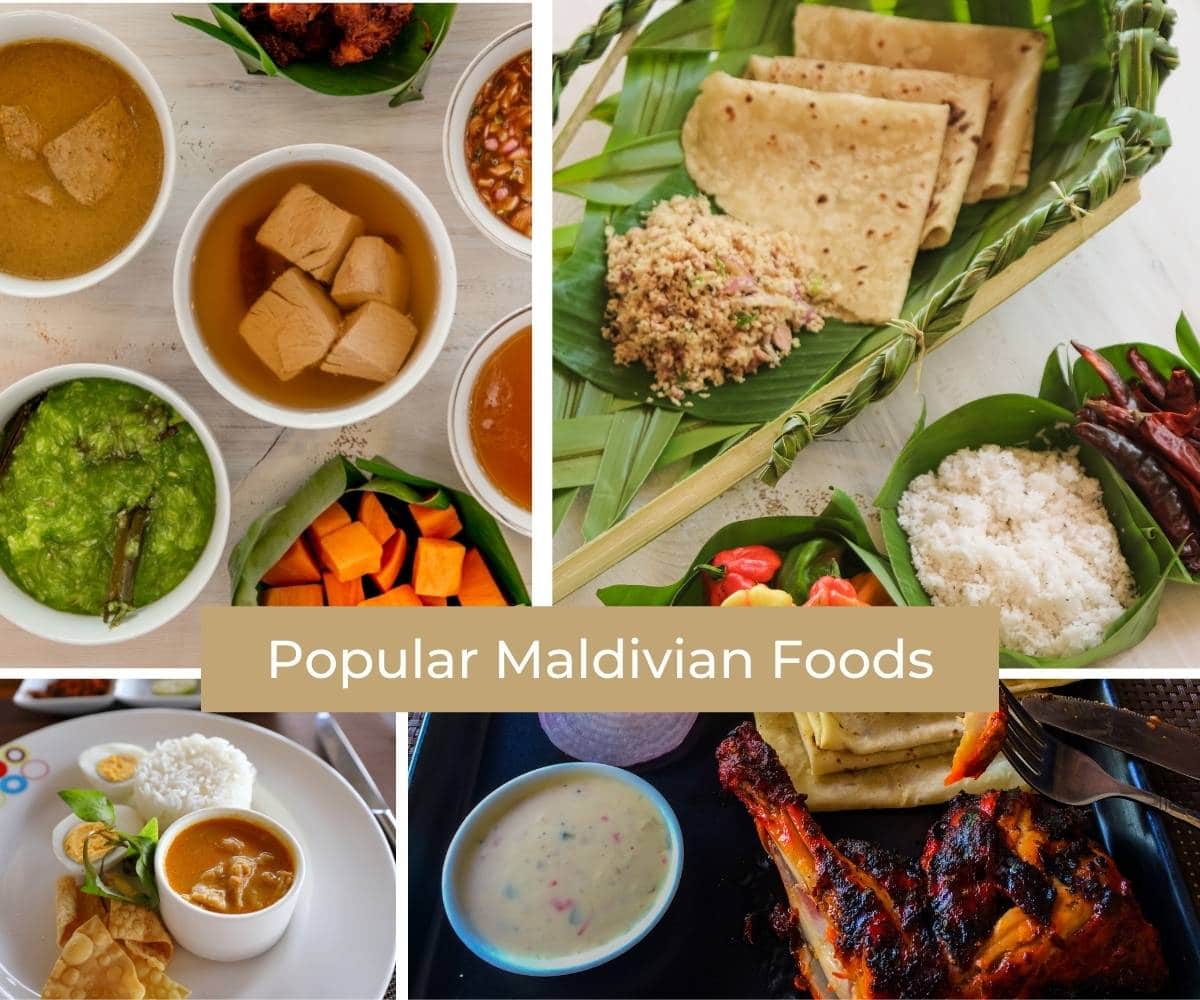 Maldives, most well-known for its white sandy beaches and crystal-clear sea, is often described as a paradise on Earth. But have you ever wondered about Maldivian food?
Well, although there is no specific cuisine that belongs to Maldives, there are many traditional dishes that have been prepared in homes since the oldest of times. This list consists of main dishes, sides, and snacks that are most commonly eaten by Maldivians.
If you ever visit the Maldives, make sure you try some of these local flavors! Or you can even make them at home and bring Maldives to you!
1. Rihaakuru
Rihaakuru is one of the most famous traditional dishes in Maldives. It is commonly eaten with roshi (Maldivian flat bread) and rice. Although it is not the most aesthetically appealing food, it has greatly infused flavors.
Making rihaakuru takes a lot of time. A mixture of tuna in water and salt is continuously stirred on low heat for hours until it becomes a thick dark paste. Maldivians like to eat rihaakuru together with some other local side dishes such as fried fish, fried leaves, coconut milk, and masmirus (a mixture of dried fish and chili).
2. Garudhiya
Garudhiya is the key stone of Maldivian traditional food and is loved by almost every Maldivian. It's a very simple dish that involves cooking tuna in stock for a few minutes. In other words, it's pretty much a fish soup.
However, Maldivians rarely eat is as a soup, preferring to have it with rice or roshi. It is recognized that the flavor of garudhiya improves as it is reheated over a few days. Side dishes such as lonumirus (a paste of crushed chilis), fried fish, and fried leaves are commonly eaten with it.
3. Muguriha
Muguriha, or dhaal curry, did not originate in Maldives, but the version cooked here is distinct. It is most commonly eaten with rice and rarely with roshi.
Unlike other curries cooked in Maldives, muguriha is a fairly plain one, since it contains few spices. It is the perfect choice for someone who wants to enjoy a mild curry with a unique flavor.
4. Mashuni
Without a doubt, mashuni has to be the trademark of a Maldivian breakfast, and no breakfast is complete without some mashuni and roshi. Mashuni translates as mas (fish) and huni (dessicated coconut), which are the two main ingredients.
The fish used for mashuni the canned tuna produced in Maldives. It is then combined with onion, lemon, and chili, which is the simplest way to make it. In fact, mahuni comes in a lot of different flavors. A lot of Maldivians like to add boiled thoraa (sponge gourd) or baraboa (pumpkin) too.
5. Masfen
Masfen is one of the simplest dishes to make, yet a truly scrumptious one. This is another dish made with canned tuna, but this time it includes fresh coconut milk, onion, lemon, and chili. Mix them all up and the dish is ready to go.
It is usually eaten with rice, but other common accompaniments are smoked fish, masmirus (a mixture of dried chili and fish), and dried leaves.
6. Bondibaiy
Bondibaiy is one of those dishes that fills one with nostalgia since it is almost always cooked on special occasions. It is a rice steamed with sugar, rose syrup, and pandan leaf. Although a sweet dish, it is mostly eaten together with a spicy chicken or beef gravy.
To be frank, kids these days never get to eat this much since it is rarely cooked at home. However, occasions such as christenings are incomplete without servings of bondibaiy. Traditionally, bondibaiy was cooked with large grain rice (aadhaige handoo) but basmati rice is more common these days.
7. Fish Curry
Fish curry is one of the most common curries in Maldives. A lot of families make a living selling fish. Fish is such an important part of Maldivian dishes that there is even an old saying: "fish swim in our veins".
Traditionally, a paste of different spices will be made by crushing and rolling various types of chilies.
Fish curry is usually eaten with roshi in the morning and with rice for lunch and dinner. Different types of fish are used in different parts of Maldives, and the taste and thickness of the curry varies. One version is golha riha, which is cooked specifically in the Laamu Atoll.
8. Chicken Curry
Chicken curry and other chicken dishes are traditionally related to special occasions and, very commonly, Fridays!
Cooking chicken curry for lunch on Friday is common practice all around Maldives. Although imported spices are used more in the city, local islands still make their own spices to use in their curries.
It is common to make satani (salad) using vegetables such as carrots, cucumber, and lettuce, or leaves such as kopee faiy (cabbage leaves).
9. Masbaiy
Masbaiy is a traditional rich dish. Its yellow color comes from the yellow spice (reendhoo) added into it. It also has unground pepper which gives it a special flavor.
Masbaiy is commonly eaten with rihaakuru and dried leaves, raw chilies and onion. It is a dish that is often eaten on picnics on the beach or on visits to nearby islands.
10. Kulhimas
Kulhimas is one of the all-time favorite dishes of Maldivians. It is usually made with yellow fin tuna, which is the most commonly eaten fish in Maldives.
Different types of spices are added to it such as hanaakuri havaadhu (toasted spice) and lonumirus havaadhu (chilli spice). It has a little gravy and is very commonly prepared as a dish for breakfast. It is eaten with either roshi or rice.
11. Bajiya
Bajiya is one of the most famous snacks (hedika) in Maldives. Evening tea is one meal that Maldivians do not like to miss and almost all households will buy or make hedika for this special time. Bajiya is a triangular shaped snack that is spicy and very tasty.
It is cooked using valhomas (smoked fish) or canned tuna and different types of spices. Then it is wrapped in dough and deep fried.
In fact, in the capital city there is one small stall that is famous for selling the tastiest bajiya, known as Husnooge. Every evening you will see a long queue of Maldivians waiting to buy bajiyaas from Husnooge.
12. Gulha
Gulha is another snack famous in Maldives. There are two types of gulha with different coatings. Those with a soft coating are called fuh gulha and those with a crisp coating hard are known as handulu gulha. Both are made with flour with the addition of ground rice to make it hard.
The gulha is filled with a mixture of canned fish, onion, chili, and yellow spice. Like Husnooge for bajiya, there is a famous cafe called Saatanuge in Male city that sells handulu gulha.
13. Katlas
Katlas is one of the most preferred snack through the islands. There are so moreish, you just keep on eating one after the other and often lose count! It is a spicy mixture of mashed potato and canned tuna made into balls, which are then soaked in raw egg and dipped into a mixture of bread crumbs.
It is then deep fried until brown. Another type of katlas is made by putting a piece of hard-boiled egg inside; this is known as biskatlas.
14. Masroshi
Masroshi is one of the easier dishes to make. It is a snack common made for evening tea. It is simply stove baked dough filled with a tuna-based mixture, which varies depending on the chef.
It is mostly made using canned tuna, although it can also be made with pieces of dried fish.
15. Cream Jehi Banas
Cream jehi banas translates as bun with cream and is a common sweet snack made for evening tea. the cream is made with icing sugar, condensed milk, and artificial coloring, added for aesthetics. The amount of cream you put on your bun is up to you, but definitely the more cream, the better!
This is just a short list of the many local flavors Maldives has to offer. There are around 20 atolls across Maldives and you will notice that food is prepared in many different ways. But one thing is certain: there is no place in Maldives where you cannot find these delicious dishes!
---
Related: 50 Famous Indian Foods
Related: Most Popular Foods in Sri Lanka