16 Popular Dominican Christmas Foods
Christmas is one of the most anticipated holidays in the Dominican Republic. Christmas Eve dinner is that time of the year when Dominicans love to make different traditional dishes to enjoy with their family, neighbors, and close friends. The Christmas dinner is celebrated on Nochebuena or the evening of December 24th.
Dominicans go the extra mile and make extremely delicious food for Christmas, most of which are only made for the very important Christmas Eve dinner.
So, whether you're a tourist celebrating Christmas on this Caribbean island or a Dominican, you'll undoubtedly enjoy every dish served during Nochebuena. Without further ado, let's round-up the most popular Dominican Christmas foods.
Dominican Christmas Appetizers
1. Pastelitos y Quipes
Pastelitos and quipes are the main snack dishes Dominicans make during the Christmas season. Pastelitos are like mini-sized empanadas filled with cheese, chicken, or beef.
Then we have quipes, also known as kipes in the Dominican Republic, which are a Dominican version of the Lebanese kibbeh made with minced beef and bulgur.
Quipe is one of the most favorite appetizers among Dominicans all year round. During Nochebuena, families tend to snack on pastelitos and quipes before the main dishes arrive.
2. Telera Bread
Telera bread has been a Dominican Christmas tradition for many years. Telera is a type of white bread made with wheat flour, yeast, water, and salt.
It's about sixteen centimeters long, flattened, and oval-shaped, with two longitudinal marks running from side to side at the top.
As the Christmas season approaches, one of the classic gastronomic indicators is the appearance of telera bread. During the Christmas season in the Dominican Republic, stores and bakeries begin making the famous telera bread, which is only available during this time of year.
3. Dried Fruits and Nuts
For this festive season, dried fruits and nuts have evolved into a special part of the Dominican Christmas tradition. This dish, also known as coquitos, consists of various dried fruits and nuts that are placed in the living room to keep friends, relatives, or neighbors snacking on some treats before dinner is served.
This dish is considered for grown-ups, as kids don't usually tend to snack on dried fruits or nuts.
Popular Main Dishes Prepared for Christmas
4. Puerco Asado (Roast Pork, Chicken, or Turkey)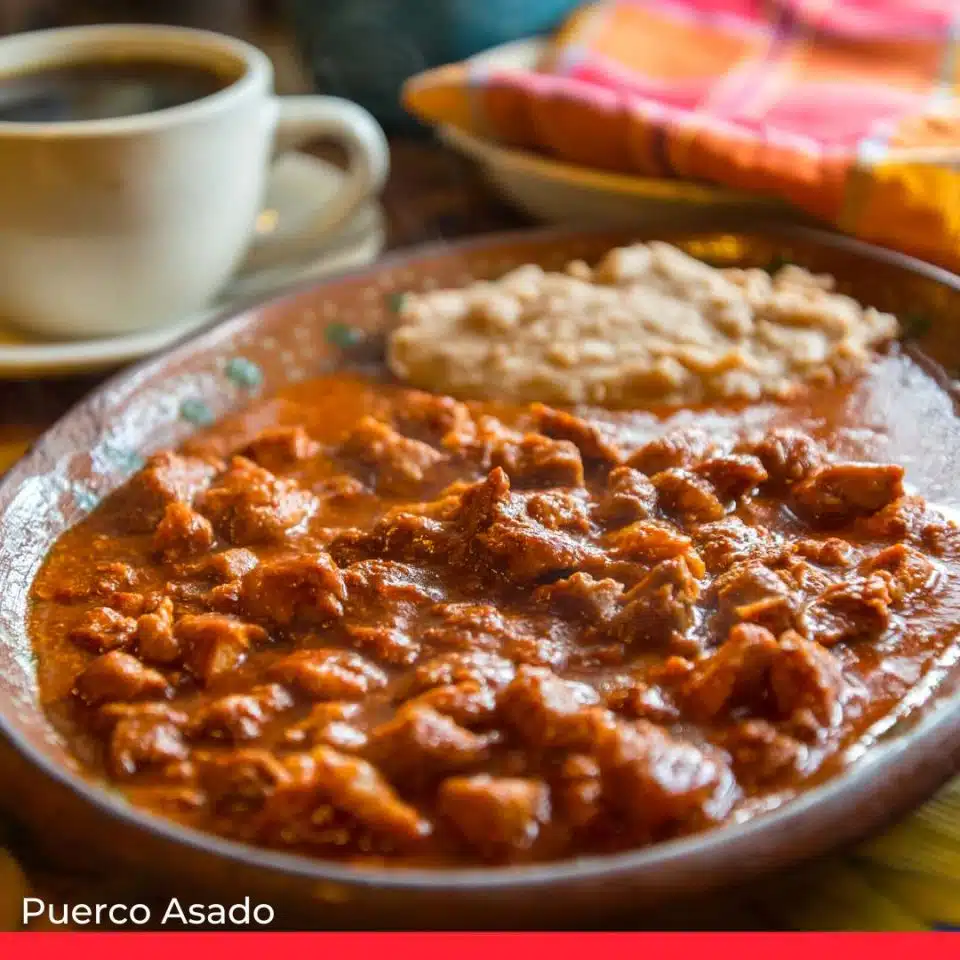 The classic Dominican Christmas pork roast, known as Puerco Asado or Lechon Asado, is the star dish of the holidays. This is the main course at any Dominican Christmas dinner.
Even though pork is the most common dish you'll find on the table of a Dominicans' Christmas buffet, roasted chicken and turkey are also popular choices.
These delicious roasted meats take the most time and effort to prepare out of all the main Dominican Christmas dishes.
5. Moro de Guandules (Rice with Pigeon Peas)
El Moro de guandules is a staple of the Dominican diet, but it is especially popular for Christmas Eve dinner.
This moro is made with rice, pigeon peas, and coconut milk, and it's usually seasoned with chili peppers, vegetables, garlic, pepper, oregano, and salt to taste.
6. Pastelón (Ripe Plantain Casserole)
In contrast to the Puerto Rican pastelón, which is made with fried plantain slices, the Dominican pastelón de platano maduros is made with boiled and puréed ripe plantains. The pastelon's main ingredients are ripe plantains, potato or eggplant slices, and various fillings such as ground beef, pork, or chicken.
There are multiple pastelon variations, but the most common for Christmas dinner in the Dominican Republic is ripe mashed plantains with ground beef filling layered with cheese on top or another version that consists of ripe mashed plantains with a chicken filling.
Dominicans' Christmas Eve dinner table must include a pastelon de platano Maduro.
7. Ensalada Rusa (Russian Salad)
The main ingredients in ensalada rusa are potatoes, eggs, and mayonnaise. This potato salad is popular in Latin America and it's a popular Christmas food as far south as Argentina.
This side dish is served with pork or chicken for Christmas and New Year's dinner.
8. Pastel en Hoja (Plantain and Beef Pockets)
Pasteles en hoja are originally a Puerto Rican dish, but Dominicans adopted it and made it their way.
It's made of grated plantains or yuca, which is later molded into a rectangular shape and stuffed with the favorite meat filling (chicken, beef, or pork). Then they're tightly wrapped in a banana leaf with a tiny white thread. Lastly, they're boiled and served.
Pasteles en hoja are usually served at Christmas Eve dinner and have become a must in Dominican households.
9. Ensalada de Coditos (Elbow Pasta Salad with Mayo and Tuna)
Mayonnaise, prickly pear, corn, carrot, peppers, olive oil, salt, ham, or cheese on elbow pasta. This delectable dish is ideal for Christmas dinner.
It is a classic macaroni salad with tuna or ham, but vegan options are also available as well.
10. Lasagna de Berenjenas (Eggplant Casserole)
Although it is not a traditional Dominican dish, it has become a staple of many families' Christmas Eve dinners across the country. This tasty and cheesy lasagna de berenjenas is made without pasta, replacing it with eggplant.
There are numerous ways to prepare lasagna de berenjena con carne; some people fry the eggplants beforehand, while others do not, making the dish healthier.
Post-Diner Foods
11. Pudin de Pan (Spiced Bread Pudding)
Pudin de pan has to be one of the official Dominican Christmas dishes that's never left out of this event.
It's made with bread, sugar, eggs, evaporated milk, cinnamon, vanilla extract, and lemon or orange zest. It's not too sweet and you can have as many slices as you want without feeling full.
12. Flan
Flan has to be one of the top Dominicans' favorite desserts. It is made of really simple and delicious ingredients that are just as sweet as it needs to be to satisfy your cravings.
It's made of eggs, sugar, water, condensed milk, evaporated milk, and vanilla extract. You can bake this in a regular baking dish or cake pan, or use smaller ramekins to make individual servings.
13. Ponche Crema de Ron (Christmas Eggnog)
Eggnog is a sweetened dairy beverage made traditionally with milk, cream, sugar, and whipped eggs. Spirits such as brandy, rum, or bourbon are frequently used.
A sprinkling of ground cinnamon or nutmeg is often sprinkled on top of the finished dish. A Dominican Christmas without ponche, or eggnog, is not even considered a holiday!
14. Turrón
Turron is a sweet dough obtained by cooking honey, sugar, and egg white, to which, after making the dough, you incorporate peeled and toasted almonds and then knead it into a rectangular tablet, which is the traditional way Dominicans eat it during Christmas Eve dinner.
15. Pan de Batata (Sweet Potato Bread)
This dessert is made with sweet potato as well as butter, condensed milk, grated coconut, grated ginger, cinnamon powder, evaporated milk, coconut milk, salt, and vanilla essence. Sweet potato bread is well known on the table of Dominican households during Christmas Eve dinner.
16. Fruits
A typical Dominican Christmas Eve dinner includes apples, grapes, and pears. These three fruits are served alongside dried fruits and gummies at the end of any typical Dominican Christmas feast, also being used for decorative purposes.
---
Related: Most Popular Traditional Dominican Dishes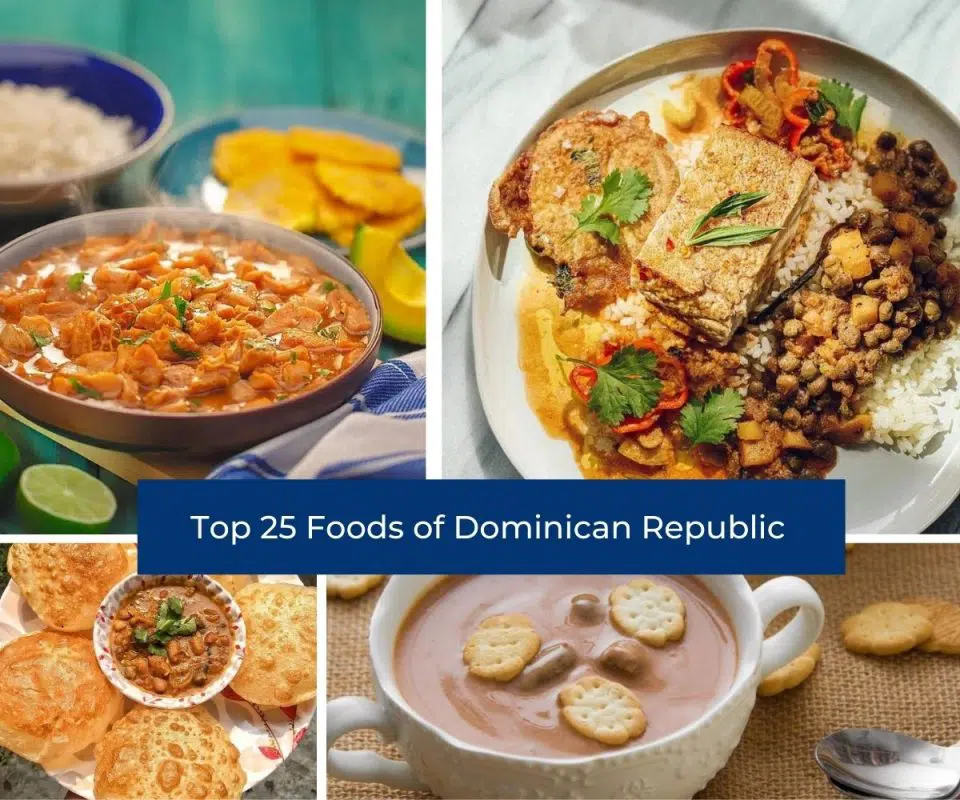 Related: 15 Popular Dominican Drinks