Traditional Polish Doughnuts/Pączki
Pączki have a long tradition in Polish cuisine and are most often translated to English as doughnuts. These popular pastries are prepared with leavened dough that is deep-fried until golden and crispy on the outside, while soft, light, and airy on the inside.
Polish doughnuts always have a jam-filled center, traditionally rosehip or plum marmalade, and are usually topped with powdered sugar.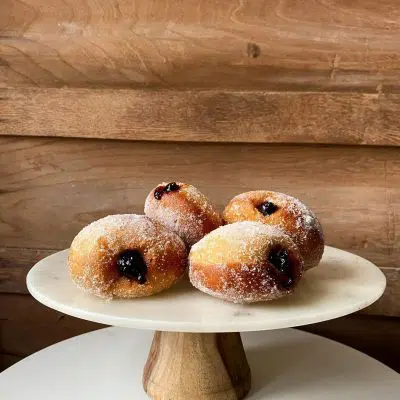 Traditional Polish Doughnuts/Pączki
Ingredients
2

packages

Yeast

8

cups

Flour

4

Eggs

2

tbsp

Butter

melted

3

cups

Milk

2

tbsp

Sugar

1

tbsp

Salt
POPPY SEED (MAK) FILLING:
1

cup

Poppy seeds

1

cup

Raisins

optional, rinsed and drained

1/3

cup

Honey

1/2

cup

Nuts

finely chopped

1

tbsp

Vegetable oil
APRICOT FILLING:
1

pound

Apricots

Sugar

to taste

1/4

cup

Crushed walnuts

Dash cinnamon

1

tbsp

Lemon Juice
Instructions
Dissolve the yeast as instructed on the package. Let stand 10 minutes.

In a large bowl, put in part of the flour (about 6 cups), making a well in the middle.

Beat the eggs lightly, add the melted butter, milk, sugar, and salt. Add this mixture to the flour along with the yeast.

Mix well and knead until the dough is soft and not sticky, adding the remaining flour only as necessary.

Knead for about 10 minutes.

Cover and let rise in a warm spot until double in bulk. Punch down and knead lightly.

Let rise again (or for a quicker, easier dough, make a batch of sweet dough in a bread machine on a manual setting, letting the machine take care of the kneading.)

Take a small amount of dough and roll on a lightly floured table. It must be fairly thick.

Cut out rounds, coffee mugs work well.

Place a small amount of one of the fillings (filling recipes below) in the center, bringing the edges together, and pinch well to seal tightly.

Place the pampushky seam-side down on a lightly floured surface, cover, and let rise a while, about 15 minutes. Do not let overrise.

Deep fry in canola oil, heated to about 375° F, for about 3 minutes, turning them to brown on both sides.

When removing, try to leave most of the oil in the pan, then place the pаmpushky on thick layers of paper towel to absorb the excess oil.
How to Make Some Alternative Fillings for Pampushky
Poppy Seed (Mak) Filling:
Grind the clean dry poppy seeds in a coffee grinder and add to the moistened raisins.

Combine well the honey, nuts, and vegetable oil and then fold into the poppy seeds.
Apricot Filling:
Boil the apricots until soft.

Drain thoroughly. Put through a food processor or blender.

Add the remaining ingredients.
Prune Filling:
The same recipe as for apricots but substituting the apricots for 1 lb. of pitted prunes.
Notes