Most Tasty Colombian Desserts to Try Out
If we are really honest, we have to admit that it's not just the children who enjoy desserts. We all carry an inner child that drives us to try desserts, especially if we are traveling to a new destination and they are new to our palate.
Typical Colombian cuisine is characterized by an enormous display of flavors and when it comes to enjoying sweets, Colombia is one of the best countries in South America to do so. It is widely known in the region for its famous craft markets, which are mostly dedicated to candies and desserts that are made in different parts of the country.
Keep reading to find out the top 15 desserts that you must try when visiting colorful Colombia.
1. Colombian Natilla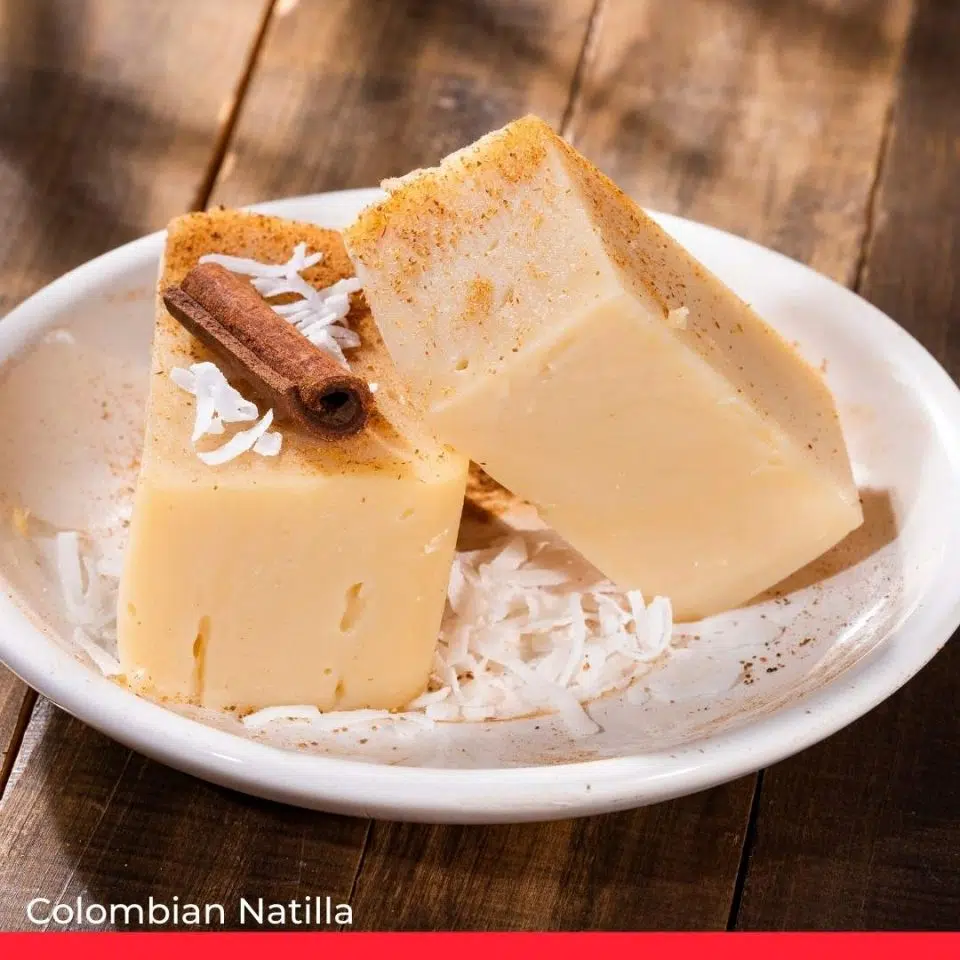 Christmas in Colombia is one of the most important events of the year, when family and friends get together, creating the perfect opportunity to share a delicious plate of natilla. This traditional dessert cannot be missing from a Colombian family's Christmas table.
Natilla is a custard that contains milk, cornstarch, coconut milk, grated coconut, panela (a traditional preparation derived from unfiltered sugar cane juice. It is used as a natural sweetener in different preparations of desserts and sweet drinks), condensed milk, and cinnamon.
There are white, brown, and even black Colombian natillas. The color depends on the ingredient used to sweeten it, whether white or brown sugar, panela, or even condensed milk.
At Christmas, this dessert is accompanied by buñuelos: little balls of dough prepared with wheat and corn flour as well as grated cheese.
2. Arequipe
Arequipe, also known as manjar, is the result of caramelizing milk. It is one of the most traditional desserts in Colombia, as it has been around for many years.
Arequipe is one of the most consumed sweets and the ideal complement for many other desserts such as obleas, roscon, cakes, brownies, different pastries, mixed with ice cream, chocolate, cookies, and more.
You can find arequipe pretty much everywhere in Colombia, from a supermarket to a bakery or restaurant.
3. Obleas
Colombian obleas are super thin wafers and they are widely consumed by the population. Obleas are sold on street stalls and are very versatile since they can be accompanied by various fillings. Among the many fillings, it is common to use arequipe, milk cream, grated cheese, jams, chocolate, and more.
They are made of flour, milk, sugar, and water and are very fragile, therefore they must be treated delicately. In other Latin American countries they are popularly known as Swiss cookies.
4. Merengón
Merengón is very popular in Colombia and can be found in most restaurants, bakeries, and food fairs.
Its star ingredient is meringue, which is made by beating egg whites with sugar and some flavoring. Layers of meringue are built with white cream and fresh fruit placed between them. Merengón, in short, is the Colombian version of pavlova.
Since Colombia is a tropical country with an infinity of delicious fruits, merengón can be made with different flavors. Among the most used fruits are mango, soursop, kiwi, and strawberry.
5. Solteritas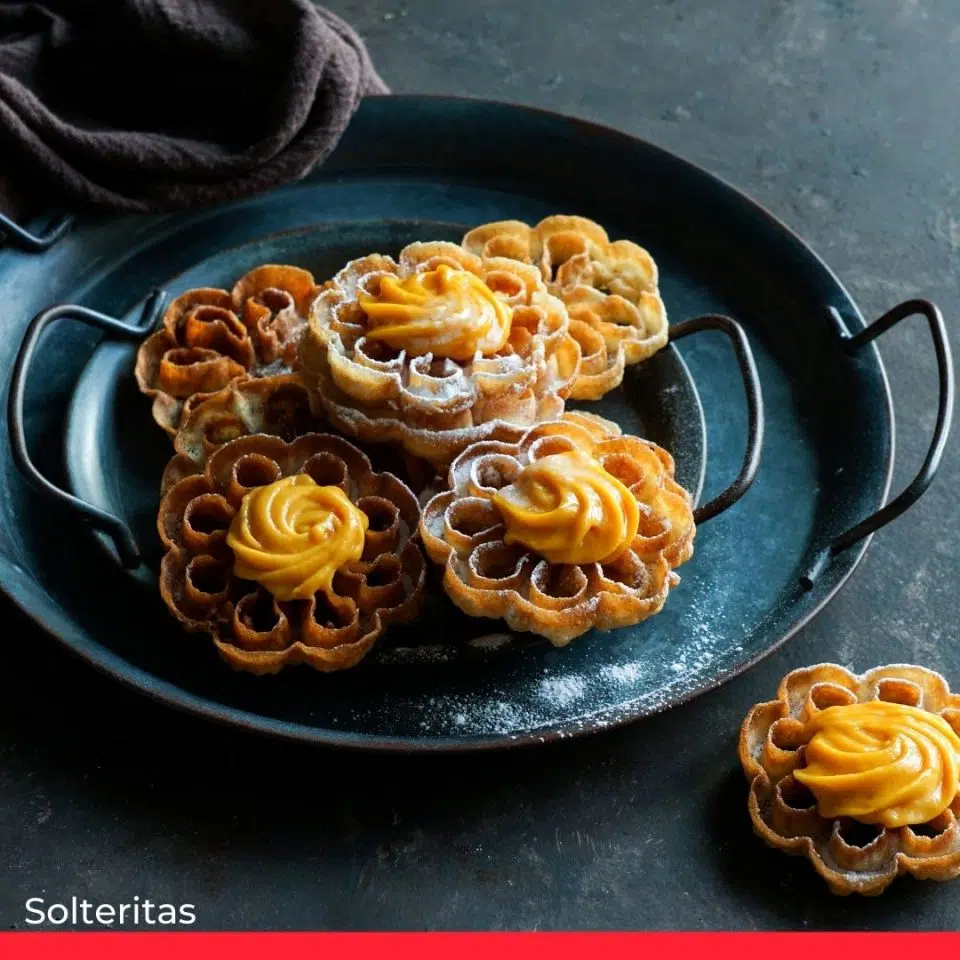 The translation of this dessert is quite amusing; it means "single ladies". Solteritas are striking sweet, light and quite crispy cookies, with an intense orange color and a sweet orange cream filling. They are made with wheat flour, water, sugar, essence of any flavor (although vanilla is used more often), and butter, or vegetable fat.
What makes this dessert special, is its intense orange color that is achieved with confectionery coloring.
6. Bocadillo
Bocadillo is a Colombian sweet that is very representative of the municipality of Velez, which is why it is often called "bocadillo veleño". It consists of a solid paste, the result of cooking the pulp of ripe guavas and sugar. Bocadillo is made with two different types of guava, white and red, and the texture ends up being hardish and bright.
The traditional product consists of small red squares, made of red guava, with two thin bands at the ends, which are made of white guava. Bocadillo has great health benefits such as strengthening the respiratory tract and regulating the digestive system, because it is rich in Vitamin C.
It is extremely delicious; you definitely need to try it!
7. Roscón
Commonly used to commemorate January 6th, the feast of the Three Wise Men, roscón is one of the traditional gastronomic products of Colombian pastry.
This is a sweet rounded bread with a hole in the center, stuffed with arequipe or bocadillo and sprinkled with sugar. It is ideal for breakfast, coffee or to enjoy after lunch.
8. Mazamorra
Mazamorra is very famous in Antioquia, although its ingredients are very simple and its preparation even more so. Mazamorra is made by cooking shelled white corn until it is very soft, then adding milk and panela to sweeten it.
It is usually served in large bowls, like those used to eat cereal. For Colombians, any time of the day is good to eat mazamorra.
9. Manjar Blanco
Manjar blanco is a sweet cream flavored with cinnamon and lemon peel. It is a typical dessert from the departments of Valle del Cauca and Cauca.
It can be consumed accompanied with cooked fig and/or curd cheese. Manjar blanco is a sweet that is made from milk and other ingredients such as sugar in syrup, soaked rice and a pinch of salt.
10. Torta Maria Luisa
Torta María Luisa is a very traditional dessert in some Colombian regions, such as Antioquia or Cundinamarca.
It is a fluffy orange-flavored cake divided into layers and usually filled with red fruit jam (although it can come with any other type of jam or dulce de leche) and decorated with powdered sugar. To achieve its delicious flavor, orange zest is used as well as orange juice.
The Torta Maria Luisa is ideal for enjoying at coffee time or to accompany a good tea.
11. Dulce de Tamarindo
Dulce de Tamarindo is a sweet made with tamarind pulp, water, sugar, honey, and a pinch of salt. It is super cheap and easy to make, and in many homes, it is prepared as an appetizer after meals. You can also find it in different shops and bakeries.
The mixture of sugar with the sourness of the tamarind makes this dessert a different and particular explosion of flavors. It is usually presented in the form of sugar balls. They are served after meals, for a snack, or any time you want to try something sweet.
12. Mantecada
The Colombian mantecada is a traditional cake from many regions of Colombia. It is made with cornmeal and a touch of liquor. It is very delicious and it is usually served in many celebrations, you can try it at any time of the year and day of the week since it is very popular.
13. Dulce de Brevas
Brevas are similar to figs, but somewhat larger and less sweet. Their color is purple, and the pulp can range from white to intense pink. Its shape is practically the same as a fig, which is why brevas are often confused with them.
Dulce de brevas is prepared for many special occasions, such as Christmas. It is offered at various gatherings with friends and family. It is not very complex to make, being cooked simply in a syrup made with clove or cinnamon, sugar, and water, until they are tender. For many Colombians, this dessert represents the flavors of childhood and home.
14. Pionono
Pionono is a kind of roll containing flour, eggs, and sugar in equal volumes. It consists of a thin layer of sponge cake filled and rolled up to form a cylinder. It is served at meetings and festivities as a main dessert, but also any time you want a delicious sweet. The fillings vary between arequipe and coconut or any type of marmalade.
15. Cholao
Cholado is a mix of fruits, delicious creams and milks, and crushed ice. Given the enormous variety of fruits that can be found in Colombia, cholao can be enjoyed in a wide diversity of flavors. It is simply delicious and extremely refreshing and ideal to enjoy on hot days.
Its original name was "the three girls", which included only pineapple, lulo (an intensely flavored citrus fruit), and lemon. In time, both the name and the type of fruits incorporated have changed, evolving to pretty much any of the zillion fruits Colombia produces.
We hope that by now your mouth is watering and your palate is beyond ready to try these top 15 Colombian desserts. As soon as you have the chance to visit this cheerful South American country, don't hesitate to give these sweets a try.
---
Related: Most Popular Colombian Foods