Top 15 Most Popular Irish Desserts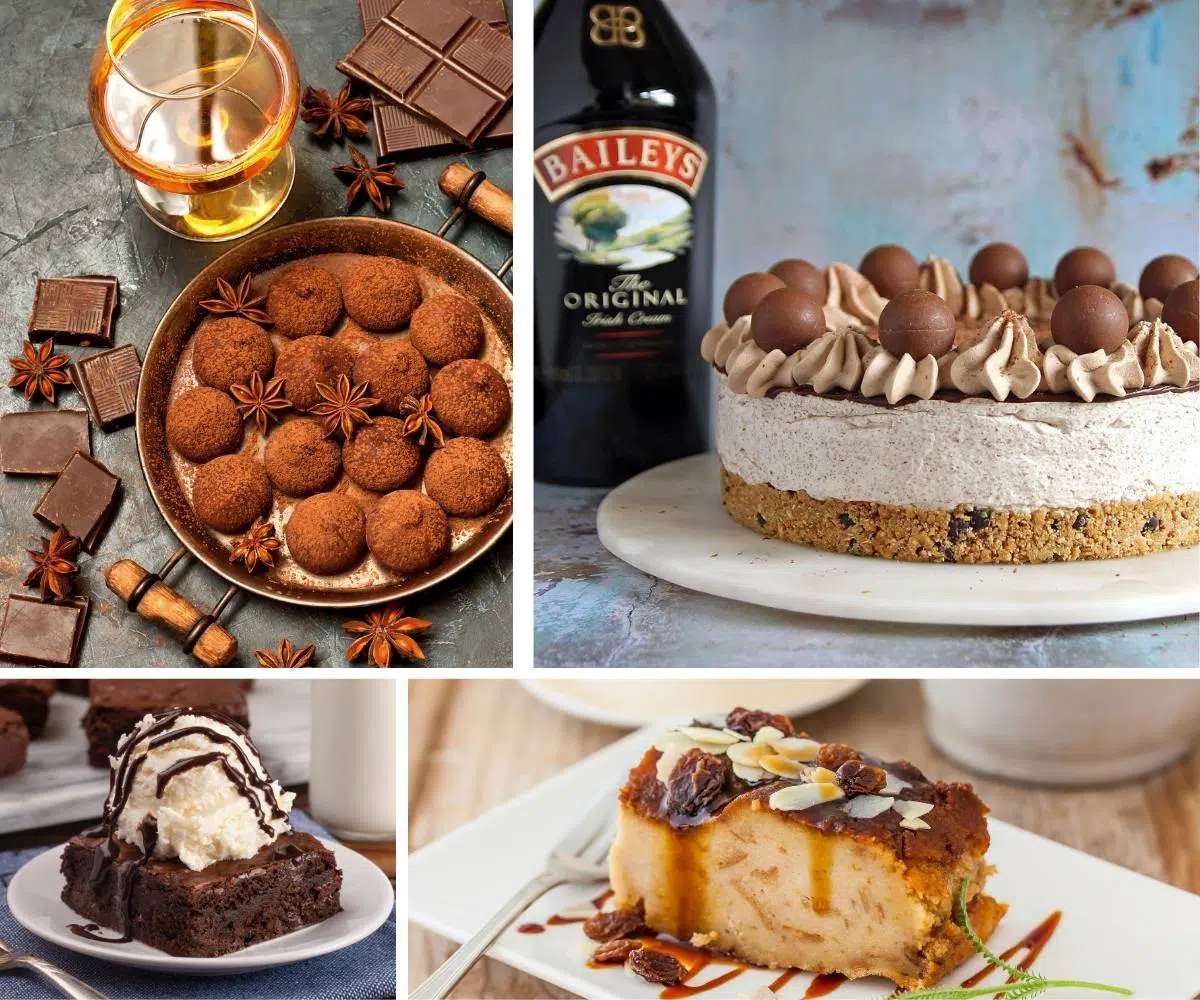 When most people think of Irish food, the first dishes that spring to mind are usually hearty comfort foods like Irish stew, a cooked breakfast (the world-famous "fry"), or the old Irish staple bacon and cabbage. However, the Emerald Isle also boasts a mouth-watering array of delectable desserts to satisfy even the most insatiable sweet tooth.
If you're looking for inspiration for your next sweet treat, why not try a traditional Irish dessert. Simple yet rich and moreish, you can expect to sample some of the finest dairy products you've ever tasted, a few surprising ingredients (seaweed in a dessert?!), and of course, plenty of whiskey-spiked sweet treats for an extra special kick.
Here are 15 of the most popular Irish desserts you simply have to taste.
1. Porter cake
Traditionally, porter cake is baked to enjoy as part of the Irish Christmas Day feast. Since the cake saves very well and actually gets tastier as it matures, it's customary to bake the Porter cake in November and save it in an airtight container until the Christmas holidays.
Porter cake gets its name because it is made with porter ale. Essentially, it's a dense, moist fruit cake with a rich flavor, thanks to the ale.
This boiled fruit cake involves mixing plain cake mix with dried fruits, spices, and a healthy glug of porter ale or Guinness. As the cake boils, the alcohol evaporates, leaving plump ale-infused fruit and a wonderfully moist finish.
To keep the cake moist over the Christmas break, it's typical to "feed" the cake. In essence, this involves pouring a small drop of whiskey or brandy all over the cake (turning it to ensure it is fully coated) every week to keep it moist and preserve it for longer.
2. Guinness Chocolate Mousse
Guinness is about as quintessentially Irish as it comes. This rich stout is a welcome addition to many Irish desserts, adding a rich, deep flavor. The Guinness also counteract the sweetness in desserts, stopping them being sickly sweet.
One of the best ways to enjoy a glug of Guinness in a dessert is with a delicious Guinness chocolate mousse. The ever-so-slightly bitter flavor from the Guinness mixed with the whipped dark chocolate mousse gives it just the right amount of sweetness. A truly winning combination.
Top the mousse with some Irish fresh whipped cream, chocolate flakes, and a dash of Bailey's if you have a sweet tooth. Simply scrumptious.
3. Barmbrack
Irish barmbrack is a bread baked with raisins, sultanas, and glacé cherries. It is usually enjoyed toasted with a healthy lathering of creamy Irish butter. The name comes from the Irish bairin breac, which translates as speckled loaf.
Barmbrack is eaten all year round in Ireland but is especially popular around Halloween and Easter, when it is given a little twist. Various little trinkets are baked into the bread, acting as symbols of the year ahead for whoever discovers them in their slice.
Each item has a different meaning, some lucky and others not. For example, finding a coin is a sign of good fortune in the coming year, a ring indicates marriage is on the cards, a pea means the finder won't marry in the next year, and a rag symbolises a year of bad luck or poverty. Whether luck is on your side or not, it's hard to beat a comforting slice of toasted barmbrack smothered in butter with a nice cup of tea. Heavenly.
4. Irish Whiskey Truffles
Ok, so technically truffles are a Swiss delicacy, but spiking them with some top-notch Irish whiskey converts them into a much-loved Irish dessert. Ireland is home to some of the best whiskey in the world and it is the perfect ingredient to elevate these gorgeous truffles even further.
The truffles are made by blending the chocolate of your choice with butter and fresh cream and then adding a healthy splash of your favorite Irish whiskey. Rich, delectable, and boozy. What more could you ask for in a dessert?
5. Carrageen Moss Pudding
Carrageen moss pudding is a traditional, albeit slightly unconventional, Irish pudding. Ireland is home to many different types of seaweed. Carrageen moss pudding gets its name from one of its key ingredients – Chondrus crispus, a type of red seaweed that's also called Irish or Carrageen moss.
To make the pudding, the seaweed is first cleaned and dried. It is then soaked in warm water and boiled in milk. As the mixture heats, it creates a natural, gelatinous thickening agent that is then mixed with eggs, sugar, vanilla extract, and a hint of citrus.
This light and fluffy pudding is served chilled with some Irish whipped cream and fresh berries to offset the sweetness.
6. Irish Soda Bread
Soda bread is a simple yet delicious bread that has become an Irish staple. The recipe calls for just four ingredients: soft wheat flour, sour milk or buttermilk, salt, and baking soda.
This bread became popular in Ireland during the famine when yeast was hard to come by. The baking soda and buttermilk combine to make the bread rise. The Irish climate was suited to growing soft wheat, making soda bread the perfect bread of choice.
Interestingly, the shape of soda bread changes across the island of Ireland. In the north of the country, it is customary to cut the dough into four triangles while in the southern regions, it is left as a classic round loaf and a cross is scored on the top. This is apparently due to an old superstition that said the cross wards off evil and protects the household.
While soda bread isn't technically a dessert, it is an Irish staple that can be sweetened up with some jam or marmalade.
7. Irish Cream Brownies
Chocolate brownies are a firm favourite across the globe. But if you want to give your brownies an Irish twist, throw in a slosh of Irish cream liquor.
To make these boozy brownies, simply add a healthy dash of Bailey's Irish cream to your brownie mix and bake in the oven. Once they are baked to perfection, whip up a delicious Irish cream frosting by mixing together butter, Bailey's, Irish whipping cream, and powdered sugar and heating on the stove. Smother the brownies with the frosting and leave them to set.
Serve these gooey, fudgy brownies with a scoop of ice cream and a couple of tart berries for a moreish dessert you won't forget in a hurry.
8. Irish Bread Pudding with Whiskey Sauce
Bread pudding is a classic Irish dessert. It's simple, comforting, and scrumptious. As with most Irish dishes, it comes from humble beginnings. Originally made to use up stale bread, the bread was soaked in sweet, homemade custard and baked in the oven.
To make an Irish bread pudding, make the custard by mixing together milk, ground cinnamon, eggs, and sugar. Then cut your bread into triangles, slather each slice with butter, cut off the crusts, and lay them in an ovenproof dish. Scatter raisins between the bread slices and soak the bread in the custard before baking.
For a more decadent touch, top it with a whiskey caramel sauce. Mix sugar, water, butter, cream cheese, Irish whiskey, and milk together and pour over your bread pudding when cooked. Serve with fresh cream for a sweet, homey treat packed with plenty of flavor.
9. Bailey's Cheesecake
Bailey's cheesecake is an Irish take on a classic dessert. Indulgent, rich, and never too sweet, Bailey's cheesecake is a popular way to top off a night of gorgeous Irish cuisine. The creamy cheesecake filling is infused with a generous slug of Bailey's Irish cream and topped with a rich chocolate ganache.
For the chocolate lovers out there, the cheesecake base can be swapped out for crushed Oreos. Serve this little slice of heaven with some fresh cream, a dash of rich chocolate sauce, and a sprinkling of fresh red berries. A simple yet sophisticated dessert.
10. Chocolate Guinness Cake with Irish Buttercream
Chocolate cake is perhaps one of the best-loved desserts on the planet. And it's no different in Ireland. There's no better feeling than coming home on a grey, blustery evening to a plate of hot food followed by a warm dessert and a strong cup of tea.
Chocolate cake can be a little sweet. Adding a glug of slightly bitter stout complements the chocolate and sugar for an indulgent but perfectly balanced dessert. The end result is a fudgy, moist chocolate cake that melts in your mouth.
The Irish buttercream frosting is made by mixing unsalted Irish butter with Bailey's Irish cream and sugar. Spread a generous layer of buttercream in between your cake and use the rest to top it. Leave to set. This cake is best served with a nice cup of tea and some fresh cream or ice cream.
11. Irish Shortbread
Shortbread originally hails from Ireland's neighbor, Scotland, and is a popular treat across the country, the UK, and the rest of the world. The secret ingredient making Irish shortbread so tasty is Irish butter, which is exquisite and gives the shortbread a rich buttery flavor that pairs perfectly with the crispy texture.
Shortbread is a popular after-dinner snack in Ireland (we can't have indulgent desserts every night, after all!). Shortbread is typically served with a nice cup of tea in front of the fire on a cold winter's day.
12. Cast Iron Irish Apple Cake
Apple cake is a traditional dessert on the Emerald Isle. Ireland is home to an abundance of apples, making this dessert an ideal choice. Originally steamed crab apples over an open fire, it is now more commonly baked in a cast-iron skillet (or in a tin if that's all you have) to get the crispy texture that goes so well with the apple filling. The magic ingredient is the Irish butter for that gorgeous flakey pastry.
Filling, cosy, and with just a hint of warming spice (thanks to the nutmeg, cinnamon, and cloves), this traditional Irish apple cake has stood the test of time and continues to be a hit with locals and visitors alike.
13. Fifteens
One of the most popular traybakes in Northern Ireland is fifteens. These fudgy, fridge bakes got their name because the recipe calls for fifteen of every ingredient: marshmallows, digestive biscuits, glacé cherries, condensed milk, and desiccated coconut. Perfect with a cup of tea, fifteens are one of Northern Ireland's best-kept secrets.
To make them, crush the biscuits and mix in a bowl with the chopped marshmallows and cherries. The condensed milk is then added to bind it all together before it is rolled into a sausage and rolled in the desiccated coconut. Pop it in the fridge for a couple of hours to set then cut into slices and enjoy!
14. Yellowman
Number fourteen on the list is another Northern Irish delicacy. Yellowman is a type of toffee, akin to honeycomb, that is extremely popular in the North. You'll see stalls selling the bright yellow honeycomb in bags at the annual Auld Lammas Fair (a popular livestock fair) in County Antrim. It's hard to come by outside of Northern Ireland, so make sure you try some when you visit.
Don't let its somewhat unconventional colour put you off (neon yellow admittedly isn't the most appetising color in the world), it's absolutely delicious.
While it's similar to a traditional honeycomb, yellow man has a distinct flavor thanks to a hint of vinegar. There's definitely a knack to making it at home, but this yummy honeycomb-stick of rock hybrid is well worth a shot.
15. Shamrock Shakes
The final dessert on the list is actually not Irish at all but was created especially for Saint Patrick's Day. Shamrock shakes were invented in Connecticut in the late sixties by Hal Rosen, a McDonald's owner and operator.
A couple of years later, the green milkshake was being sold as a shamrock shake in selected McDonald's restaurants in the US. It has now become an iconic beverage sold in McDonald's across the US, Canada, and Ireland in February and March during the lead up to Saint Patrick's day.
So what's in them? Shamrock shakes combine ice cream, mint extract, and some green food coloring to create a creamy green milkshake that is topped with whipped cream and a sprinkle of green sugar. It's a perfect tribute to the Emerald Isle on the lead up to Saint Patrick's day celebrations on March 17.
Final Thoughts
Irish cuisine is known for its top-quality ingredients and its simple, no-frills nature, and Irish desserts are no different. Comforting, rich, and often spiked with booze, the Irish know how to do dessert. The finest produce is used to lovingly prepare simple, yet salivating sweet treats that are perfect to enjoy with friends and family and a whole lot of 'craic'!
Related: Popular Homemade Irish Cookies
Related: Most Tasty Irish Cheeses
Related: Most Popular Irish Foods
Related: Most Popular Welsh Foods