Top 7 Traditional Welsh Food
Wales has spent the longest time under English rule, since the 13th century. Scotland wasn't incorporated until 400 years later and Ireland not until the 19th century.
But the country has fought to retain its strong and proud national culture. I say fought because England did its best to wipe out the language. Children were whipped at school for speaking Welsh, my father one of them. But today, Eisteddfods, festivals celebrating Welsh poetry, literature, language, and music – Wales is known as the "Land of Song", are held throughout the country every year.
Despite a strong national identity, its cuisine does not really feature. Little was written about Welsh food until the last century and few dishes are considered uniquely Welsh.
Much of this is due to the combination of the limited food stuffs that grew there, the country's geographic isolation, and poverty.
Many traditional English dishes were handed down from the plates of the Gentry. But traditional Welsh dishes were borne out of poverty.
The south of the country saw massive industrial expansion in the 18th and 19th centuries and massive population growth. Around 500,000 in 1770, the population stood at 1.5 million in 1851, and 2.5 million in 1914. It almost doubled in 60 years, migration playing a big part but also very large families. My grandfather was one of 14 children and my grandmother one of 12.
The biggest industry was coal mining, in the valleys of the south. South Wales coal was the fuel of the Industrial Revolution. Not just in England. France, Spain, Italy, Egypt, Argentina, and Brazil all depended on coal from the country, so much money was made. Englishman John Crichton-Stuart became one of the richest men in the world on the back of the Welsh black stuff.
None of that wealth trickled down to the miners, though. By 1925 poverty in Wales was unbearable.
Children went to school barefoot, my father included, and women fainted in the streets from lack of food. In 1928 one in seven children in the Rhondda were malnourished and by the end of the next decade, 20 percent of children in Merthyr died before they reached their fifth birthday – 20%!
Between 1920 and 1940 over 450,000 people left Wales – a mass migration that left some areas with a third less people.
The north is a country of mountains and rivers with a wet and windy climate where nothing much grows. Hence, sheep. Initially grown extensively for their fleece, it is mutton that features in traditional Welsh cooking.
With mountains to the north, and deep valleys and the River Severn cutting through the land border with England to the south, the country is relatively isolated. This resulted in a collection of dishes free of influence from outside cultures.
Their diet was restricted to what they could grow: sheep, pigs, cattle, and fish – they made good use of their extensive coastline. Farmers and tenants produced home-cured meat and fattened and slaughtered at least one pig a year to provide a constant supply of salted bacon. Perhaps that's why a Monmouthsire farm is the birth place of Britain's modern and increasingly world-class charcuterie sector.
The main vegetables were cabbages and leeks, the latter being a staple in most dishes and one of the country's national symbols. Given the harsh climate, oats and barley are the most common cereals.
So Welsh food is simple, nourishing, and while it's was difficult to find traditional Welsh food in the cities and resorts of the country a decade ago, that is now changing.
Nowadays thanks to the 'Wales, the True Taste' initative, traditional Welsh produce and dishes are being celebrated throughout the land, in hotels, restaurants and country inns. Run by the Welsh Development Agency (WDA), the scheme promotes and endorses the use of quality Welsh produce throughout the hospitality and tourism industries in Wales.
And this at the time of a foodie boom around the country. From local chefs using high quality local produce to innovative restaurants cooking cuisines from around the world, the Welsh foodie scene is really starting to light up.
So, let's take a look at the food borne of the distinct nature of Welsh history and geography.
1. Welsh Cawl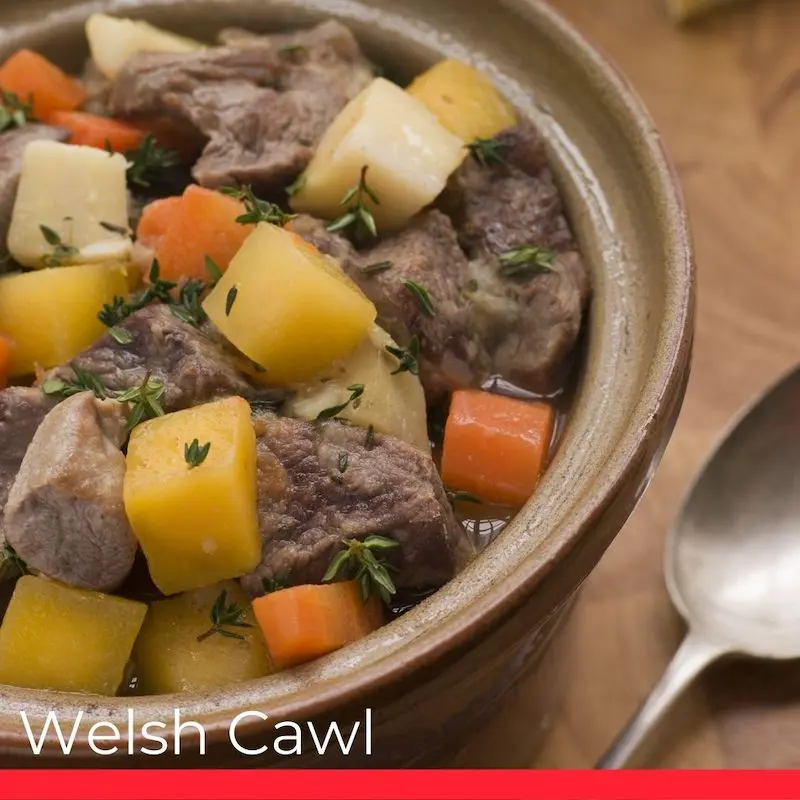 While mutton was the traditional meat for the Welsh, eaten once the animal had outlived its usefulness for wool and milk, today Welsh lamb is sought after around the world. Generations of traditional husbandry methods and breeding expertise and an abundance of natural grazing have produced a sweet, succulent flavor and a good color.
Part soup, part stew, this national dish dates back to the 14th century and was traditionally eaten in the south-west of the country. Less well known is the very similar lobsgows of North Wales.
Chunks of meat, usually the cheaper neck of lamb, are slow cooked with potatoes, leeks, swede, and carrots, though ingredients would vary depending on what was available. When the meat itself was scarce, cawl cennin was made with leeks and meat stock. In coastal areas, this stew is frequently made with seafood.
What is crucial is that it is cooked for hours until the flavors are completely fused. And to really bring out the sweetness and taste, you might want to cook it the day before to really let the flavors of the meat and veggies blend in together.
Once cooked, the dish is thickened with oatmeal or flour. For lobsgows, the meat and veggies are cut smaller and the broth is not thickened.
In the past, the broth was served first as a soup and the chunks of meat and vegetables were served as a second course, sometimes with bread and cheese. Today it is usually served as a main course. So loved is the dish that restaurants and cafés across the country pride themselves on their hearty and warming traditional Welsh cawl.
2. Glamorgan Sausage
By definition, a sausage contains meat. Not this one. Also known as "the poor man's sausage", the one from Glamorgan, in the industrial south, replaces the meat with cheese and leeks and the casing with breadcrumbs. So, they're more of a vegetarian croquette, but they were conceived and named in the midst of poverty rather than at a time of foodie glam.
But that doesn't detract from their deliciousness.
They were originally made with a white, crumbly cheese from the Glamorgan cow, which is now so rare the cheese is no longer made. But the white, crumbly Caerphilly apparently has a similar taste and texture. They can also be made with the equally crumbly Lancashire cheese or even with cheddar. It depends on what you like, really.
Chop and sweat the leeks and add them to a mixture of cumbled cheese, breadcrumbs, egg yolk, and mustard. Shape it into sausages and chill for half an hour.
Roll each sausage in flour, then lightly whisked egg whites, then breadcrumbs to coat. Cook them in butter until golden brown, or lightly brown them and bake for 20 minutes. Simply the best vegetarian sausage there is and a delicious ode to the lost cheese.
3. Conwy Mussels
Where do pearls come from? Oysters… and mussels – who knew? Back in the 19th century, Conwy was an important pearl fishery, sending over 4 kilos of pearls to London jewelers each week.
The meat itself was considered the poor man's shellfish – most went to feeding chickens. When the pearl mussel stocks were exhausted, the industry collapsed.
But locals continued fishing for mussels and today the industry has been revived, led by a few local families still using traditional methods. No rope-grown or dredged mussels here. The fish are strictly hand raked, allowing smaller mussels to fall back into the sea and continue to grow. It's a technique that takes time and patience and years to master.
Conwy mussels are larger than most, their success down to the unique habitat. The mussel beds lie at the mouth of the Conwy River estuary, at the boundary between the salt water of the Irish sea and the fresh water that flows out from Snowdonia. With plentiful rich nutrients, the waters produce big, meaty shellfish with a rich, succulent color.
Steamed in water and wine with whatever vegetables are cheap that week, they make a sweet, meaty dish. So proud are the Welsh of them, there is even a Conwy mussel museum.
4. Laverbread
The laver is seaweed, the bread has nothing to do with dough. Laverbread is what the seaweed becomes after it has been cooked for hours – a thick black pulp. Also known as Black Gold and Welshman's Caviar, it was a highly prized food.
Laver has been eaten in the UK for centuries and records of its use go back to the 1600s. But the tradition died out throughout the lands except in certain coastal areas of Wales, where it still grows wild and is still enjoyed. It is the same seaweed used to make nori sheets in Japan.
It goes well with Welsh sausages, bacon, mushrooms, and eggs for a truly traditional Welsh breakfast. And containing large amounts of protein, lots of B vitamins, calcium, zinc, and iodine, it is incredibly good for you.
The seaweed is simmered for 6-8 hours on a low heat then mixed with olive oil, lemon juice, and seasoning. But if you don't have a spare 6 hours, you can today buy it fresh or in cans. It can be spread on toast or mixed with oats and fried as a patty.
Laverbread is not widely available in restaurants or cafés, but can be enjoyed at Café Môr, the world's first solar-powered, converted fishing boat and seaweed kitchen on Freshwater West beach in Pembrokeshire.
5. Welsh Rarebit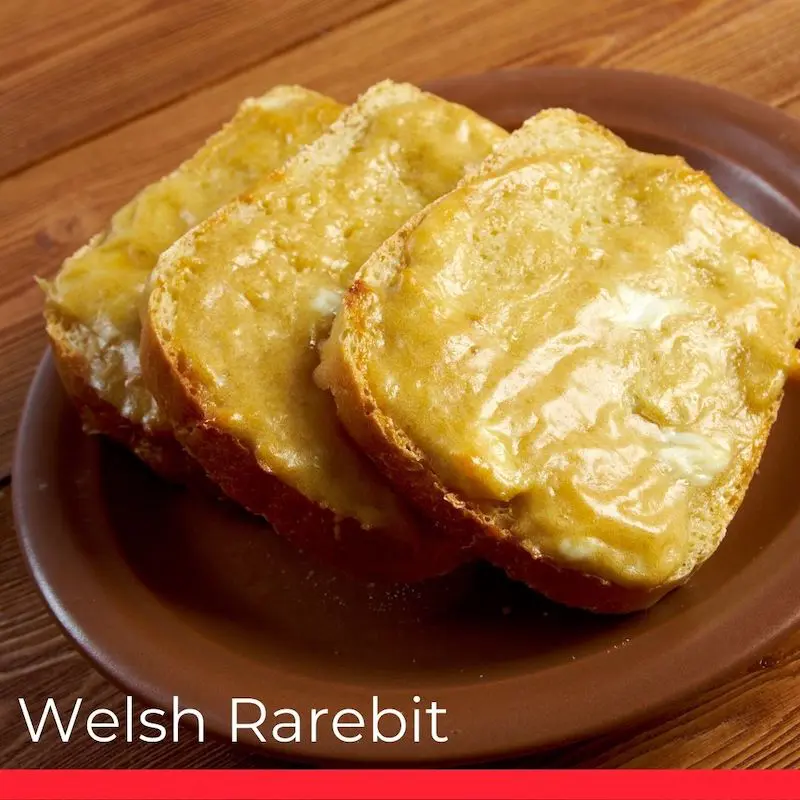 Rarebit is a variant of rabbit, but you'll not find any of that sweet meat in this dish. It is toasted bread covered in a cheese sauce.
Look deeper into the origins of the name of the dish and you begin to get a feel for the attitude of England toward Wales – incorporating these kingdoms under the English crown was not a peaceful affair. The Welsh launched several revolts against the English, the last significant one being led by national hero Owain Glyndŵr in the early 15th century, and animosity between the two has survived ever since.
While the dish has been popular in the country since the 1500s, it was at that time called caws pobi, toasted cheese. From whence, then, Welsh rarebit?
The first English reference to the dish is Nathan Bailey's 1721 An Universal Etymological English Dictionary, which refers to it as Welsh rabbit. This is often seen as "jocular" as the English tended to give laughably fancy names to food.
But it speaks more of their condescending and distrustful attitude toward the Welsh people: to welch (English variant of Welsh) on bet is to refuse to pay. It is likely a disparaging reference to the poverty of the Welsh, who substituted dairy products for the meat they couldn't afford.
Rabbit became rarebit, possibly to reflect the lack of meat, but also possibly due to particular Welsh pronunciation. Today it is a national dish and is even celebrated every year on September 3rd as Welsh Rarebit Day. And it is worth the celebration as it's the best cheese on toast ever.
Melt some butter and add flour to make a roux. Slowly stir in some warm beer, then the grated cheese and stir until it melts. Mix in some mustard, Worcestershire sauce and season, and pile it onto slices of buttered toast and grill until browned and bubbling. How simple is that for brunch or a light supper?
6. Crempogs
This is a pancake, thick like the American. And like them, often served piled up and cut down in wedges. Unlike the American version, though, they contain vinegar.
They've been around for centuries and were traditionally cooked on a bakestone, made of stone until they were replaced by a metal gradell (griddle).
Butter is melted in warm butter milk, which is then mixed into the flour. After standing for a few hours, it is combined with a mixture of sugar, vinegar, eggs, and baking soda to make a smooth batter. Cooked on a griddle until golden brown, they are then served with plenty of butter.
Crempog furum is a variant made with yeast, crempog wen uses refined flour replacing the usual coarse flour, and crempog surgeirch were made with oatmeal. Simple and delicious, they are a favorite for Shrove Tuesday, if you can wait!
7. Bara Brith
In July 1865 a group of Welsh settlers arrived on the shores of Argentina and, moving inland, set up home in the province of Chubut.
They bought with them many traditions, including the Eistedfford, and introduced to the land bara brith. Even today, you'll find bara brith on the menu at the teahouses of Chubut, where it is generally known by its Spanish name of torta negre, or black cake.
Bread by name and cake by nature, as dried fruit is added to the dough, giving it its Welsh name – bara brith means, literally, speckled bread.
What gives it its distinctive taste is that the dried fruit is soaked overnight in tea and brown sugar. The next day, they are mixed into flour, eggs, and mixed spice and baked.
It simply has to be served spread with plenty of good butter, and preferably warm from the oven, though some suggest leaving it a day for the flavors to mature.
---
Related: Most Popular Irish Foods
Related: Most Popular Scottish Foods
Related: Most Popular English Foods