Top 20 Most Popular Foods in Lesotho
Lesotho is a small country in Southern Africa, covering an area of about 30,350 square kilometers. It is a scenic enclave landlocked by South Africa and crisscrossed by rivers, valleys, and tall mountains.
It towers at 3,482 meters above sea level with the lowest point at 1,301 meters and about 80 percent of the entire country at 1,800+ meters making Lesotho the only country in the world that lies entirely 1,000 meters above sea level, and hence the nickname "The Kingdom in The Sky."
The people of Lesotho, called Basotho, are known for leading peaceful and simple lives. This simplicity is also seen in their food, which is made with few ingredients, easy cooking methods, and no spices.
Most Basotho people are farmers, growing crops like maize, sorghum, wheat, beans, and peas. They also raise cattle, sheep, goats, and chickens. The younger generation is now involved in local commercial farming, growing vegetables like tomatoes, bell peppers, and leafy greens. These fresh products greatly influence many of the dishes in Lesotho.
In the highlands, people tend to cook the more traditional Basotho foods, while in the lowlands families cook some of the traditional foods with a few variations of the original recipes. They also prepare dishes influenced by Western cuisine and some Asian cuisine. In the lowlands, you will also find an influx of fast-food restaurants.
Let's take a look at some of the most popular foods in Lesotho.
Maize dishes
1. Papa (Stiff Porridge)
Papa is a staple food in Lesotho enjoyed in almost every household. In the highlands, maize is taken to a local mill for grinding into maize meal or mealie meal, and it tends to differ in both color and taste from that used in the lowlands, which is more refined and is store-bought.
It is prepared by bringing water to a boil in a pot, then adding the maize meal and stirring using a stick called a Lesokoana until you have a thick consistency and reduce the heat. Stir the Papa again a few minutes later in a process called ho e fetola, which means "to turn it," and at this point, your Papa should be more solid. Stir the papa again a few minutes later for the last turn, and your papa is ready. 
It is mostly enjoyed with Moroho (leafy greens), and Papa ka Moroho is a staple meal in Lesotho. For a more balanced meal, you can also serve Papa Ka Moroho with meat, tinned fish, eggs, or any protein of your choice. You can also enjoy it with both fresh and sour milk, or beans, peas, or vegetables of your choice.
2. Moroho (Leafy Greens)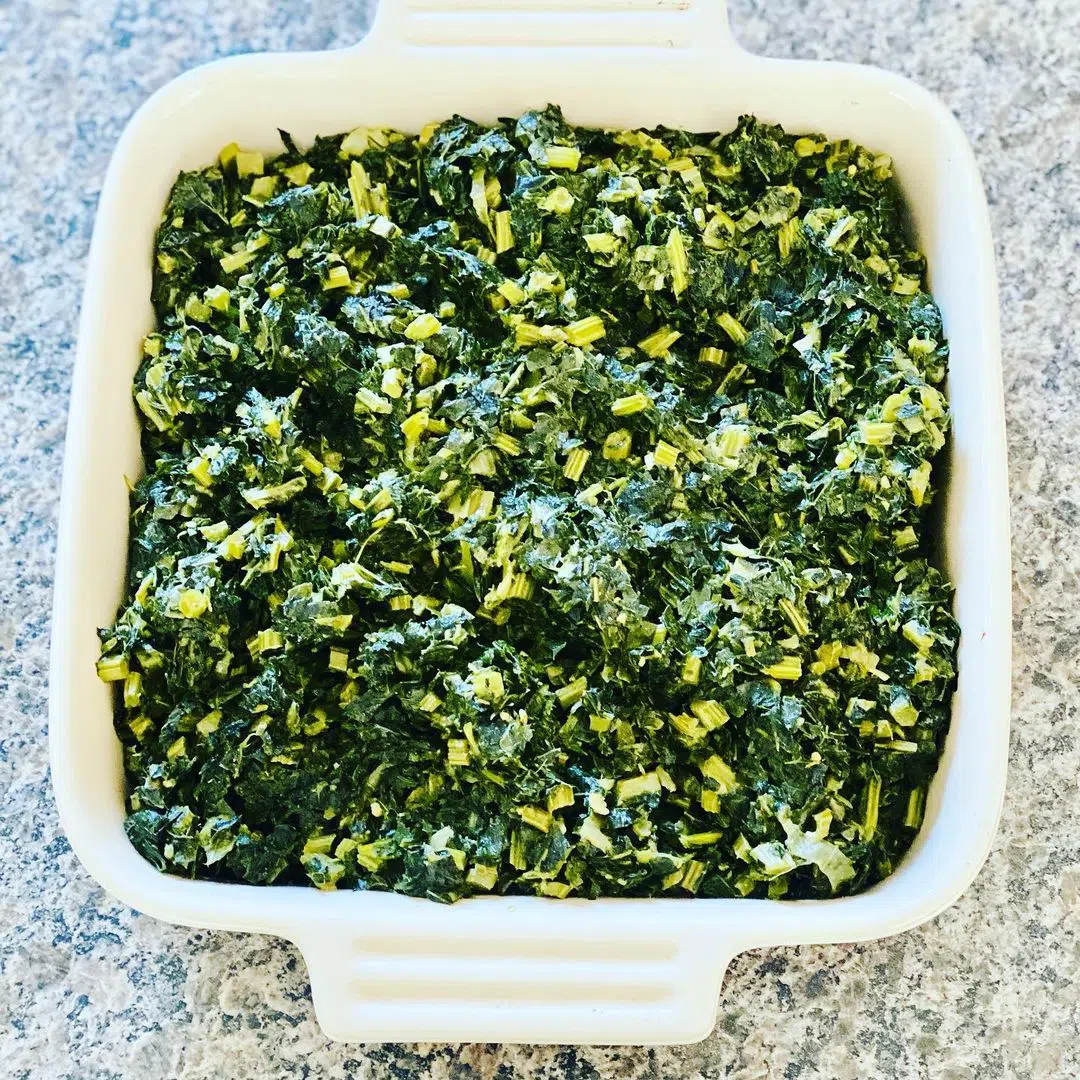 Although Moroho is not prepared with maize, it has to be next to Papa because that is exactly where it belongs. You can hardly have Moroho without Papa. Moroho is made of leafy greens such as spinach, rape, and others. Some weeds such as white goose are also enjoyed as Moroho, as well as herbs such as stinging needles and many others. Cabbage is also used as Moroho.
One of the most popular dishes in Lesotho is Moroho, especially Lepu, which is made with summer squash leaves and small squash. First, wash the leaves and remove any thorns. Then, cut the leaves and put them in a pot. Dice the squash (no need to remove the seeds) and add them to the leaves. Season with salt and cook with oil until everything is soft. For extra flavor, some people also add chopped spring onions. Dig in and savor!
3. Roasted Maize
This is one of Basotho's most enjoyed snacks. In the highlands people normally use an open fire to cook and warm themselves, so the green maize cobs are roasted with hot ashes by placing them next to the open fire. You can also roast green maize kernels by placing them in a DIY frying pan made of a scrap steel sheet and wire and shaking them continuously over the open flames until the maize kernels are golden brown. This is usually done in the evening while the rest of the family is sitting by the fire.
In the lowlands, most people do not make open fires at home, so you buy roasted maize from street vendors in town or along the road. Basotho enjoy this snack so much that when you eat it in public prepare to share because it's not uncommon to have a stranger ask for some.
4. Likhobe (Boiled Maize Kernels)
Likhobe is also a great snack option or side dish. It is prepared by simply boiling dry maize kernels until they are soft and season with salt.
5. Samp
Samp is dried maize kernels that have been pounded and chopped until broken, but not as finely ground as maize meal. In the process, the outer layer of the kernels is removed leaving behind the tender inner layer. Samp is mostly cooked at different events or celebrations and in homes mostly in winter.
In the highlands, they cook it by boiling it until soft and adding salt for seasoning. Sometimes, they mix it with beans and boil it together, then season with salt. In the lowlands, the recipe is the same, but people use different seasonings like Aromat, Rama margarine, coffee creamer, cream of mushroom soup, cream of chicken soup, and more. It's delicious when served with stew, meat, and vegetables.
Wheat dishes
Almost all the wheat dishes in Lesotho are prepared using the same dough, but the difference is the consistency of the dough depending on what you are preparing.
The dough is made by mixing wheat flour, yeast, sugar, salt, and water and kneading them together. The dough is then covered and left to ferment. The dough is well fermented and ready when it has doubled in size and has formed some bubbles.
6. Bohobe (Bread)
There are two main types of bread enjoyed in Lesotho, namely Leqebekaone (steamed bread) and baked bread. 
Steamed bread is prepared by shaping the dough into round balls and placing them over the steamer. The pot is then filled with water up to the level of the steamer and left to boil before adding the dough. Bread is allowed to steam in a pot covered throughout the process, and water may be replenished as needed.
Baked bread, on the other hand, is prepared by greasing the pot with cooking oil and adding the dough. When cooking with fire, you place hot coals on top of the lid and underneath the lid. But when cooking on the stove, you have to turn the bread so that both sides can be cooked.
7. Liphaphatha (Pot-Roasted Bread)
The dough is flattened on a floured surface and cut into round shapes about 2 centimeters thick. The cut pieces are then allowed to rest and rise to their maximum size before roasting.
The roasting is done on a hot surface of a pot sprinkled with a little flour. When cooked and golden brown, they are sprinkled with some water and covered with a clean cloth to soften them. You will mostly find them sold by street vendors at bus stops in town.
8. Makoenya (Fat Cakes)
When making Makoenya, the dough is shaped into small balls and sometimes rolled on flour so that it will not absorb a lot of oil. The balls are thrown in very hot oil and cooked until they are golden brown. They are enjoyed with slap chips, Atchar, Russians (sausages), polony (sometimes fried), tea, and coffee.
Makoenya is sold in most fast-food restaurants and also by street vendors. They are enjoyed as breakfast by those working in offices, as well as by school kids who buy them from street vendors on their way to school.
Sorghum dishes
9. Motoho (Fermented Porridge)
Motoho is a porridge made from sorghum meal that is mixed with warm water (1 part sorghum meal to 3 parts water) to make a runny consistency. A traditional starter culture called Tomoso is added to the mixture. Cover and let it ferment overnight. Boil water in a pot, add the fermented mixture, and stir continuously until your porridge is cooked.
10. Nyekoe
To make this dish, you cook the sorghum till the water boils and add the beans. Then you cook until both the sorghum and beans are cooked and season with salt. There are various recipes for Nyekoe. Some enjoy it as is, while others add chopped pumpkin to the sorghum and beans, and others add wheat. You find it mostly sold by street vendors rather than prepared at home.
Non-wasteful foods
Basotho are not wasteful people. They save everything. The following list of foods uses parts of the animal that some people would not dream of eating. Nothing is thrown away from an animal after slaughtering except the waste products and feathers in the case of chickens.
11. Likahare
For bigger animals such as cattle, sheep, goats, and pigs, the tripe and intestines are thoroughly cleaned and cooked with water. When it is soft and almost ready, you remove it from the broth and cut it into smaller pieces. Then return it to the broth and season with salt. Cook until the broth turns into a thick gravy. It can be enjoyed with Papa, Samp, or bread, especially steamed bread.
12. Lithlakoana Le Lihloho/ Skopo (Sheep Feet and Heads)
For this dish, sheep feet and heads are cooked with water and seasoned with salt. They are often sold as cold meat by street vendors. It is enjoyed with Papa or on its own as a snack. 
13. Chicken Feet and Heads
Chicken feet and heads are usually just cooked with water and seasoned with salt. However, people are getting more creative these days. They make curries with them or make sticky chicken feet. Those sold by street vendors are still cooked with just water and salt. They are enjoyed by students and workers with Makoenya or bread.
14. Roasted Chicken Feet and Gizzards Kebabs
This is the most recent way of preparing chicken feet and gizzards kebabs. They are spiced and roasted by street vendors on a DIY grill. They are enjoyed as snacks by both young and old alike.
Meats
15. Braai (Barbeque)
Braai is a type of meat grilled over hot coal that is influenced by neighboring South Africa. In Lesotho when friends or family have a nice get-together, Braai is a go-to meal. Almost anything can be cooked on a braai, from meat, wors (a South African sausage), fish, garlic rolls, and more.
In Lesotho, people love to enjoy it with Papa (maize porridge) and Chakalaka (a spicy vegetable relish from South Africa), along with some refreshing beer. The meat is seasoned or marinated, then grilled over a wood or coal fire, while fish is spiced, wrapped in foil, and grilled too.
If you're looking for a quick and delicious meal, you can find vendors grilling meat on wood fires in the streets. They serve it with Papa and Moroho (cooked greens). It's a popular lunch choice for workers and anyone seeking a tasty and satisfying meal that's not fast food.
16. Lekakarane (Spent Layer Chickens)
When it comes to chicken this is the best there is in Lesotho. It is best cooked with water and seasoned with just salt. You can also buy it readily cooked by street vendors, and it is usually served with just papa. However, in households, it can be enjoyed with any meal like all the other meats.
Lately, one recipe that is gaining popularity is smoked Lekakarane, which is a Chinese recipe. The recipe is mostly known by the Chinese, people who have worked in Chinese kitchens, and those who have paid to learn the recipe.
17. Wors (South African Sausage)
There are two types of Wors, one that is especially meant to be cooked in a pot or saucepan on the stove and Braai Wors. People use different recipes for stovetop Wors. While some cook it as is, others cook it with tomato relish and other ingredients. It is mostly served with Papa, but you can also enjoy it with rice, samp, pasta, or bread.
18. Trout
Fish in Lesotho is more of a luxury, as Basotho eat more meat than they do fish. Trout is one of Lesotho's best fish, and it is a luxurious delicacy.
Take a deboned trout fillet, marinate it with your favorite spices, or stuff it with vegetables of your choice such as bell peppers and mushrooms. Place it in a preheated oven at 180° C and bake it for a few minutes. Then serve it hot with vegetables and rice.
Beverages
19. Khemere (Homemade Ginger Drink)
To make Khemere, boil about 2 liters of water with 1 kilogram of brown sugar, 50 grams ginger powder, 12 grams tartaric acid, and 12 grams cream of tartar for about 30 minutes in an uncovered pot. Dilute with about 8 liters of cold water, leave overnight, and serve chilled.  Some people add pineapple pieces or store-bought fruit concentrates. This drink is served at family gatherings and special events. It is also locally produced commercially.
20. Joala ba Sesotho (Traditional Sesotho Beer)
To make Joala Ba Sesotho, take equal parts of maize meal and malt and a handful of wheat flour and mix well. Add cold water to the dry ingredients and mix into a paste. Gradually add boiling water and stir. Then cool it to just about warm but not cold. 
Add a traditional liquid starter called Tomoso and cover the container. Leave the mixture to ferment overnight or longer. Boil it again for a few hours and let it cool to just warm. Add malt and Tomoso to the mixture, and let it ferment further until you see some bubbles. After it is filtered to remove coarse particles, your beer is ready. 
---
Related: Most Popular Foods in South Africa
Related: Most Popular Foods in eSwatini
Related: Most Popular Foods in Botswana