Top 20 Most Popular Foods in Fiji
The Fijian archipelago in the South Pacific is made up of about 333 islands, though only an estimated 100 islands are inhabited. With a population of only 900,000, Fiji boasts a very multi-racial, multi-cultural society.
Fijian cuisine reflects this diversity and many of the dishes, for example Indian curries, now differ from the original recipes, having changed over the past century or so since Indo-Fijians (now 37% of the population) were brought over by the English colonial government to work in the sugar cane farms in the 1800s.
These popular foods are a mix of both traditional and modern, reflecting changing lifestyles. Popular foods range from the simple, bread or seasonal fruits, to more sophisticated seafood dishes.
20. Curry Chicken
This popular curry dish is a favorite in takeaway shops for quick work lunches or as an easy-to-prepare meal. It is usually prepared from a whole chicken chopped up into bite-size pieces with bone-in and skin for added flavor.
The spices can range from mild to extra hot and spicy and it is usually served with rice or roti. The extra spicy version is popular with kava drinkers as after a heavy kava session, a hot curry usually hits the spot.
19. Lote
This is a popular simple dessert made from pumpkin, bananas (optional), and coconut cream. Basically, the pumpkin is peeled and cut into 1-inch cubes and boiled in sugared water for sweetness.
Once cooked, the pumpkin is mashed and mixed up with bananas. Fresh coconut milk is mixed in until incorporated then the dish is cooled in the fridge. It is delicious served on its own or with ice cream.
18. Curry and Roti Parcel
A simple staple for many as a packed work lunch or snack, this cheap and popular food is available everywhere in Fiji – from restaurants and bars to simple market vendors and Indian sweets carts.
Roti parcels come with different fillings such as vegetarian curries like potatoes, pumpkin, bhindi (okra), and jack fruit. The meat fillings are usually curry tuna, chicken or lamb.
17. Freshly Baked Long Loaf with Rewa Butter
The French have their baguette but in Fiji, we have our long loaf. About a foot in length and lighter than a large square loaf, the inside is light and airy and the outside is crusty. It is freshly baked in the evenings at Chinese bakeries and suburban corner shops with bread ovens.
It is not uncommon to see people lining up to buy a long loaf in the evenings, as it is not only convenient but it is also cheap having a government price control. It is delicious with Rewa butter, jam, and a hot cup of tea.
16. Fried Corned Beef/Mutton with Onions and Tomatoes
This is a popular local dish that is reminiscent of Fiji's seafaring history, when sailors would stop over in the ports with their salted beef and hardtacks.
This is usually a quickly prepared meal as it consists of a can of corned beef or mutton, onions, and tomatoes (if available) all fried up together in a frying pan and usually served with bread, rice or even breakfast crackers – a modern version of the sailors' hardtack.
15. Kuita Vakalolo (Octopus Stewed in Coconut Cream)
This is a Fijian delicacy that is popular in the seafaring provinces and welcome at any feast. The octopus is usually cleaned and prepared by more experienced cooks.
Chopped up into manageable pieces, the octopus is simmered in thick coconut milk with onions, tomatoes, and chilies for several hours. This thick savory stew is then served with taro, cassava or kumala.
14. Chicken Chop Suey
Another popular takeaway dish with a Chinese influence is this chicken chop suey. The Fijian version mostly includes vegetables that are available at the local market: Chinese cabbage, carrots, onions, bean sprouts, capsicum, and any vegetable that can be stir-fried in a wok or more commonly a frying pan.
The whole chicken is usually chopped up into bite-size pieces with bone-in and skin. This is marinated with garlic, ginger, soya sauce, sugar, and black pepper.
The ingredients are stir-fried separately and then combined in a large pot for serving with rice or noodles. A variant is chow mein, where packets of Chinese noodles are soaked in hot water, dried in a colander, stir-fried, and added to the pot.
13. Vudi Vakasoso
This dessert is very popular and consists of very ripe vudi – a short thick banana species similar to Hawaiian apple bananas – cooked in coconut milk and sugar until soft and tender. When it's prepared, it is typically split down the middle with the thumb and stuffed with a mixture of scrapped coconut (using a coconut scrapper) and brown sugar before cooking in coconut milk.
Eaten warm or cold, this dessert pairs well with ice cream or it's delicious just on its own.
12. Nama (Sea Grapes) with Miti (Fresh Coconut Milk)
Fresh nama (sea grapes) is very popular and can be found almost daily in local markets. Rich in iodine it has become popular with Fijians of all races due to its nutritional value, low cost, and delicious taste when served with fresh coconut milk.
For a meal, add a can of tuna with finely chopped onions, tomatoes, and chili to taste. Nama is usually served with taro, cassava or kumala (sweet potatoes).
11. Boiled Fish with Miti (Coconut Milk) and Ota (Water Cress)
A popular dish with most locals is fresh fish (almost readily available) simply boiled with coarsely chopped onions, tomatoes, and ginger (optional). The most popular fish are fleshy with not too many bones and common species are coral trout, snapper, and parrotfish. They are served with fresh coconut milk and ota (watercress) or other dark leafy greens.
This fish soup is usually served in a separate bowl or mug and accompanied by a root crop – taro, cassava or kumala with chili and lemon to taste.
10. Vakasikera (Shredded Cabbage with Fish in Coconut Milk)
This popular dish from the Lau province (with Tongan influence) is a favorite at many events or just as a simple home-cooked meal. It is made from shredded bitter mustard cabbage soaked in salted water for 2-3 hours. It is then squeeze dried and placed in a large bowl with chopped onions, tomatoes, and chili peppers. Crispy fried fish is crumbled on top and it is all mixed up with fresh coconut milk.
9. Kai Vakalolo (Mussels in Coconut Milk)
Kai (freshwater mussels) are plentiful in the many Fijian rivers and used in many different ways – plain soup, curried, or fried. But this dish is popular at events due to its delicious taste and impressive presentation. The kai is boiled, cooled, and then chopped up and mixed with finely chopped onions, tomatoes, chilies, and coriander.
This mixture is then spooned into the kai half-shells, placed in a pot, and submerged in fresh coconut milk. The whole thing is brought to the boil and simmered for about 30 minutes or until the coconut cream boils over.
8. Fresh Duck Curry
In Fiji, this Indian delicacy has become a firm favorite and is a welcome addition to any feast or event. "Fresh" refers to the freshly butchered meat, not frozen, and many Indo-Fijian households prepare this for special occasions, even purchasing the specially bred ducks from farms prior to the event.
Duck meat is a little gamier than chicken and its unique flavor when cooked properly in curry spices and chilies (to taste), blends to produce a delicious spicy curry. Duck curry is very popular as an accompaniment to drinks at a cocktail party or when having friends over.
7. Mangoes in Season
Very popular with locals and tourists alike, when in season there are literally boxes of ripe mangoes of all varieties, colors, shapes, and sizes with one common denominator – their delicious fleshy sweetness. Fiji is blessed with mango trees of all different species and mango season is usually between November and December, the hot, sunny holiday months.
Mangoes then become so plentiful that a dozen ripe mangoes cost only a dollar in the markets and roadside stalls along the main highways. Apart from eating them fresh, mangoes are also used in jams, chutneys, fruit juices, and all sorts of desserts.
6. Vakalolo
This popular sweet can be eaten as a dessert or on its own. The different provinces have their own unique recipes although the main ingredients are usually taro or cassava with cassava starch, rich coconut cream, and brown sugar. The root crop is peeled and pounded until of soft consistency and then the other ingredients are mixed in.
Depending on the region's recipe, the mixture is wrapped whole or in dumpling size pieces in banana leaves and baked in the oven or lovo, boiled or steamed like a pudding. A sweet sauce of coconut cream and brown sugar is prepared. This is poured over the sweet dumplings and it soaks through to create a beautiful blend of soft luscious dumpling.
5. Fresh Goat Curry
My absolute favorite curry is goat. Freshly slaughtered goat is a delicacy and fairly pricey when served in high-end restaurants. This gamey meat, like lamb or mutton, is an acquired taste but with the spiciness of the curry ingredients and skilled slow cooking produces a mouthwatering spicy meat curry with all the flavors and umami.
It is usually served on plain steamed rice to soak up all that flavorsome juice and curry spices. Other condiments include chutney, raita (yogurt), and tamarind sauce.
4. Lovo Food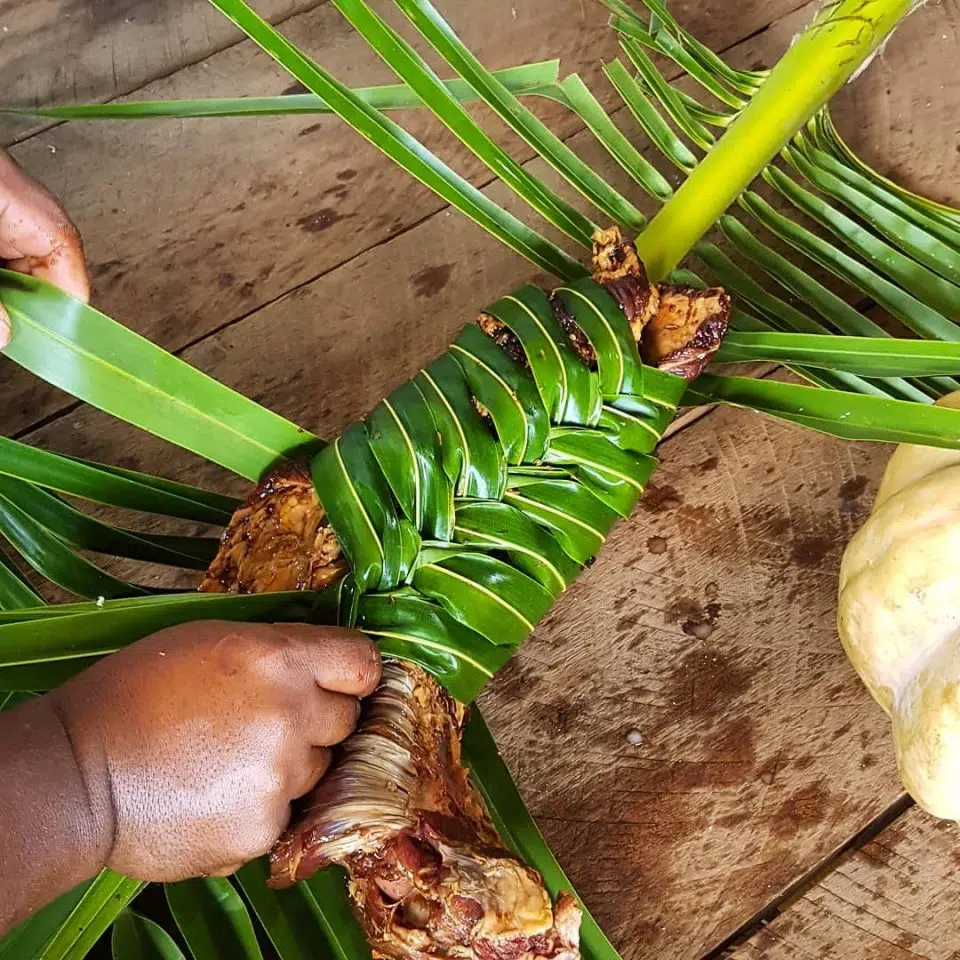 Very popular for feasts, a lovo is a traditional Fijian method of cooking using an underground (or buried) oven with hot stones. Typical food cooked in a lovo are root vegetables – whole taro or cassava; meat– marinated pork, whole chicken, and even fish; and palusami (taro leaves wrapped in a parcel with coconut cream, onions and optionally meat). The food is prepared beforehand and wrapped in foil prior to placing on the hot stones in the lovo pit. It is then covered with coconut leaves and old sacks, and buried for 2-3 hours.
Food properly cooked in a lovo is delicious with a unique smoky taste. The meat remains tender as there is no flame to char and dry it out and as the lovo covering retains the heat and moisture.
3. Kokoda (Raw Fish)
More similar to the Peruvian Ceviche than the Hawaiian Poke, this Fijian delicacy is found in many high-end restaurants and hotels as an entrée or even main course. Kokoda is made from deep sea fish with firm flesh, usually walu or marlin. The fish is cleaned, filleted, and cut into 1-inch cubes, which are marinated in a bowl of lemon for at least 2-hours or preferably overnight in a cooler.
The fish cubes are then rinsed well and placed in a colander to dry and then placed in a large bowl with finely chopped onions, tomatoes, chilies (to taste), and coriander. Fresh coconut milk is then poured over this mixture until it is fully submerged. This is placed in the fridge and brought out just before serving. It is absolutely delicious; there's no fishy smell or taste to it, only a fragrant hint of lemon.
2. Purini (Pudding)
This is a local version of the traditional English steamed pudding; the main difference being that the Fijian version uses thick coconut milk instead of dairy milk and typically is a bit heavier in terms of texture and consistency. The rich taste of coconut may be enhanced by a smoky flavor as in most Fijian villages purini is usually steamed over a wood fire for several hours.
Several variants to the basic recipe include adding ripe bananas, raisins and sultanas, and even nuts. As with English puddings, purini is very popular around Christmas although it is welcome any time of the year.
It is delicious served warm with custard or with butter and jam and a cup of tea.
1. Curry Vakalolo (with Coconut Cream) Mud Crabs
This delicacy, although not uniquely Fijian as varieties are cooked throughout the South East Asia and Pacific regions, comes in at number one due to its overall popularity in Fiji.
After washing, large mud crabs are deshelled keeping all the internal parts intact, and the pincers, claws, and lower shell are cracked prior to cooking. Curry spices are heated in a large pot, the crab pieces are added, and a curry mixture is stirred in infusing it all. Coconut cream is added and mixed in thoroughly before the shells are finally added, the lid put on and the whole thing left to simmer for 40 minutes until coconut cream boils over the crab shells.
This dish is best served on steamed rice to soak up all the delicious juices from the crab.
---
Related: Most Popular Desserts in Fiji