Best 31 Gifts for Chefs and Cooks in 2020 (updated November 2020)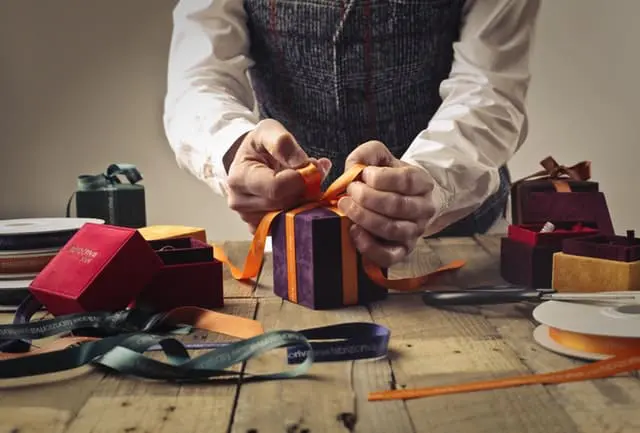 Buying gifts for loved ones is never easy and is especially hard if you are shopping for gifts for chefs. 2020 has been a very hard and difficult year for most people, especially for our beloved cooks and chefs, so you want to find that special gift to warm their hearts.
To help with this rather difficult task I asked chefs on various Facebook groups about the gifts they would love to receive this year.
I got quite a few awesome ideas, which I have complemented with a few professional chef gift ideas of my own. However, if you have other gift ideas for a chef or cook, you are more than welcomed to share them in the comments section below.
I asked chefs on various Facebook groups about the gifts they would love to receive this year
Let's make shopping for the perfect chef gift a fun task once more!
1. Japanese Knives
Japanese knives are all the rage now and many chefs consider them to be works of art. Even today at the peak of industrialization and mass production premium Japanese knives are still being handcrafted. You simply can't go wrong with a beautiful Japanese knife.
2. Hammock
A hammock, seriously? Yes, this is the absolute perfect give right now for a stressed cook and chef. If you live in a warmer climate and don't live in a crammed apartment, a hammock might be the best relaxing gift for your beloved chef.
3. Knife Roll
A leather knife roll is an uber-cool gift. Yes, you will not go wrong with this. The only downside is the budget, as a great knife roll can be a bit expensive.
3. Backpack and Knife Set
If your beloved chef is more like a backpack type of guy or girl, then this is the perfect gift.
4. BBQ Grill Utensils
Is your chef a barbecue fanatic? Few chefs aren't. So get him or her a stylish grill utensils set.
5. Pasta Machine
There is no pasta lover in the world who doesn't wish (secretly at least) to make their own pasta. This pasta machine, made in Italy by Marcato Design from nickel and chrome plated-steel, does not take too much space in the kitchen, or storage space for that matter, and is considered "the Ferrari of the pasta machine world".
6. Chef Gloves
Forget about dealing with bad smelling hands – buy your chef some gloves. As well as dealing with smells, the gloves will prevent chefs from cutting themselves, which is so common in kitchen restaurants.
7. Cherry Pitter
A cherry pitter is a kitchen gadget that chefs find indispensable in their kitchen. Especially if your beloved chef is cooking lots of cherry pies and cherry sauces. It's also quite inexpensive – you can grab one for about $10. Where to buy one? Try your local kitchen supply store or Amazon.

8. Handmade kitchen boards
Yes, cooks like to prepare food in style and they also really appreciate craftsmanship. A great gift idea is a personalized cutting board. Try Etsy for a huge variety of walnut cutting boards and Amazon of course (here and here).

9. Compression socks
Chefs work all day long on their feet and when it comes to swollen ankles, sore arches and lower back pain, compression socks can offer great relief. Buy a set of colorful compression socks to match the colorful holiday spirit.

10. Slip Resistant Kitchen Shoes
Chef shoes need to be both super comfortable and slip resistant as a professional kitchen can be a very hazardous environment. Make sure you know their size and buy a pair where function and comfort are the top criteria.
11. Digital Thermometer
An accurate digital thermometer is an essential tool for success in the kitchen. One chef recommended the Javalin Pro from Javatools, but there are plenty thermometer models available online and in stores.
12. A nice Pocket Knife
Many chefs love a pocketknife as they are so versatile in the kitchen. And since people think that pocketknives have fallen out of fashion, chefs don't get given as many pocketknives as gifts as they used to. Tip: buy a regular one and not a folding pocketknife.
The model displayed below is produced by Opinel and it has a nice thin slicer blade which makes it perfect for kitchen use. It's also inexpensive and very elegant.

13. Cool and Durable Knife Bag
There is a saying that a good and sharp knife is a chef's best friend so it should be kept and well protected.
This tough and durable knife bag is well-made with waxed canvas and leather prevents your knives from getting scratched, dinged, or damaged during transport or storage. It has 10 slots that can accommodate knives of up to 18 ½ inches, with room to spare. Be it for chefs, students, or knives collectors, it will be very convenient to transport as it has leather side handles and adjustable shoulder strap with padding.
14. Old Community Fundraising Cookbook
A chef shared this incredibly cool gift suggestion on Facebook. I will include the entire comment for its coolness factor: For the last year or two I have received old community fundraising cookbooks from the 1940's. Some recipes are scarily funny others are an eye into the past and I have gotten some inspiration from others. They are all over eBay and Craigslist. May we also add Etsy.


15. Dinner at Her Favorite Star Chef Restaurant
Chefs love to eat out as well and certainly appreciate an extraordinary dinning experience. Surprise your loved one with a dinner at that exquisite restaurant that you were either too busy to go to or just felt too expensive.
16. Gift Cards
Gift cards were a top choice among chef gifts suggestions for these holidays. Some chefs really want to do their own gift shopping and aren't really keen on surprises. So buy a gift card. Choose a gift card from your local kitchen appliance store, from Amazon, from Chefwear, or Williams Sonoma.
17. Stylish Apron
Buying a chef apron is always a good idea, especially if you choose a great chef household name like Hedley and Bennett or Tilit.
18. Gourmet Salt
Salt is not just salt in a chef's world – finishing salt can provide a very different flavor.
19. Professional Knife Set
Few things are as important to a chef than a good knife set. It's never a bad idea to buy one, especially if you know that the old set is in dire need of replacement. Make sure you know what you're buying, though, as chefs can be very picky about their knives.
20. Stainless Steel Soap
Chefs handle a lot of garlic, onions, fish, and other foods with very strong smells. Regular soap is not enough to remove these odors, but one alternative that seems to work quite well is the stainless steel soap.
21. Classic Cook Books
Chefs enjoy reading a good cook book. Find out what's missing from their library and help them to build it up. Some of the classics include Julia's Child Mastering the Art of French Cooking, Flavor Bible, How to Cook Everything, Essentials of Classic Italian Cooking, or the Professional Chef by the Culinary Institute of America.
22. Beautiful Chef Knife
Yes, your beloved chef has probably quite a few kitchen knives, but a beautifully crafted chef knife will always be a great gift idea. This 8-inch chef knife by looks stunning, is made of high carbon, and pretty much every chef will fall in love with it.
Stress Relief Gifts for Chefs
Being a chef is one of the most stressful jobs out there. It's a very demanding job both physically and mentally, so why not buy your beloved chef a gift that helps him or her relax and unwind.
23. Spa Gift Card
Going to the spa is one of most relaxing things ever and it's an excellent stress reliever. Get a massage, go to the sauna and relax in the hot tub – it's a dream day come true. Call your local spa center as they will certainly have gift cards available for sale.
24. Beach Holiday
If you can splurge out, go on a beach holiday. What's more relaxing than chilling in a hammock with a cocktail on a sunny, exotic beach? Choose a destination that's renowned for both its beaches and its fantastic culinary scene such as Zanzibar, Santa Barbara, Southern France or Greece.
25. Meditation Apps
Meditation apps have become very popular these days as more and more people are successfully using them for stress relief. Calm is one of the highest rated meditation apps and it was voted the No 1 app by Apple in 2017.
26. Therapeutic Essential Oils
Many people find essential oils incredibly relaxing as they can help with stress relief and with getting a better sleep.
27. Stress-Relieving Tea
Sipping a cup of tea can help you unwind after a stressful day at work. It can be a perfect gift for an overworked friend and many chefs unfortunately fit well in this category.
28. A Bottle of High-Quality Wine
Tea is not for everyone and many people would rather enjoy a glass of wine after a hard day at work. A bottle of high-quality wine is a perfect gift for any occasion.
29. Adult Coloring Books
Coloring books can be an incredibly relaxing activity. They are also very useful for exploring your creative side, which makes them a perfect gift for chefs.
30. Yoga Meditation Pillow
Yoga is probably one of the top things that comes to mind when we think of meditation. Buy your loved one a yoga meditation pillow that will make their yoga sessions so much more enjoyable and relaxing.
31. A Weekend Retreat at Julia's Child Provence Cottage
The Provence cottage of legendary Julia Child is now available for rent. The property where Julia spent her summer for almost three decades is as charming as ever and its kitchen virtually unchanged.
The property is a foodie paradise come true and your beloved chef would certainly be wowed by such an original gift.
Still not decided? Check our brand new list of personalized gifts for chefs and cooks. If you are also looking for a great gift for your little one make sure you check out our list of gift ideas for junior chefs.
---
Chef's Pencil is reader-supported. If you buy something through our links, we may earn an affiliate commission, though this not impact the product selection, which is done independently by our editors and contributors.